SYCAMORE – After Sycamore's 47-42 win over Bolingbrook on Monday, Ella Shipley was opening presents to celebrate her birthday.
During the game, Shipley gifted her team the lead for good with a late 3-pointer, and she also grabbed eight rebounds to help knock off the No. 2-ranked team in Class 4A.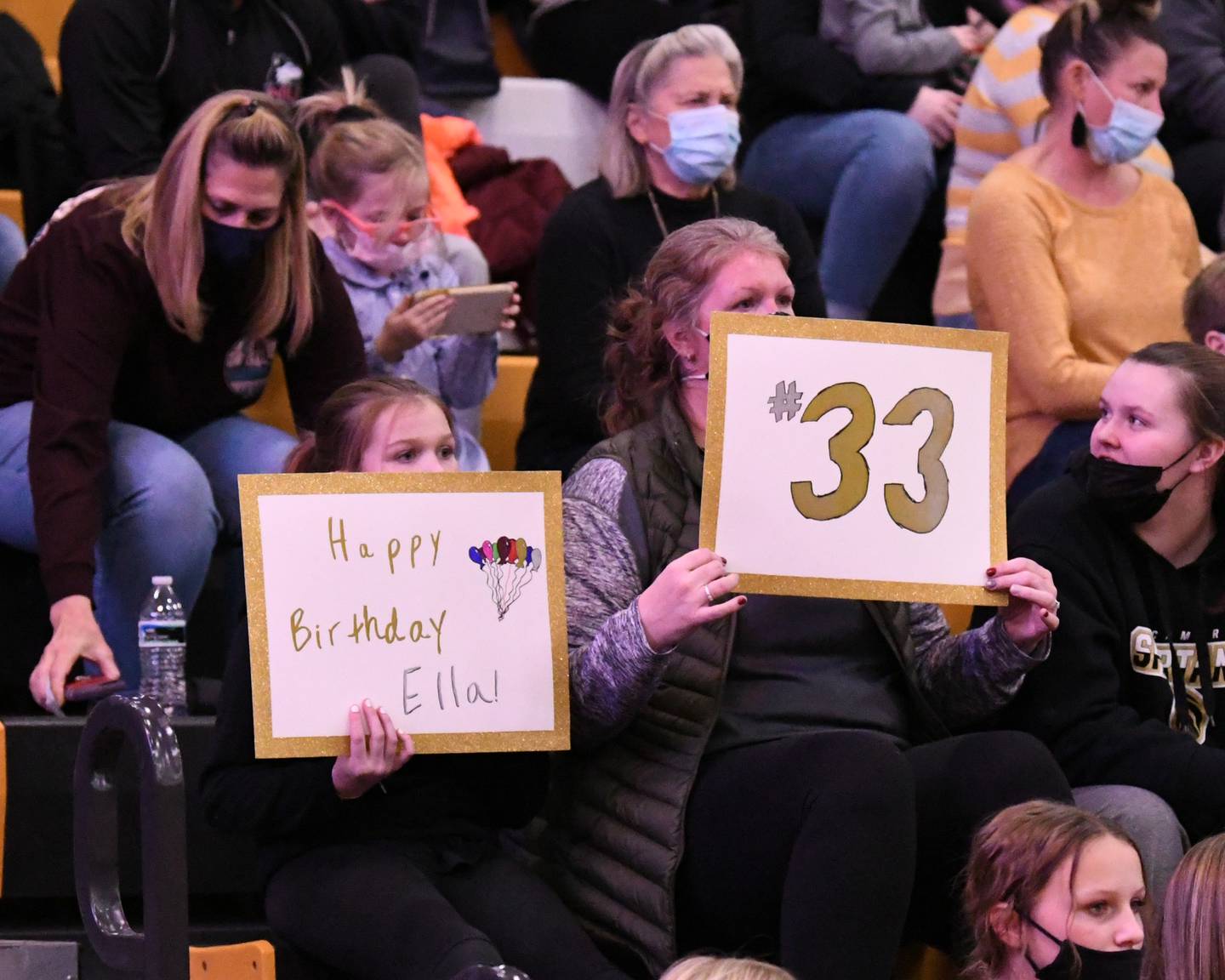 "This is a fun birthday present," Shipley said. "The funniest thing is I was going to shoot it, then I was no I'm not. Then I second-guessed myself, but I realized no one is guarding me, so I shot it and in the moment I was like we have to make something happen."
The defense for the short-handed Raiders (7-3) helped spark an 8-0 run in the fourth quarter to take a 39-38 lead after a steal and layup by Tatianna Thomas with 1:50 left.
It was the 18th turnover of the game for the Spartans (11-0), which led to 18 points for the Raiders.
"We were feeling good, but we had no patience in our offense," Bolingbrook coach Chris Smith said. "We just got out of whack offensively. We're just not disciplined enough. We've just got to grow up."
But Shipley connected on her 3 to give the Spartans the lead back 13 seconds later, then with 1:10 remaining hit a pair of free throws to push the lead to five as the Spartans sealed the win at the free-throw line.
"That's just playmakers making plays," Sycamore coach Adam Wickness said. "She was open, she felt it. I never tell kids not to shoot it. I tell them if you're in a rhythm and you're feeling it, let it fly. It was a huge momentum swing for us."
The Raiders already were playing without leading scorer and two-time all-stater Kennedi Perkins, along with two other key players, then lost they Tahj Bloom early in the first quarter. She already had three rebounds, and her absence opened up Sycamore post Evyn Carrier for a team-best 14 points and game-high six blocks.
Smith said at this point the No. 1 goal for the Raiders is to get healthy.
"Losing Tahj early kind of hurt us," Smith said. "We're down three kids injury-wise, so it was just trying to find a rhythm, get five kids together to get on the same plan and play as a team. We're young, so it's a good experience for us. ... It changed the game for us."
Even without Bloom, the Raider erased an early 9-4 Sycamore lead and led 23-15 in the second quarter. But the Spartans scored 14 of the next 18 points to take the lead back at 29-27 after a layup by Shipley.
The Sycamore lead grew in the fourth quarter to 38-31 after a 3-pointer by Faith Feuerbach and a layup by Lexi Carlson, but the Raiders scored the next eight – all on layups after Carrier was on the bench with a bloody nose, although she was back in time for Shipley's 3.
Feuerbach missed her first five 3-point attempts but made both in the second half, including a tying shot in the third quarter to make it 27-all.
"When I pulled her out of the game in the second quarter I said take a minute, get yourself right. Flush all your frustration. We're going to need you big-time in the second half," Wickness said. "And she was able to do that. We talked about it at halftime, too, and I told her the next one is going in."
Sophomore Angelina Smith led all scorers with 15 points for the Raiders to go with a team-best eight rebounds – tied with Shipley for the game-high – Thomas had eight points, seven rebounds and four steals. Sophomore Persais Williams had nine points and five boards, and sophomore Jasmine Jones chipped in six boards.
For Sycamore, Lexi Carlsen had nine points, six rebounds and four assists. Feuerbach also finished with nine points. It was the third comeback in the final minutes this season, two of them against ranked Class 4A teams (Geneva and Bollingbrook) and the other against Nazareth.
Wickness said the close games are where growth is happening for the Spartans, who have their sights set on an extended playoff run this season.
"It's all about poise, and we've done a really good job keeping our poise," Shipley said. "It's taught us we can't ever give up. We have a mentality that goes across our whole team. It's what really separates us from a lot of teams."