SYCAMORE – Polls close at 7 p.m. April 4 for the Consolidated Election, which will seat candidates for municipal city councils, school and village boards, park and fire districts across DeKalb County. Here's who's on the ballot:
On Feb. 23, workers at the Clerk and Recorders Office expected to send out 4,184 vote-by-mail ballots to those who've requested the service, said DeKalb County Clerk and Recorder Tasha Sims, who is administering her first election since her swearing in after the November General Election.
"We have a good team in place, I know we do," Sims said. "Election judges started showing up today to help put together vote-by-mail, permeant vote-by-mails. I'm just really happy with the way everything's running."
The Clerk and Recorders Office has enough election judges to staff the more than 50 polling places that'll operate throughout DeKalb County on April 4, but Sims said she wouldn't turn any volunteers away.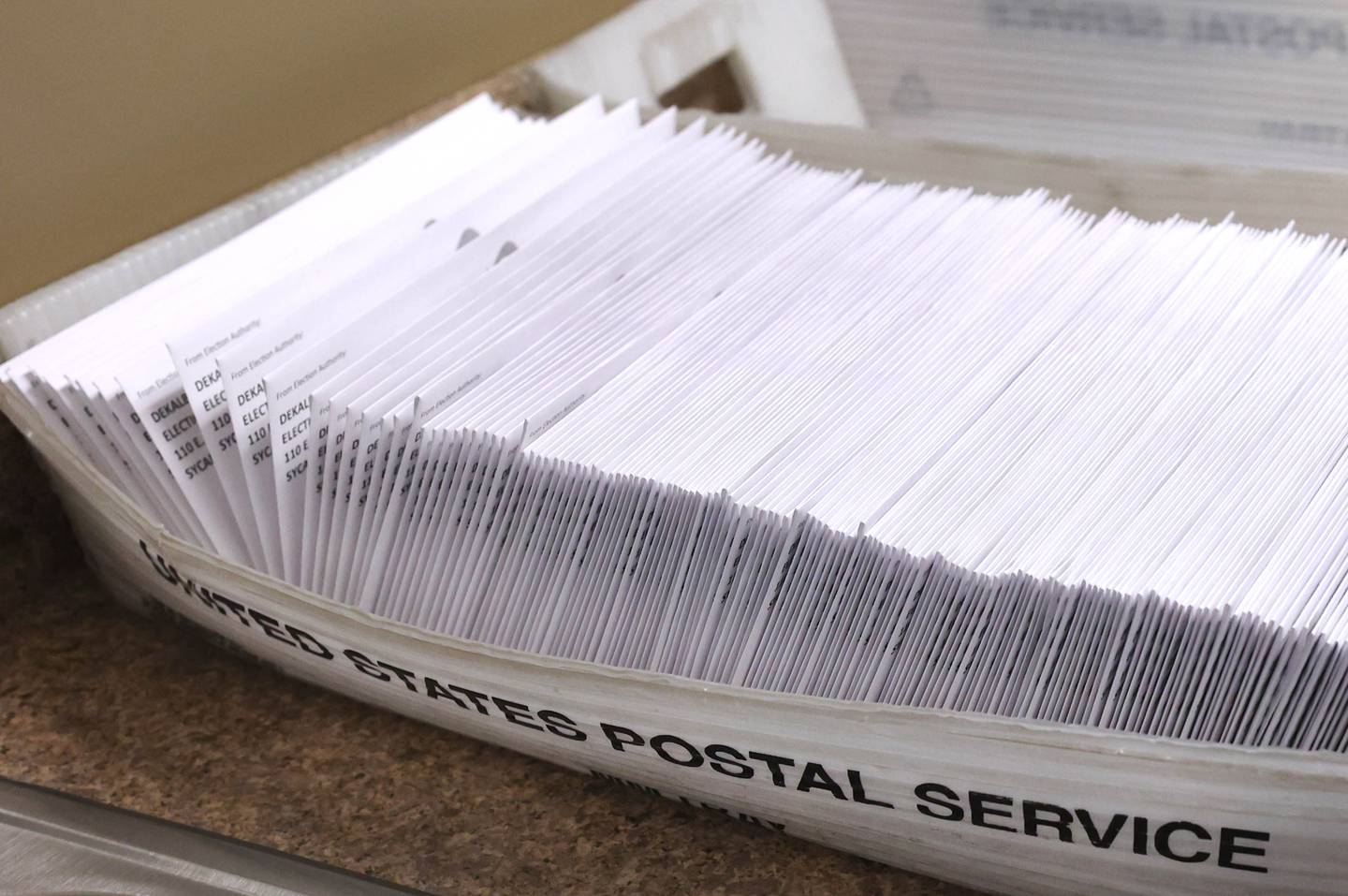 Voter turnout for consolidated elections historically are much lower compared with presidential or even midterm elections, but Sims said it's one of the elections she finds to be the most important for the local community.
Election races might experience lower voter turnout for a variety of reason, said Chris Mooney, a political science professor emeritus at University of Illinois Chicago. Chief among them are less-publicized races, voters being tired from the previous election cycle, a lack of party to side or identify with or overall being content with the state of their community.
"Most people don't hear what's going on with council members unless they're doing something outrageous," Mooney said. "Voters also get a lot of their information through television advertisements, and that isn't happening in these races."
Sims said voters should remember that local elections are just as significant as larger ones.
"I always think Consolidated Election is one of the very most important elections, because it does affect your everyday life," Sims said. "You're talking about school boards, and you know your alder people, your library districts and park districts. This is the stuff that affects your everyday, outside your front door."
"Election judges started showing up today to help put together vote-by-mail, permeant vote-by-mails. I'm just really happy with the way everything's running."

—  Tasha Sims, DeKalb County Clerk and Recorder
How do I find my polling place?
Your polling place is determined by your precinct number and listed on your voter registration card, which you should have received in the mail. You also can check your local county board of elections office at www.dekalb.il.clerkserve.com.
Can I request a mail ballot for the April 4 Consolidated Election?
Yes. The last day the Dekalb County Clerk and Recorders Office can accept a request for a mail ballot for April's election is March 30.
Where can I register to vote on Election Day?
DeKalb County residents who are not currently registered to vote or who have changed their name and/or address within the county, may register and vote on Election Day. They are encouraged to visit the Election Day Registration Center at the DeKalb County Administration Building or the polling place that accommodates the voter's address so it may be done. If already registered to vote, at your current address, you are advised to vote at your designated polling place only.
How do I know if I'm registered to vote?
Unsure? Double-check at ova.elections.il.gov/RegistrationLookup.aspx.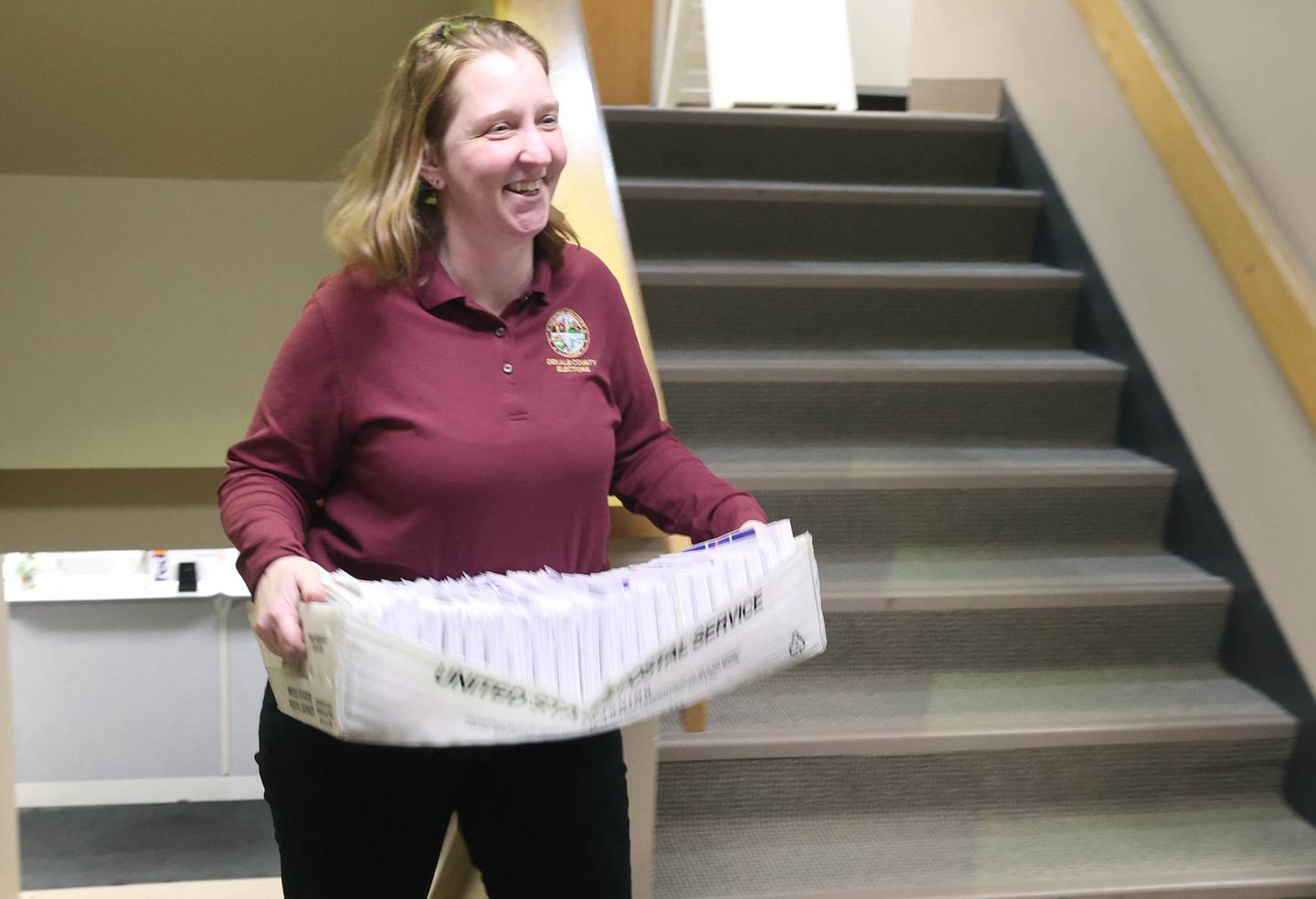 Who's on the ballot in DeKalb County?
Here's a list of candidates who currently are running for an office somewhere DeKalb County in this year's Consolidated Election, according to the clerk and recorder's office.
School Board candidates
Sycamore Community School District 427 Board of Education
Alexander Franklin Grados
Beth Marie Evans
Indian Creek Community School District 425
Jerry Oslon
Darryl Beach
Mark Peterson
Joshua Merchant
Genoa-Kingston School District 424
Julie Ratliff
Max (Jake) Wesner
Melyssa Gustafson
David Cleveland
Mary Hintzsche
Mark Bradac
DeKalb Community School District 428
Christopher Michael Boyes
Steven Byers
Samantha McDavid
Vanta Bynum
Howard Solomon, Eric Larsen and David Seymour are running as write-in candidates.
Sandwich Community School District 430
Lisa SAitta
Angela Hysjulien
Ryan O'Neil
Brian Kubisak
Somonauk Community School District 432
Kurt Hohenberger
Elizabeth Kuhn
Erik Wold
Nicholas Deacon
Anthony Rogowski
Blake Johnson
Hinckley-Big Rock Community School District 429
Debra Lynn White
Timothy Badal
Julianna Morsch
Hiawatha Community School District 426
Carissa Brendle
Amanda Fisher
Nathan Watson
Bronwyn Burgweger
Steward School District 220
Jennifer Kraemer
Paw Paw Community School District 271
Rachel Brewer
Todd Schrader
Jared Penman
Leland Community School District 1
Claire Anderson
Alan Kinney
Megan Brennan
Jakob Swenson
Heather Wesson
Earlville Community School District 9
Jennifer Smith
Barbara Meloy
Sarah Cook
Adam Browder
Creston CCSD 161
Daniel Graber
Deborah Katzman
Rochelle TWP HS DIST 212
Jeffery Tilton
Crystal Dyer
Laurie Pillen
Jordan Dobberstein
Jacob Waddle
Patricia Goodwin
Brent Ohlinger
Central Community School District 301
Eric Nolan
Jeff Gorman
Morgan Pappas
Kaneland Community School District 302
Bob Mankivsky
Aaron McCauley
Ryan Joseph Kleisner
Edmund Koch is running as a write-in candidate.
Community School District 300
Nancy Zettler
Robert Reining
Laurie Parman
Olutola "Tola" Makinde
Randi Gauthier
Kristina Konstanty
Connie Cain
Stephen Fiorentino
Belvidere Community School District 100
Allison Reid-Niemiec
Sarah Brenner
Jorge Herrera
Holly Houk
Misty Coryell
Tosca Degennaro
Village President, Trustee candidates
Village of Waterman
Raymond Calhoun
Alison Genslinger
Anton Feitlich
John Baine Jr.
Adam Pearson
Suzanna Sedlacek, for unexpired two year term.
Village of Kingston
Frank Altmaier
Dale Coughran
Steven Vanburen, for unexpired two year term
Village of Lee
Dawn Kimpflin
Margaret Foshe
Stacey McElligott-Schnupp
Jessica Galbreath, for unexpired two year term.
Therese Voitik, for village president unexpired two year term.
Thomas Kapraun is running as a write-in candidate.
Village of Maple Park
Clifford Speare
Hillary Joy
Jennifer Ward
Village of Malta
Donald Haeffner
Lawrence R West Sr.
Lawrence M West
Thomas Folowell Jr.
Malerie Schumaker
Village of Kirkland
Daniel Chambers
Brian Benes
Jessica Fruit
Village of Somonauk
Richard McMillen
Jason Diebold
James "Doc" Dockendorf
Aaron Grandgeorge, for village president
Village of Hinckley
Russel Kula
Alyssa Prickett
Sarah Quirk
Village of Shabbona
Richard Lockowitz
W. Marcus Cinnamon
Donald Goncher
Frank Ottengheime and Dennis Sands are running as a write-in candidate.
Library trustee candidates
Kirkland Library
Lorene Finkle
Michelle Burger
Sandwich District Library
Jennifer Penn
Nancy Sanders
Julie Koesler
Emily Assell
Heather Lee, for two year unexpired term.
Clinton Township Public Library
Carol Peterson
Michael Wojcik
Hinckley Public Library District
Fran Kriesch
Amie Carey
Arlen Carls
Malta Township Library
Rene McCollum
Roger McCollum
Jason McNeal, for two year unexpired term.
Flewellin Memorial Library
Janet Clark
Darryl Kupecz
Cynthia Cinnamon
Leah Shearer, for four year unexpired term.
Jill Simpson is running as a write-in candidate.
Earlville Library District
Janice Wolff
Benjamin Hoffman
Cortland Library
Judith Olsen
Genoa Library District
James Hansen
Somonauk Public Library District
Roberta Mickelson
Paula Moore
Cynthia Westbrook
Christopher Gresk, for two year unexpired term.
Tom Harmon, for two year unexpired term.
Park Commissioner candidates
DeKalb Park District
Brian Tobin, David Castro, Donna Jonson, Chris Newquist and Michael "Corn Bred" Zasada are running as write-in candidates
Sandwich Park District
John Fincham
Genoa Township Park
Judy Thompson
Kevin Seisser
James Overlin
Sycamore Park District
William Kroeger
Benjamin Doty
Daryl Smith Graves
Franklin Township Park
Tonda Bruch
Steven Boettger, for two year unexpired term
Linda Willit, for four year unexpired term
Kingston Township Park District
Britni Van Heerden is running as a write-in candidate.
Fire District Trustee candidates
Sandwich Fire District
William Novicki
Jeffrey Beverage
Hampshire Fire District
Brian Pechtold
William Kenneth Misner
Edward "Eddie" Saunders
Leland Fire District
Jacques Wesson
Town Trustee candidates
Town of Cortland
Douglas Corson
Charmaine Fioretto
Bradley Stone
City Alderperson candidates
City of Genoa
Pamela Wesner, Ward 1
Walter Stage, Ward 2
Kendra Braheny, Ward 3
Gary Roca, Ward 4
City of Sycamore
Alicia Cosky, Ward 1
Robert Collins, Ward 1
Joshua Huseman, Ward 1
Chuck Stowe, Ward 2
Nancy Copple, Ward 3
Brett Johansen, Ward 3
Benjamin Bumpus, Ward 4
City of Sandwich
Richard Robinson, Ward 1
Cara Killey, Ward 2
Adam Arnett, Ward 2
Karsta Erickson, Ward 3
William Fritsch, Ward 3
Fred Kreinbrink, Ward 4
City of DeKalb
Carolyn Morris, Ward 1
Tracy Smith, Ward 3
John Hadley, Ward 3
Scott McAdams, Ward 5
Derek Van Buer and Tom Riley are running as write-in candidates for Ward 5.
John Walker, Ward 7
Thomas Boken Jr., Ward 7
DeKalb County Regional Board of School Trustees
Mark Charvat is running as a write-in candidate.