DeKALB – Health officials reported 10 more cases of COVID-19 Wednesday, and 77 more residents were added to DeKalb County's fully vaccinated total.
The new cases bring the total virus case count to 10,535, according to the DeKalb County Health Department. The death toll remains at 121, with no new deaths reported Wednesday.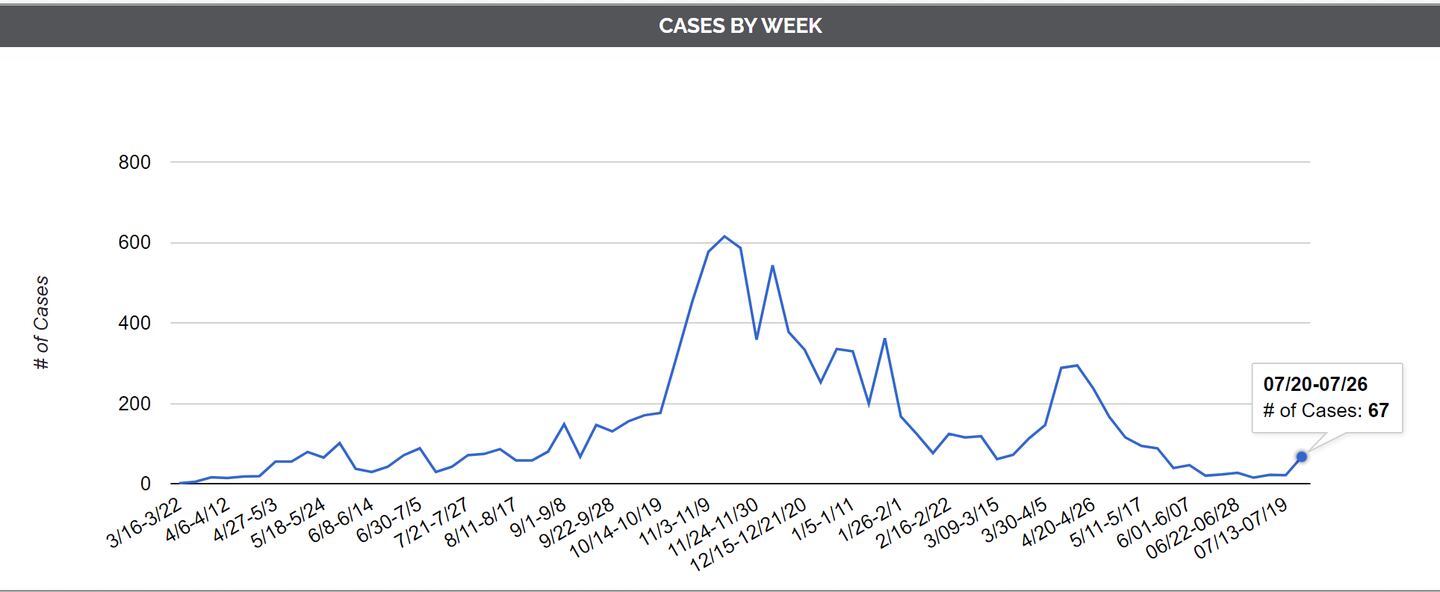 According to Illinois Department of Public Health data, 92,397 total vaccine doses have been administered to DeKalb County residents, and 44,995 residents, or 43.21% of the county's population of 104,143, have been fully vaccinated.
The seven-day rolling average of doses administered to county residents is at 114, with 1,950 doses of total reported inventory – 1,510 at the health department and 440 at community partners, according to state numbers. The inventory numbers are according to state health officials and might differ from local numbers, DeKalb County health officials said.
[ As local vaccine demand drops, health department shifts gears ]
The seven-day rolling positivity rate for Region 1, which runs north to Rockford and west to the Iowa border, is 4.2%. The county positivity rate is at 3.6%. Positivity rates are reported with a three-day data lag. Region 1 also reports a seven-day average of 27 COVID-19 patients hospitalized.
[ Hesitant about your 2nd dose of COVID-19 vaccine? Here's why local health officials say you still need it, how to manage fears ]
By the numbers
As of Wednesday, no new outbreaks have been reported among local long-term care facilities in DeKalb County, according to the county health department.
Of the 10 new cases reported countywide, four were in residents 19 or younger, two in their 20s, one in their 30s, three in their 40s, one in their 50s, one in their 60s and one in their 70s.
In total, there have been 1,916 cases in DeKalb County residents age 19 or younger, 2,586 in their 20s, 1,583 in their 30s, 1,425 in their 40s, 1,289 in their 50s, 861 in their 60s, 458 in their 70s and 417 in their 80s or older.
Of the 121 deaths reported in DeKalb County, 71 were in residents in their 80s or older, 18 were in their 70s, 18 in their 60s, eight in their 50s, three in their 40s, one in their 30s, one in their 20s and one infant.
According to county data, there have been between 4,696 and 4,700 cases in DeKalb, 2,081 and 2,085 cases in Sycamore, 901 and 905 in Sandwich and Plano (listed as one region on the site), 826 and 830 in Genoa, 241 and 245 cases in Kingston, 476 and 480 cases in Cortland, 256 and 260 cases in Hinckley, 251 and 255 in Kirkland, 201 and 205 cases in Somonauk, 141 and 145 in Waterman, 131 and 135 in Malta, 121 and 125 in Shabbona, 91 and 95 in Maple Park, 21 and 25 in Clare and Earlville, 11 and 15 in Leland, 16 to 20 in Esmond, and six and 10 in Lee. Marengo, Hampshire and Rochelle each report between one and five cases.
The IDPH reported that 1,415,572 people in Illinois have tested positive for COVID-19, while 23,420 people have died statewide. The department reported that 26,720, 724 tests have been administered to date.
According to testing and recovery data released by the county every Friday, 10,275 DeKalb County residents have fully recovered as of July 23, and 169,829 tests of county residents have been completed.