Eric Thompson was sitting at home with his son, Grady, when he received a BCR alert about the Elk's Hoop Shoot.
He asked Grady, then 9, "Hey, do you want to go to the Hoop Shoot?"
Grady said, "Sure, why not?"
Grady, who's basketball experience at the time was limited to playing at noon recess, showed up to the Hoop Shoot wearing blue jeans and a hoodie and won it. He went on to place third at state and repeated his success four years later.
A basketball star was born, although Amy Thompson, his mother joked, "We always thought Grady was going to be a soccer star before he went to the Hoop Shoot."
"(Coach) Tim Smith and I talked about it my freshman year. He said to me, 'I think you can be an All-Stater some day.'

—  Grady Thompson
Thompson had a historic senior season and career for Princeton High School.
The list of honors continue to grow each week.
He shattered the 68-year-old school scoring record held by the legendary Joe Ruklick by 162 points, finishing with 1,468 career points. His 764 points this season is the most in a single season for PHS since Ruklick poured in 944 as a senior in 1955 on the way to an All-American collegiate and NBA career.
He led the Tigers in scoring (21.8) and rebounding (6.6), adding 2.1 steals, 1.6 assists and 0.6 blocks per game, gaining unanimous Three Rivers East All-Conference honors.
He repeated as the MVP of the Colmone Classic at Hall.
Thompson was the first PHS player since Ruklick to be named First Team All-State by the Associated Press.
He was named First Team All-State by the Chicago Sun Times and Chicagoland Prep Hoops.
He was named Second Team All-State by the Illinois Basketball Coaches Association and to the Illinois Hoops Prospect Class of 2023 Top 40.
He helped the Tigers gain a No. 1 ranking in Class 2A and repeat as Three Rivers East and regional champions, reaching the Sweet 16.
Most recently, he was added to the Pepsi Iowa-Illinois All-Star Game in Rock Island on Monday where he won the dunk contest.
For all of his accomplishments, Thompson is the 2022-23 BCR Boys Basketball Player of the Year.
"Grady was a consistent scorer for us as well as a good rebounder. His work at his craft is second to none," Tiger coach Jason Smith said. "He was a quiet scorer. I would look in the books after the game and be like, how did he have that many points? He was so smooth and really attacked the rim for us this year really well.
"He brought a work ethic and a role model figure to our program. He was a great teammate, took in the younger kids really well. Just a great kid all around and I couldn't be more proud of him or proud to be his coach the last four years. He is a special kid, for sure."
Thompson's basketball skills did not all come natural. He put a "ton of time" in the weight room and "in the gym getting shots up. ... Everything."
"It's really nice to see my hard work get recognized," he said.
His advice to aspiring players, "If you enjoy it, work hard at it, because you might regret it one day."
While thrilled to earn his all-state accolades, Thompson said he always dreamed big.
"(Coach) Tim Smith and I talked about it my freshman year. He said to me, 'I think you can be an All-Stater some day.'
"I agreed with him. I knew what it takes, a lot of hard work."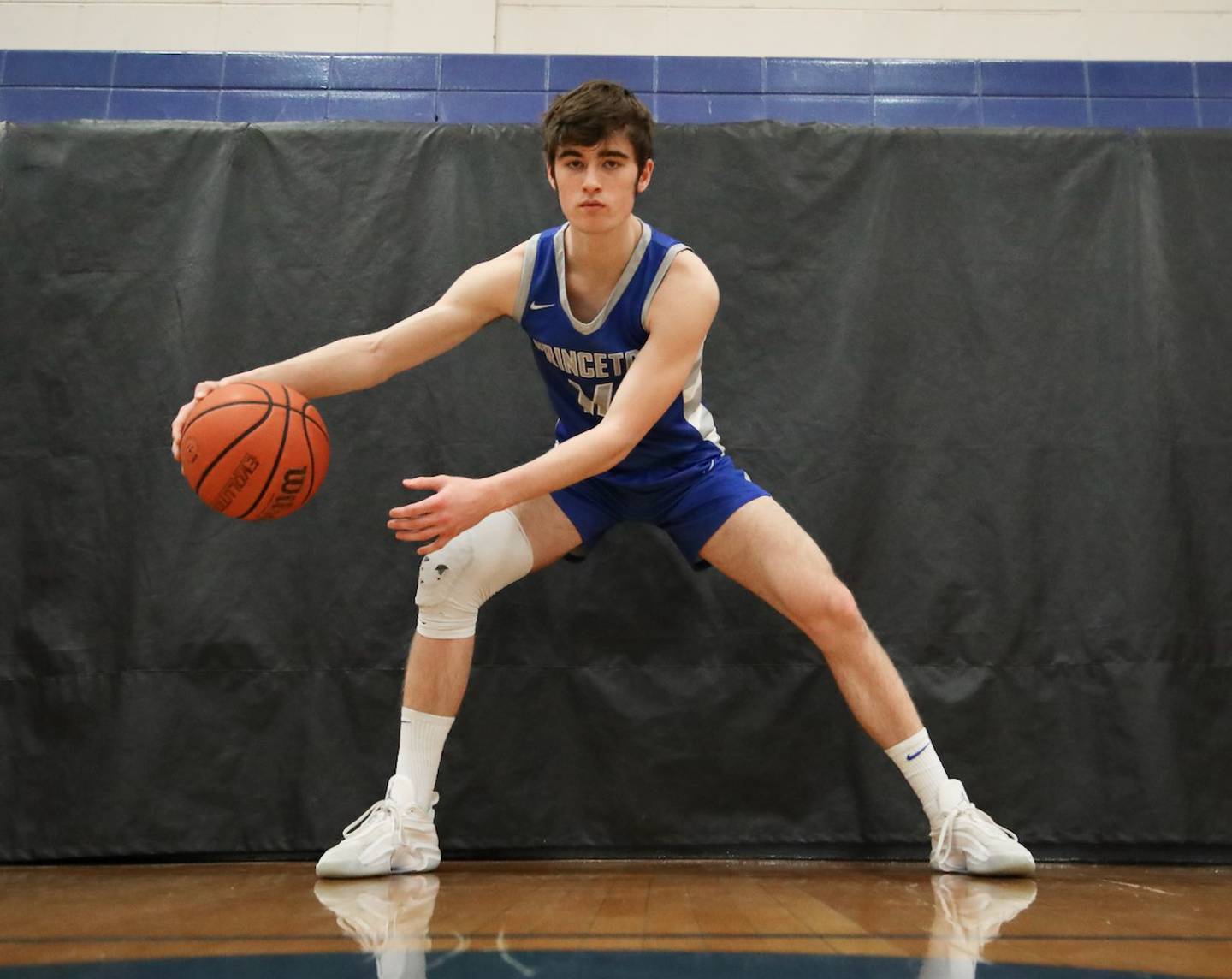 Season of many successes
The Tigers' season was full of excitement, winning their first 24 games and finishing with a 32-3 record, each mark equaling the success of the 1955 Tigers, who placed fourth at state.
"I think we set goals for ourselves at the beginning of the year. We met most of our expectations," Thompson said. "Obviously, it didn't end the way we wanted it to, losing in the sectional championship. But we achieved so much this year, so there's nothing to hang our heads about.
"After we won the Ottawa (Thanksgiving) Tournament we realized how good we could be, because we were still missing two guys. Those were against good teams, too. Bigger schools. One of the best 2A teams (Pontiac) in the state, too."
The best part for Thompson were the memories and friendships made.
"Honestly, the game itself is really good and I love playing it, but just the relationships with teams, bonds I will have for the rest of my life," he said.
Thompson has family lineage to Princeton's great 1953-54 and 1954-55 state teams, a cousin to the late Dick Hult, a member of their "Famous Five."
He feels honored to be connected to those teams and being able to surpass the records set by Ruklick.
"It's been really cool," he said. "The amount of adversity that guy faced when he was younger. He had a really cool story. So, it's pretty cool to me that I broke pretty much all of his records."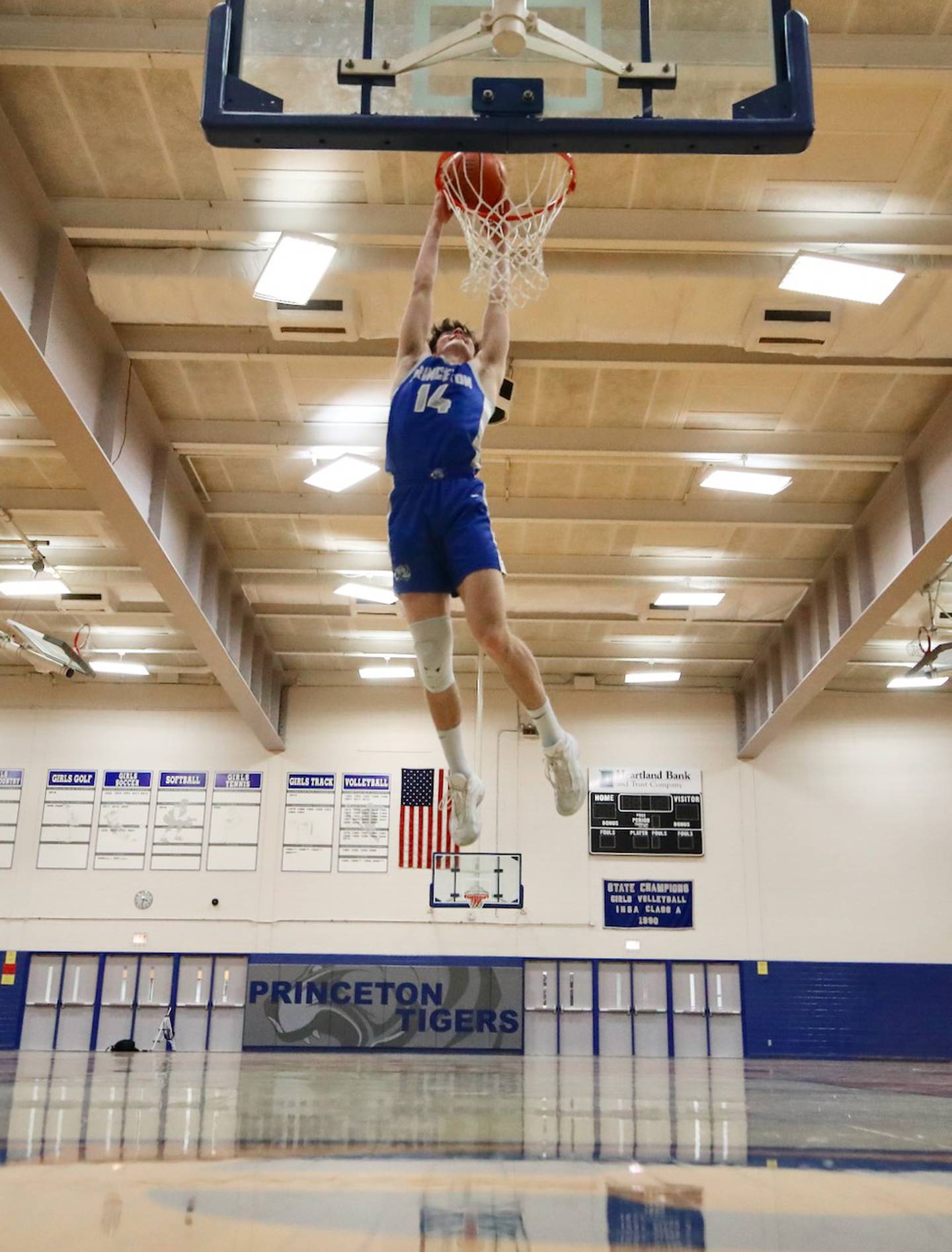 A sharp-shooter making 85 percent on free throws and 41 percent on 3s, Thompson said he probably gets the most thrills making a dunk.
"There's nothing better than slamming it through the hoop," he said.
He first dunked toward the end of his freshman year, the first recorded video proof coming on his 15th birthday. He studied dunks by legendary dunker Chris Staples to use to win Monday's dunk contest.
What's next?
Thompson has received multiple collegiate offers, including NCAA Division III, NAIA schools and junior colleges, and interest from Division I and Division II schools. He's been invited to the Chi-Town Showcase on Saturday in Chicago, which will draw more interest.
"Going to play college ball. Don't know where yet. We're still working some things out and see what happens with that," he said. "I'm excited."
Smith said Thompson just needs a chance to fulfill his dreams.
"If given the chance, I believe he can play at the next level," he said. "Wherever that is, he will fit in, play hard and play well. I'd love to see him in a D2 or a small D1 school. He deserves it. He has put in the time and effort and deserves a shot."