SPRING VALLEY – Matt Wasilewski needed basketball this week.
The Bureau Valley girls basketball coach lost his mom, Marilou, 80, unexpectedly on Monday morning.
He went out that night and coached the Storm to a victory over Kewanee, and on Thursday added a 26-24 victory over Three Rivers East rival Hall in Spring Valley.
The Storm coach said it's been a rough week.
"I have strong family support helping my dad. My sister [Marissa] has been amazing. She deserves all the credit," he said. "It's allowed me to focus on teaching at school, as well as basketball. You've got to keep going. Keep pushing, and that's what we're working on."
Wasilewski said his mom would have told him to go coach.
"Absolutely. She's my biggest supporter. She and my dad. My dad coached forever and forever [at Erie], and my mom was there. She understood," he said.
Alaina Wasilewski, a Bureau Valley senior, said her dad needed basketball for therapy.
"I think honestly, for my dad, coaching basketball is therapy," she said. "It's not so much mine, I don't think, but it helps. It takes my mind off of it and helps my healing."
It was not lost on the Storm senior that BV has now won both games since her grandmother's passing.
"She was always super proud of everything I did. I think she's helping," she said.
The Storm coach said his daughter has stayed strong.
"She's sad she's not here and that she's not with us anymore. But Alaina's been going out there," he said. "She's had a tough week. She got some boards. She played good defense down low. Did what we asked her to do down there on [Hall's Toni] Newton. Was able to get her hands up and was able to slow her down. She came through along with all the other girls defensively.
"We won the game on defense. On offense, we did everything we could to not win that game. Defense is where we shined tonight. The girls played hard. They played smart. Stayed out of foul trouble, which is always big for us."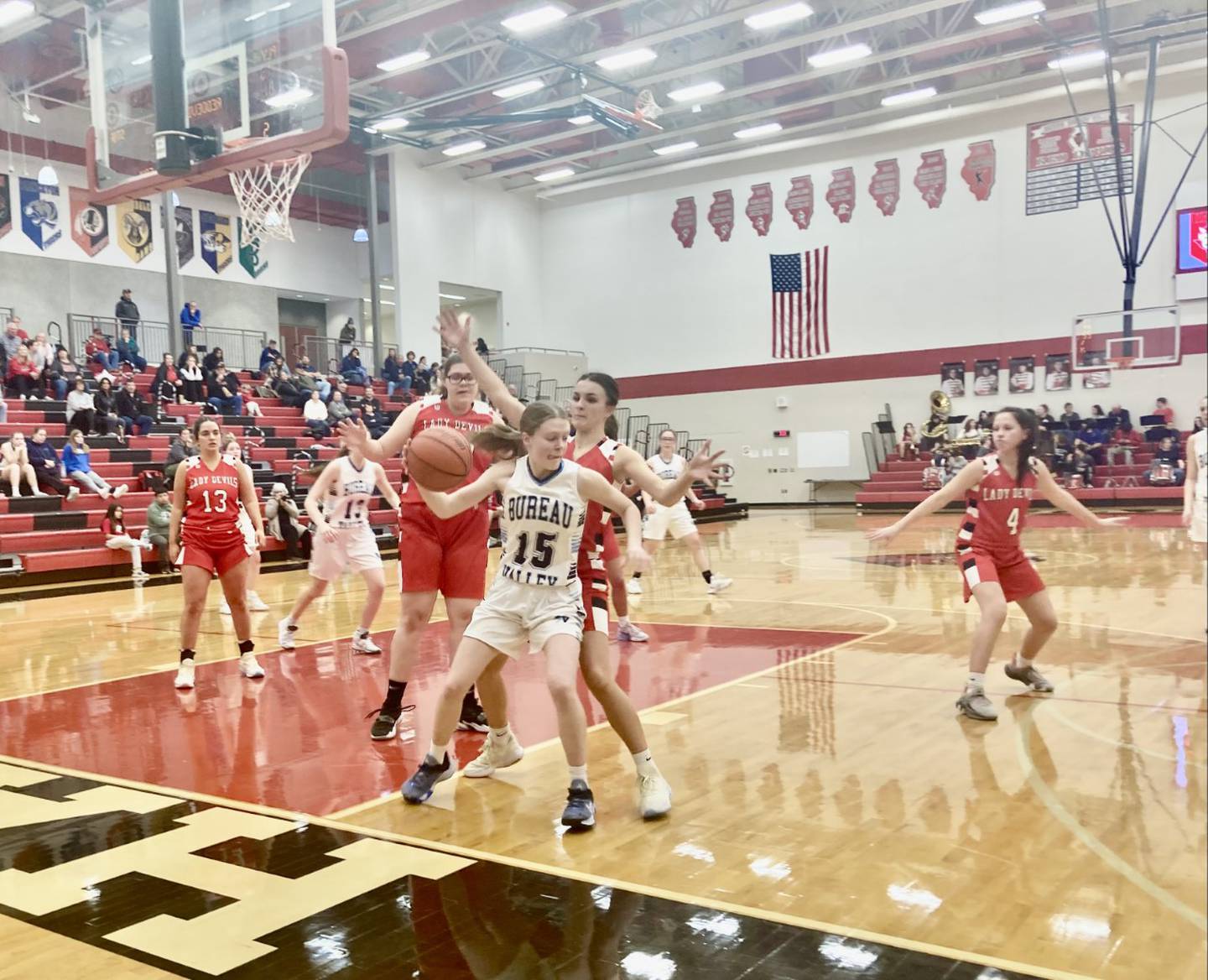 The Storm (12-15, 8-3) led for most of what was a low-scoring affair, leading 7-6 at the end of the first quarter, 12-10 at the half, and 19-18 after three quarters.
Lynzie Cady had eight points for the Storm, Kate Stoller added seven, and Taylor Neuhalfen and Kate Salisbury added five each.
Matt Wasilewski said the Storm are playing with a little extra motivation with the sub-sectional seeding coming out earlier Thursday putting the Storm at No. 8 out of 11 teams, despite sweeping two teams ahead of them, No. 7 Orion and now No. 5 Hall.
"I'm not going to lie, I think the girls felt a little slighted with that," he said. "We beat two of the teams two times that are seeded ahead of us. Our girls didn't like that. They recognize that's kind of a shot. I'm not saying the other teams in the sub-sectional aren't quality programs, but we think we've proven it against some teams.
"We wanted to come out tonight and play well against a team that's seeded well ahead of us. That's what we look to do."
Hall coach TJ Orlandi said Thursday's game was a little bit of both a defensive battle and an offensive struggle. His Devils had a hard time putting the ball in the basket.
The Hall coach said the return of senior Jayden Jones after six games out due to injury helped shore up Hall's defense.
"She's active and puts her hands on a lot of balls," he said. "We were good there, doing a job on that end. Putting the ball in the hoop is just a struggle sometimes. Our field-goal percentage has to be pretty poor."
Hall scoring leaders on the night were Newton and fellow senior Promise Giacometti with eight points each. They were honored Thursday along with Jones on Senior Night.
Hall (15-12, 7-4) will likely be assigned to the Bureau Valley Regional, which will be announced Friday afternoon.