Four Bureau County athletes earned all-conference honors in Tuesday's Three Rivers cross country championships in Prophetstown.
Princeton had two girls pick up all-conference medals.
Senior Lexi Bohms was third with a time of 20:52, matching the best finish for PHS since joining the Three Rivers in 2013. She was first team all-conference for four straight seasons.
Classmate Kiana Brokaw, who was edged out for 15th-place last year, became the fifth different girl to earn all-conference in the Three Rivers for PHS, placing 13th in 22:48.
Bureau Valley had two all-conference finishers in the boys meet with seniors Elijah House placing fourth (16:54) and Ben Roth 14th (17:47).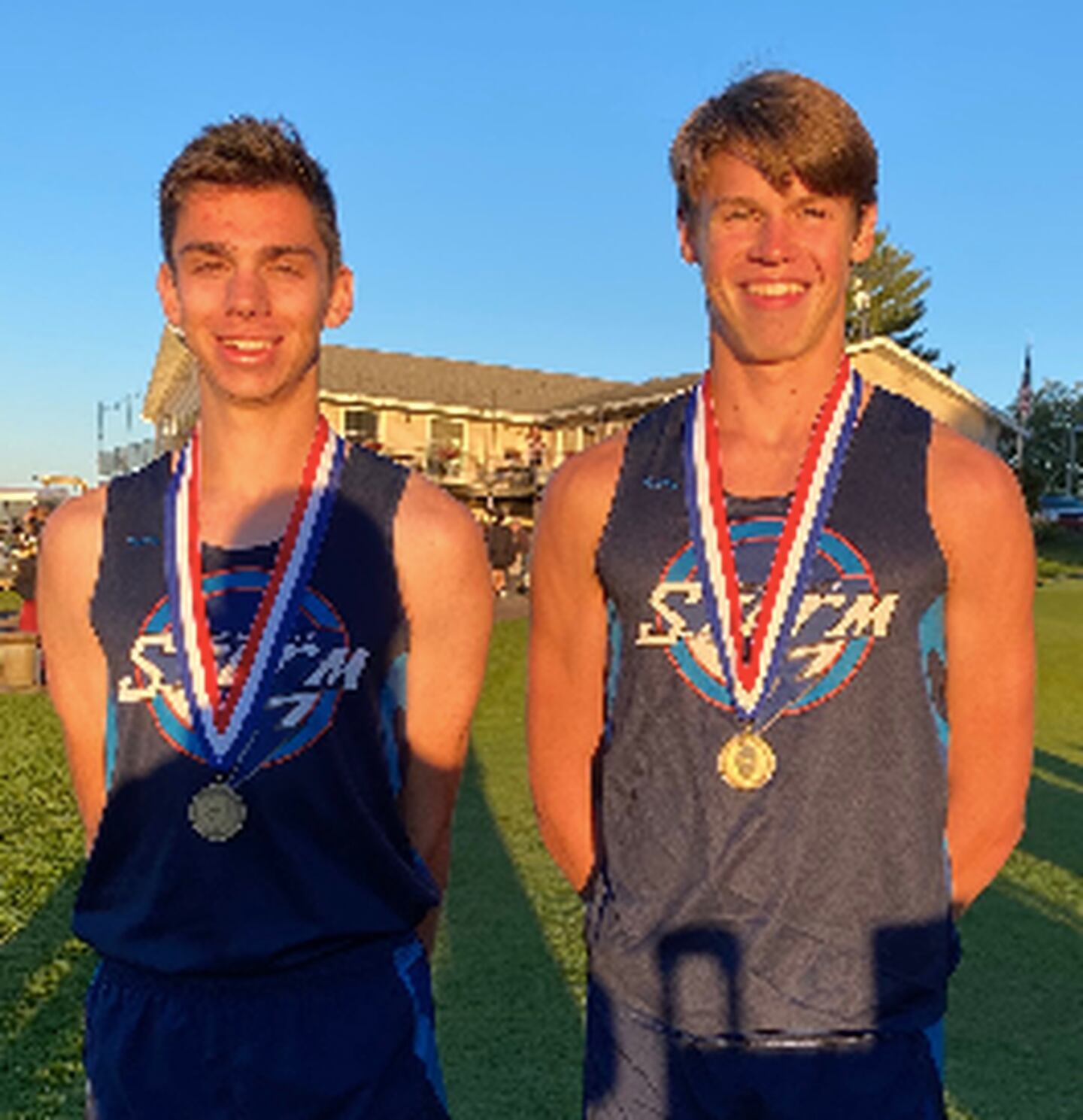 The Storm placed fourth as a team behind Riverdale (25), E-P (63) and Newman (69).
Also contributing to the Storm's scoring were Adrian Gallardo (20th, 18:39), Maddox Moore (44th, 20:18) and Rhiley Pinter (52nd, 21:08) with Payton Walowski in 55th (21:20), Landon Hulsing 56th (21:22), Andrew Roth 74th (22:40), Nathan Siri 87th (24:31) and Owen Larkin (25:00).
Augustus Swanson had Princeton's best Three Rivers' finish for a Princeton freshmen boy with a 19th- place time of 18:34. Also for PHS, Robert Nelson was 72nd (22:32), senior Christian Yepsen was 79th (23:02) in his first meet of season coming off injury and Kamden Wahlgren was 83rd (23:59).
The top finisher for Hall was Eri Martinez-Prado (41st, 19:57) with Joseph Caracheo 54th (21:18), Blake Gambiani 85th (24:16) and Christopher Hollenbach 86th (24:23.
For St. Bede, Nathan Husser finished 21st (18:40), Greyson Marincic 38th (19:48), Haiden Ator 60th (21:33) and Frank Fan 62nd (21:41).
Neither Hall, PHS or St. Bede fielded a full boys team.
The Princeton girls placed fifth (102) as a team finish with contributions from freshman Avery Brokaw (28th, 25:00) and sisters Claire Grey (43rd, 27:22) and Ella Grey (49th, 29:26).
Top finisher for sixth-place St. Bede (104) was Aleda Hoogland in 17th (23:28). Also running for St. Bede were Macy Zeglis (23rd, 24:07), Jaelyn Weber (29th, 25:02), Madelyn Torrance (34th, 25:59) and Sierah Shaver (35th, 26:02).
Three girls ran for Hall - Allison Wozek (33rd, 25:45), Evelyn Castelan (44th, 27:34) and Jade Wangelin (27:44).
Sherrard (42) won the girls title with E-P (74) in second.
Race winners were Riverdale senior Tommy Murray (15:14) and Orion junior Olivia Thomsen (19:43).
"I was very pleased with our results today. A good number of highlights in our 10 years so far in the Three Rivers," PHS coach Pat Hodge said.
VOLLEYBALL
Princeton def. Kewanee 25-15, 25-16: The Tigresses defeated the Boiler Girls for the second night in a row in Three Rivers East Conference volleyball play Tuesday at Prouty Gym
Chrissy Sierens led PHS (6-10, 5-2) with five kills and Lily Keutzer and Morgan Foes added four each. Miyah Fox popped 15 digs and Natasha Faber-Fox had 12. Isa Ibarra had a team-high nine points with Faber-Fox adding eight and sophomores Kelsea Klingenberg and Mia Buccini seven each.
Kewanee won the sophomore match 25-17, 26-28, 25-13 while PHS claimed the freshmen tilt, 25-19, 25-18.
On Monday, the Tigresses won 25-16, 23-25, 25-18 at Kewanee.
GIRLS TENNIS
Coal City 4, Princeton 1: Emilee Merkel gained a 6-3, 6-3 win at No. 2 singles for PHS on Senior Night Tuesday. In other matches, Kailee Winner fell 6-0, 6-0 at No. 1 singles while Nora Scheidner and Sadie Thornton (6-4, 6-3), Katie Kammerer and Kambri Fisher (6-4, 3-6, 10-4) and Abby Ward and Erah Goodale (6-3, 6-3) fell in doubles play.
Newman 4, Princeton 1: Kammerer and Fisher picked up a 6-1, 6-2 win at No. 2 doubles for the Tigresses' lone win Monday. Winner (6-3, 6-4) and Merkel (3-6, 6-2, 10-3) fell in singles and the duos of Thornton and Schneider (6-2, 6-0) and Ward and Goodale (3-6, 7-6, 10-7) fell in doubles play.