DETROIT – Justin Fields makes his return on Sunday. The Bears take on the Detroit Lions on Sunday at Ford Field in Detroit. Fields will make his first start in more than a month after dislocating his right thumb on Oct. 15.
Head coach Matt Eberflus and the Bears are looking to build off last week's win over the Carolina Panthers. They will have a tough task ahead of them with a matchup against the 7-2 Detroit Lions, who lead the NFC North.
Shaw Local Bears beat writer Sean Hammond is in Detroit for Sunday's game. Follow him on X, formerly Twitter, at @sean_hammond, on Instagram at @bears_reporter and on Threads at @bears_reporter. Shaw Local Bears analyst Marc Silverman will provide his thoughts on X at @WaddleandSilvy.
Below is everything Bears fans need to know ahead of the game. Stay here all game long for live updates.
Fields fumbles for a Lions safety; Lions win
On first down with the game on the line, Aidan Hutchinson pushed right tackle Darnell Wright backward. Hutchinson stripped the ball from Justin Fields' hands. Wright tried to pick up the football but kicked it out of the back of the end zone for a safety.
The Lions scored two points and got the ball. They beat the Bears, 31-26.
David Montgomery gives Lions the lead
The Lions forced a quick three-and-out from the Bears' offense. Justin Fields took a deep shot on third down, but the ball fell through the hands of receiver Tyler Scott. The Bears were forced to punt. They used up 26 seconds of game time and two Lions timeouts.
The Lions drove down the field quickly, aided by a couple of nice plays from former Bears running back David Montgomery. Montgomery punched in a 1-yard touchdown to give the Lions the lead with 29 seconds to go.
The Lions drove 73 yards in 2:04 of game time. They converted the two-point try to go up, 29-26.
Lions strike quickly
Jared Goff connected with receiver Jameson Williams for a quick 32-yard touchdown. The score made it a one possession game with 2:59 to go. The Bears lead, 26-21.
The Lions needed just 1:16 of game time to go 75 yards in six plays. The Lions have all three timeouts remaining.
Bears eat nearly 9 minutes of clock, add field goal
The Bears took up 8:45 of game time and milked much of the fourth quarter off the clock. Cairo Santos made a 39-yard field goal to extend the Bears' lead, 26-14, with 4:15 remaining in the game.
The play of the drive was a Justin Fields scramble on third-and-14 at their own 40-yard line. Fields took off running to his left and, with the help of a blocker, picked up a first down. He added a dance at the end of the play for emphasis.
Cairo Santos makes it a two-possession game
Justin Fields tried a QB sneak for a first down, but came up inches short on third down. Matt Eberflus elected to kick a field goal and make it a nine-point advantage. Kicker Cairo Santos knocked through a 40-yard try.
The Bears lead, 23-14, with about 14 minutes remaining in the game.
Tremaine Edmunds picks off Goff
Make it three interceptions for the Bears defense. Linebacker Tremaine Edmunds picked off Goff for the defense's third pick of the afternoon.
Goff threw a ball over the middle of the field that went right to Edmunds for an easy takeaway. The Bears will take over in Lions territory again.
Justin Fields connects with DJ Moore for touchdown
Justin Fields felt the pressure to his left, stepped up into the pocket and delivered a perfect deep ball to receiver DJ Moore for a 39-yard touchdown. It marked Moore's sixth receiving touchdown this season.
The Bears took the lead, 20-14, midway through the third quarter. They drove 40 yards on three plays after a special teams takeaway gave them the ball in Lions territory.
Tyrique Stevenson forces fumble on kick return
Bears rookie cornerback Tyrique Stevenson made his second game-changing play of the afternoon, forcing a fumble on a Lions kick returner. Return man Craig Reynolds found space on the kick return and was flying when Stevenson barreled into him. The ball flew out of Reynolds' hands and Bears linebacker DeMarquis Gates recovered the fumble.
Stevenson had an interception earlier in the game. The fumble gave the Bears the ball in Lions territory.
Bears running back D'Onta Foreman injures ankle; Santos adds field goal
Bears running back D'Onta Foreman, who earned the start Sunday ahead of Khalil Herbert, left the game in the third quarter with a right ankle injury. After visiting the team's medical tent for an extended period, Foreman tried to run along the Bears' bench, but pulled up short favoring his right ankle.
The team officially listed Foreman as questionable to return.
Meanwhile, the Bears added three points on a 53-yard field goal from kicker Cairo Santos. The Bears drove 50 yards on 10 plays to set up the field goal.
The Lions still lead, 14-13, with 6:41 to go in the third quarter.
Dan Feeney replaces Lucas Patrick at center
Bears center Lucas Patrick briefly left the game in the first half, taking off two snaps while the trainers attended to him before returning to the action.
After halftime, however, Patrick did not return to the game. Instead, backup center Dan Feeney took the field with the Bears' offense. The Bears listed Patrick as doubtful to return.
Amon-Ra St. Brown scores touchdown for Lions
The Lions drove 75 yards in just 1:36 of game time to score a touchdown before halftime. Jared Goff threw a 7-yard touchdown pass to receiver Amon-Ra St. Brown. The Lions took the lead, 14-10, with 11 seconds remaining before halftime.
It marked St. Brown's sixth catch of the game.
Bears add field goal
Justin Fields led the Bears 62 yards down field for a score, capped by a 31-yard field goal from kicker Cairo Santos. The Bears took the lead, 10-7, late in the second quarter.
On third down, Fields lofted a pass intended for running back Khalil Herbert, but it fell incomplete.
During the two-minute warning, the Bears training staff attended to Fields' right hand. It did not appear to be anything that would keep Fields out of the game.
Tyler Scott losses fumble; Lions score touchdown
On second-and-long, Justin Fields connected with rookie receiver Tyler Scott for a short completion, but Lions cornerback Cam Sutton stripped the ball from Scott's hands. Lions linebacker Alex Anzalone jumped on the loose ball for a fumble recovery.
Moments after TJ Edwards had an interception for the defense, the Bears turned the ball right back over to the Lions.
With a short field, the Lions made quick work of the Bears defense on the following drive. Running back Jahmyr Gibbs ran in a 2-yard touchdown score. It went down as an eight-play, 34-yard touchdown drive for the Lions.
The Lions tied up the game, 7-7, with 9:23 to go in the second quarter.
TJ Edwards picks off Goff
Jared Goff hadn't thrown multiple interceptions in a game this season. That is, until Bears linebacker TJ Edwards picked off Goff early in the second quarter. Following an interception from Tyrique Stevenson earlier in the game, it marked the second pick of the day for the Bears defense.
Goff hadn't thrown multiple picks since Week 6 of 2022. The interception was Edwards' first as a member of the Bears.
Rookie Tyrique Stevenson records his first interception
Bears rookie cornerback Tyrique Stevenson picked off Lions quarterback Jared Goff for Stevenson's first career interception. The pick came on the Lions' first offensive possession of the game.
Goff zipped a pass intended for one of his tight ends, but Stevenson made an impressive catch to haul in the takeaway. It marked the Bears' first interception since Oct. 22 against the Las Vegas Raiders.
Fields runs early, Bears score first
The Bears received the opening kickoff and made a concerted effort to get Justin Fields involved in the run game. On the opening drive, Fields ran for 28 yards on three carries. He also threw for 38 yards on 3-for-4 passing. Running back D'Onta Foreman punched in a 1-yard touchdown to give the Bears an early lead, 7-0.
The threat of Fields running also opened up some throwing lanes on a couple of occasions. All in all, the opening drive went about as well as it could have for the Bears.
Bears announce inactive players
Bears linebacker Tremaine Edmunds, linebacker Jack Sanborn and running back D'Onta Foreman are all active and likely to play in Sunday's game. Edmunds has not played since Oct. 29 against the Los Angeles Chargers. He injured his knee during that game. Foreman and Sanborn both dealt with ankle injuries this week in practice, but will suit up Sunday.
The Bears designated the following players inactive: receiver Velus Jones Jr., quarterback Nathan Peterman, safety Quindell Johnson, linebacker Noah Sewell, linebacker Micah Baskerville, guard Ja'Tyre Carter and defensive end Dominique Robinson.
Peterman is the emergency quarterback who can enter the game if both Justin Fields and Tyson Bagent suffer injuries.
Bears activate RB Khalil Herbert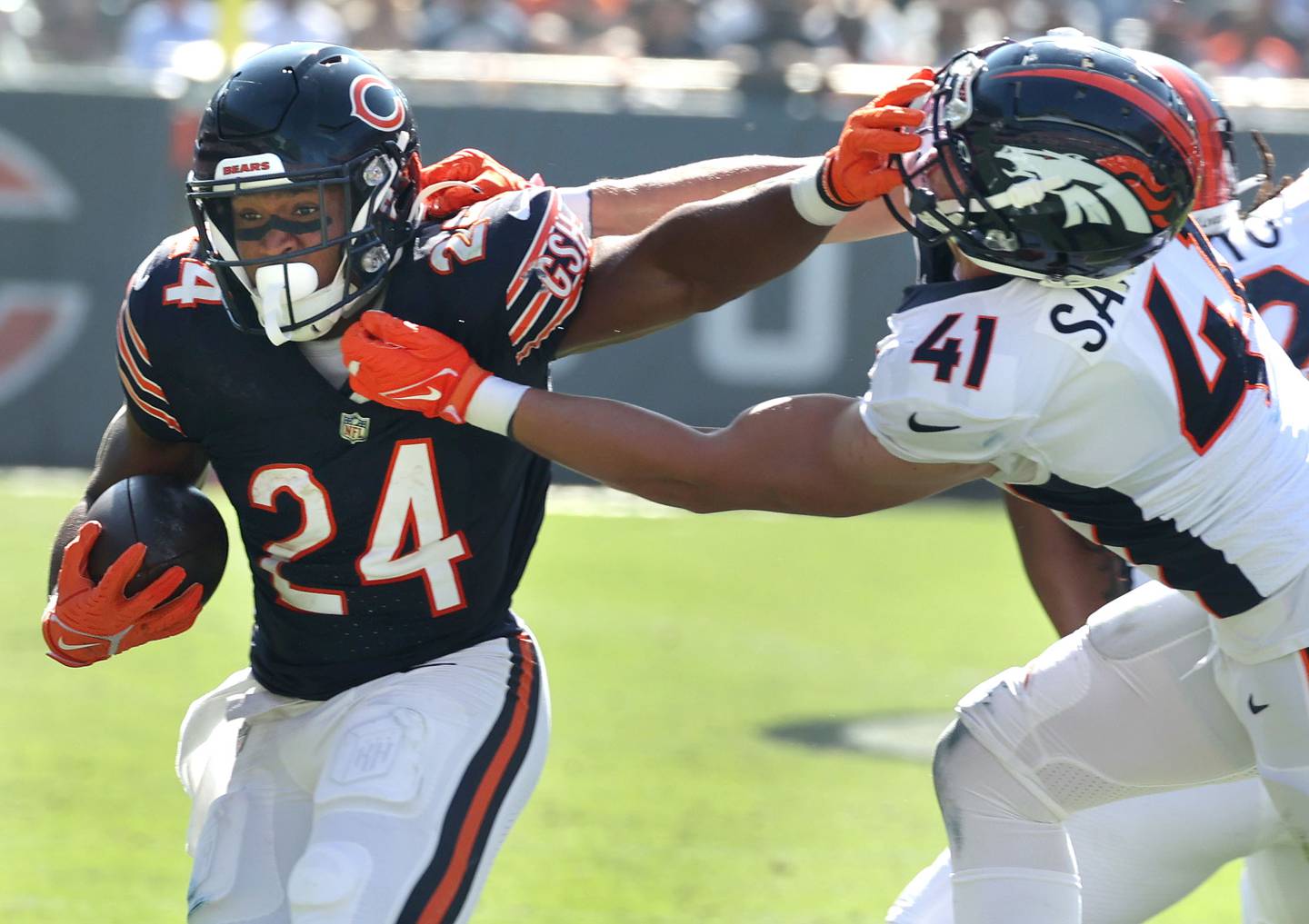 The Bears activated running back Khalil Herbert off injured reserve on Saturday afternoon. Herbert hasn't played since injuring his ankle on Oct. 5 during a game against the Washington Commanders. He was a full participant in practice all week.
Herbert joins a running back group that has played well, even without him. Running back D'Onta Foreman has emerged as the lead back with Herbert out. Foreman, however, is dealing with an ankle injury this week and is questionable to play in Sunday's game.
Linebacker Tremaine Edmunds returned to practice on Friday for the first time in several weeks. Edmunds is also questionable to play in Sunday's game.
Linebacker Jack Sanborn (ankle/illness) is questionable as well. Rookie linebacker Noah Sewell (knee) has already been ruled out. Sewell will not get to play against his brother, Lions tackle Penei Sewell. Noah Sewell tweaked his knee in practice Thursday and will be "week-to-week," per Eberflus.
Fields holds no injury designation ahead of the game. He was a full participant in practice all week. He dislocated his thumb on Oct. 15 and missed four games. Backup Tyson Bagent went 2-2 as the starter in Fields' place.
Right guard Nate Davis (ankle), fullback Khari Blasingame (concussion) and cornerback Terell Smith (illness) were also full participants this week and do not hold any injury designation ahead of Sunday's game.
What to expect from the Lions
The Lions are one of the best teams in football right now. Dating back to midway through last season, they've won 15 of their last 19 games. Quarterback Jared Goff has done a great job protecting the football this season, and he is letting his playmakers make plays.
Receiver Amon-Ra St. Brown has turned into one of the elite pass catchers in the game. David Montgomery and Jahmyr Gibbs are one of the best one-two punches at running back. Rookie tight end Sam LaPorta looks like he could be giving the NFC North fits for years to come.
Here are five storylines to watch in Sunday's game.
Silvy says the Bears have seven chances to change the narrative. It starts with Sunday. Read Silvy's full column here. Look for his column every week at shawlocal.com.
The Bears offense is as healthy as it has been all season. Does that increase the pressure on Fields and offensive coordinator Luke Getsy to produce results during these final seven games?
What else did I miss this week?
Here's what else was happening at Halas Hall this week.
[ Montez Sweat already affecting games for Chicago Bears' defense ]
[ Bear Down, Nerd Up: Who's the better running back? Khalil Herbert or D'Onta Foreman? ]
[ Three questions facing Chicago Bears following their 2nd 'mini-bye' ]
[ Five big takeaways from Chicago Bears' win over Carolina Panthers on Thursday ]