LAKE FOREST – After a nine-day break, the Bears return to action Sunday, and it will be a tough matchup. They take on the Detroit Lions, who have been the class of the NFC North in 2023.
The last time these teams met, the Lions pounded the Bears 41-10 on New Year's Day at Ford Field in Detroit. The Bears will return to Detroit, looking to erase that nightmare from their memories.
Bears quarterback Justin Fields is expected to return for the first time since Oct. 15. Head coach Matt Eberflus' team is almost back to full strength. The starting quarterback is back, the offensive line is healthy, and running back Khalil Herbert is expected to return to action after missing more than a month.
The Bears (3-7) and the Lions (7-2) will kick off at noon Sunday from Ford Field. The game will be broadcast on Fox. Here are five storylines to watch.
1. Fields makes his return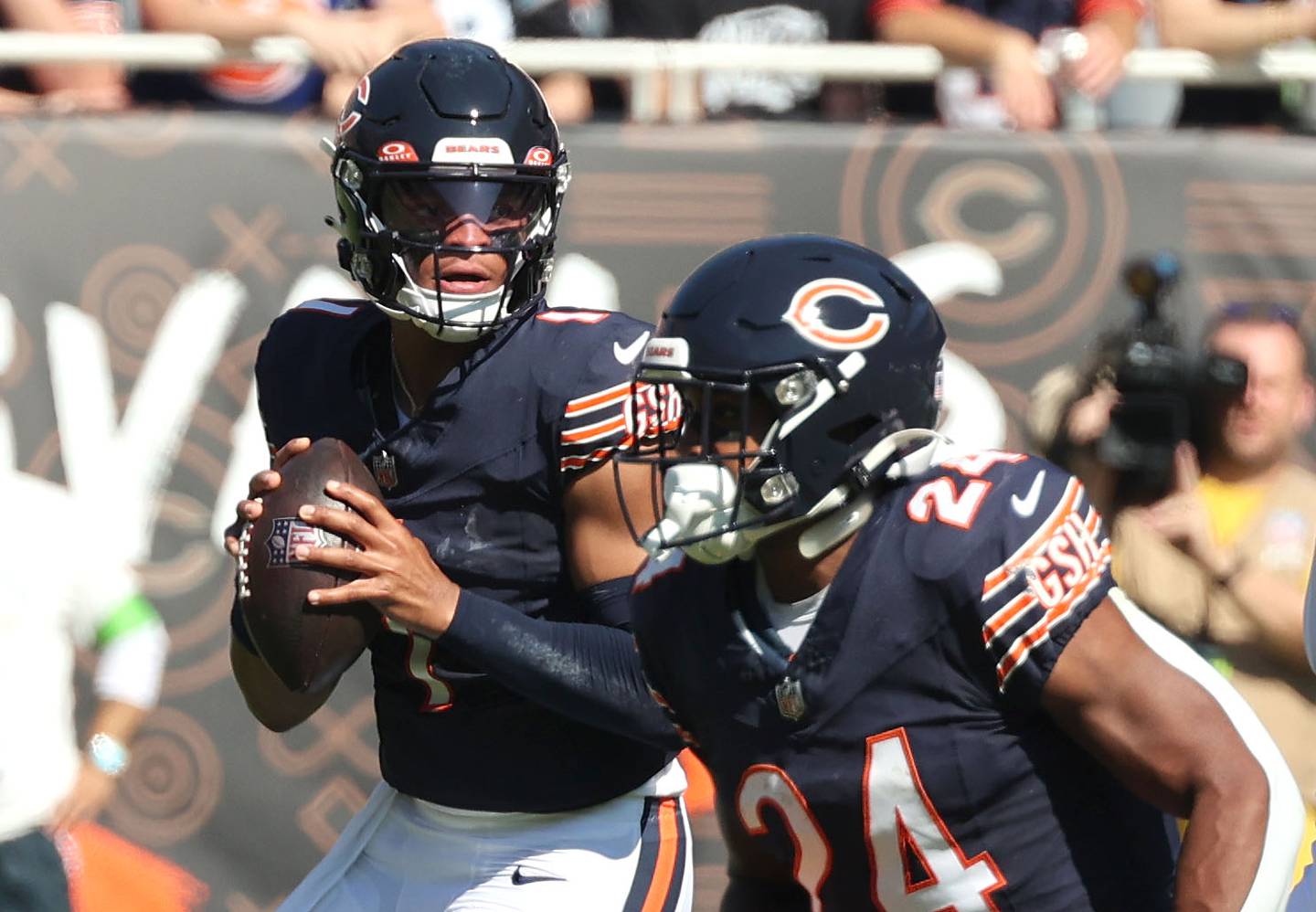 Fields missed four games with a dislocated right thumb, and now he must step back into the starting lineup against a feisty Lions defense. The question this week is: Will there be some rust to knock off?
Fields has a season and a half of experience in this offense. He also stayed locked in during his weeks on the bench, taking thorough notes and helping backup Tyson Bagent.
"You're relying or leaning on all the work that you put in since two years ago, even for him, right?" offensive coordinator Luke Getsy said. "If you get specific to this offseason, to this training camp and all the game reps he's had already, and like I said, he's been close to playing, so it's not like it's just he hasn't done absolutely anything here in these last couple of weeks."
The Lions are one of the toughest defenses to run the football against (third-best at 79.1 rushing yards per game), but can be beat through the air. Fields is going to have to throw the ball well to beat this defense and to keep up with a high-powered Lions offense.
2. Hello, old friend
On the other side will be former Bears running back David Montgomery. Montgomery left the Bears in March and elected to sign a three-year, $18 million contract with the Lions. Montgomery's tough style of running fits exactly how the Lions, under coach Dan Campbell, want to play football. Montgomery fights for every inch, shedding tackles and trying to run through defenders.
Now, the Bears will be the ones trying to stop him.
"I have a ton of respect for him, his play style, the approach, the kind of teammate he is in this building," Getsy said. "We had a great relationship, he and I. We still do. We still talk with each other. He's somebody who came in here and did everything the right way and was about the right things, and guys followed him."
I have a ton of respect for him, his play style, the approach, the kind of teammate he is in this building. We had a great relationship, he and I. We still do. We still talk with each other."

—  Luke Getsy, Bears offensive coordinator
Montgomery is part of a dual backfield that might be among the best in football. The Lions have paired him with rookie first-round draft pick Jahmyr Gibbs, who also is having a great year. With 139 rushing yards per game, the Lions are the fourth-best rushing team in football, one spot ahead of the Bears.
In six games this season, Montgomery has 501 rushing yards and seven touchdowns on 106 carries.
3. Tough road test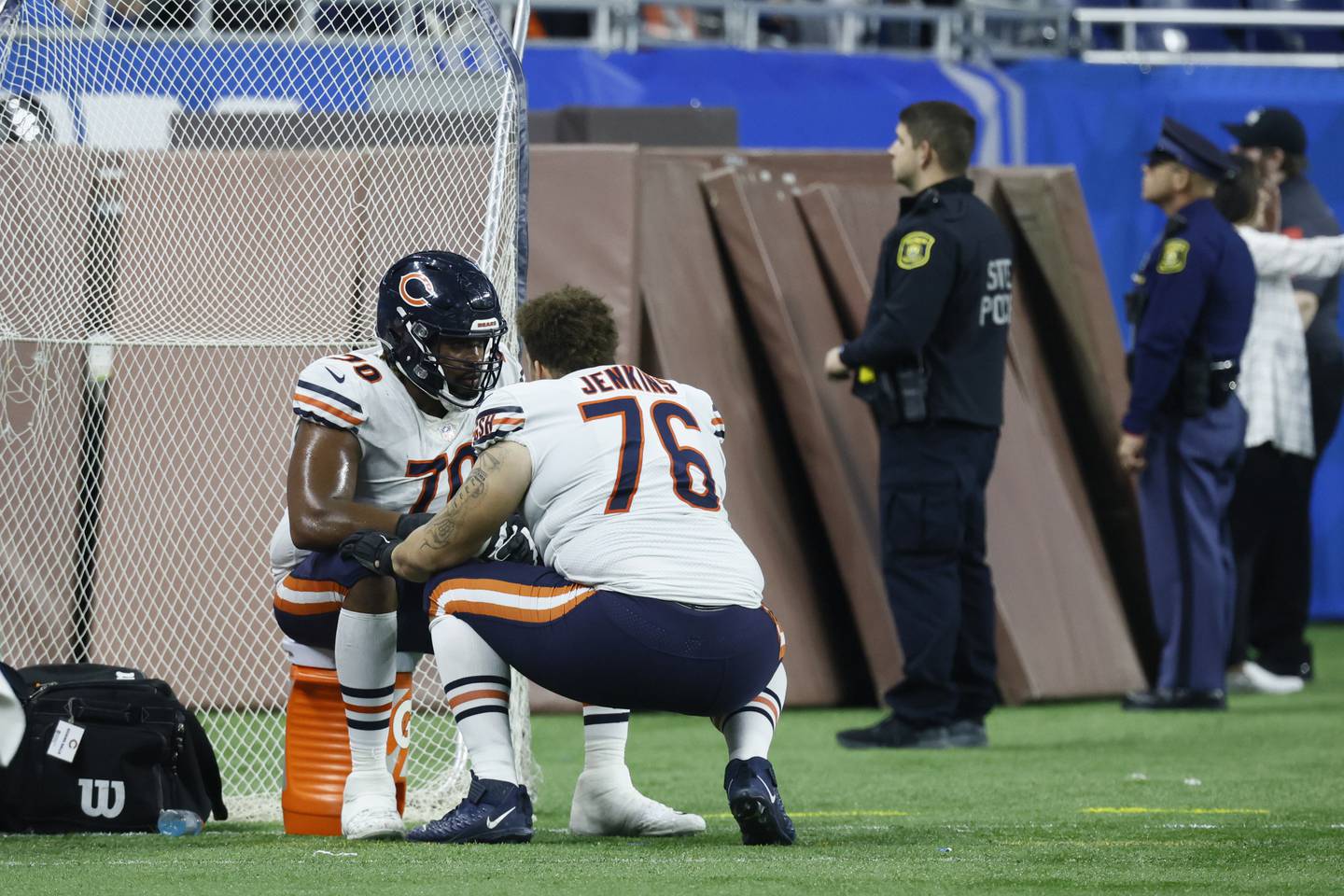 A year ago, the Bears visited Ford Field on New Year's Day and had one of their worst performances of the season. The Lions stomped the Bears in a Week 17 matchup. Fields completed only seven passes in the game for 75 yards. The offensive line struggled, giving up seven sacks.
Left tackle Braxton Jones, a rookie last year, had one of his worst games of the season. He allowed a pair of sacks and looked dejected on the sideline after the game.
"I had one of my rougher games in Detroit on Ford Field, and I think it just takes focus," Jones told Shaw Local this week. "Last year, I was a rookie. It was the end of the season, and whatever you want to call it – rookie wall or just not tuned in – but [I] just wasn't there, and I'm super excited to get another chance. Go out there, perform a lot better."
That win marked seven wins in nine games for the Lions. Overall, they've won 15 of their past 19 games, dating to midway through last season. This Lions team has emerged as one of the best squads in the NFC. Ford Field is loud this year, louder than it has been in several years. Quarterback Jared Goff is taking care of the football. He has only five interceptions and has yet to throw two in a game.
4. All those Lions weapons
The Lions can beat teams in a number of different ways. Top receiver Amon-Ra St. Brown is top 10 in the league in receptions and receiving yards. Montgomery and Gibbs power a top-five rushing attack. Rookie tight end Sam LaPorta is contributing in a big way, right away. The Highland, Illinois, native has 47 receptions for 474 yards and four touchdowns. Tight end is a position where few rookies make an impact, but LaPorta is breaking that mold.
The Lions have a lot of ways they can beat teams. This will be one of the toughest tests for the Bears' defense all season.
The good news is the Bears are healthy in the secondary. Linebacker Tremaine Edmunds could miss his third consecutive game with a knee injury, but the defense is otherwise at full strength. New defensive end Montez Sweat will be the wild card. Can the Bears pressure Goff, who hasn't been sacked in his past two games?
Sweat had a great game against Carolina last week, despite not recording a sack.
He recorded eight pressures and three quarterback hits. He could be felt, even if his line in the stat book wasn't eye-popping. With an extra couple of days to prepare for the Lions, this should be the most prepared he has been since joining the Bears.
5. Bears offensive line is healthy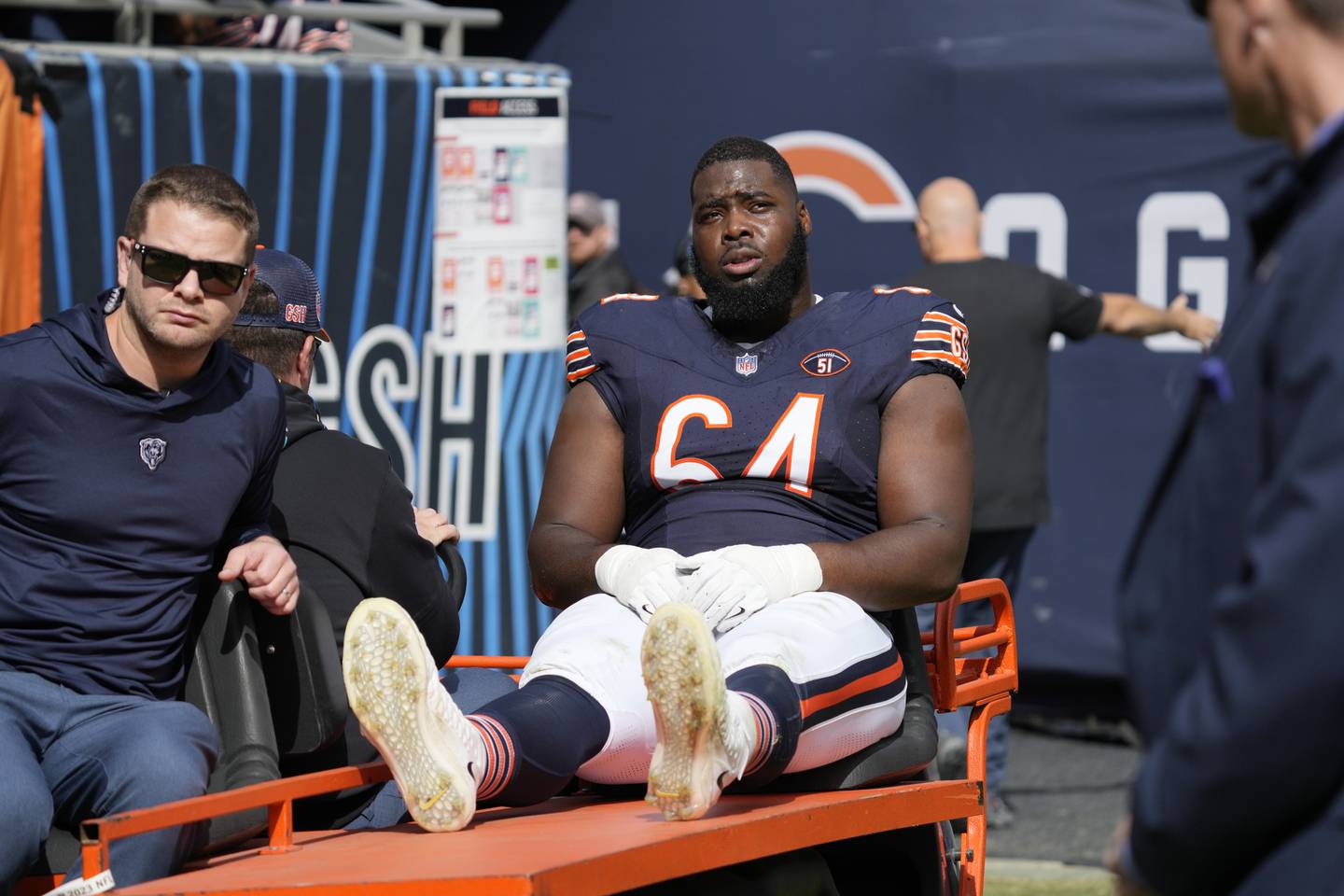 Right guard Nate Davis is expected to make his return to the Bears' lineup. The Bears plan to move Teven Jenkins to left guard, where he started the season. Lucas Patrick will remain the starting center, pushing Cody Whitehair to the bench.
For the first time since mid-August, the Bears' offensive line is fully healthy. The starting five Sunday should feature Braxton Jones at left tackle, Jenkins at left guard, Patrick at center, Davis at right guard and Darnell Wright at right tackle.
If the offensive line can stay healthy down the stretch, Fields and the offense have an opportunity to jell in a way that has been tough so far because of all the injuries. The Bears are as healthy as they've ever been. That should, hopefully, lead to points on the scoreboard.
That said, those five linemen will have to find a way to slow Aidan Hutchinson and the Lions' defensive front. The Lions have been one of the toughest teams to run against in the NFL. In the pass rush, Hutchinson leads the way with 4.5 sacks, while defensive tackle Alim McNeill has four.