CHICAGO – It wasn't pretty, but the Bears won a football game Thursday night.
Tyson Bagent and the Bears held on for a win, 16-13, over the Carolina Panthers on Thursday night at Soldier Field. Matt Eberflus' team improved to 3-7 on the season, beating up on quarterback Bryce Young, the No. 1 overall pick in last spring's NFL draft. The Bears scored only one touchdown, but it was enough to hold off the Panthers.
"I really thought that we played some good complementary football," Eberflus said. "I really thought that the defense did a really good job of creating some short fields for our offense most of the day."
Here are the five big takeaways from Thursday night's game.
1. Foreman makes it count
The Bears defense forced six punts on Thursday night, but none was more pivotal than a third-quarter punt that gave the Bears starting field position at the Carolina 38-yard line.
After struggling all night long to string together first downs, the Bears offense knew it needed to take advantage of such optimal field position.
"Definitely," running back D'Onta Foreman said. "When the defense is playing like that and they give us great field position, you've got to go capitalize."
The Bears drove 38 yards on nine plays, capped by a 4-yard touchdown run from Foreman. It gave the Bears their first lead, 16-10, and it gave them enough points to hold off the Panthers. Foreman carried the ball four times on that drive.
"It was solid," Bagent said of that drive. "Good play calling, good mix of things, getting out on the edge, running the ball effectively, taking completions and really just taking advantage of the field position that the defense did a great job of all day."
The Bears capped it off with a touchdown when they needed it most. All nine of their remaining points came on field goals from kicker Cairo Santos.
2. Defense comes up big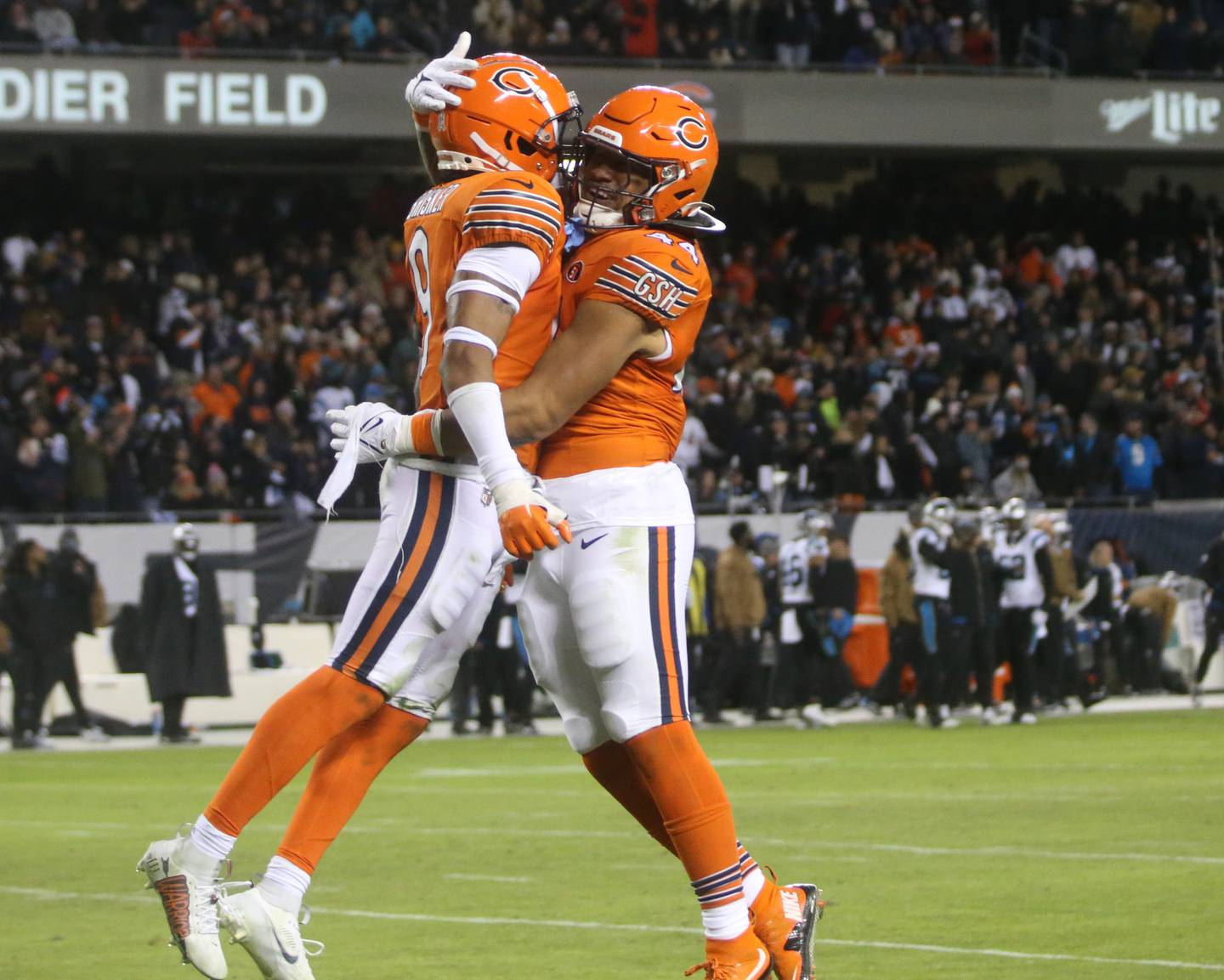 Carolina's only touchdown came on special teams, a 79-yard punt return from former Bears receiver Ihmir Smith-Marsette. That was the first score of the game.
The Bears defense, though, held the Panthers to just six points. Young, the top draft pick who Carolina sent a handful of draft picks to Chicago for the right to select, totaled only 185 passing yards. He completed just 55% of his passes.
The Bears had three sacks in the game. New defensive end Montez Sweat didn't have any of those sacks, but Sweat did generate eight pressures, according to NFL Next Gen Stats.
Montez Sweat generated 8 pressures in his second game with the Bears, the most by a Bears pass rusher since Robert Quinn in Week 13, 2020.

Sweat has recorded 45 pressures this season, 5th-most in the NFL.#CARvsCHI | #DaBears pic.twitter.com/T5T7szpGqC

— Next Gen Stats (@NextGenStats) November 10, 2023
Carolina started three of their nine offensive possessions inside their own 10-yard line. The Bears kept them pinned back there, too. Cornerback Kyler Gordon had two tackles for loss in such situations.
"Special teams was really good tonight in terms of how they were punting the ball and make them go the long field," linebacker T.J. Edwards said. "We felt that we could stop them from going the distance that way and just giving them those long fields helped us a lot."
3. Is this the end of Bagent's run?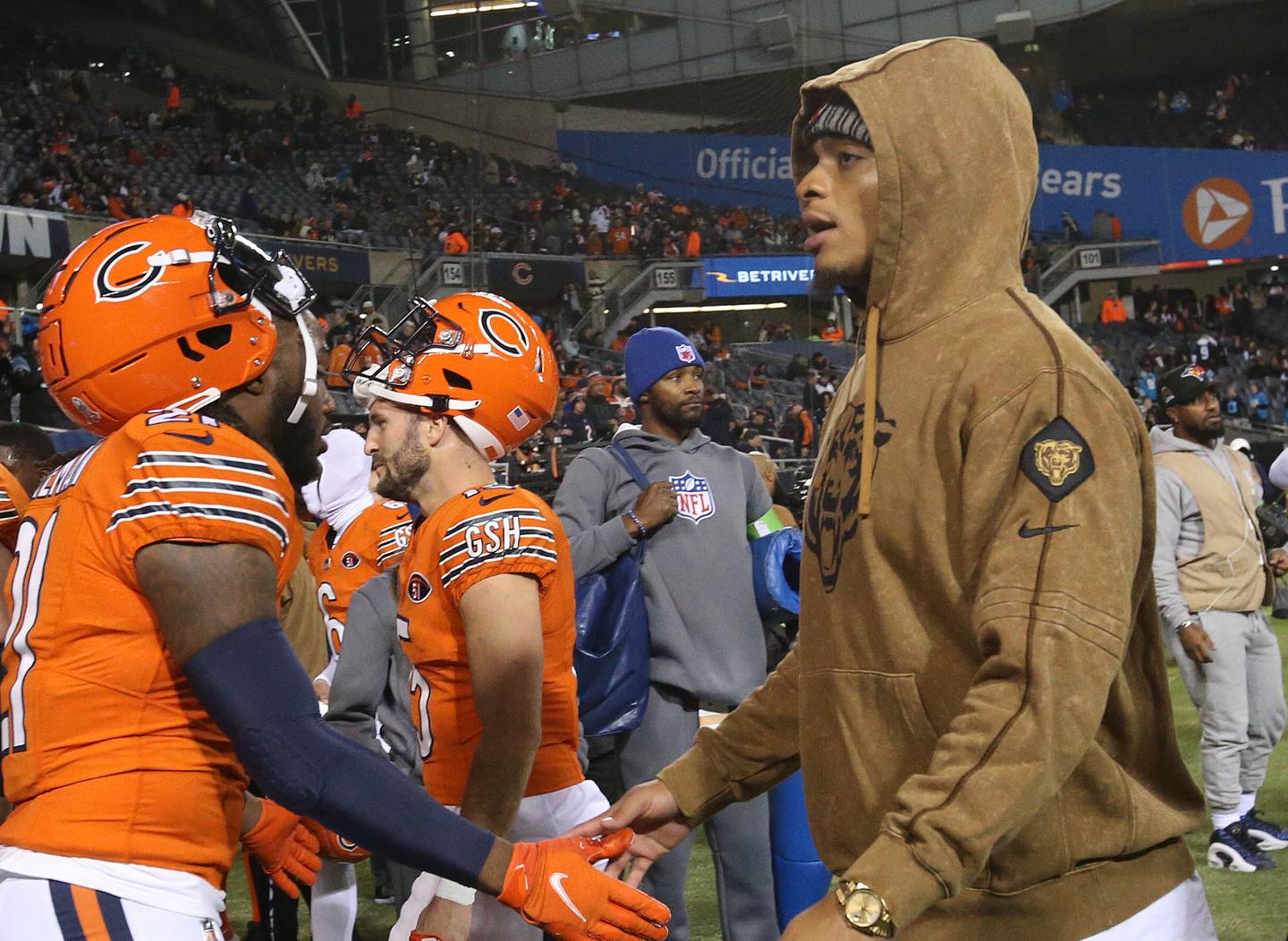 If he has learned anything during his four games as the starting quarterback, Bagent said it's that he can't take wins for granted. Winning in the NFL is hard. The margins for error are so thin.
While the offense didn't play great football Thursday, it did enough to earn another tally in the win column.
Could this be the end of Bagent's run as the starting quarterback? The Bears have not said if Justin Fields will return for their next game on Nov. 19 in Detroit. Fields, though, returned to practice this week and could be in line to make his return next week. The Bears entered the week with some optimism that Fields might play Thursday, but his dislocated right thumb wasn't ready yet.
Another nine days off should help.
Whether Fields starts the remainder of the season or not, Bagent has earned a place on this team. With a 2-2 record as a starter, he has shown that he can be a capable backup, at the very least.
"Going out with a win is, obviously, fantastic for the team," Bagent said. "I don't know, if this is it [as the starter], nothing really changes for me. The preparation, how I'm attacking every week."
Teams and situations aside, it's pretty remarkable that an undrafted Division II quarterback just beat the No. 1 overall draft pick head-to-head.
"Wonderful story and it's still unwritten," right tackle Darnell Wright said of Bagent. "Who knows what the future holds. I think he's going out there and he's locking in every week and he's going out there doing the best that he can. That's all you can do."
4. Cairo's big night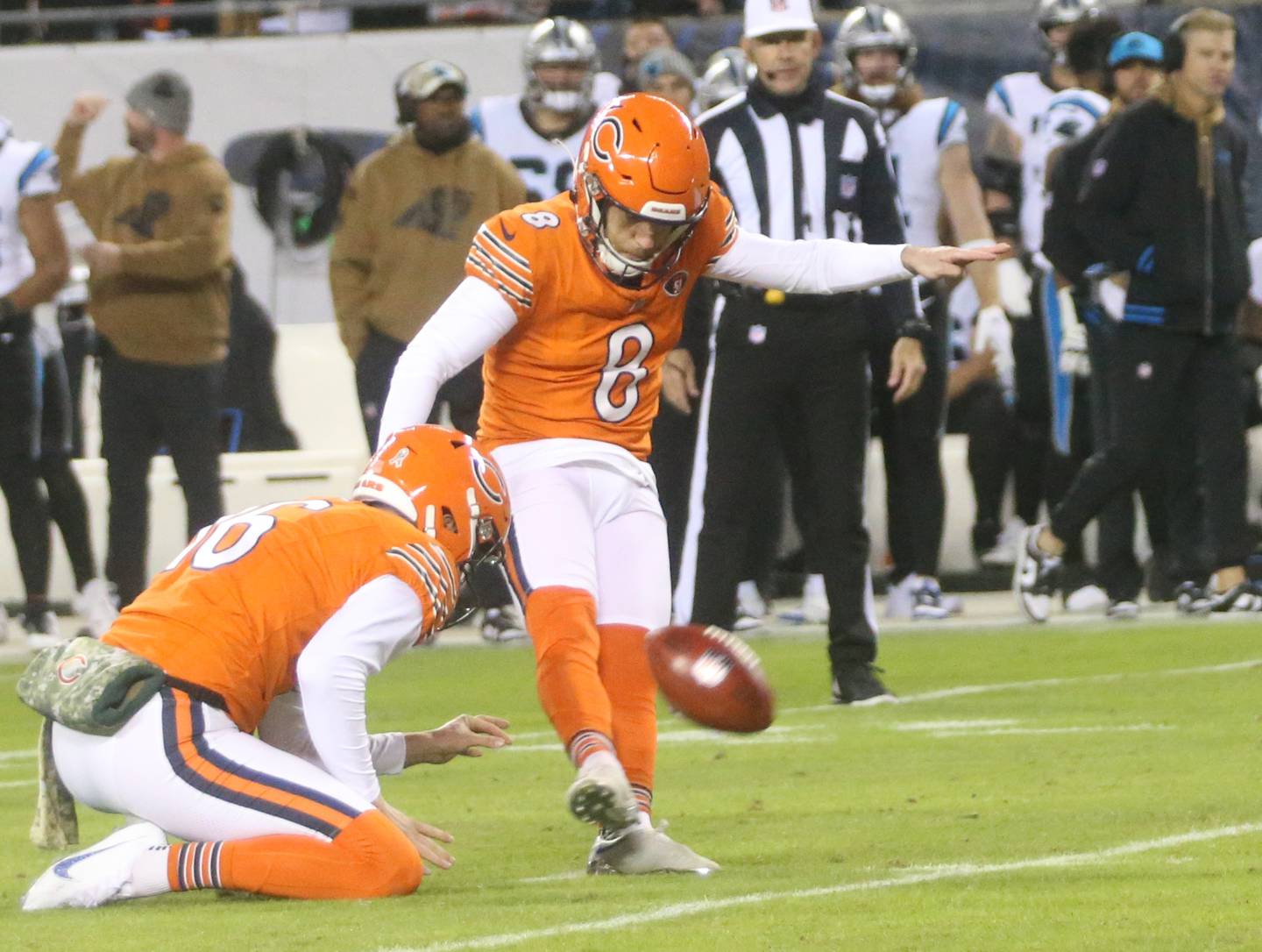 Kicker Cairo Santos provided nine points for the Bears on Thursday, making all three of his field goal tries in the first half.
His first one was probably his toughest. Santos lined up for a 49-yard try, nailed the kick, but then had to do it all over again because Bears lineman Cody Whitehair was flagged for being offsides. The refs moved the spot back five yards and Santos had to try again from 54 yards.
No problem. Santos knocked it through the uprights for three points.
"Everything was so clean," Santos said. "They kept me clean in the pocket like a quarterback. I didn't feel any rush, any pressure. The snaps, the holds, the ball was just teed up for me. It's a credit to them for allowing me to just go."
During Sunday's loss to New Orleans, Santos missed a field goal for the first time all season. That was after he began his season 11-for-11 on field goals. He felt he, long snapper Patrick Scales and holder Trent Gill did a nice job rebounding after their first miss of the season.
After Thursday night, Santos is now 15-for-16 on field goal tries.
"I always take the approach that I need to bring my A game every day," Santos said. "I never feel like I have it figured out here in Chicago or, if I'm kicking well, that I'm always going to be kicking well."
5. Lean on the run game
The Bears are averaging 135.3 rushing yards per game this season, which ranks fourth in the NFL. On Thursday, they finished with 133 rushing yards as a team. Foreman led the way with 80 rushing yards and a touchdown on 21 carries.
He did it against his former team, too. Foreman ran for more than 900 yards last season for the Panthers.
Wright, the right tackle, said that the way Foreman runs the ball – his hard-nosed style – makes his teammates want to play hard and hit people.
"If he's going to go do it, I'll be damned if I don't go do it," Wright said.
Like the quarterback spot, the Bears will have some decisions to make in the near future. Running back Khalil Herbert returned to practice this week and could be available next week against the Lions. It's unclear how the Bears might divvy up the touches once Herbert returns or what that might mean for Foreman.
On Thursday, it made sense that the Bears would lean on their run game. Bagent played mistake-free football, and Foreman carried the Bears the rest of the way.
"He's always been that way," Eberflus said. "D'Onta is a tough guy. He's a great person. He's a great teammate. He always shows that toughness."