With the addition of quarterback Nathan Peterman on Thursday, the Bears' roster is set at the maximum 53 players. That's not to say that the team is done making moves. Things can still change.
But for now, this roster looks pretty much set heading into Week 1.
General manager Ryan Poles and head coach Matt Eberflus have worked hard to revamp this roster in a relatively short amount of time. Only a few players remain from the Ryan Pace and Matt Nagy era.
We'll be able to evaluate that as we go through the season. But I feel good, again, just on paper, I feel good about the progress."

—  Ryan Poles, Bears general manager
"When the lights come on and we play a real game, the energy levels differ, the speed is different," Poles said this week. "We'll be able to evaluate that as we go through the season. But I feel good, again, just on paper, I feel good about the progress."
So what should Bears fans think about the team as it's assembled now? There are reasons for both optimism and concern.
Three reasons for optimism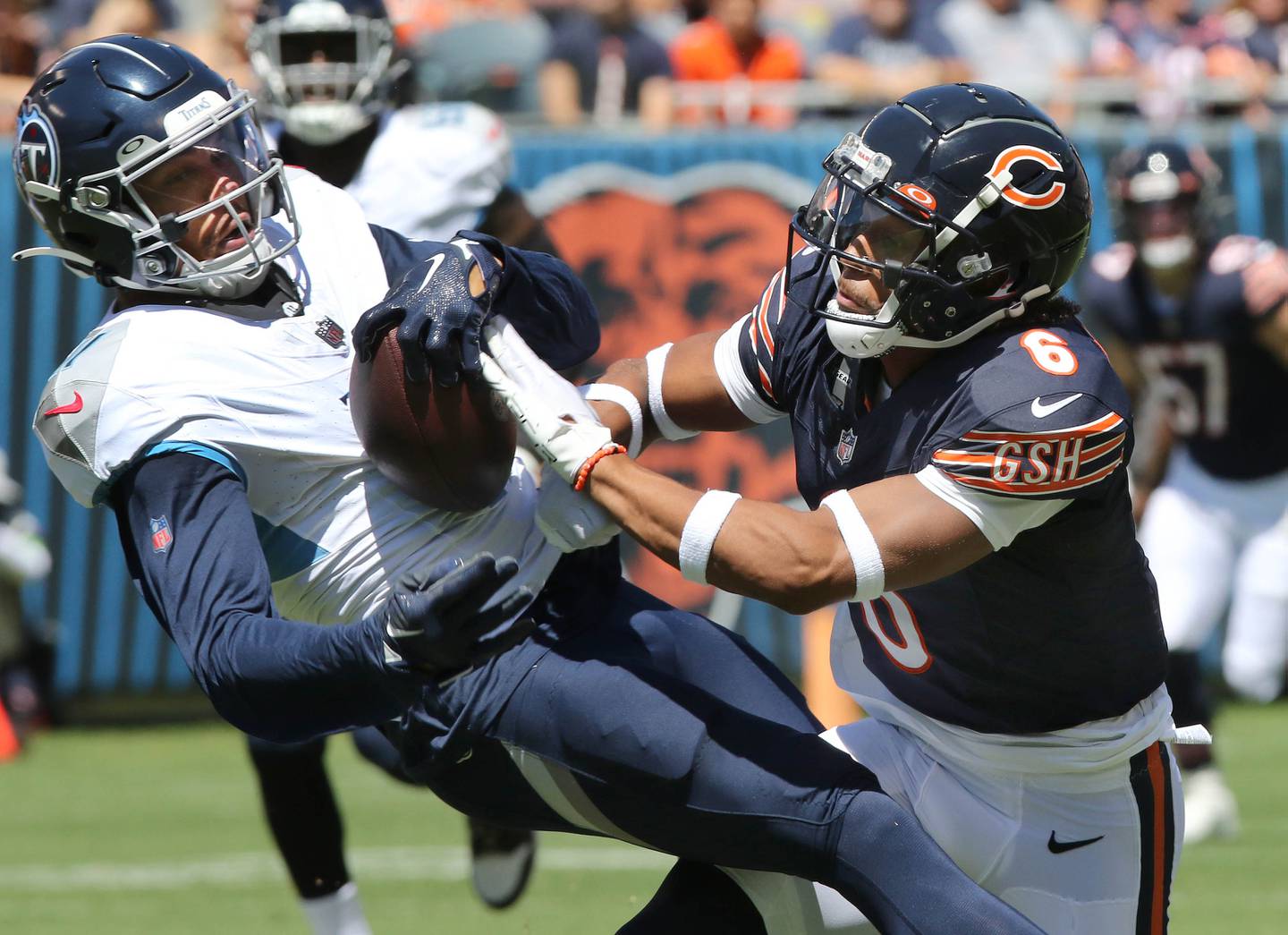 1. Improved secondary
So much focus is on Justin Fields and the offense, but the defense has an opportunity to be one of the most improved units in the league. There remain questions surrounding the pass rush (more on that later), but the linebackers and the secondary are going to be strengths.
With the addition of rookies Tyrique Stevenson and Terell Smith at cornerback, the Bears now have a solid group in the secondary. Stevenson should be in the starting lineup with Jaylon Johnson and Kyler Gordon at cornerback, as well as Eddie Jackson and Jaquan Brisker at safety.
It's not necessarily an elite group, but it looks as if the floor is high. If Gordon and Brisker take big leaps in year two and if Johnson succeeds in his goal of creating more turnovers, this has the potential to be an elite group.
2. Surprise QB find
Undrafted rookie Tyson Bagent was the star of the preseason. He made the active roster. It's unclear if he or Peterman will be the primary backup to Fields.
The fact that the Bears found a potential gem at quarterback is promising. Bagent hasn't proved he can operate an NFL offense in the regular season, but when was the last time the Bears were the team finding a surprise playcaller off the scrap heap? Nobody is surprised when Kyle Shanahan and the 49ers find a Brock Purdy or when Pete Carroll and the Seahawks reinvigorate a Geno Smith, but the Bears have been fumbling around trying to find a QB since Jim McMahon.
They have two young QBs who they can be excited about. Fields has more to prove, yes, and Bagent has everything to prove. But if this isn't a reason for optimism than what is?
3. Offensive playmakers
Simply put, DJ Moore elevates the Bears offense. That was already apparent in two preseason games. His ability to find open space in the intermediate area and then create yards after the catch is something the Bears didn't have last year and haven't had in a while.
At receiver, Darnell Mooney is healthy and Chase Claypool returned to practice this week. Rookie Tyler Scott provides intrigue and speed.
The stable of running backs, with Khalil Herbert, D'Onta Foreman and Roschon Johnson, provides enticing options for offensive coordinator Luke Getsy. The Bears worked hard on their screen game in training camp and it showed in the preseason games. Cole Kmet and Robert Tonyan are rock solid at tight end.
All in all, Fields has playmakers to throw the football to. The question is can Getsy scheme them open and can Fields distribute the ball well?
Three reasons for concern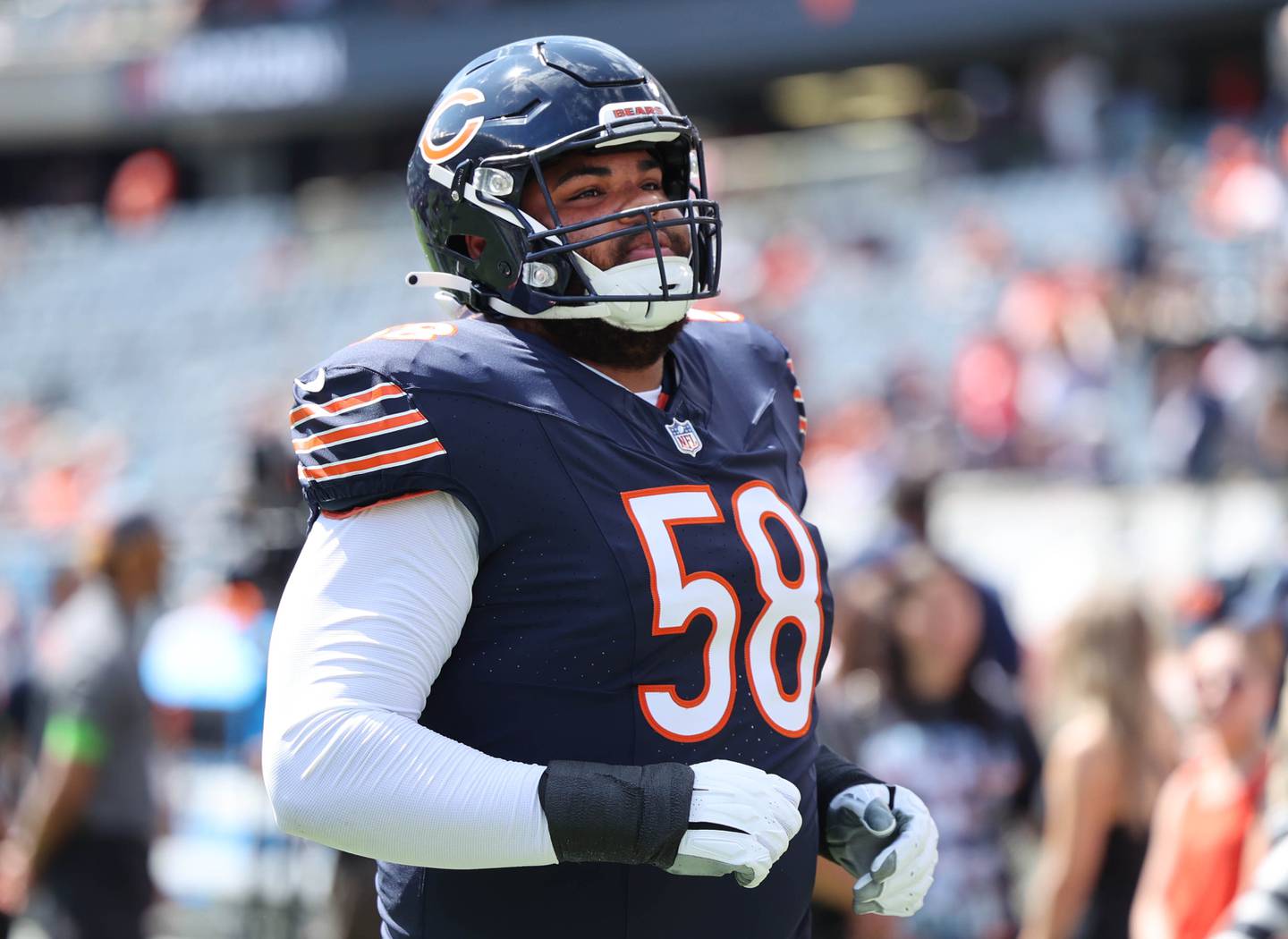 1. Is the pass protection really better?
The Bears invested resources in the offensive line. They signed right guard Nate Davis in free agency. They drafted rookie right tackle Darnell Wright with the No. 10 overall pick. They moved veteran Cody Whitehair to center.
On paper, the starting five looks like an improvement. Games, however, are not played on paper. Davis hardly practiced during camp. Left guard Teven Jenkins will miss at least four games with a leg injury. The Bears traded for veteran Dan Feeney to fill in on the interior. Feeney hasn't been a regular starter since 2020.
Jenkins should be back at some point and Davis did practice this week. Possibly the bigger concern, though, is can the Bears really trust two young tackles? Wright has all the makings to be a solid NFL tackle. He's also a rookie. Even highly drafted rookies have learning curves in the NFL. Left tackle Braxton Jones surprised everyone a year ago by starting all 17 games. He also struggled in certain areas, notably against the bull rush, and has to prove that he can be the all-around tackle that he needs to be.
There's no reason the line shouldn't be good in the run game. The Bears led the NFL in rushing yards last year. Questions remain in pass protection.
2. What about the pass rush?
The elephant in the room, when talking about the defense, is the pass rush. In cutting Trevis Gipson, the Bears cast aside the last remaining edge rusher from the old 3-4 defense. Yannick Ngakoue and DeMarcus Walker were big investments in free agency. They will be the starters. Walker had a career-high seven sacks last year and Ngakoue has had at least eight sacks every year of his career.
Dominique Robinson and Rasheem Green represent the second unit. Together, they combined for five sacks a year ago. Robinson had 1.5 sacks in the 2022 season opener then never reached the QB again.
There is a lot riding on the shoulders of Ngakoue and Walker. Ngakoue is the only sure thing at defensive end. Walker had a breakthrough last year with Tennessee, but he had never come close to seven sacks prior to that. He remains somewhat of an unknown.
This likely remains the weakest component of the defense.
3. Are we sure about Bagent, Peterman?
OK, this is cheating. Can you be optimistic and concerned about the QB room at the same time? Why not?
The most important thing this season is Fields. If the Bears are going to go anywhere, the starting quarterback has to show progress as a passer.
Only eight teams had one quarterback start all 17 regular season games last year. Quarterbacks get hurt. It's just a fact. Fields' playing style could lead to more hits than other QBs. Do the Bears really feel good about Bagent and Peterman as the backups? What if Fields were to suffer a major injury and miss half the season? Or what if Fields simply isn't producing results?
Bagent is almost a complete unknown. He led a couple of good drives against backup players in preseason action. It was a promising step, but things are different when Week 1 arrives. Though he has been in the league since 2017, Peterman has started only five games. He has thrown 13 interceptions in 13 career appearances.
If Fields is unavailable for a lengthy stretch of time, this season could sink down the drain quickly. That's true for almost any NFL team, but it's especially true for a team that won only three games last year.