Joe Marchese says his 1968 Mustang is his pride and joy. He originally bought the coupe in 2000, when he and his father were driving through Crown Point, Indiana, and they saw the Mustang sitting in a yard with a piece of paper in the back window.
Letting their curiosity get the better of them, they drove back around to the house and stopped to see what was written on the paper. It simply said, 'For Sale.' After looking at it for a few minutes, they went up to the house and asked the homeowner about the car. The owner, an elderly gentleman, said the car belonged to his nephew and that he was looking to sell it.
According to Joe, he decided he wanted the car and went back the next day intent on driving it home. He says the car originated from the West Coast and, although it has since been repainted the original color Wimbledon White, the body is all original. The undercarriage has been blasted and is coated with Por-15, a high-performance coating used to protect metal against rust.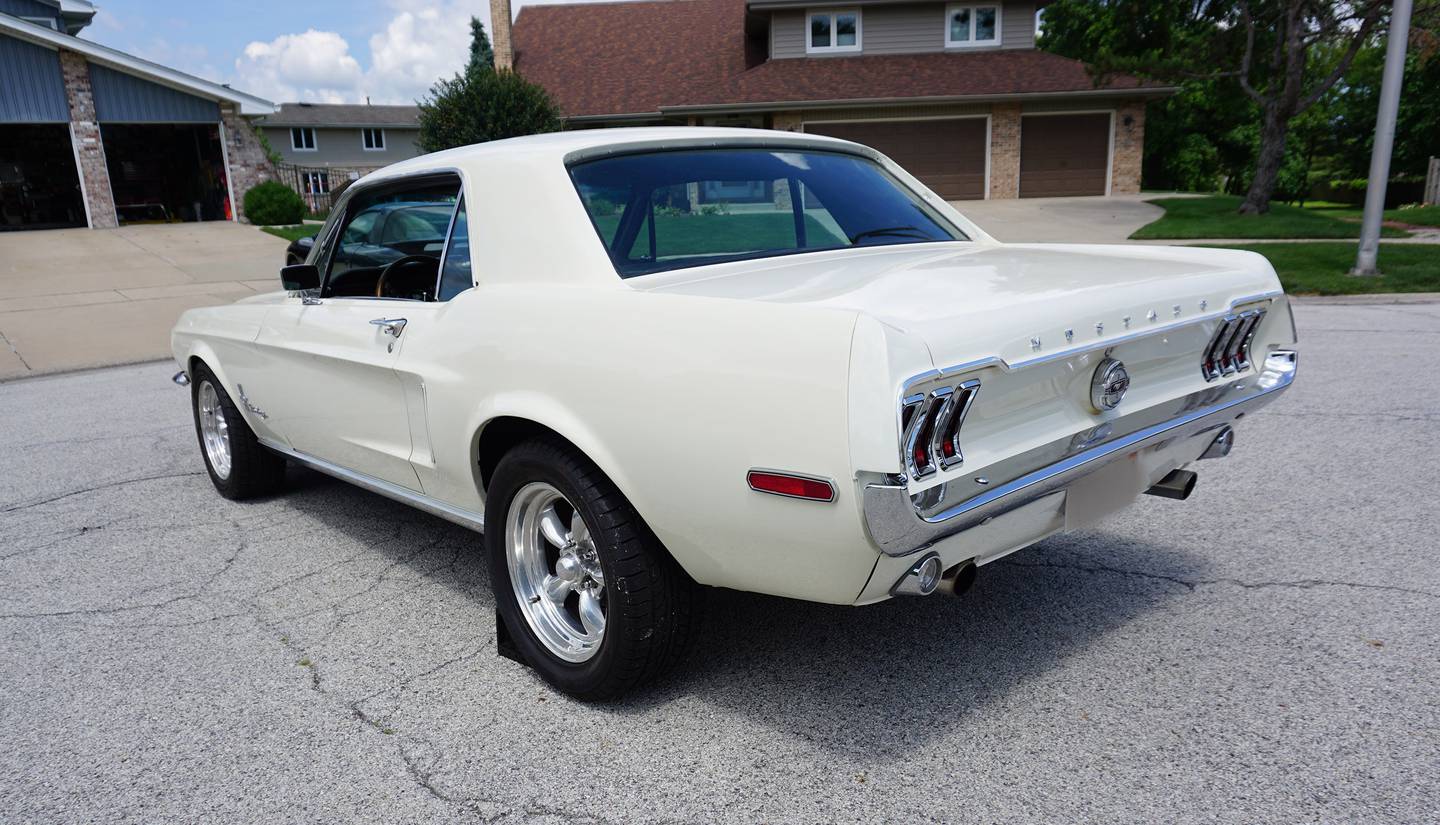 The things Joe likes about his Mustang range from the cream-colored Wimbledon White paint, the exhaust's distinct sound, and the back end's stylish look. The taillights of this 1968 Mustang are a particular favorite of Joe's.
Joe's Mustang has a 289 engine with Edelbrock heads, intake, and a 600 CFM 4-BBL carburetor. The original 3-speed transmission was removed and a Toploader 4-speed transmission was installed. Renowned for high-performance strength and durability, the Toploader (particularly the four-speed) was originally equipped on sought-after "A-list" cars like the AC Cobra. Even the rear end was upgraded to a 3.80 positraction (posi) unit.
The Mustang's interior is all stock with the exception of the radio, which is retro-designed to look like the original, but has AM/FM and a USB port for any type of music Joe and his wife may want to listen to.
There was a point where Joe sold the car to his brother, then bought it back a few years later. Joe and his wife used the car for their wedding. Even the license plates have their initials and the wedding date.
Joe says he has plans for the car in the future. He would like to upgrade the fuel system with a Holley Sniper TBI system and install a Tremek 5-speed trans. But for now, it's their cruiser and they enjoy taking it to local car shows.
If you have a car you would like to see featured in Classic Wheels, contact Rudy Host, Jr. at Classic.Wheels.Rudy@gmail.com