MANHATTAN – Like a bulk of American boys, Connor Studer grew up playing baseball.
It wasn't long, however, before he decided to switch to volleyball.
His older brother, Nico, had taken up the sport, and Studer would attend his matches. When Nico was in eighth grade and Connor was 11 years old, Nico played in a beach volleyball tournament. There, Connor found his true calling.
"My brother started playing volleyball in sixth grade, and I kind of made fun of him," Connor Studer said. "We were a baseball and football family. Then, when he was in eighth grade, he went to a beach volleyball tournament and I went along to watch. I was about 10 or 11 years old, and the coach had me and a couple of other kids my age get out there and practice with them. That was my first lesson, and I decided that I liked volleyball.
"I was playing baseball, but I was one of the smaller guys on the field. In volleyball, I was the same size or a little bigger than everyone. It didn't stay that way, but I loved volleyball."
Despite standing only 5-foot-10 in a game dominated by much taller young men, Studer had an impressive season for Lincoln-Way West, leading them to a 30-10 record and an 8-0 mark in the SouthWest Suburban Conference, the first time that had been done in school history.
He turned that into more success on the club scene, as his Ultimate 18G team recently returned from a national tournament in Orlando, Florida, where they finished in the top 16 in the country.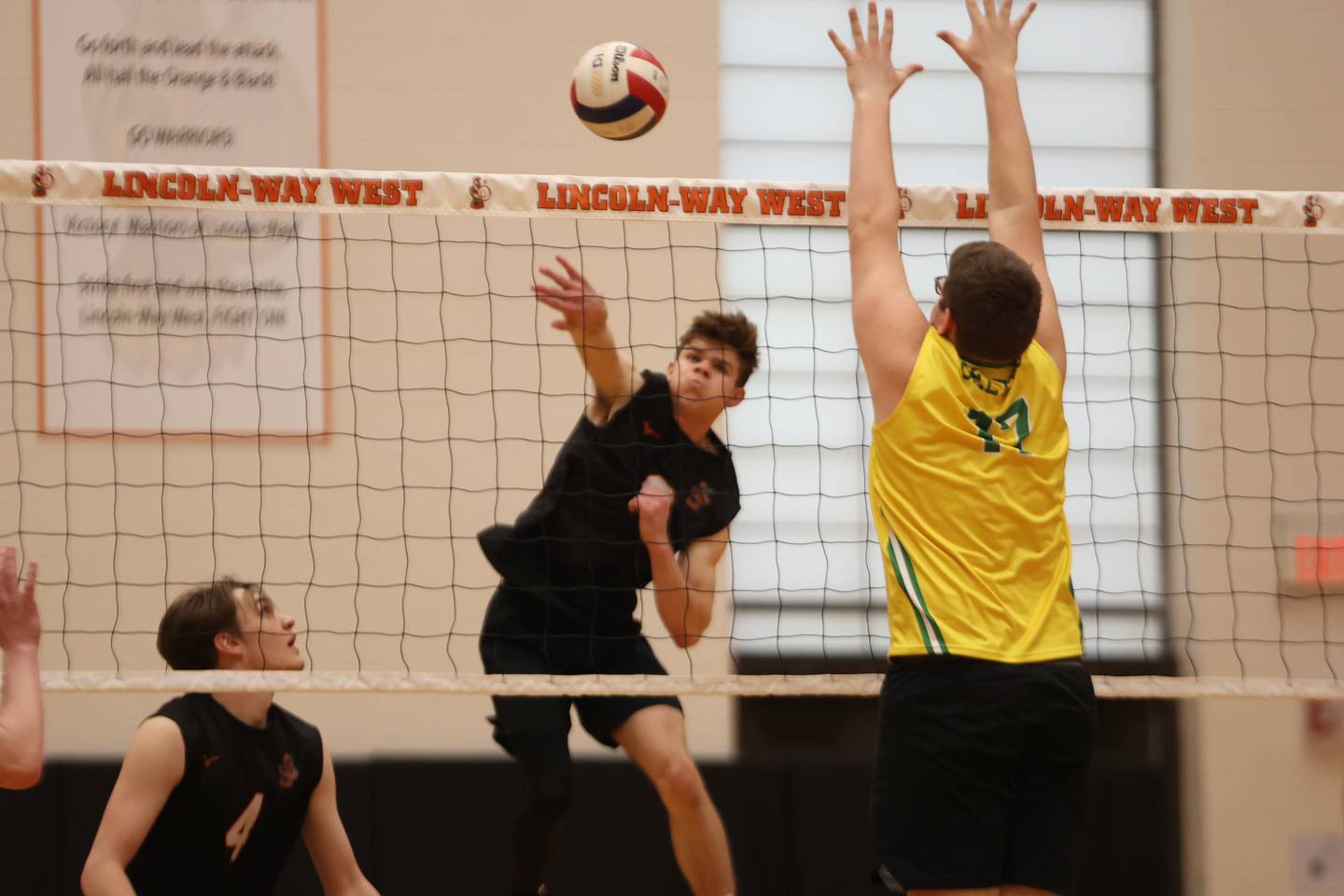 "Finishing in the top 16 is still really good," Studer said. "The level of competition at the national tournament was crazy. We were seeing some of the best serves I have ever seen. It's quite a jump from playing in the 17-year-old group to the 18-year-olds. There are some full-grown men in the 18-year-old group.
"I used to be one of the taller guys on the court, but over the years, I have learned to stay crafty and work hard. There aren't going to be too many teams that work harder than we do on the court."
During his high school career for the Warriors, Studer was a four-year varsity player and a three-time SWSC All-Conference selection, as well as being named to the Illinois Volleyball Coaches Association All-State first team. This past season, he had 468 kills, 36 blocks, 163 service points, including 29 aces, and 227 digs. Not only did Studer's efforts help the Warriors to their first-ever undefeated conference championship, but they won their first regional title and their first sectional semifinal.
"For all the stats he accumulates, what is more impressive about Connor is his leadership abilities as a three-time captain," West coach Jodi Frigo said. "Connor has always led the team by example. His work ethic is to be commended.
"His competitive spirit, determination and drive sets him apart from other athletes. He is motivated by the pressure of the competition, the chance to crush his current personal best and prove to himself that his hard work wasn't for nothing. His mindset is always 'in it to win it' and he is willing to endure longer and perform with maximum effort until the very last point"
His kill total for the season set the school record, and he was named all-tournament at Joliet West, Wheaton-Warrenville South and Lincoln-Way East. For his career, Studer amassed 884 kills, 390 service points, including 60 aces, 533 digs, had a passing serve receive accuracy of 2.12 and had 77 blocks.
"He is the guy we relied on during the match to put the ball away and push the rest of the team to keep fighting," Frigo said.
Even though he enjoyed success beyond most on the court during his high school career, Studer will not be a part of a college volleyball team. He plans to attend University of Alabama and play on the college's club team, but the primary goal in Tuscaloosa will be his studies. He plans to major in aerospace engineering and become a rocket scientist.
"I'm not a rocket scientist yet," he said. "I hope to be one someday. I chose Alabama because they have a very good aerospace engineering program. Learning how things fly has always fascinated me."
Studer will fondly remember his time at Lincoln-Way West.
"We definitely would have liked to win one more this spring and advance to state," he said. "But it was great to be a part of a team that made history. Once we beat Lincoln-Way East during the season, coach Frigo told us that we could be the first West team to go undefeated in conference, so that was definitely a goal all year. For us to do that, plus win a regional and a sectional semifinal and give the players in the future something to shoot for is a good feeling."