BOLINGBROOK – Entering the fourth quarter of Thursday's game against Southwest Suburban Blue rival Lincoln-Way East, Bolingbrook found itself in a position rather foreign to them.
The Raiders were trailing.
But Bolingbrook didn't panic, and the play of juniors Jasmine Jones and Angelina Smith helped the Raiders (22-3, 5-1) come away with a hard-fought 36-29 win.
It was a tight game all the way as Bolingbrook was without standout Persais Williams. On senior night, Bolingbrook's lone senior, Scarlet Castillo, started in Williams' place. But no matter who was on the court, the Raiders were unable to mount much of an offensive attack.
Despite trailing 26-25 entering the fourth quarter, the Raiders did enough offensively to regain the lead, and the defense clamped down, holding Lincoln-Way East (14-9, 2-4) to only three points in the quarter.
"It was a very different situation," Jones said about being behind to start the fourth quarter. "In the fourth quarter, we picked it up and worked more with each other. We were not communicating very well as a team early in the game, but we just worked more as a team in the fourth quarter.
"We need to keep doing that so we can get back to having big leads in the fourth quarter again."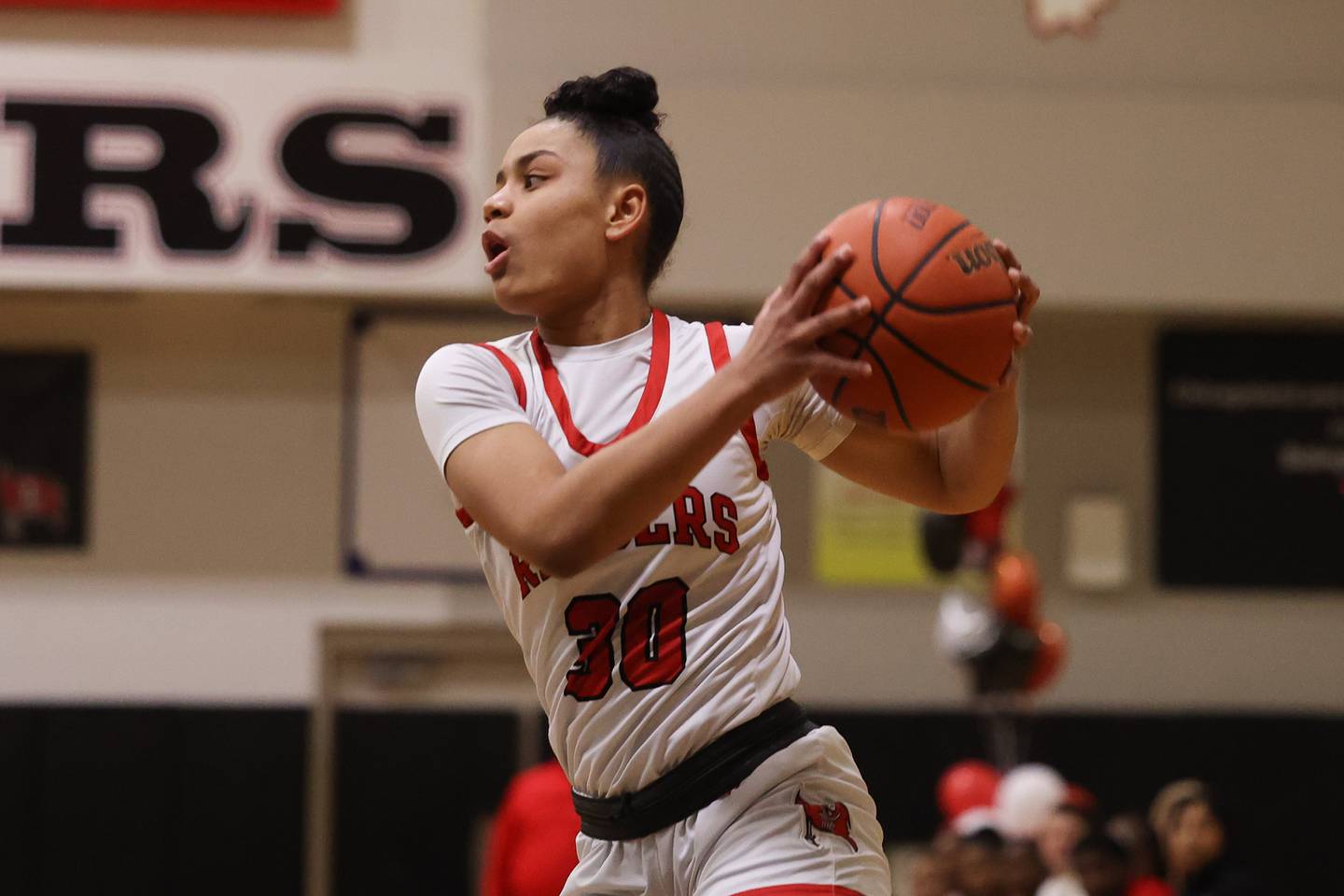 Smith, who led all scorers with 14 points, got things started for the Raiders in the fourth with a driving basket, then hit Jones on the block with a perfect pass. Jones converted to put Bolingbrook ahead 29-26. East's Makayla Kelly answered with a 3-pointer to tie the game, but those were the final points for the Griffins.
Jones, who finished with 11 points and seven rebounds while working mostly against East's 6-5 Hayven Smith, gave Bolingbrook the lead for good soon after with a baseline jumper. Angelina Smith then assisted on a bucket by sophomore Ciyah Thomas (six points) before capping the scoring with another nifty drive to the hoop and a late free throw.
Jones demonstrated her versatility early, stepping outside to hit a 3-pointer in the first quarter.
"I do that a lot," Jones said about shooting from behind the arc. "Also, I am pretty confident when I go up against taller girls. I use my positioning and my footwork to get the advantage since they have the size advantage on me."
Bolingbrook coach Chris Smith was pleased with Jones' performance as well.
"Jasmine had a real nice game," he said. "She has the potential to be very good. Most people look at what we call our Big Three – Angelina Smith, Persais Williams and Yahaira Bueno – but Jasmine is the rock on the court that does a lot of the dirty work. She's also one of our better 3-point shooters, so people have to respect that when she steps outside, and that opens things up for drives.
"Persais probably won't be back until the regionals at the soonest, so we need to figure things out until she gets back. The good thing is that some players are going to get to see more time on the floor, and that will help when Persais does come back."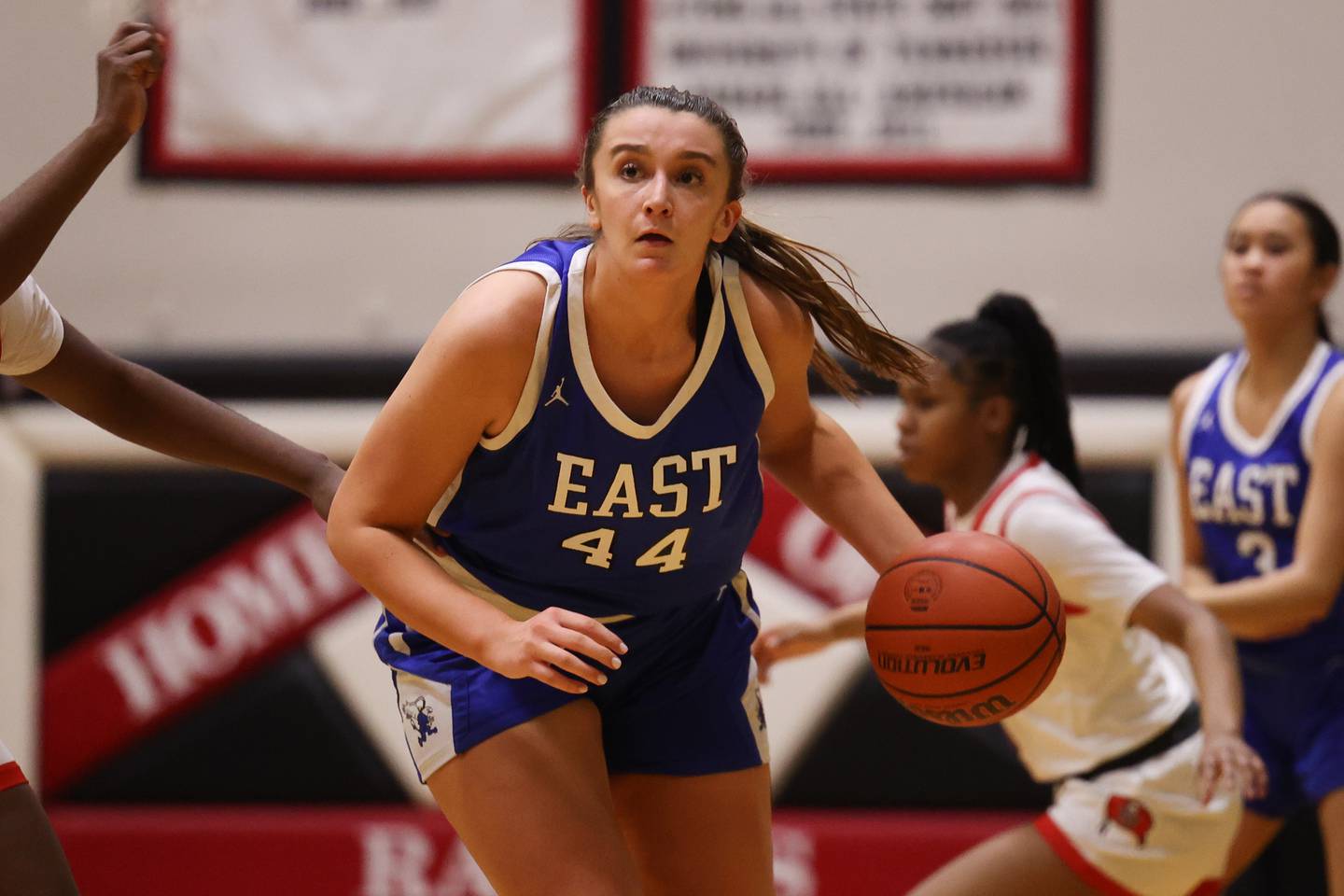 Lincoln-Way East coach Jim Nair was happy with how his team defended and rebounded but admitted the offense wasn't its usual self.
"The last time we played them, I think they had 36 fast-break points," Nair said. "Tonight, they had 36 points the whole game. We knew we had to slow them down and rebound better, and we did a good job of that. The offense never got any continuity. Bolingbrook's defense had a lot to do with that. They really get after you.
"I thought we did a good job of rebounding. [Bolingbrook] will kill you if you don't rebound well. We just didn't execute well offensively and had too many turnovers. It just wasn't our night tonight."
Hayven Smith led East with nine points and had five rebounds, while Lana Kerley had seven points and seven rebounds.