MINOOKA – Lexi Salazar had the ball in her hands often for Plainfield North on Monday night in a 49-40 Southwest Prairie Conference win over Minooka.
That was fine with Tigers coach Michaela Reedy, because the American University-bound Salazar finished with 24 points, eight rebounds and six assists to help North improve to 7-1 overall and 3-0 in conference play.
"Lexi's presence on the floor does a lot of things for us," Reedy said. "She creates offense for herself because of the way she can shoot and drive. I have asked her to recognize what the team needs, and she is so coachable that she does it. Sometimes we need her to score, and sometimes we need her to step back from scoring and look at the other options.
"She really did a good job of that tonight."
Salazar got the Tigers off to a quick start, scoring their first seven points on a pair of 3-pointers and a free throw. Minooka, however, was equal to the task and kept pace with the Tigers, taking a 10-9 lead on a 3-pointer by Kennedi Brass late in the first quarter. After a basket by Bella Gruber put the Tigers ahead 11-10, Minooka tied it on a free throw by Andie Burch and took a 14-11 lead on a 3-pointer by Emma Oyola. A putback by Gruber made if 14-13 Indians at the end of the first quarter.
Then, the Plainfield North defense took over.
The Tigers allowed only four points in the second quarter and used five points and three assists from Salazar to take a 24-18 lead into halftime.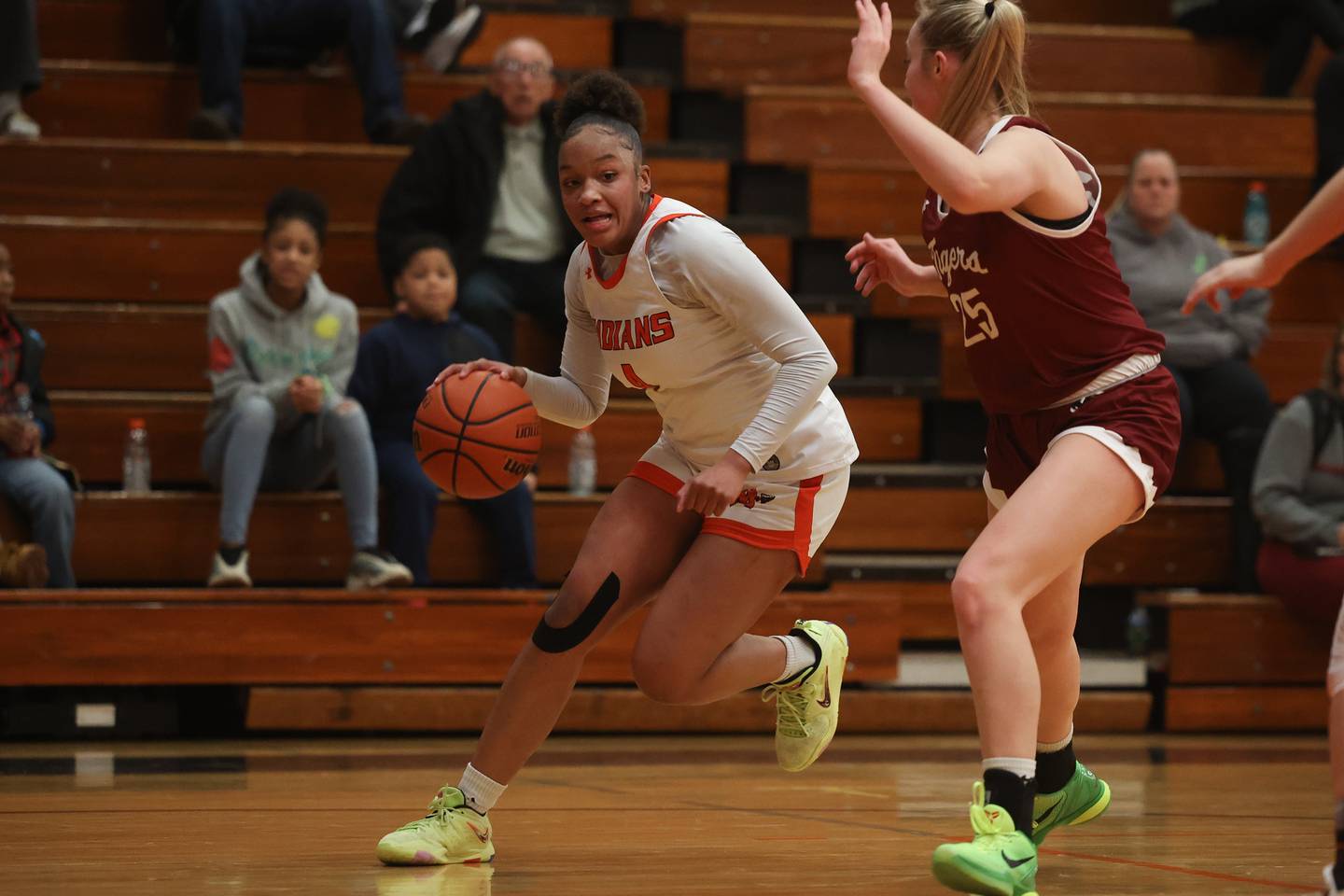 "It all depends on how the game is going," Salazar said. "If I am driving to the basket and I see two or three people coming at me, I know someone else is open. It's a good feeling to know that my teammates are going to finish if I get them the ball.
"In our last game, against Oswego, we gave up quite a few points. So we worked on our closeouts for this game. Minooka likes to drive to the basket, so we stopped the drive, then tried to close out when they passed it back outside."
Minooka (2-6, 2-1) continued to fight, getting a three-point play from Makenzie Brass (team-high 13 points) and a 3-pointer by Kylie Loomis (9 points) to pull to within 26-24 early in the third. North then scored eight straight points – five by Salazar and three by Ruby Davis – to take a 34-24 lead. After a basket by Makenzie Brass, Sydney Scott scored for North before Salazar assisted on a 3-pointer by Gruber for a 39-26 lead. Brass then made a pair of free throws to close the scoring in the third quarter.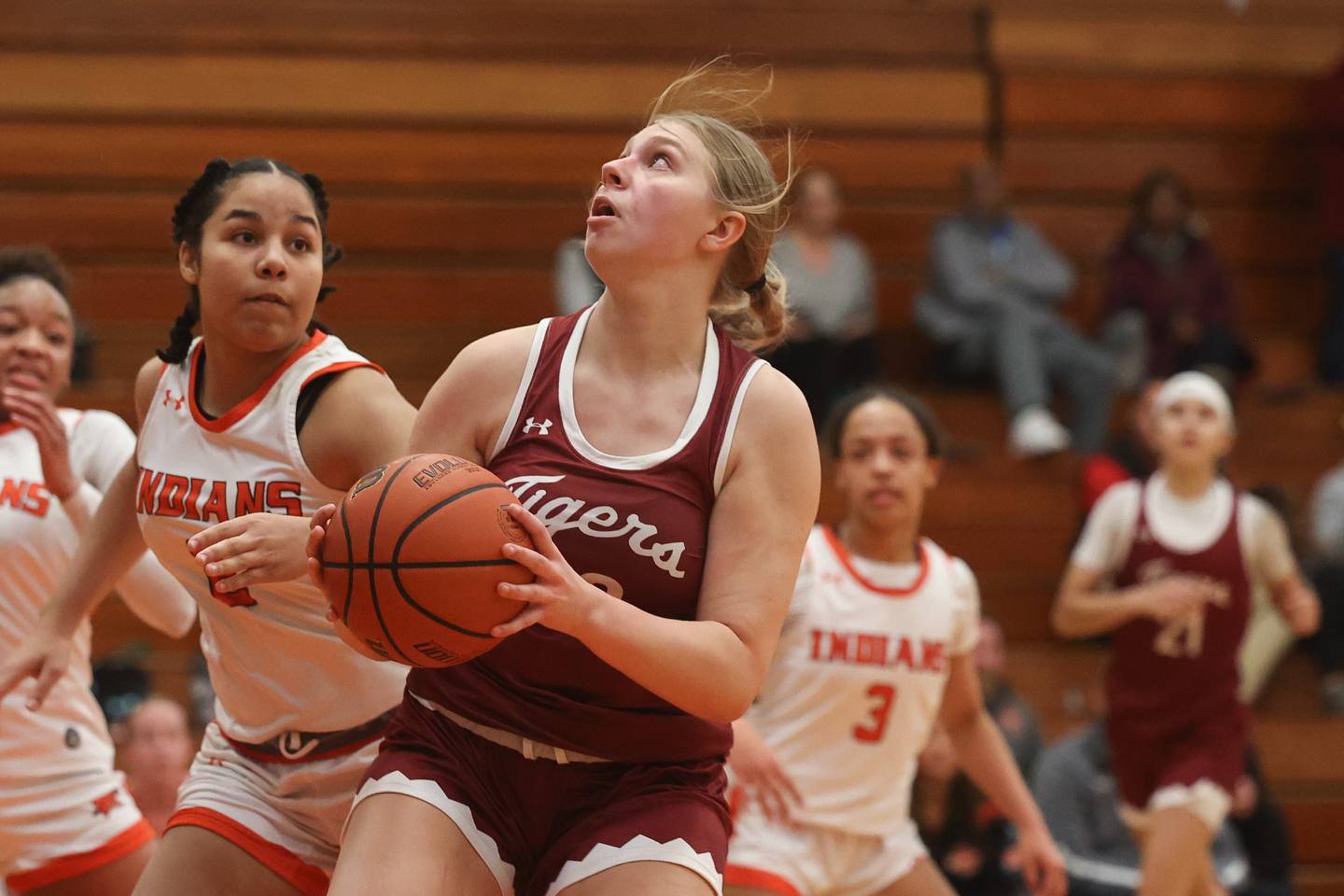 Minooka came out strong, scoring the first five points in the fourth quarter on a 3-pointer by Gina-Marie Milazzo and a basket by Bree Cook. North's Sophia Charbonneau answered with a three-point play before Salazar assisted on a bucket by Davis to push the lead to 44-33. After a putback by Minooka's Madelyn Kiper, Salazar scored on a drive. Loomis hit another 3-pointer before Salazar made a pair of free throws with 2:00 left. A basket by Makenzie Brass pulled Minooka to within 48-40, and Salazar capped the scoring with a late free throw.
"Our defense is something we work hard at," Reedy said. "I tell the girls to use me as their sixth man in the first half, and I will tell them what we need to fix for the second half.
"Bella Gruber and Sydney Scott gave us some real good minutes off the bench, and Bella Garcia continues to improve each game she plays. We are young, but we are pushing ourselves to grow and improve for the push to the postseason."
Minooka coach Jeff Easthon was pleased with the improvement from his team.
"We're getting better every game," he said. "We struggled in the second quarter. I think we had six turnovers and four points in that quarter. We are working a lot on our offense, and there was more movement and improvement. We really struggled to score at the start of the season, but it is starting to come around.
"Tonight we needed to put two or three stops together in the fourth quarter, but we weren't able to do that. We shot well from the outside tonight, which is something we need to do."