LOCKPORT – "I'll be back."
When Matt Krzos was out for nearly two weeks with a wrist injury late in the season, the Lockport boys volleyball team missed its terminator.
Krzos returned for the final week of the regular season but he finally felt 100% Thursday night and it showed. The 6-foot-5 senior outside hitter put down a team-high 10 kills and added two blocks as the host Porters rallied for a 13-25, 25-20, 25-20 victory over Lincoln-Way West in the title match of the Lockport Regional at Lockport Central.
It's the third regional title in four seasons for Lockport (29-8), which is the top seed on its side of the O'Fallon Subsectional. The Porters will face No. 2 seed Plainfield East, a 25-20, 25-19 winner over No. 3 seed Joliet West at the Joliet Catholic Regional, in a sectional semifinal at noon Saturday at Joliet West. The winner will travel to O'Fallon for the sectional final Tuesday.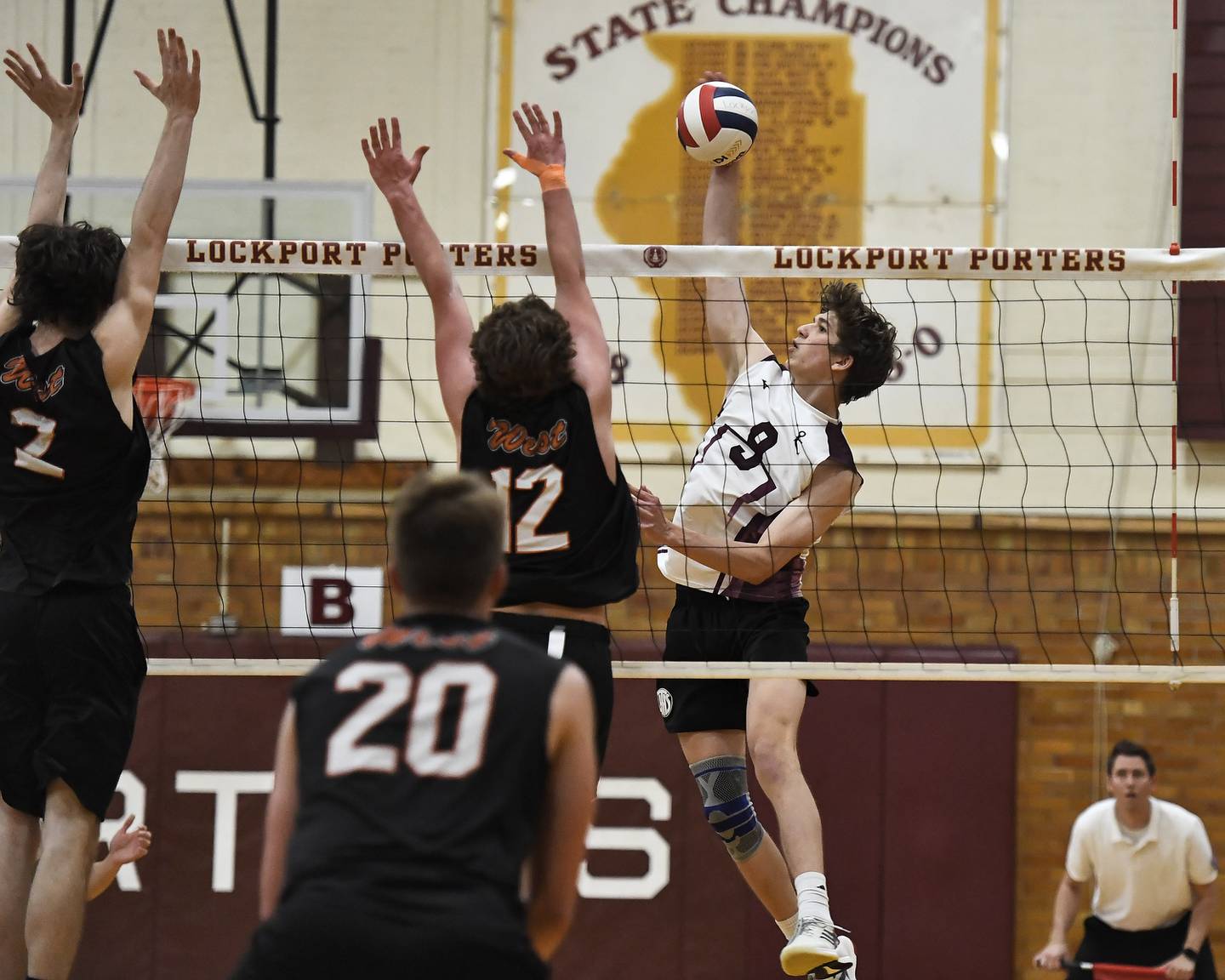 With the Porters trailing 16-15 in the third set, Krzos had four kills and his two blocks, as the Porters ended the match on a 10-4 burst.
"The last two matches I wasn't too hot and in the first set tonight, none of us were hot," Krzos said. "But then we picked up our blocks."
Lockport coach Nick Mraz, who often uses the term "terminate" when it comes to kills, is glad to see Krzos back and doing just that.
"He's been our go-to guy, and it's huge for us," Mraz said of Krzos being healthy. "They [Lincoln-Way West] knew where the ball was going, and he was still able to come through."
Behind a pair of kills from sophomore outside hitter Wade Welke (6 kills) and two blocks from senior middle blocker Braeden Goebbert (6 kills, 3 blocks), the Porters raced out to a 7-1 lead in the third set. But trailing 13-7, Lincoln-Way West (23-14) reeled off a 7-0 run with senior right side hitter Logan Clarida (6 kills) getting a pair of kills.
With the score tied at 17, Krzos had a kill and a tip block in a 4-0 run that gave Lockport the lead for good.
"I had strained a tendon in my right wrist," Krzos said of his hitting hand. "But I worked my butt off to get back, and when I came back I had a lot of tape on it. It was frustrating sitting out, but I was able to play without the tape tonight.
"When I came back in [during the third set] I was very fired up. [These are] our first-ever, back-to-back regional titles in school history and now we need two more wins and we are back at state."
A kill by Krzos and a block by sophomore opposite side hitter Josh Bluhm (8 kills, 3 blocks) ended the match.
"A lot of it was that we needed to get out of our own heads and make plays," Bluhm said of the Porters' turnaround from the first set. "It's a really good feeling, but the job isn't done. There's still so much more to do."
Evan Dziadkowiec, a sophomore who was the starting setter for the Porters' Elite Eight team last season, was his steady self with 25 assists, 12 digs and two kills.
Junior outside hitter Connor Studer led Lincoln-Way West with 10 kills. Senior outside hitter Brian Lynch had six kills, senior middle hitter Connor Dargan deposited five kills, while sophomore right side hitter Connor Jaral had four kills. Junior setter Garrett Konopack had 17 assists, and senior setter Andrew Tomaszewski passed out 13 assists. Junior libero Jack Ladd had 13 digs, and freshman defensive specialist Andrew Flores added nine digs for the Warriors, who had won three straight regional titles.
The first set was all Warriors as they jumped out to a 6-0 lead. Ahead 9-5, Dargan had two kills and a block in a 7-1 burst for a 16-6 advantage. The second set was tied 8-8 when Lockport went on a 5-0 run to take the lead for good. Lincoln-Way West closed within two a couple of times, the last one at 18-16. But Krzos creamed a kill to start a 4-1 spurt as the Porters pulled away.
"We made them take us to three," Lynch said of the match. "We handled ourselves well, but they started passing a lot better."
Warriors coach Jodi Frigo agreed.
"We fought, we battled and that's what a regional final should be," she said. "But when [The Porters] start passing the ball, they can terminate. But we matured through the season. We showed mental toughness and bonded as a team."
In their SWSC meeting May 3, the Warriors defeated Lockport, 25-20, 25-18, in New Lenox. It also will be a rematch of last season's sectional semifinal at Minooka, which the Porters won, 25-21, 23-25, 25-13, en route to their first state quarterfinal berth.
"For this matchup to be a regional final is absurd," Mraz said. "These are two high-quality teams, and this should at least be a sectional semifinal. Lincoln-Way West plays with high energy all the time. We are more even-keeled. We started making plays in the second set and calmed ourselves down."