LOCKPORT — Egads!
Literally.
Emily Gad picked a great time to hit her first home run of the season and Kelcie McGraw did her part by settling in the circle as Lockport toppled Minooka 3-1 in an area matchup of local softball powers on Friday afternoon in Lockport.
Gad, a senior left fielder, hit a line shot to left field that kept carrying and just cleared the fence with two outs and one on in the bottom of the second for a two-run homer to put the Porters (20-5) ahead for good at 2-1.
Did Gad think 'egads' as she hit it?
Oh, when it came off the bat I thought, 'oh that one felt good,'" Gad said of her blast. "I don't know what kind of pitch it was, I just swung. I've had some close ones this season where the ball hit the top of the fence, so I thought it might happen again."
Lockport coach Marissa Chovanec, however, knew it had enough to clear the fence.
"I knew 100 percent off the crack of the bat that it was gone," she said. I'm happy for Emily. She brings a lot of energy to the field and has been a joy to coach."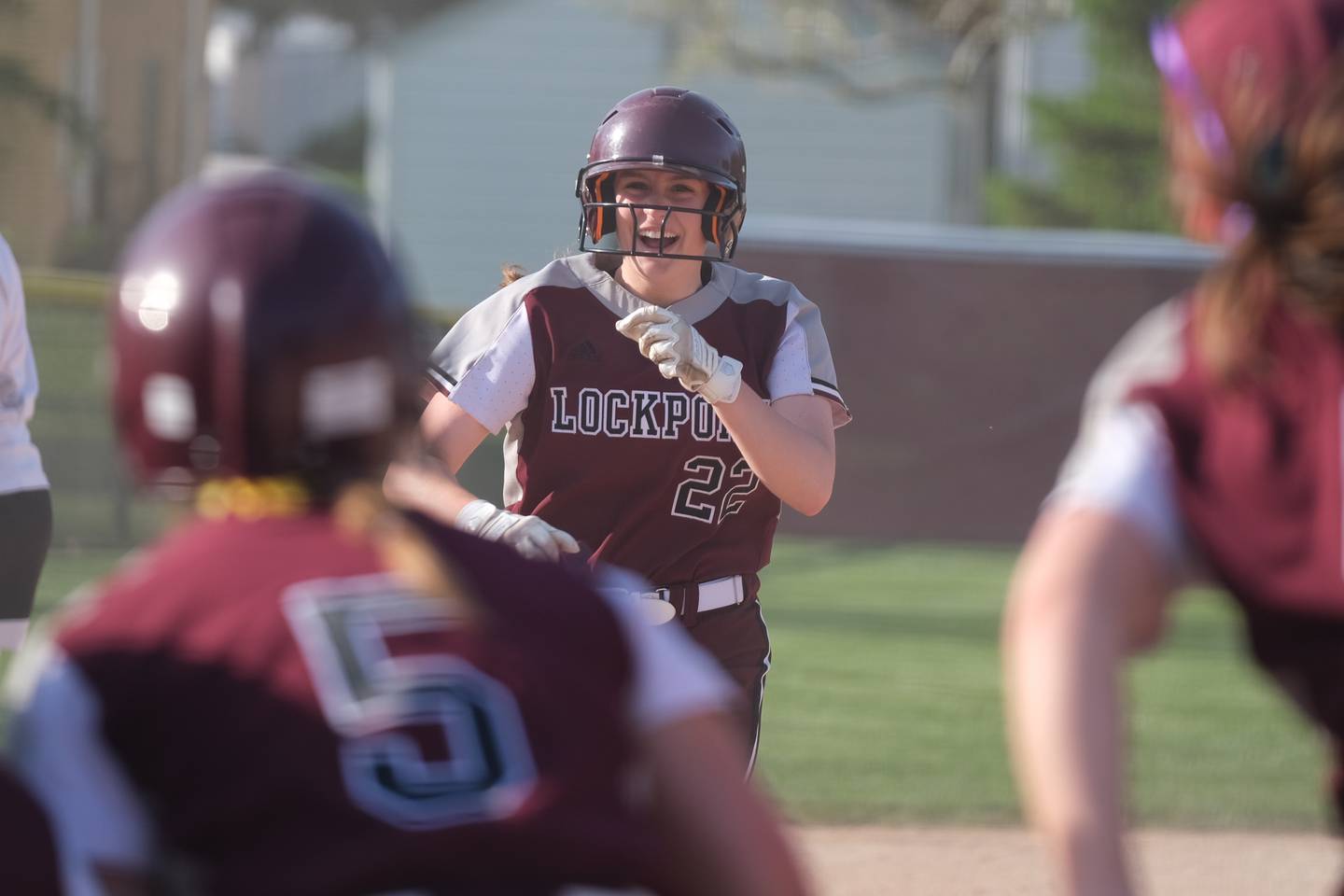 The victory was the 20th of the season for the Porters, who have now reached that mark 39 times in the past 42 played seasons. But last year, they did not make that mark, finishing 14-16 for the first losing season in program history.
"Yes, this is win No. 20," Gad confirmed. "It feels really good to win. Last year was kinda rough."
The game started a little rough for Lockport. The Indians (15-9-1) had the first two batters reach base as junior right fielder Anna McClimon walked and senior third baseman Megan Medlin singled to right-center. But McGraw got a force out at third, a pop-foul, and a strikeout to get out of the jam.
Minooka took advantage of some miscues in the second to score. Senior pitcher Peyton Lowder reached on an error and senior outfielder Mackenzie Mazzocchi followed with a walk. Two outs later, McClimon hit a bloop popup that fell near the circle for a hit to load the bases.
Medlin (2-for-3) reached on the second error of the inning and it was 1-0 with the bases still loaded. Junior catcher Chloe Kohnhorst then hit a rope but it was directly at Gad in left, who snared it to end the inning.
Junior catcher Peyton Kryza had a one-out single to center in the bottom of the second. Sophomore Giuliana Giordano pinch ran and scored one out later on Gad's blast. The Porters added another run in the third. With two outs, senior shortstop Kendal Herschbach walked, and senior first baseman Kasey Markusic followed with an RBI double to left-center.
McGraw, a freshman righty, did the rest. Starting with the lineout to left to end the top of the second, she retired 16 of the final 17 batters. Medlin had a one-out single up the middle on a full-count pitch in the fifth but never moved from there.
"I just tried to stay focused and put it where Peyton called for it," said McGraw, who allowed three hits, walked two, and struck out four. "My screwball was working the best."
Does McGraw ever think that she and the Porter's other top pitcher, Alaina Peetz, are only freshmen?
"No, when I'm out there I never think about my grade or age," she said. "It's just like competing against the best in travel ball.
"This win means a lot. Beating good teams is always an accomplishment."
Chovanec is happy that her freshmen keep accomplishing great pitching performances.
"Kelcie was a little under the weather yesterday," Chovanec said. "I was excited that she felt better and was able to go. Kelcie and Alaina have shown such poise out there that they don't seem like freshmen. They keep us in games."
Kylie Ryan, a sophomore right fielder, had two of Lockport's eight hits. Lowder, a right-hander, certainly kept the Indians in the game as she walked only one and struck out three. Minooka, which was fourth in Class 4A last season, played error-free ball.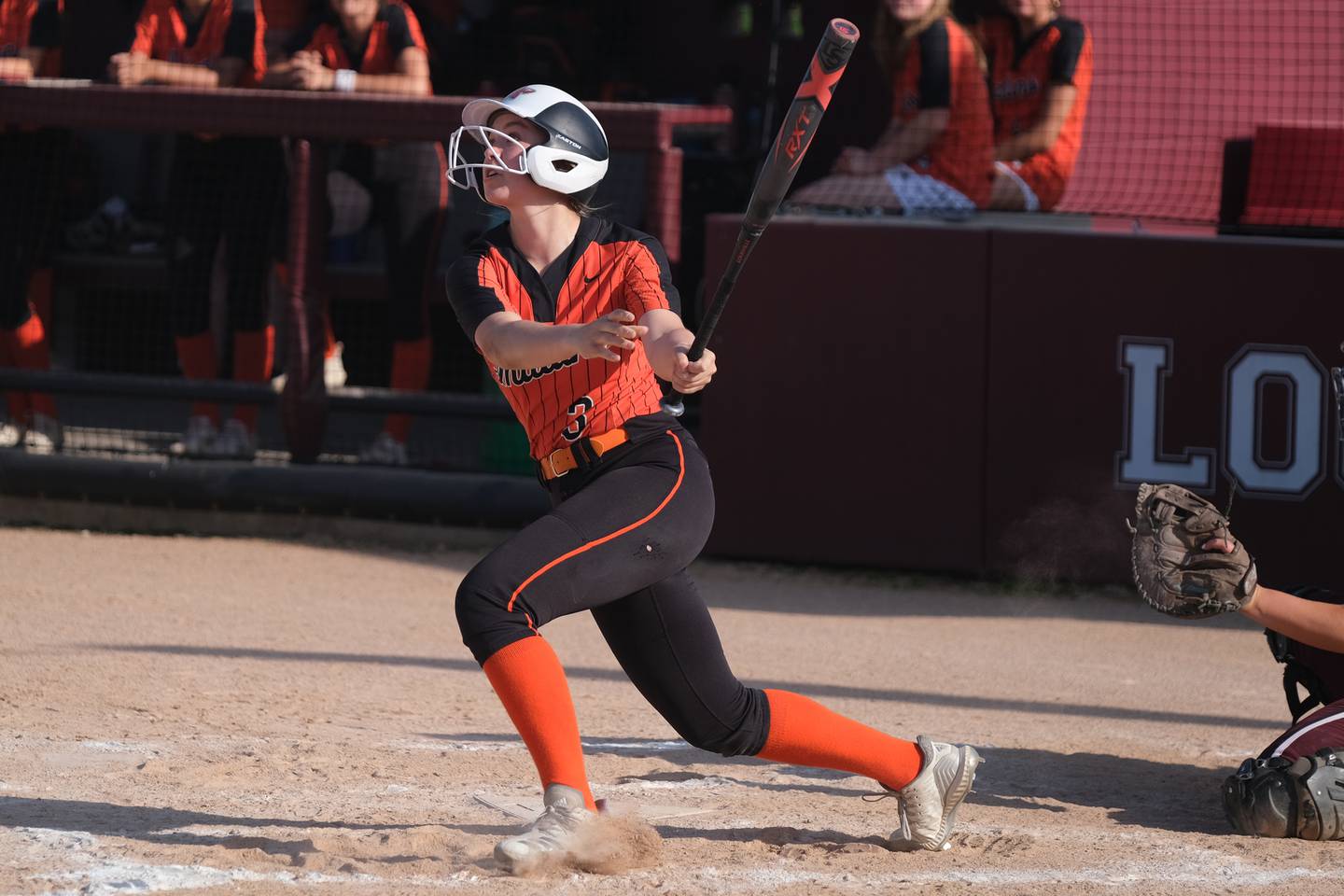 "If there's such a thing as a good loss, this is it," Minooka coach Mark Brown said. "It gets us ready for the state tournament and we will face teams like this. Our defense has been awesome and Peyton did a good job.
"But as soon as we let (McGraw) off the hook she gained confidence and shut us down. Lockport played well."
After the game, Chovanec was informed that in a 6-3 win over host Homewood-Flossmoor on Tuesday, she reached 500 victories in her 19 played seasons as Porter head coach. Following the Minooka win, which was the 17th time in her 19 years that Lockport has reached at least 20 victories, her career record is now 502-173-2.
She and Barb Burk have been the only two Lockport softball coaches. The Porter program started in 1973 and now has an overall mark of 1,187-367-2.
"I'm just glad to be a part of it," said Chovanec of reaching that milestone. "I'm thankful for all the coaches that have been with me along the way and I'm fortunate to be a part of something that I love."