Sage Mardjetko, her second state championship trophy and medal in hand, was surrounded on the side field at Peoria's Louisville Slugger Sports Complex by adoring young fans asking for autographs after the Class 3A final.
She's made her mark.
The Lemont senior pitcher and South Carolina recruit has been the toast of Illinois high school softball the past three seasons. It's a lasting legacy. Mardjetko is a giant to the next wave of Lemont softball players, a status she welcomes with open arms.
"It means a lot, especially since when I was younger I looked up to girls that played on the high school team, girls that played with my siblings," Mardjetko said. "To be able to be a role model for these young girls, especially these young girls from Lemont, but also neighboring towns that know your story, you can't replace that feeling.
"You feel like a hero to these kids, win or lose."
Mardjetko, to be clear, did a whole lot of winning representing her hometown.
She led Lemont to its first state appearance in 32 years and second place in Class 3A as a sophomore and to its first state championship last spring, throwing a no-hitter in the championship game. On June 10, she put an exclamation mark on a sensational career. Mardjetko struck out 24 batters in a 12-inning no-hitter, outdueling Antioch's Jacey Schuler in a 1-0 Class 3A championship.
The tension in that game was palpable, but Mardjetko took it in stride.
"During the game I was super confident with my entire team," Mardjetko said. "I knew that we were going to win. It was just a matter of when. That is the type of confidence you need when playing for a state championship. Looking back on it, it was just an awesome game to play in and watch."
Mardjetko, named Illinois' Gatorade Player of the Year for the second consecutive season, also is our repeat Herald-News Softball Player of the Year.
She posted a 23-0 record with 339 strikeouts over 143 innings with only 18 hits allowed and recorded her 900th career strikeout in a state semifinal win over Benet.
Her most remarkable stat? Mardjetko did not allow an earned run all season.
"I'm not worried about giving up runs, I'm worried about winning the game."

—  Sage Mardjetko, Herald-News Softball Player of the Year
"It's definitely an accomplishment that not many people can say they've done," Mardjetko said. "About halfway into the season somebody brought it up, told me, 'You haven't given up any earned runs.' I knew I had given up runs. It's like, oh, well, that's not something I focus on and worry about. I'm not worried about giving up runs, I'm worried about winning the game."
Mardjetko did not let anything get in the way of winning the final game, either.
"It's just a matter of taking it pitch by pitch and batter by batter, which eventually leads to outs," Mardjetko said. "It makes a big difference being an experienced pitcher on the mound. It gives the entire team more confidence."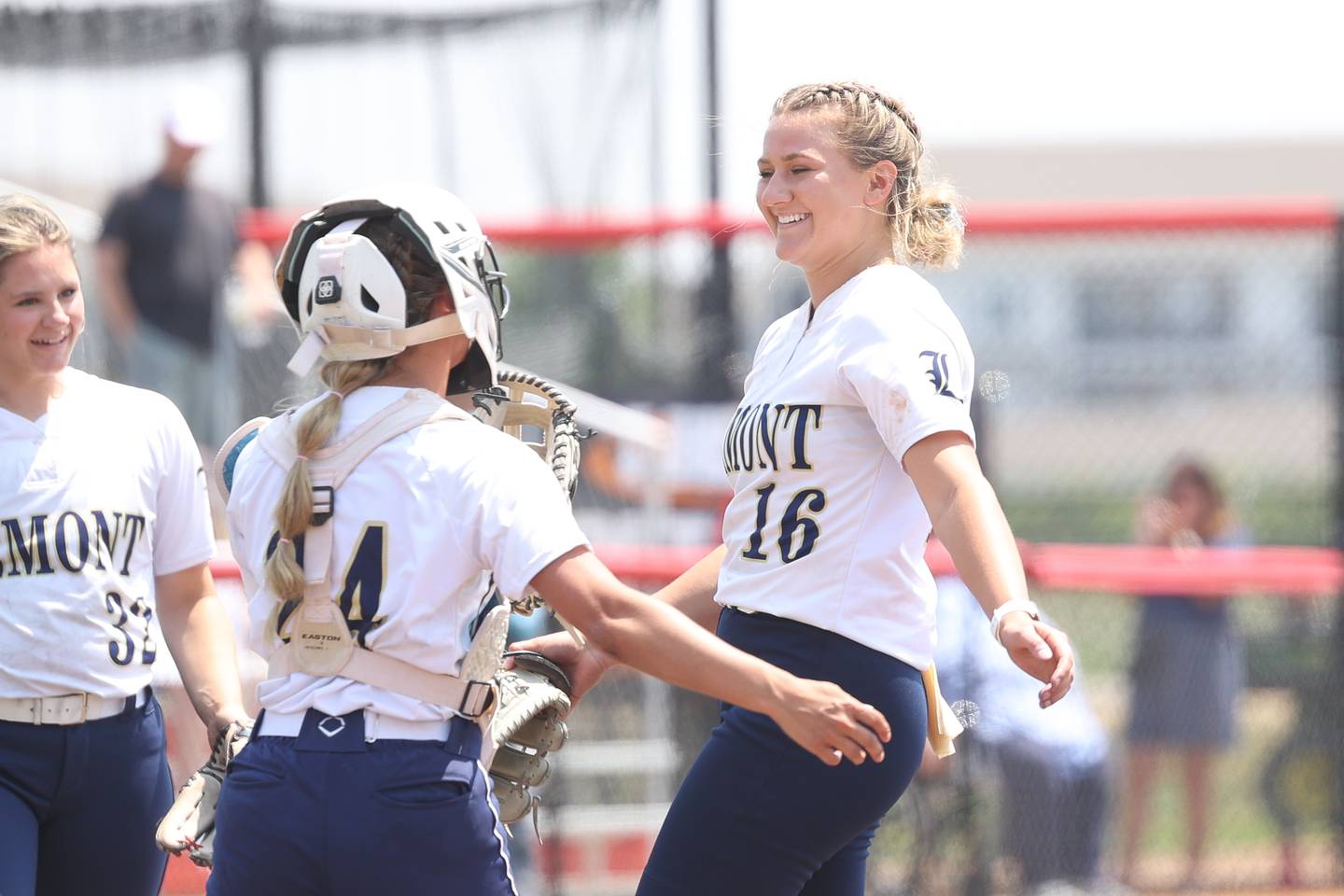 Mardjetko's confidence was strengthened by having one of the best catchers in the area behind the plate throughout her career. Frankie Rita, a Drake recruit, caught Mardejtko all three years. The bond between the two runs deep.
"It means a lot," Mardjetko said. "There are plenty of awesome pitchers I know that don't have good catchers to help them. Having Frankie these three years made the biggest difference. She got to know me as a pitcher and as a person. She became my rock, one of my best friends on and off the field."
Bringing two state titles to Lemont holds special meaning to Mardjetko.
The third youngest of seven children, Mardjetko is the fourth sister to come through the Lemont softball program. Sage, the third Mardjetko sister to pitch for Lemont, started playing softball around 5 years old and started pitching around 9 or 10.
"It definitely makes it a lot more special," Mardjetko said. "I've seen my sisters play for the high school and win regional and sectionals. Being able to be that spark for Lemont to push them over and get them to state three times is special."
Mardjetko already was one of the state's elite pitchers as a sophomore. Never satisfied, she has taken it to the next level the past two seasons.
"Definitely just getting stronger and mentally and physically perfecting all my pitches, learning when to throw them, where to throw them," Mardjetko said. "It's a very gradual thing. It's hard to know when you get better."
After Mardjetko's last high school game, Lemont coach Chris Traina remarked that "she's ready for the next challenge."
Mardjetko already has her eye on the next level.
She and her sisters binge watch all the College World Series games. Mardjetko takes mental notes of how the best pitchers are successful and not successful to keep in the back of her mind as preparation.
"Going to college is a challenge in itself. Playing a sport, even more so," Mardjetko said. "With the expectations I already put on myself, I know I want to go to college and excel. I know it will be a struggle, but I'm ready for a challenge. You don't grow without some failure."