Farmer Richard Guebert Jr. recently began preparations to plant his 48th crop, which will mark the last season of his tenure as Illinois Farm Bureau president.
But he has no plans of slowing down after completing his fifth and final term as the 15th IFB president (2013-2023) in December. The Randolph County farmer previously served as IFB vice president from 2003 to 2013.
Guebert credits his wife, Nancy, their son, Kyle, and employees with maintaining the operation over the years as he served IFB members in leadership roles.
"We've been very fortunate over the years," said Guebert, who recently marked 51 years of marriage with Nancy, who he calls the "mainstay" of the farming operation. "We're lucky to have the support from family and employees that we've had."
Guebert returned to the family farm after graduating college in May 1974, planted his first crop in 1975 and the couple moved out of the river bottoms onto their current farmstead near Ellis Grove five years later.
"Nancy and I bought our current house in 1980," Guebert said. "We left dad's operation and started farming on our own on April Fool's Day that year."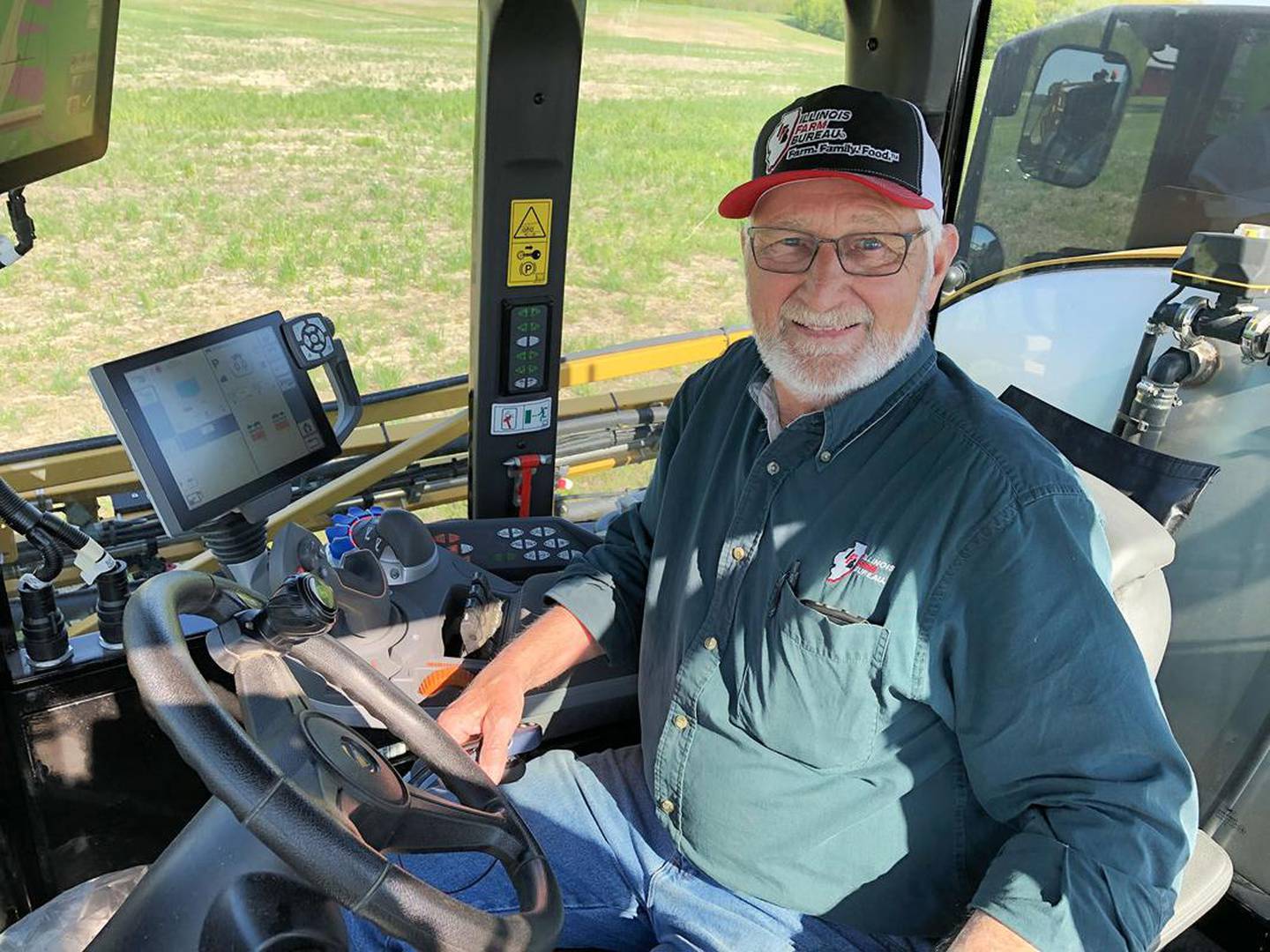 Guebert reflected on some of the early challenges and thrills of operating their own farm during a recent interview with FarmWeek and the RFD Radio Network.
"We bought our first farm in 1980 for $1,000 an acre plus a house," he said. "In 1983, the value went down to $300 an acre and interest rates went from 6% to 6.5% to 18.5% to 19%.
"It was some pretty lean times, but we made it. We put together a business plan with our banker and stuck to it."
Fast forward more than 30 years later and Guebert is still optimistic about farming this year despite higher input costs, rising interest rates and volatile commodity prices.
He recently applied much of his fertilizer and burndown herbicides prior to planting the 2023 crop.
"I'm very optimistic," Guebert said. "We've had a lot of rainfall and the prices are pretty decent. As long as we get planted in good time and it comes up even and pray for a little rain in July and August, we'll have a good harvest."
"We've been very fortunate over the years. We're lucky to have the support from family and employees that we've had."

—  Richard Guebert Jr., who recently marked 51 years of marriage with his wife Nancy
Guebert plans to grow corn and soybeans this year, but he hadn't planted any corn as of April 24.
"Things have not been ideal for planting, but they have been for spraying," he said after receiving more than an inch of rain and some frost on the farm. "We haven't planted any corn [as of April 24], but it doesn't take long to plant with a 24-row planter."
Guebert didn't plant any wheat this season, but noted the crop looks pretty good in his area.
"The wheat generally speaking looks really good," he said. "It will be heading soon."
Richard and Nancy Guebert were both raised on dairy farms. But it wasn't until spending time together in 4-H that they really hit it off.
"I think we met in 4-H. We started dating when I was a freshman in high school and he was a junior. He asked me to the junior/senior prom and we've been together ever since," Nancy said.
She worked evenings and nights in the medical transcriptions field from home for years so she could still help on the farm during the day. She mostly works on the farm as a "runner" grabbing parts and delivering meals, but also operates a combine or tractor when needed.
"You have to have faith and put everything in God's hands and know everything will turn out alright," Nancy said.
She's compiled a bit of a to-do list for Rich once his final term as IFB president ends and hopes the couple can also spend some more time traveling and visiting relatives in upcoming years.
• Daniel Grant writes for FarmWeek. This story was distributed through a cooperative project between Illinois Farm Bureau and the Illinois Press Association. For more food and farming news, visit FarmWeekNow.com.