Illinoisans should be cautious of unregulated pop-up COVID-19 testing sites and potentially fake at-home rapid test kits, Illinois Attorney General Kwame Raoul said.
A nationwide shortage of COVID-19 tests and available testing appointments has led many residents in the state to turn to what are known as pop-up testing sites, which are not licensed or regulated by the government, Raoul said in a news release Tuesday.
Raoul said residents should use state-sponsored testing sites before going to a pop-up testing site.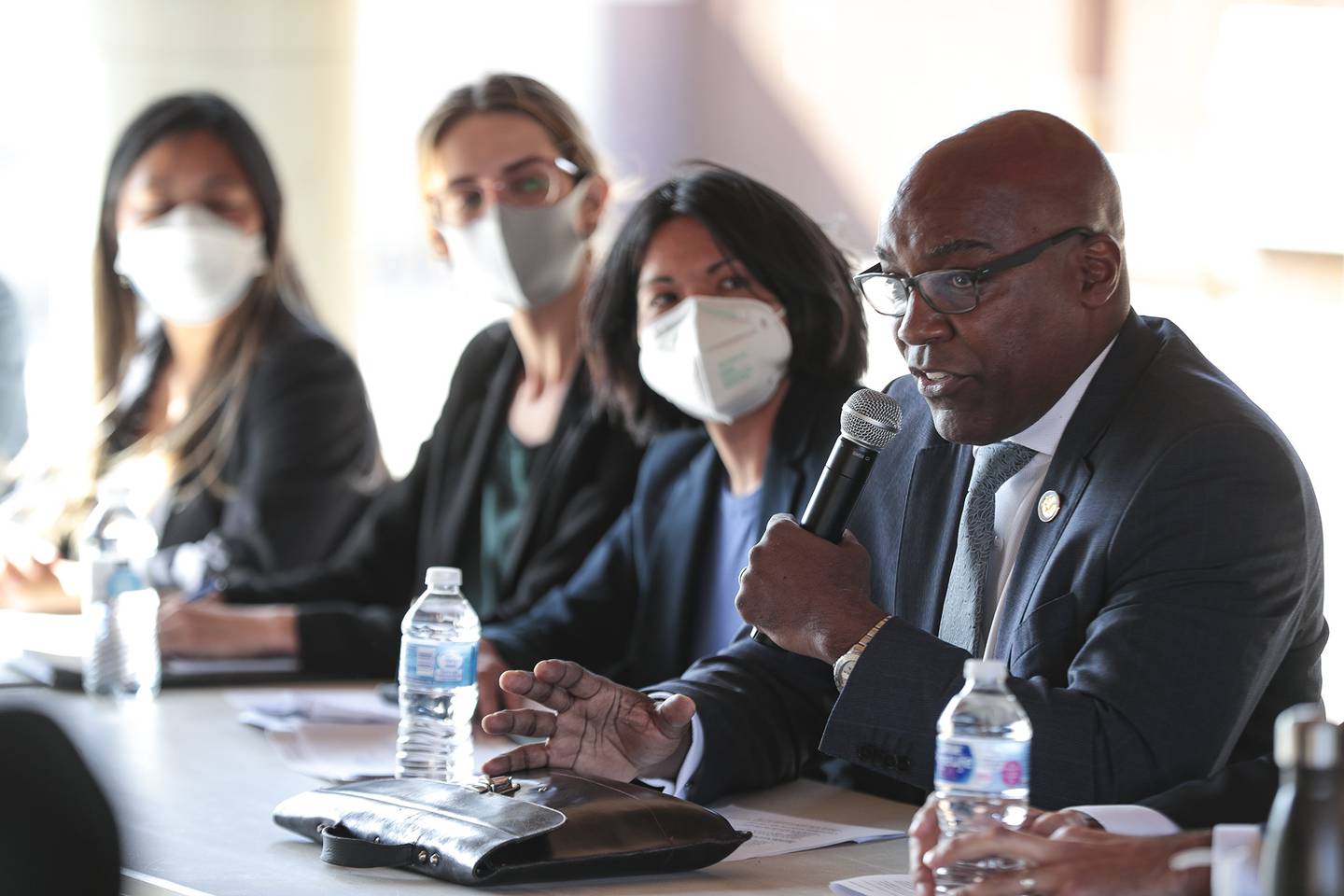 As of Tuesday, the Illinois Department of Public Health's website has a listing of 10 community-based testing sites that are open to all and do not require appointments, including one site available in Aurora at 2450 N. Farnsworth Avenue.
The following is the IDPH's list of testing sites in the Joliet area:
• Aunt Martha's Health and Wellness, 1200 Eagle St.
• CVS, 2375 Drauden Road
• Physicians Immediate Care, 1360 Houbolt Road and 800 N. Larkin Ave.
• Walgreens at 358 East Cass St., 2101 W. Jefferson St., 1514 Essington Road, 1801 Ingalls Ave. and 1163 W. Jefferson St.
The Will County Health Department's website also provides a list of testing sites throughout the county.
Raoul said residents also can find testing locations by contacting their health provider or visiting the U.S. Department of Health and Human Services' website.
For testing sites that are not state sponsored or recommended by health providers, Raoul said residents should check what laboratory those site use for their results. They should see whether the lab has a Clinical Lab Improvement Amendments certificate.
The Centers for Disease Control and Prevention offers a web page at cdc.gov/clia/LabSearch.html for people to check if a lab is CLIA-certified.
Raoul said residents also should ask the following questions if they plan to use a pop-up testing site:
• What tests does the site administer?
• Who analyzes the results?
• When will test results be communicated to you, and how/from whom will you receive that communication?
• Who can you call with questions or concerns about results?
• What type of personal information will the site ask you to provide?
• Does the site charge any out-of-pocket fee?
• Does the site appear to observe the CDC's recommendations to protect against COVID-19?
Raoul said testing sites often ask for insurance and identification information and most of them will not request payment out of pocket but instead bill insurance companies.
Raoul said that testing sites asking for payment out of pocket is a red flag and people should use caution for sites requesting cash or card payments.
Residents should also be aware of fake or overly expensive testing kits, Raoul said. They should consult the U.S. Food and Drug Administration's website for a list of approved at-home test kits.
"Consumers should expect to pay between $14 and $25 for packs of at-home rapid test kits, such as those from iHealth or Binax NOW," Raoul said.
Raoul encourages residents who believe they've been a victim of a fraud from testing sites or testing kit sellers to file a complaint with his office at bit.ly/33myLtR.