Lockport — People looking to take up a sport or just learn some self-defense in the Lockport area have a new option right in their hometown.
Spartan Boxing Club, a new gym dedicated to personal boxing training, opened its doors officially Nov. 8 with a reception and ribbon-cutting. It's now welcoming new members.
The gym, which is co-owned by trainers Oscar Hernandez and Kenny Bragg, is located at 970 E. 9th St. in Lockport and offers individual training and group classes for students ages 6 and older.
Hernandez first had the idea to start training kids when his own son was 9 and he started to teach him.
"I started the kids' class to help him learn, but then I started to see them improve and gain more confidence and self-esteem," Hernandez said. "They'd come in very timid, and six months later they'd seem totally different – just more open and happier. It's great to see."
Kids' classes are always available, but the majority of Hernandez and Bragg's students are a bit older. There's no age cap when signing up.
"Most of our trainees are teenagers or people in their 20s," Bragg said, "though our oldest member is 57."
Although the Lockport location is new, the Spartan brand is not. Hernandez and Bragg have been offering training to young boxers in the Chicago and Joliet area since 2012, when they began sharing space with a martial arts school in Romeoville.
Before that venture, Hernandez said, he offered private lessons from home.
One of Hernandez's trainees was Bragg, who began fighting competitively as a teenager and went pro in 2015.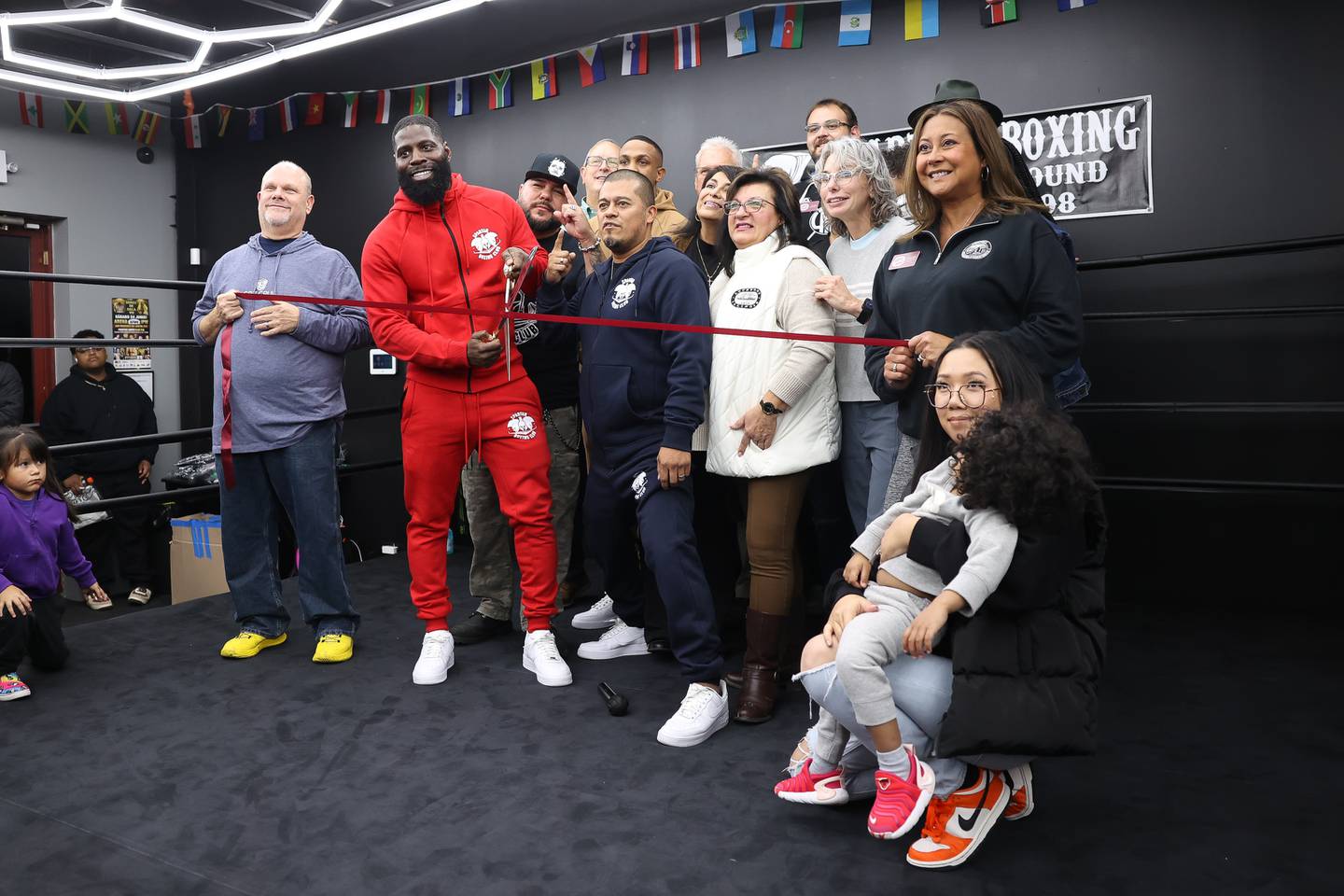 Although Bragg still participates in fights, he said he's now more focused on the training and management side for other boxers.
"It was rough for me due to injuries from boxing, but also from playing basketball," Bragg said. "I still fight, but I've taken on a managing and promotion role now. I want to give other guys the resources and opportunities they need to advance."
"People can come in for one-on-one training or for group sessions. It's their preference, but sometimes starting out the groups are better because it gives them a chance to work on what we're teaching them with each other."

—  Kenny Bragg, co-owner and trainer at Spartan Boxing Club
Hernandez and Bragg currently work with eight pro fighters who they take to matches around the U.S. and Mexico. Some of the fighters are based in Mexico while others are from the Chicago area and have worked with the Spartan team as they moved through gym locations in Joliet and Downers Grove.
"It's amazing," pro boxer Chris Gooch said of the new location.
Gooch has trained with Hernandez for five years and performed a demonstration for the crowd at the Spartan grand opening.
"When we met, I was jumping from gym to gym with these guys," he said. "This is going to be great."
Journey to the gym
Getting the gym established was a challenge in itself. The location the gym has taken over in Lockport was not designed as an athletic space and was previously occupied for 20 years by a pizza parlor.
"They did a lot of work to get it to this point," said building owner Tom Drake, who attended the grand opening. "This is such a different use than we've ever had in here before. It's exciting. It's nice to have something different come in."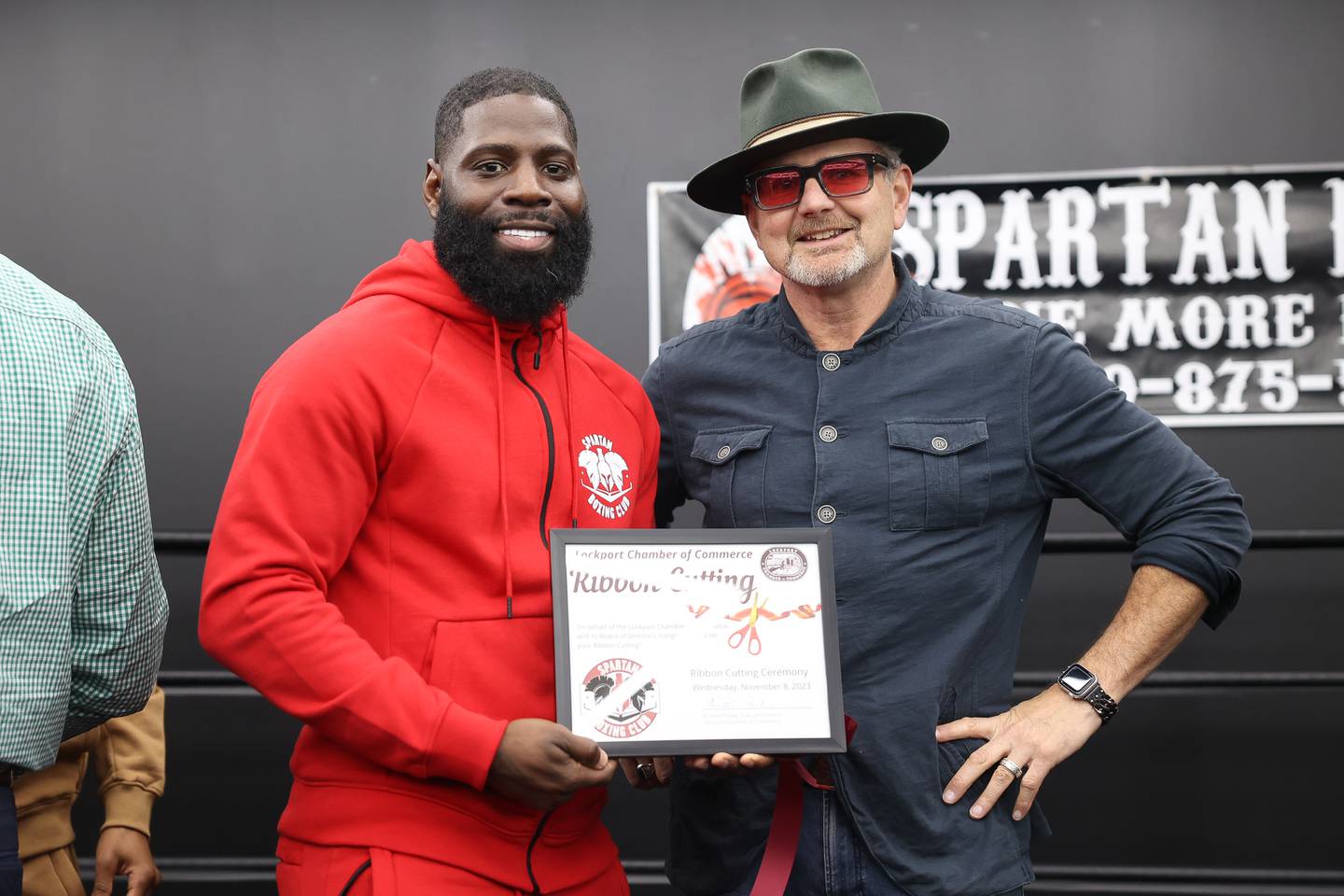 Hernandez said it took the team eight months of renovation to prepare the space, which includes a full boxing ring, multiple punching bags and weight equipment.
The gym will be open Monday through Friday for members to work out and for classes including basic boxing techniques, interval training and self-defense. Private lessons and special group events also can be booked.
"People can come in for one-on-one training or for group sessions, it's their preference," Bragg said. "But sometimes starting out the groups are better because it gives them a chance to work on what we're teaching them with each other."
Community interest
Interest already is high in the community about the opportunity for a new athletic pursuit.
"We're very excited to have something new like this come to Lockport," Lockport Chamber of Commerce Executive Director Annette Parker said at the grand opening. "There's a lot of buzz already with people excited to try it out. I think some of the youth sports teams are already thinking about coming here to train in the offseason, too."
"I think we're going to have a lot of success here," Hernandez said. "We had a great turnout at the opening, and we've had a lot of calls from people about signing up since then. We're excited to be here, and we're looking forward to helping a lot of kids get better health and a better view of themselves."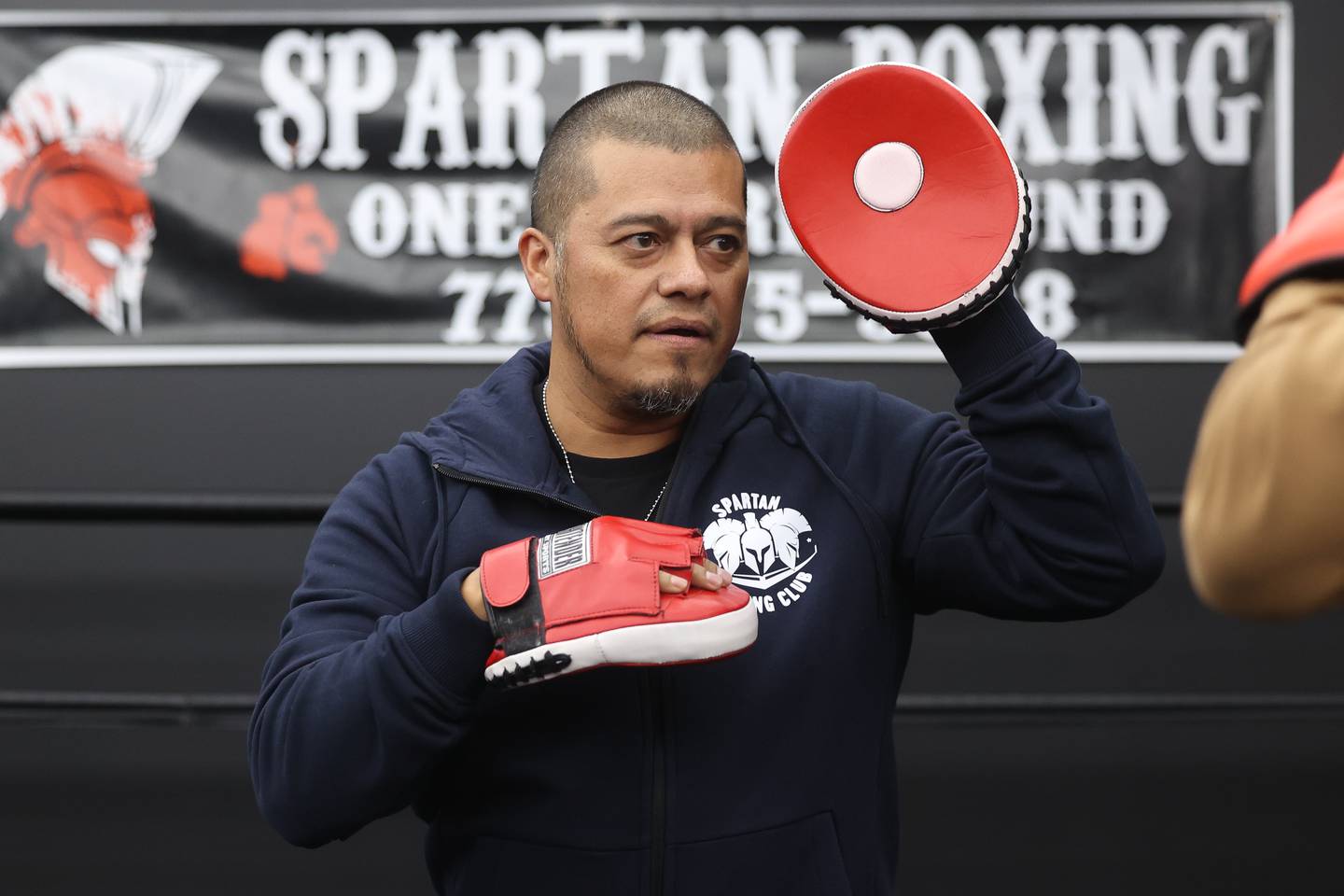 Although the coaches are excited about opening their first location, they do not plan to limit themselves to just one gym.
"I'm still taking it in. I'm excited for the location, and I love the support we've gotten from the community. It's been amazing, but I also want to keep pushing," Bragg said. "This is just the beginning. When people think of boxing and where pros go to train, I want them to think Spartan."
Bragg said they already are considering plans to expand to further locations in the Chicago-Joliet area to build a boxing community similar to environments that exist in cities such as Las Vegas and Philadelphia.
"I'd love to make boxing bigger here, and create a community where everybody is welcomed," Bragg said. "There's a lot of coaches out there who want to find a home gym, and as we grow, we'll welcome those trainers in to build with us.
"I feel like this is needed. I needed it growing up. Training helped me when I was having a hard time. Kids need a way to get them out and interacting with each other, and we teach skills that any individual could need."