NEW LENOX – On Sept. 17, the Lockport girls volleyball team lost to Montini, and the Porters' record fell to 6-6. Since then, they have not experienced a loss and on Wednesday night defeated Providence, 25-21, 25-17, to win their 22nd consecutive match.
Lockport coach Nick Mraz, who also coaches Lockport's boys volleyball team, never has coached a streak like this one. In 2017, the boys reeled off 20 consecutive wins.
"It's been fun," Mraz said about the streak. "But I give so much credit to this team because every time in the huddle or after games they always see ways to improve. They have a great attitude and are very business-like in their approach to every match.
"Most people don't realize that we have this winning streak and are still under the radar, which is good. When we walk into the gym, we are not flashy, we don't have that phenom on the court, but we do play so well as a team, and that is what this sport is, a team sport. The quality of our schedule has also helped because we have seen and been in just about every situation you can be in. We don't panic or get flustered when things don't go our way all the time."
In the first set, Providence (14-20) scored the first point before the Porters went on a 6-0 run. Lockport controlled the set and led, 21-14. But the never-quit Celtics fought back to trail by two at 21-19 and 23-21, but Lockport put it away. After the Celtics got within two points, service errors were costly on the next point. But coach Lee Rucinski was OK with that.
"We play and serve with a lot of fire, and tonight I'll live with that because we had eight aces and only six service errors tonight," Rucinski said. "It just happens sometimes at such in opportune times. "
"Our schedule gets us good and ready for the tournament starting next week. We have played five of the top eight teams in the state in the last couple of weeks. We have learned so much from that part of our schedule, and that puts us in a good position starting next week in the [Class] 3A tournament."
The second set saw Lockport up only 12-9, but then the Porters scored seven of the next eight points to put the match away.
"We had a pretty slow start to our season, and coach [Mraz] was trying to find the right lineup, and I think the difference was us, as a team, left the emotions behind and started playing with a business-like attitude," Lockport junior Aleksa Simkus said. "This has been so much fun, and we play so well together as a team. We don't rely on one person. We all have our strengths, and it meshes so well together.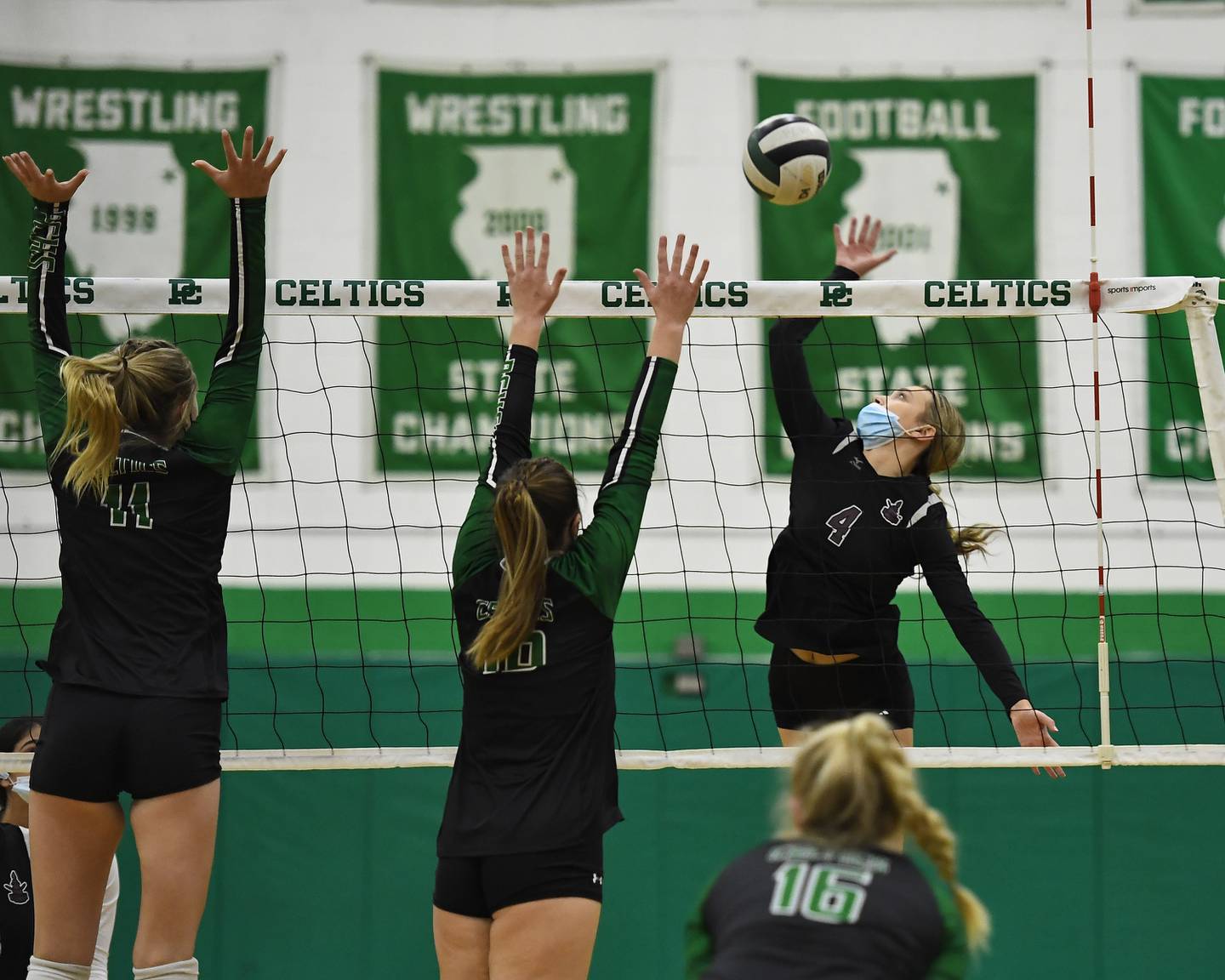 "I feel so good to share the court with our nine seniors, and I'm so happy for them and that we all get to experience this together."
"When this team began to trust each other, everything seemed to click," Mraz said. "The big thing I honestly believe is that we have learned how to win. Sometimes that is difficult to do because you must have the right mindset to put others away no matter the situation. We want this attitude and togetherness to continue and see how far it will take us starting next week in the state tournament run."