FRANKFORT – With her team locked in a tight first set, Joliet Catholic Academy's Bella Dixon went back to serve. The 5-foot-5 inch senior libero surveyed the other side of the net and saw the land of the giants for Lincoln-Way East.
So she served it where the Griffins' giants wouldn't have an opportunity to set up a return.
Dixon's two straight aces highlighted a 5-0 run as JCA toppled host Lincoln-Way East, 25-20, 25-14, in a matchup of traditionally strong powers Monday evening in Frankfort.
Five players had three or more kills for the Angels (14-4). Still searching for consistency, East (8-8) fell back to the .500 mark.
"I've played with a lot of those girls in club ball," Dixon said of the Griffins players. "Even though they have a lot of big girls, I don't let that get to me. I just served the way I know I can. I wanted to get them out of system, and since I know them, get that in their heads."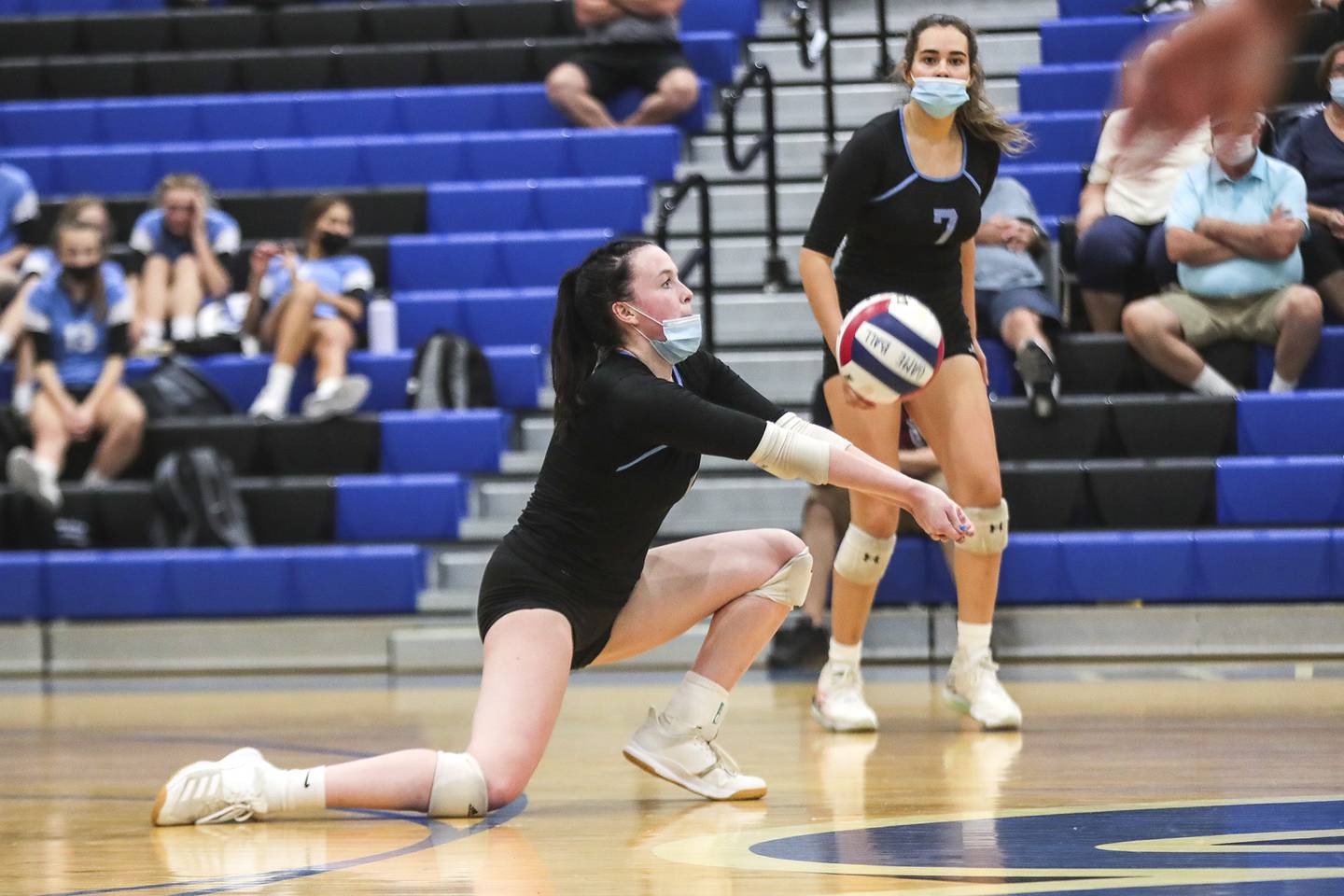 Dixon, who added 11 digs, accomplished her goal as her aces made it 22-19. Senior right side hitter, Crystal Galaviz, who is 6-2 and the only Angel player over 6-foot tall had a block and a kill to make it 24-19. Galaviz finished with five kills and three blocks.
Ava Nepkin, a 6-2 outside hitter and one of four East players, including three starters, at 6-foot or taller, saved a set point with a kill. But a wide hit gave JCA the next point and the first set.
That was the biggest burst in an otherwise tight first set, which had 11 ties and four lead changes. With the score knotted at 19, senior outside hitter Riley Hungate (4 kills, block, 9 digs) had a kill to start the decisive spurt.
Trailing 2-1 in the second set, junior middle hitter Ava Neuschwander (3 kills, 3 blocks) had a kill and a block to start a 12-4 spurt as the Angels grabbed a 13-6 lead and cruised.
Senior outside hitter Lexi Mines had four kills and a block, junior middle hitter Emma Vitas contributed three kills and two blocks, and senior setter/right side hitter Sam Horn added 11 assists and five digs for JCA.
"They have a big, tall athletic group, and we're small but mighty," JCA coach Kisha Cameron said. "We were very aggressive serving and Bella ran with it. All around we were aggressive, and that was the theme tonight.
"We absolutely know it's going to be a good game. Being involved in club, I knew the weapons they have. We knew who we had to shut down, and we did."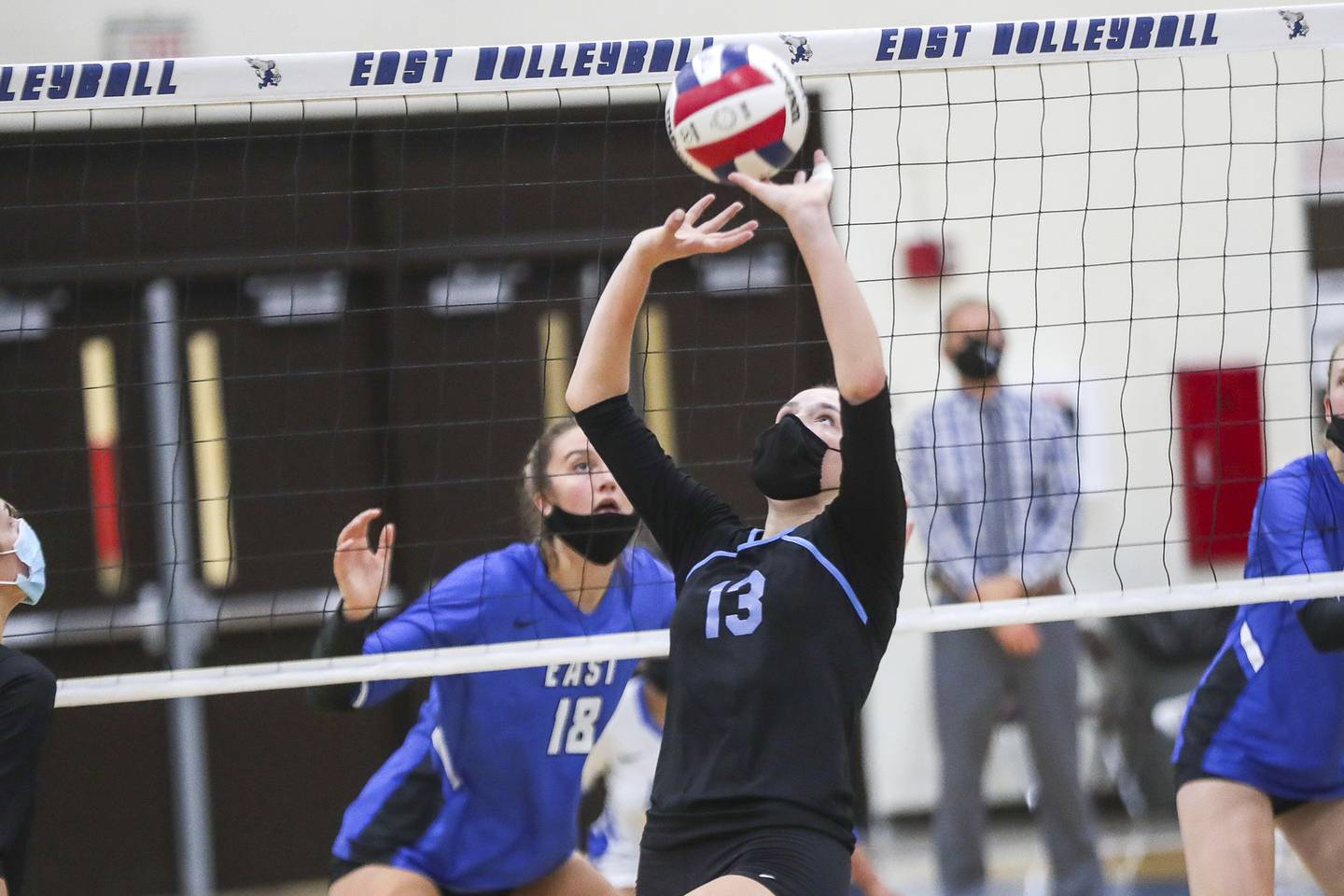 Freshman right side/middle hitter Tamia Maddox and Nepkin, who added a pair of aces, each had four kills and three blocks for Lincoln-Way East. Junior outside hitters Abby Clarkin and Jada James also added four kills, while junior setter Grace Poynton dished out 16 assists for the Griffins.
"We have been way too streaky," East coach Kris Fiore said. "The key is we have to show some consistency throughout. JCA ended the first set on a 6-1 run and then went on a 9-3 run [for a 10-5 lead] to start the second set. We can't do that against a good team.
"We only return two people that saw the court from our team that was 13-0 in the spring season, so there's going to be a learning curve. We always play the best teams. We're big and we're good athletically. We just have to put it all together."
The Angels will face another big test Tuesday when they travel to play Marist in a East Suburban Catholic Conference matchup.
"We are working as a team and have a lot of experience," Dixon said of the key to the Angels' success. "We all get along on and off the court, and we want to go on and win state."