MINOOKA – In the first quarter of the Southwest Prairie Conference game between Minooka and Oswego East on Thursday night, it seemed like someone forgot to take the covers off the baskets.
The quarter ended with the Indians holding a 4-2 lead, and they scored the only field goal of the quarter just a minute into play. It wasn't because of turnovers, but shots that would not fall, as Minooka outrebounded East, 15-12, in the quarter.
"That first quarter was just crazy," Minooka coach Jeff Easthon said. "They [Oswego East] is a good team, and we just caught them on a night when nothing would fall for them, especially early."
The momentum quickly changed with a 10-0 run by Minooka (3-2, 2-0) to start the second quarter, as the Indians held off two Wolves' rallies to win 53-42.
In the second quarter, Minooka built a 16-3 lead, and then the Wolves (2-3, 1-1) Katie Jorgensen finally made her teams first field goal with 4:02 remaining before halftime. East then seemed to catch a little momentum, as they closed to trail 19-13 at the half.
East cut the lead to 21-18 to start the second half, before the Indians went on a 20-3 run over a three-minute span to go ahead 20 with only 2:42 left in the third quarter.
Keying that run for the Indians were sophomore sisters Makenzie and Kennedi Brass. Makenzie ended the night with 17 points and 10 rebounds, while Kenndi added 13 and came up with a big shot or steal when the Indians needed it most.
"The beginning of the game was a little frustrating, but we knew we are a better team than that, and coach just told us to play basketball," Makenzie Brass said. "Even when East was coming back, we just had to play our game. We have really improved since the first game against Joliet West, and it's so exciting to play with all my teammates, it's like a family."
There is another Brass sister, making them triplets, but only Makenzie and Kennedi play basketball.
"Kennedi and I have played together all of our life, so we tend to know each other pretty well on the court," Makenzie said. "We have a little of that sisterly magic at times."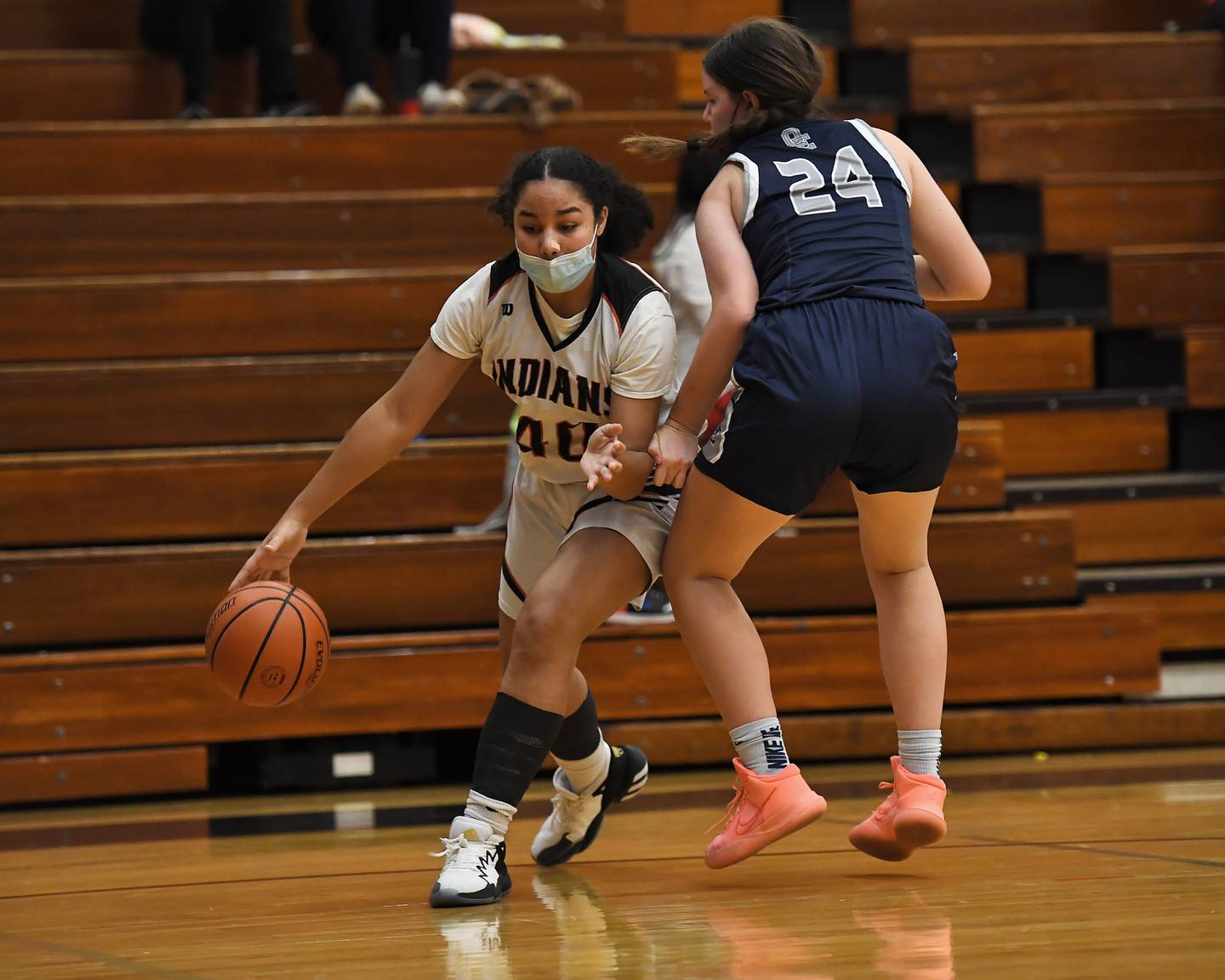 East however wasn't quite down, and after trailing, 43-28, entering the third quarter, the Wolves trimmed the lead to 46-40, but the Indians' Bri Simmons (9 points, 7 rebounds) hit a big 3, and that was the ball game.
"It seemed like Kennedi and Makenzie [Brass] just kept making plays for us when we needed them all game," Easthon said. "The you have Bri [Simmons] stepping out and hitting a big 3 was great. Although I don't encourage that. For the second game in a row, we have had great bench play, and it's finding the right people on a particular night who give you that spark.
"Tonight, Emma Oyola did a great job, and she is so solid, very good technically with great feet and is a rebounding machine. Kaitlyn Lavezzi also played well, and she is a great athlete who is so tough on the court."
Oyola grabbed seven rebounds and scored two points, with Lavezzi scoring four points, including a couple of crucial free throws down the stretch, and she did a great job against the East press.
For East, Cami Phillips and Riley Doggett each scored nine points, with Jorgensen chipping in seven.