BOLINGBROOK – For the first time this season, Bolingbrook's girls basketball team played on consecutive nights. The Raiders hosted Crete-Monee on Wednesday coming off a 21-point road victory over Marist on Tuesday. Crete-Monee had won two games in a row after losing its first four.
After trailing, 18-16, at the break Wednesday, Bolingbrook (4-1) finally pulled away in the third quarter and came away with a 53-34 victory.
The Raiders were without senior point guard Kennedi Perkins, who was out with an injury suffered in the Marist game, and early they looked out of sorts. Crete-Monee (2-5) played a tough 2-3 zone, rebounded well and prevented Bolingbrook from doing what it likes to do, and as a result held the two-point lead at the half.
But halftime adjustments and soul searching are keys to any good team, and that is what the Raiders did as they scored 18 consecutive points to begin the second half and led, 36-24, entering the fourth quarter as they cruised to the victory.
"Losing Kennedi [Perkins] in the Marist game on Tuesday night really threw us a curveball tonight because we had no time to prepare," Bolingbrook coach Chris Smith said. "We were frustrated, and Crete did a great job with their zone in the first half, because they were cheating a little in the passing lanes.
"We were too impatient early, but then at the half you have to make the adjustments, and we seemed to wake up and played our game."
One of the big adjustments was putting senior Tatiana Thomas on the free-throw line on offense. When she received the ball, the zone collapsed on her, and everything else opened up. Thomas scored seven points on the night, five in the crucial 18-0 run. She also played her typical all-around game, adding eight rebounds.
"We weren't committed as a team in that first half," Thomas said. "Then at the half the players had a little talk, and that really seemed to help and get everyone on the same page. We just needed to go out and play Bolingbrook basketball and not let the other team dictate how we play."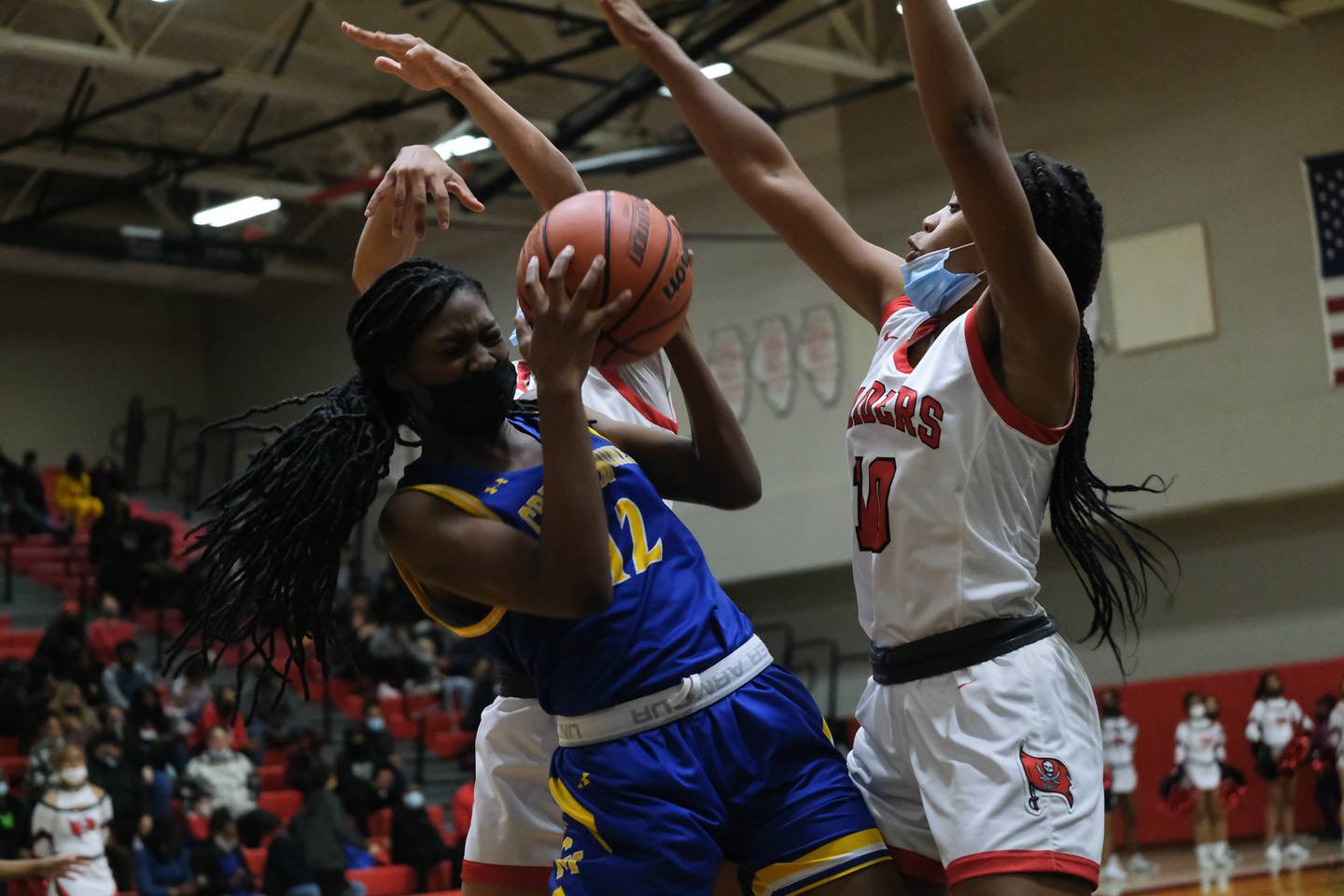 Sophomore Angie Smith took over the role for Perkins and played well, especially in the second half as she scored 14 of her game-high 19 points after the break and controlled the ball at the point position.
"We came out a little sluggish, and it might have been playing last night and getting a win against Marist," Smith said. "We knew we had to pick it up, and coach [Smith] was very encouraging at halftime."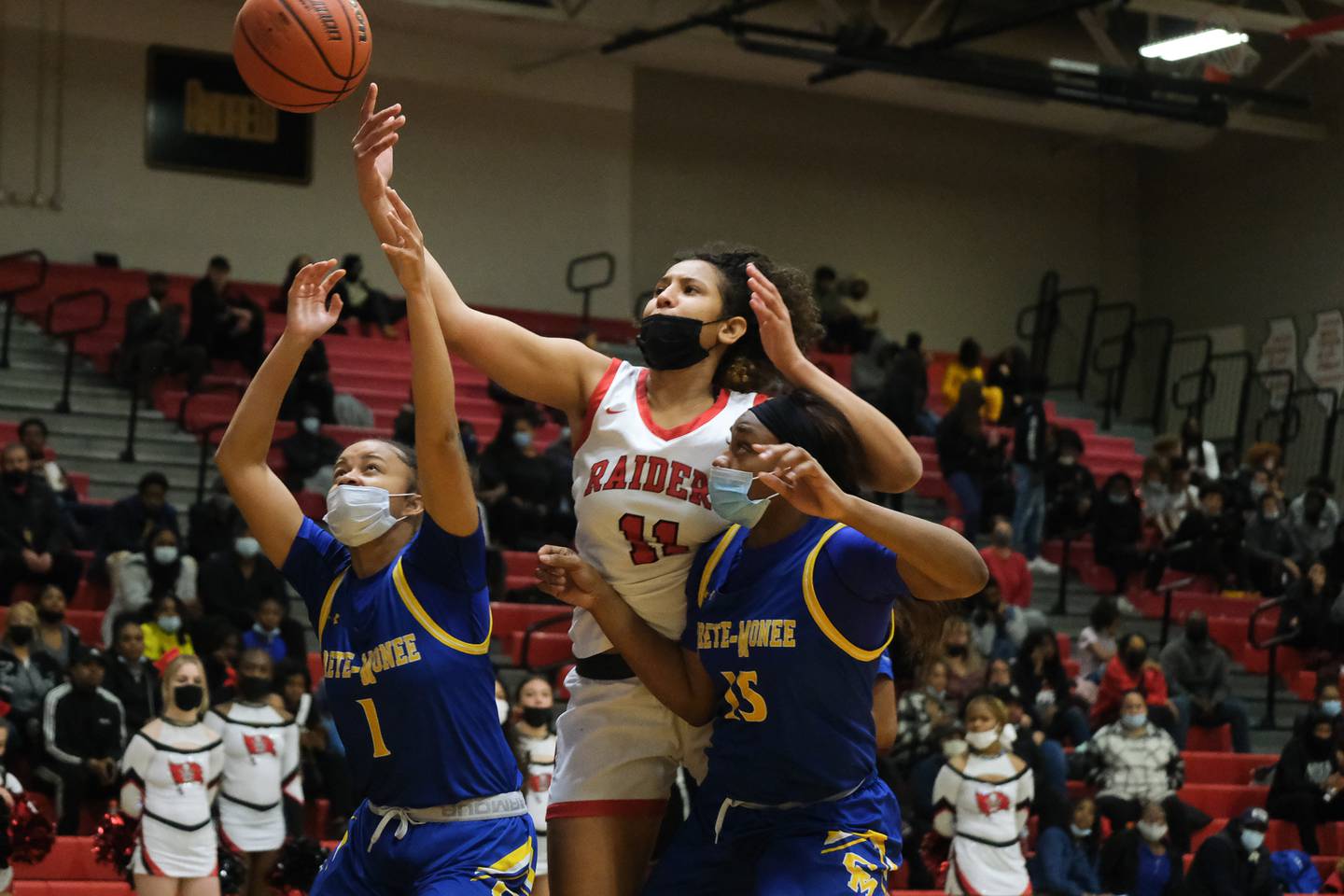 Senior Kendall Winston contributed 11 points, all coming from the outside, and sophomore Tahj-Monet Bloom, a sophomore center, provided the inside game with 10 points and was important when she stepped outside and hit a couple of crucial baskets.
"I thought Kendall [Winston] shot the ball very well for us tonight, and she really hit some key 3-pointers when we needed them," Smith said. "When we came into this game I knew ballhandling would be the big question, because Kennedi does such a great job for us, and then tonight Angie had to do it all. We really relied on her tonight, and she did a great job."