BOLINGBROOK – It's the time of the season that the Lockport wrestling team heats up.
With only a few weeks to go in the regular season, the Porters did just that with a 67-6 victory over Bolingbrook in a SouthWest Suburban Conference tussle Thursday evening at Bolingbrook.
The Porters (9-4, 3-0 SWSC) were the beneficiary of eight forfeit wins. But also received a couple of nice pins in the contested matches.
"It's that time of year," Lockport coach Josh Oster said. "We've wrestled a lot of tough competition, and we know what we need to work on. In the last three weeks we've wrestled at some of the best tournaments not only in the state, but in the nation. We took fourth place as a team at the Dvorak and fourth at the Cheesehead. Plus we took 12th at the Powerade with only four guys there.
"Wrestling season is a lot of peaks and valleys, and we want to be peaking in February."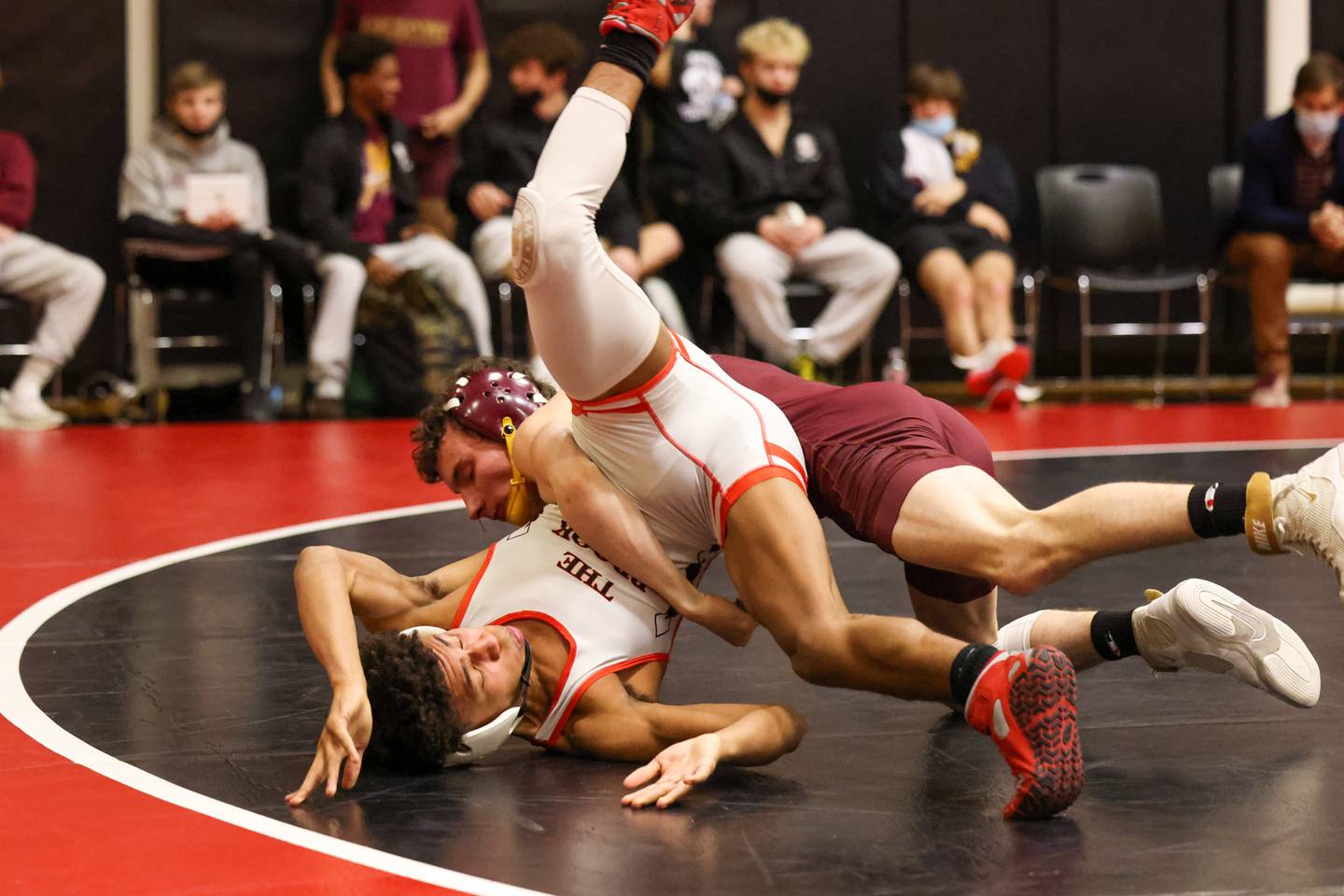 The pair of Porters pins were by seniors David Vukobratovich in 2:25 at 113 pounds and Cody Silzer, who had a nice move to register his at 4:51 at heavyweight in the final match of the evening.
"Our team is pretty solid," Vukobratovich said. "Bolingbrook had a few good moves, but we got around it. Our team is looking to get a lot of guys to state. I'm definitely looking to get to state individually. We want first place, I know I do. We just have to put in the work and practice."
Senior Isaiah Rogers, with a 15-6 major decision at 120 pounds, and junior Carlos Munoz-Flores with a 13-7 win at 132 pounds, also won bouts for Lockport.
"We have a big match this Saturday against Barrington and another one next Thursday (Jan. 20) against Lincoln-Way East on senior night," Munoz-Flores said. "So we just want to go out and show like we did tonight.
"With our team healthy, we can make a run this year and get a team title. We have guys up and down the lineup who can place at state."
Lockport will be at the Joliet West Quad, along with Barrington, Glenbard North and the host Tigers on Saturday. Lincoln-Way East defeated Sandburg, 46-24, on Thursday to improve to 18-0 on the season. So next Thursday's matchup is a big one.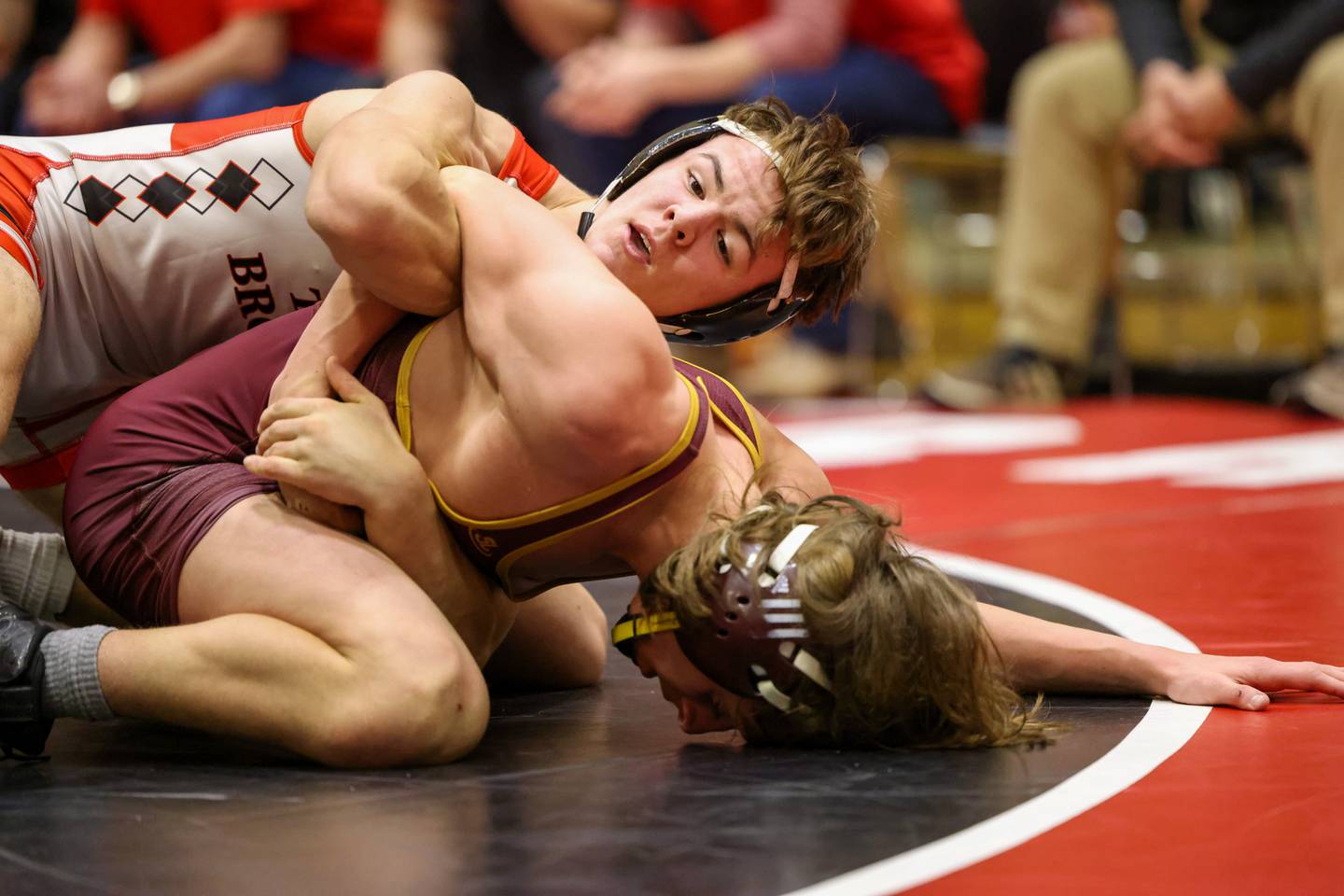 Against Bolingbrook, the Porters received forfeit wins by juniors Nore Turner at 106 and Jad Alwawi at 126, along with senior Keegan Roberson at 145, junior Logan Shaw at 152, junior Brayden Thompson at 170, senior Paul Rasp at 182, junior Aidan Nolting at 195, and senior Drew Blackburn-Forst at 220.
Thompson, a transfer from Montini, is undefeated on the season and has won the title of all the prestigious tournaments, including Powerade. Blackburn-Forst, who was an all-state defensive lineman in helping the Porters' football team to the Class 8A state title, is one of the top wrestlers at 220 and recently committed to the University of Northern Colorado for wrestling.
It was senior night for the Raiders, who received a nice win from one of them, as Joe McDermott outlasted junior Logan Kaminski, 1-0, at 138 pounds. Also junior Chris Lozano put together a 6-2 win at 160 pounds. Joshua Cruz, Elijah Escamilla, Alexander McKay, Elliott OBrien, and Frank Oliveira are the other Bolingbrook seniors.
"Joe's main sport is baseball, and he's committed to playing that at St. Mary's University in Minnesota," Bolingbrook coach Conrad Polz said. "But he's a good wrestler and works hard. He's had a good season here and wants to finish well."
Polz, a three-time Class AA state champion (135, 140, 160) at Sandburg between 2006-08 is in his first season as Raiders head coach. He's happy with the recent progress of his team.
"Joe McDermott was sixth place at 132 pounds and Frank Oliveira was eighth place at heavyweight at the Dvorak," Polz said. "I'm proud of two of our senior leaders.
"We had a quad at Plainfield East (on Saturday) and came away with our first two dual wins of the year over Hoffman Estates and Plainfield East," Polz said. "I was so proud of and happy for our team. We've been making deposits all year, and they are starting to pay off."