JOLIET – Any time Joliet West and Joliet Central play each other, no matter the sport, the intensity is ramped up a notch.
That was the case Thursday night as the Tigers wrestling team hosted the Steelmen. West was the recipient of four forfeits because of Central being short-handed due to COVID and team members on vacation during the break, and the Tigers emerged with a 59-19 win.
West got off to a quick start, as Carson Weber won by forfeit at 106, followed by a pin by Colin Morgan over Liam Walsh in 2:55 at 113 pounds. West's Jalen Millraney won by forfeit at 120, giving West a quick 18-0 lead.
Central tightened the meet up in a hurry, as freshman Cayden Summers recorded a pin in 3:45 over Leroy Munoz in the 126-pound bout, and teammate Jorge Robles, a sophomore, pinned Colin Flynn in 1:16 at 132. In the 138-pound match, Josh Bierly scored a 16-7 major decision over Cade Horvath to make it 18-16.
West got pins from Austin Perella at 145 in :54 over Jon Mooney and from Nijee Harris in 1:07 over Rafael Gutierrez-Zavala at 152 to take a 30-16 lead. Central's Kam Mitchell then scored a 14-8 win over Reed Hogan at 160 to make it 30-19. The win moved Mitchell to 12-4 on the season.
Forfeit wins by West's Josh Koser (170) and Jovon Johnson (182) put the Tigers ahead, 42-19. At 195, Phil Johnston of Central and Jacob Schmitt of West squared off and battled back and forth throughout nearly three periods before Schmitt recorded a pin in 4:42 for a 48-19 lead. Schmitt, however, was penalized a team point for talking to the Central bench after the decision. West's Brian McCoy (220) then made quick work of Mikai McIntosh, scoring a pin in :39, before sophomore Wyatt Schmitt finished things off the meet with a pin of Gustavo Vicencio-Ramos in 1:33 at 285.
"We were pretty solid tonight," West coach Charles Rumpf said. "Any time we go against Central, things can get a little chippy sometimes, but overall, the kids did a good job. It's been tough with COVID, having to start and stop. We need to get into a rhythm and get some momentum. When kids are out, they lose their conditioning and it takes a while to come back.
"Brian McCoy is a Division I football recruit, but we have turned him into a wrestler. He didn't start wrestling until he was a freshman, and to see his progress is fantastic. The Schmitt brothers wrestled well, and Austin Perrara is very exciting to watch. We just want to continue to improve and be at full strength when the postseason comes."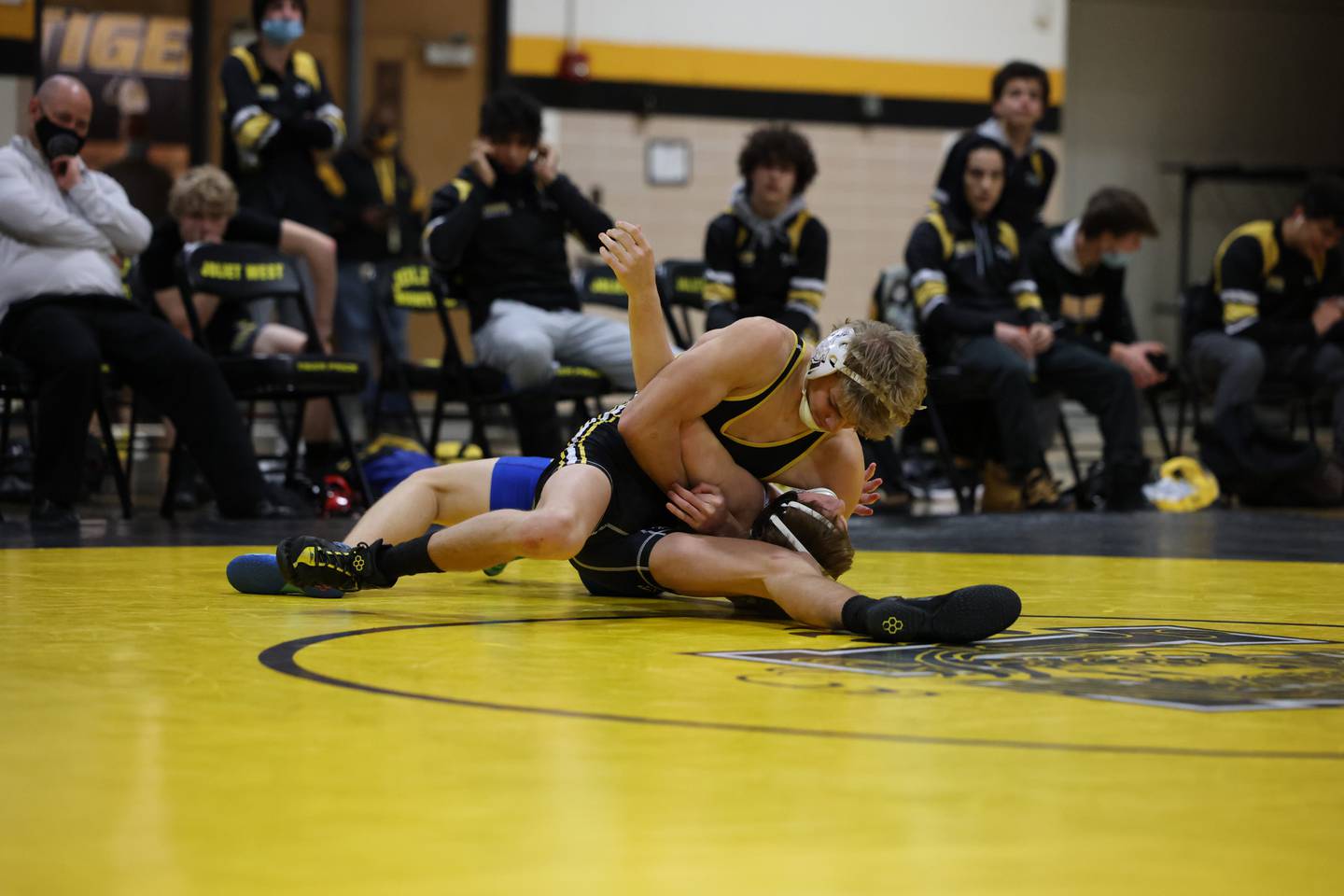 Even though it was a 40-point loss, Central coach Patrick McGovern was pleased with the way his team performed on the mat.
"We were short-handed due to COVID and vacations," he said. "But the kids wrestled well. Joliet West is one of the top 15-20 teams in the state, and for us to get four wins out of 10 matches is pretty good. We are very young. We have eight or nine freshman and eight or nine sophomores in the program and only two juniors.
"The kids have put in a lot of effort, and we hope to be at full strength by the end of the season."