NEW LENOX – If this is what a short-handed Bolingbrook basketball team looks like, it is rather easy to pity future opponents of the Raiders when they gain full health.
Playing without three players expected to contribute heavily when able, Bolingbrook dominated from the start and coasted to an 88-53 win over Lincoln-Way Central in a SouthWest Suburban Conference crossover Friday night.
Bolingbrook (6-1) was without the services of Donaven Younger, Torrion Harris and Aries Hull, all of whom provide quite a bit of interior presence for the Raiders. All three should return to the fold soon, but in the meantime, the Raiders are sending out a four-guard lineup of dangerous performers that are a big enough problem to stop in their own right.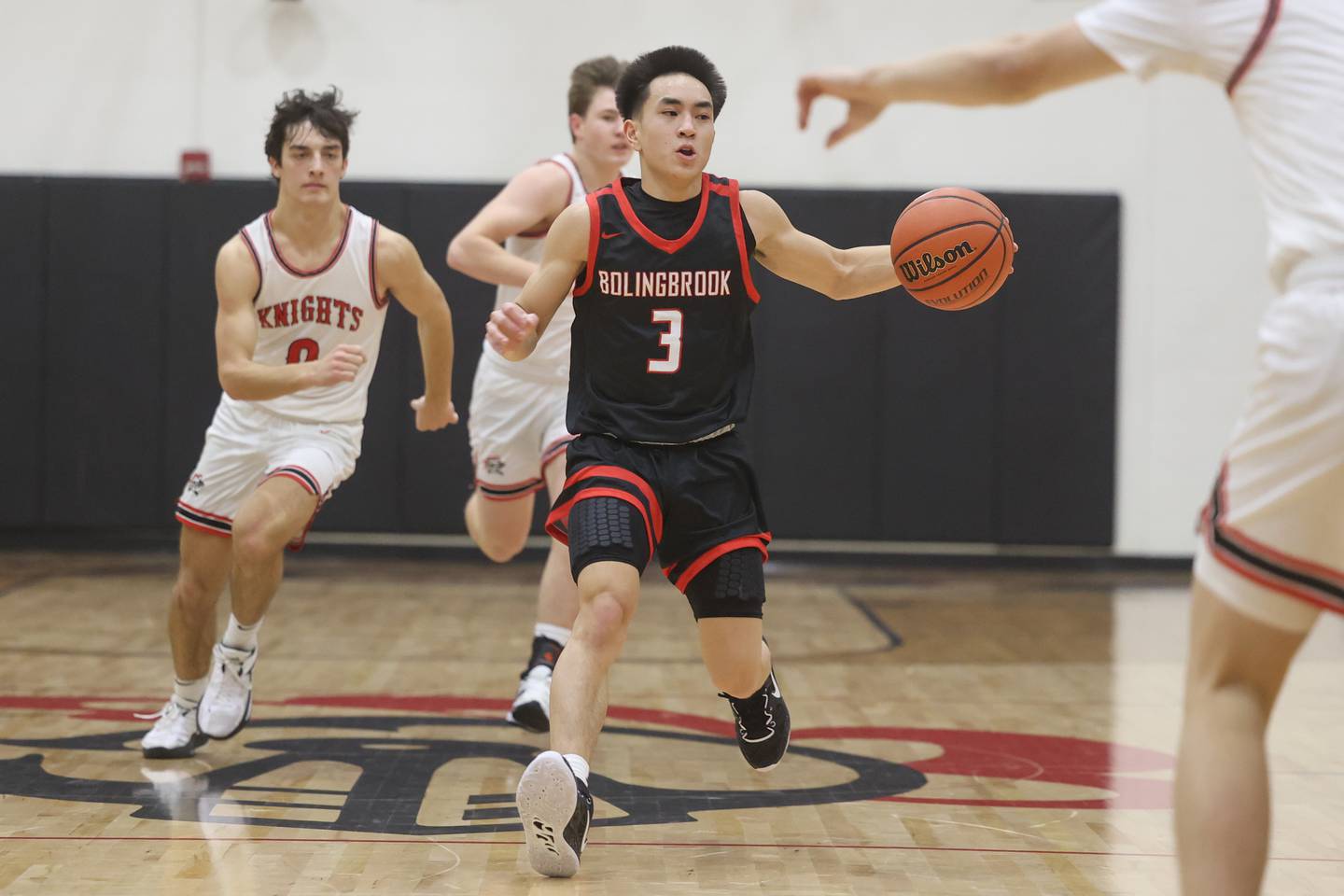 The Raiders are able to push tempo and play the style that they prefer and with the quick guards roaming all over the floor, there were turnovers aplenty for the Raiders to capitalize on.
"Our defense created everything," Bolingbrook guard Mekhi Cooper said. "It did a lot for us in the first half, that's how we got out to that big lead. It was our defense and our approach and getting out and running."
It also didn't hurt that the Raiders were shooting the ball well. Bolingbrook got four first-quarter 3-pointers, two from Cooper and one each from DJ Strong and Josh Aniceto. That, coupled with seven Lincoln-Way Central first-quarter turnovers, allowed Bolingbrook to start the game with 31 points in the first eight minutes.
"When we defend and then we share after the defending, we're a pretty good team," Bolingbrook coach Rob Brost said. "Sometimes we don't do that necessarily as well as we could, and tonight we did a really good job. That was an emphasis for us yesterday in practice."
There was a cohesiveness in Bolingbrook's attack, almost with whomever the Raiders elected to put on the floor. Cooper, a Miami (Ohio) commit, led the way with 20 points, but the Raiders also got contributions from the remaining Bolingbrook interior players, as Keon Alexander and Jason Lawani each scored 11 points.
"I feel like we had a really good summer, and that got us really going," Cooper said. "I feel comfortable with any of the guys out there, every last one."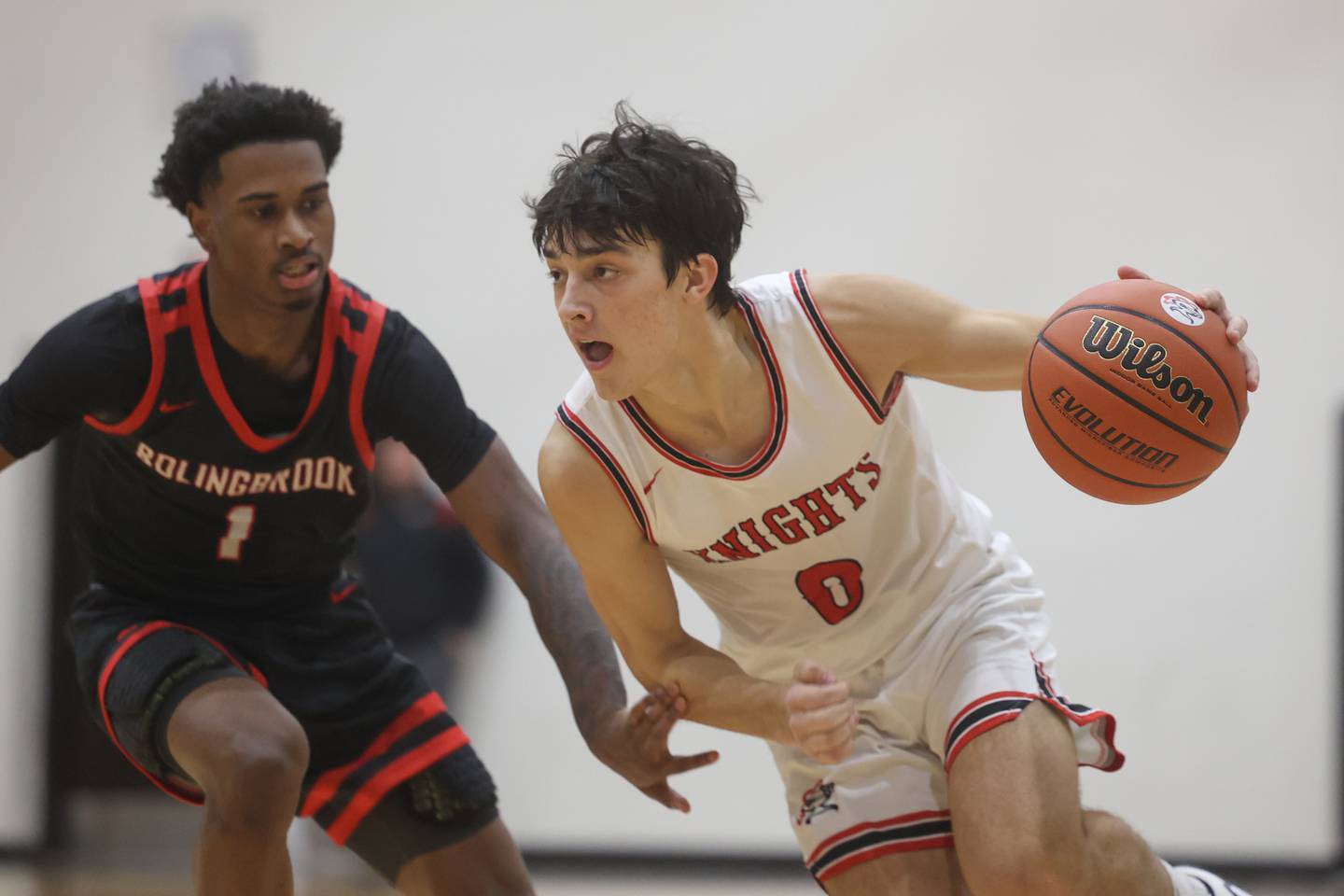 That comfort level was on display again in the third quarter as Bolingbrook got at least two points from six players in putting together another 31-point frame and set the running clock in motion for the game's final eight minutes.
"Our kids, to their credit, have done a really good job of having a good attitude regardless of what their role is," Brost said. "And those things are going to be changing here depending on the health of some guys. There's no magic potion. When we get guys back that doesn't mean we are automatically going to be X times better. In fact it might take a little time to adjust because we're playing OK basketball with what we have. There are always going to be adjustments, but I'm just proud of our guys and the effort they put in."
Lincoln-Way Central (1-6) was led in scoring by Ethan Vrabec with 11 points, while Jack Barrett, Liam Arsich and Ben McLaughlin all added 10 points each.