Lifelong Cubs fan Jonathan Wrigley Hardy received the VIP treatment Aug. 25 as an Honorary Cubs Bat Kid at his first Cubs game.
The Honorary Cubs Bat Kid is a partner program between the Cubs and Advocate Children's Hospital, said Katie Dahlstrom, spokesperson for Advocate Children's Hospital. It's a way to make kids feel special each month during the summer, she said.
Jonathan, 13, of Joliet is an Advocate Children's Hospital patient. He has spastic quadriplegia cerebral palsy and a serious form of epilepsy called Lennox-Gastaut syndrome. He also has a shunt to drain fluid from his brain and cannot walk.
"We do look for those children who are excited about the Cubs," Dahlstrom said. "When we heard that Jonathan's middle name was 'Wrigley' and that he was a diehard Cubs fan, they seemed liked a great fit to have this support."
Kandi Hardy said she and her son are lifelong Cubs fans. Jonathan's bedroom is Cubs-themed down to the curtains, and he listens to games on the radio and TV, she said.
He expresses excitement through smiles and vocalizations, Kandi said, adding that Jonathan "was excited as soon as I told him" that he was going to a Cubs game.
Members of Jonathan's family accompanied him to the game. Included were Kandi, Jonathan's father, John Hardy, his grandfather, Bill Smith, and his sisters Lillian, 16 and Gwendolyn, 9.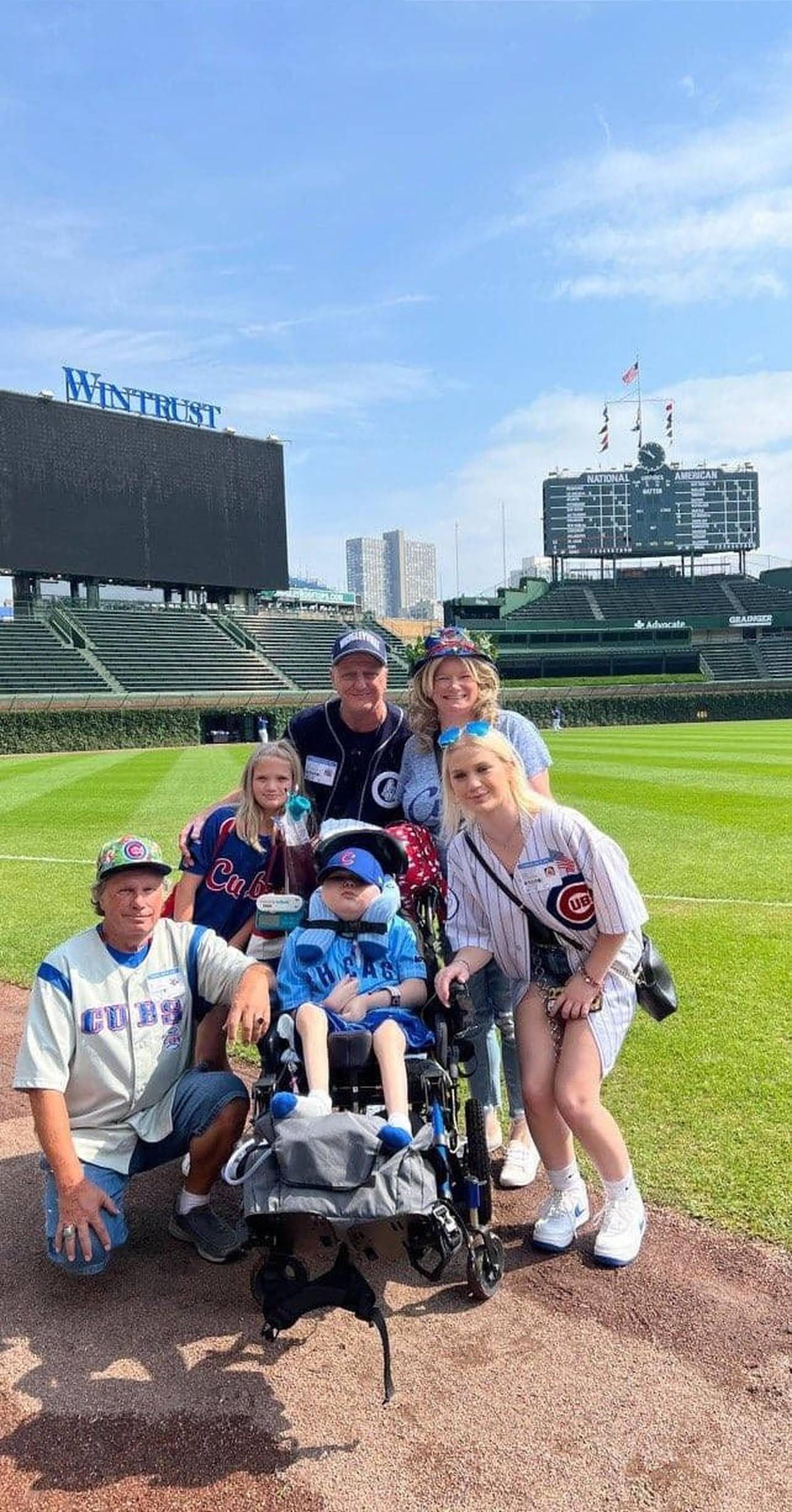 As an Honorary Cubs Bat Kid, Jonathan received an autographed baseball and customized jersey, enjoyed batting practice from the dugout and was featured on the video board, Dahlstrom said. He met some of the players, too, Kandi said.
But the thrill was less about the gifts and more about enjoying the experience as a family, something that doesn't happen often, Kandi said. That doesn't bother Jonathan, who is a "very happy kid," Kandi said, but it does bother his sisters sometimes, she added.
"It kind of makes them feel sad," Kandi said. "So this was a great experience for them to have this special moment with their brother that they can remember forever."
Except for having gestational diabetes, Kandi had a normal pregnancy with Jonathan, she said. But an ultrasound at 34 weeks gestation showed the fluid on Jonathan's brain. Kandi was given steroid injections to speed up the maturation of Jonathan's lungs, and he was later delivered by emergency Cesarean section, she said.
After Jonathan was born, doctors saw he'd had a grade four bleed in his brain. He spent six weeks in a neonatal intensive care unit. He also had surgery to place the shunt. Jonathan recently graduated from needing 24-hour oxygen and a BiPap machine at night, thanks to the tracheostomy that repaired his airway, Kandi said.
Jonathan was 8 months old when he had his first seizure, and that was at the doctor's office, Kandi said. He eventually was diagnosed with Lennox-Gastaut syndrome, a rare, serious and difficult-to-treat form of epilepsy.
Kandi said she is thankful to the Cubs and Advocate Children's Hospital for giving Jonathan and his family this "awesome experience." Even Jonathan is still basking in the glow.
"Whenever I mention it to him, I get that smile," Kandi said.