Maggie Castrogiovanni said a co-worker once told her he overheard her students saying how much they enjoyed her classes.
Castrogiovanni, 25, teaches family and consumer sciences to freshman through senior students at Lincoln-Way East in Frankfort, an elective that is a "revamped" version of the home economics classes schools taught years ago, she said.
Now Castrogiovanni said she didn't quite believe her co-worker – until she the Illinois Education Association awarded her the Bob Haisman Teacher of the Year Award.
The award is given for "excellence in the classroom, commitment to public education, and for advancing a positive image of new teacher' for the wider educational community, according to a news release from Lincoln-Way Community School District 210.
Castrogiovanni said she felt "very humbled" to receive the award.
"I don't feel like I come in and do anything out of the ordinary," she said. "I just come in and do what I do."
What Castrogiovanni "does" is teach classes in food, design and human relationships.
Castrogiovanni teaches more than basic cooking and nutrition skills in her foods classes. For instance, after the students made tomato soup, Castrogiovanni divided students into groups of three or four and challenged them to develop their own grilled cheese recipe to accompany it.
Students added turkey, ham, bacon, cheese blends and even jalapenos to their sandwiches. One group used garlic bread.
"We had a group ask for lobster," Castrogiovanni said. "But it's not in the school budget."
In her design classes, Castrogiovanni covers basic design concepts, such as rhythm, repetition, balance and harmony, and then applies them to both fashion and interior design. She recently had the students design a mug and then use the same design in a garment.
"I had a student who drew a very simple floral design on his mug; it's just a variety of different botanicals," Castrogiovanni said. "He used the same minimalist design – the same botanicals – as the border around the skirt of a dress."
But students seem to enjoy the human relationships class the best, she said. Castrogiovanni starts off the semester by asking students to identify themselves — who they are and how they got that way, Castrogiovanni said.
And then she challenges them to see each other the same way, so they understand all people have backstories and unique struggles – and to recognize and understand that when they interact with others, she said.
"Interacting with people is a part of every day life – when at work, and when we're dealing with other family members," Castrogiovanni said. "It's all about sharing those connections and understanding how to relate to others."
Castrogiovanni didn't set out to become a teacher. She studied fashion design at Ball State University in Indiana. But when applying for jobs, Castrogiovanni realized that she really didn't want to work in the fashion industry.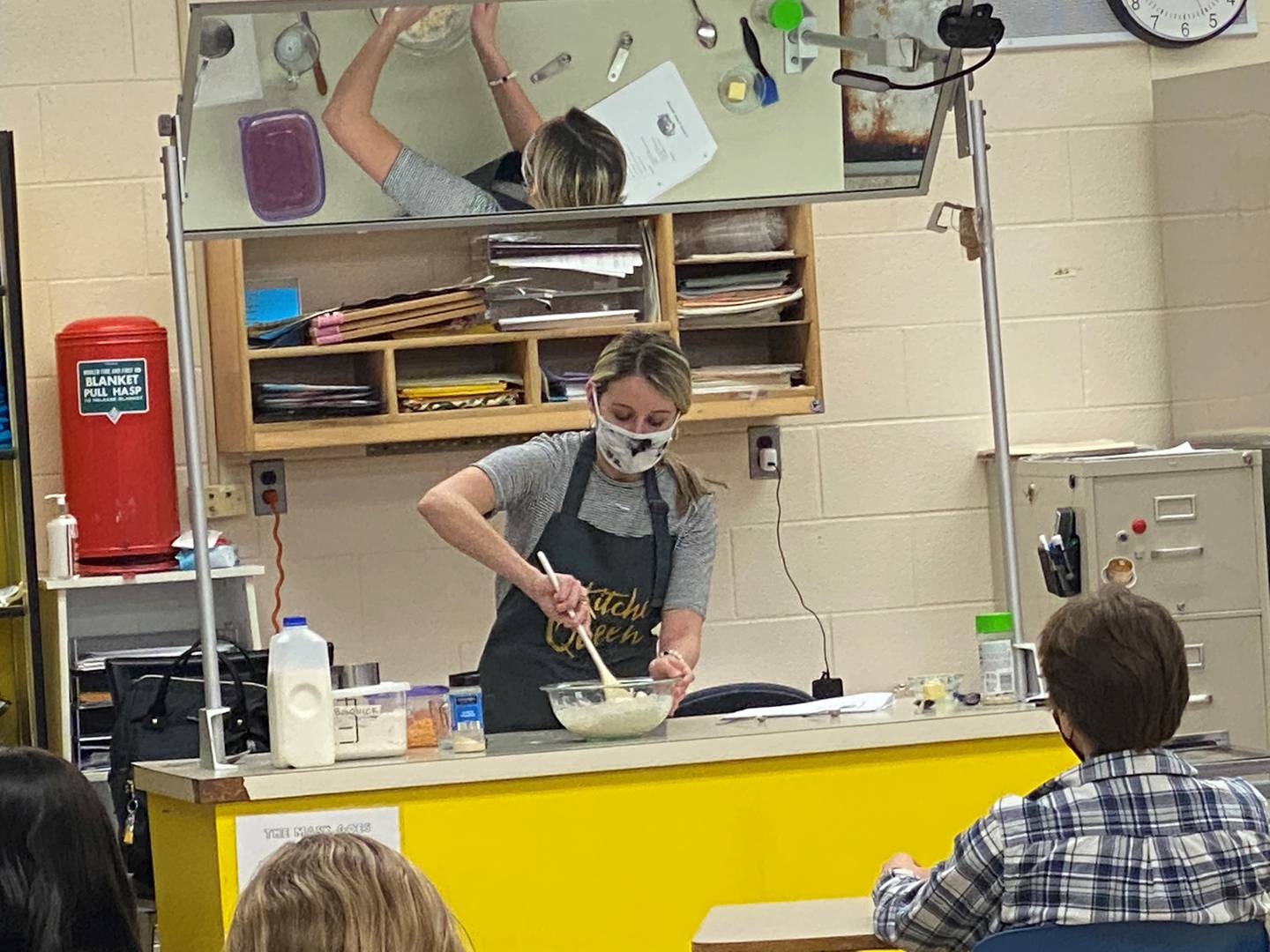 So she went back to school earned her master's in education and retuned to the district where she went to school. Castrogiovanni attended the former Lincoln-Way North High School.
Castrogiovanni became a substitute teacher in 2017 and a full-time teacher in 2019. She'd love to grow her program and enjoys connecting with her students.
"I find they learn best when they feel comfortable and feel welcomed and accepted," she said.