NEW LENOX – Last season, Lincoln-Way Central tied for the SouthWest Suburban Conference Red championship with Stagg, as each had identical 7-1 records.
The Knights didn't want to have that happen again this year, and they made sure it didn't by topping district rival Lincoln-Way West 48-41 on Tuesday night. The win capped a perfect 8-0 run in the SWSC Red for the Knights (21-9 overall).
"That was one of the main goals for the team at the beginning of the year," Lincoln-Way Central's Lina Panos said after posting 10 points and seven rebounds. Panos missed the first 20 games of the season this year after suffering a knee injury in the final game of the season last year.
"I am feeling more confidence on the floor," she said. "My team has been pushing me to get better, and they have been a great support group for me. I am getting more comfortable and more confident every game."
Early on, the Lincoln-Way West defense was focused on preventing IUPUI recruit Azyah Newson-Cole from penetrating and causing havoc. That left Panos open in the high post, and she was effective. Whether it was hitting a 15-foot jumper, dumping the ball down low to a teammate or kicking it out to a different teammate for an open 3-pointer, Panos was the center of the Knights' attack.
And it worked well.
Panos had eight points in the first half, helping the Knights to a 23-20 halftime lead. With the Warriors' defense forced to contend with Panos in the post, the outside was left open, and Gracen Gehrke hit a pair of 3-pointers and Kiera Hunt added another.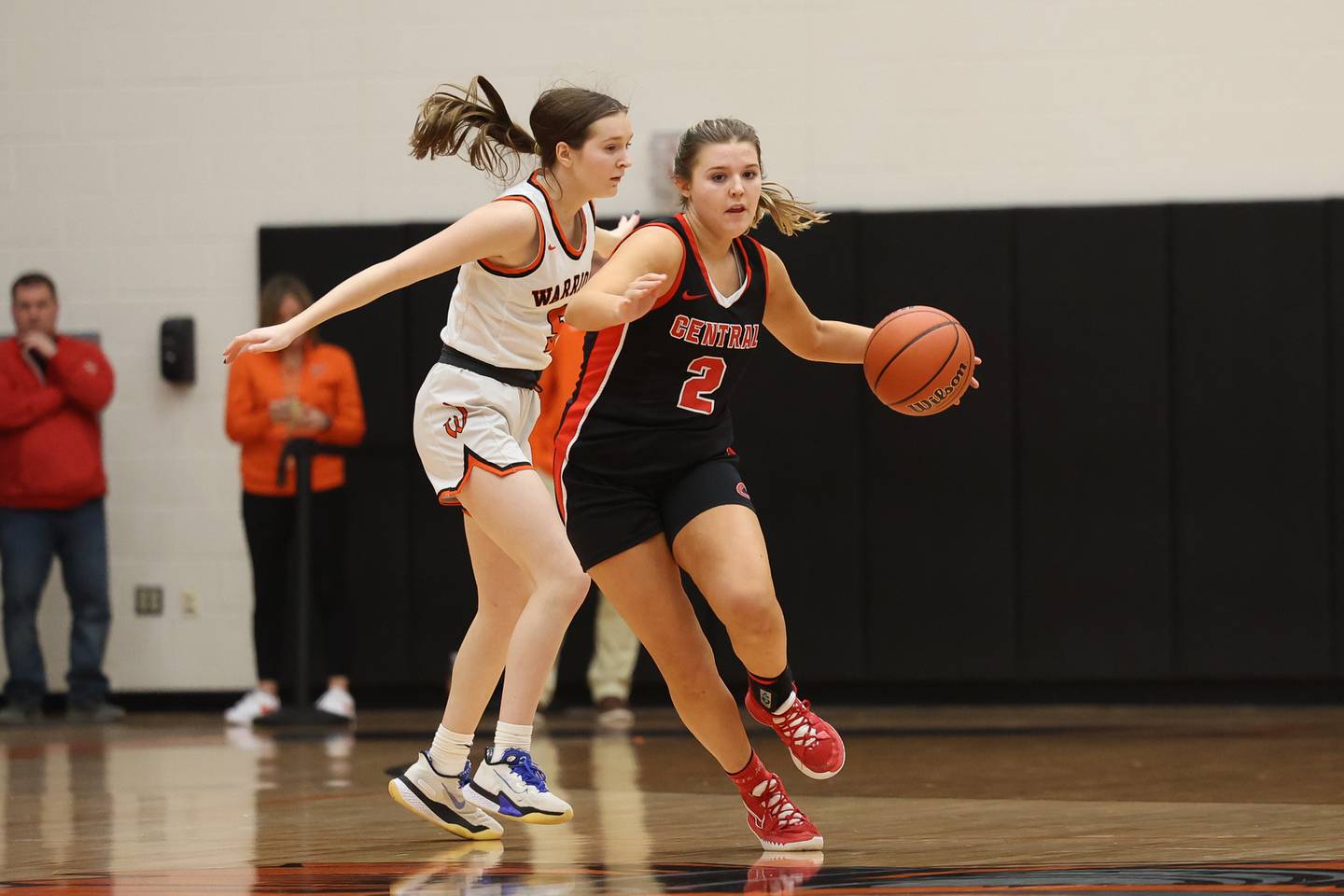 "Lina has a great basketball IQ," Lincoln-Way Central coach Dave Campanile said. "She played in all 31 games last year for us as a sophomore before getting hurt in the sectional final against Bolingbrook. She missed the first 20 games of this year, and this is her 10th game back.
"She has the size and intelligence, and that makes her a very efficient player. She can catch it and shoot it, and she is a very good passer when she has it in the high post in our zone offense."
Although they trailed all game, the Warriors (21-6, 6-2) didn't go down with out a fight. Led by 21 points by Ava Gugliuzza and 12 rebounds by Caroline Smith, Lincoln-Way West kept the game close. Central moved out to a 37-24 lead late in the third quarter, but West got a 3-pointer by Payton Madl and back-to-back 3′s by Gugliuzza to cut it to 37-33 entering the fourth.
Smith scored underneath for West to open the fourth and draw the Warriors to within 37-35. Central countered with a 3-pointer by Gehrke (9 points) and a pair of free throws by Gianna Amadio to grab a 42-35 lead and Brooke Baechtold hit a free throw with 3:06 left for a 43-35 lead. At that point, Newson-Cole, who picked up her fourth foul and went to the bench with 45 seconds left in the third, re-entered the game.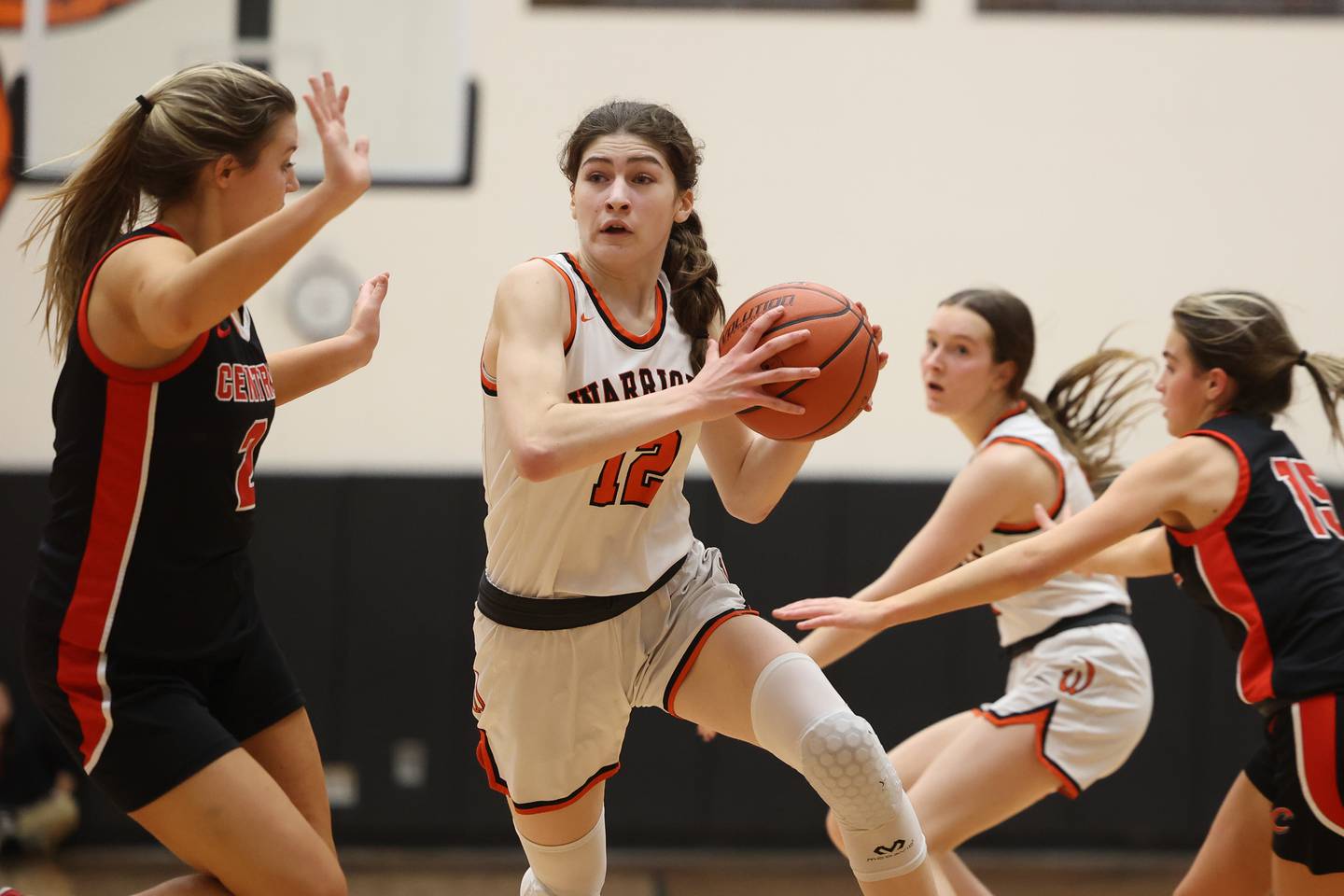 Newson-Cole was able to break the Lincoln-Way West pressure and draw fouls, and she hit 5 of 6 free throws down the stretch, finishing with a team-high 15 points.
"We knew coming in that this would be a grind-it-out game," Campanile said. "It's always a battle when Central and West play. It wasn't the prettiest, but we'll take it.
"We were 7-1 in the conference and shared the championship with Stagg last year. We kept saying this year was the road to eight. We wanted to win all eight of our conference games this year, and we were able to do that."