DIXON – When it was running its offense Saturday afternoon, the Sauk Valley women's basketball team was tough to stop. But when it wasn't, Wilbur Wright College made things very interesting.
The Skyhawks built double-digit leads in the second, third and fourth quarters, then had to fend off Wright at the end of each half before holding on for a 60-58 victory at home.
"We did just enough to win," Sauk Valley coach Julie Schroeder-Ranz said. "We're just going to keep learning, and luckily today we came out with a win while learning a lot."
Sauk (3-2) closed the first quarter with an 11-4 run, and opened the second with a basket by Skylar Savage and 3-pointers from Ainsleigh Hendrix and Hailey Walters for a 25-16 lead with 7:50 left before halftime.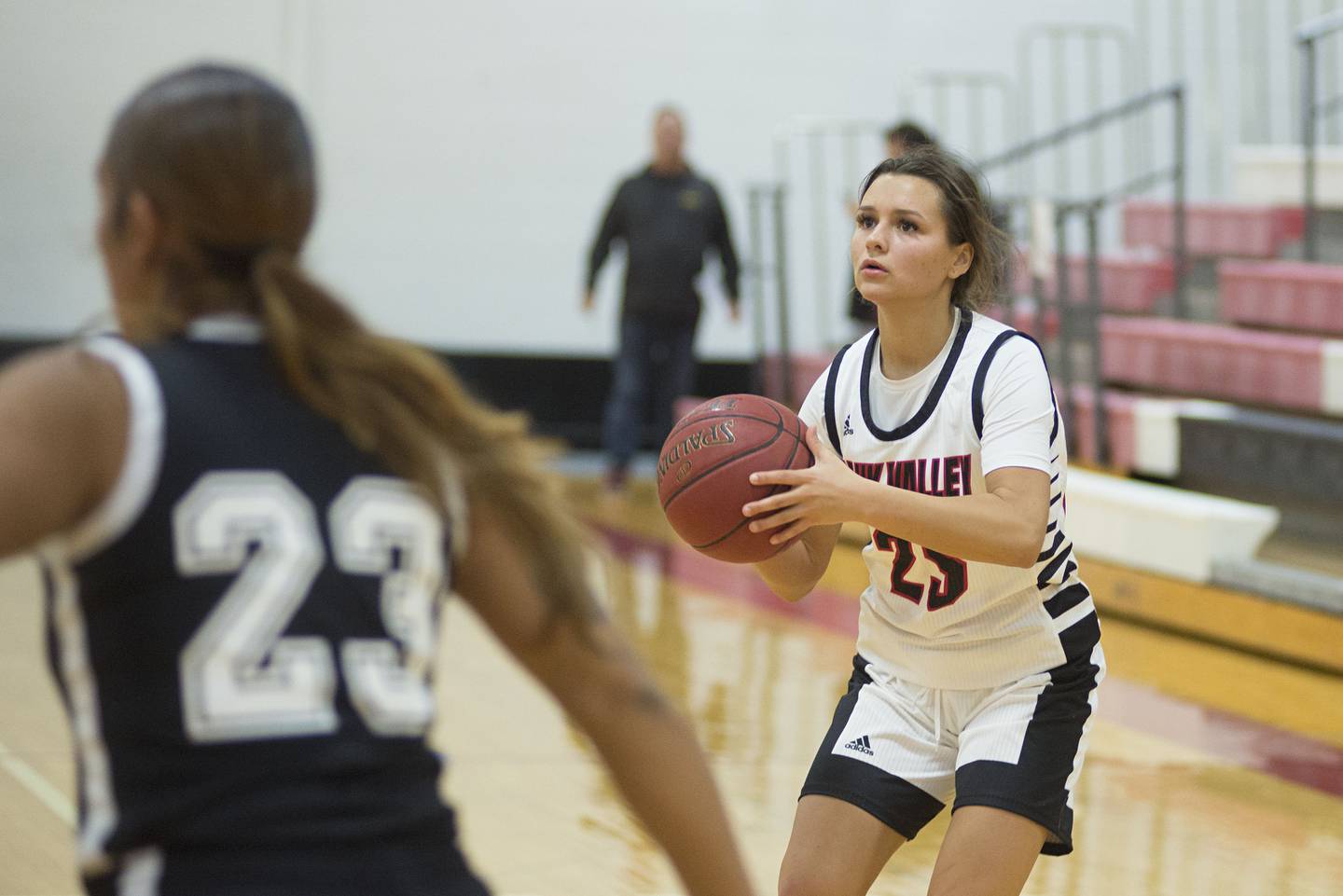 But the Skyhawks managed just two baskets over the next 7:48 – a putback by Alejandra Padilla and a layup from Hendrix – as the Rams tied the score 30-30 with a 15-4 run of their own. Nakiya Rascon's putback with 2 seconds left gave Sauk a 32-30 lead going into the break.
It was the offensive execution that told the story. Sauk got open looks and layups when running its stuff, but then struggled to get anything going when it settled for outside shots.
"When we don't look at every person on the court, that doesn't work, because we always have somebody open on the post," Padilla said. "Even if it was a late pass, they were still open. We just had to find the open person to get the shot."
Wright also did some damage with its size, as post players Nicole Sackey-Aduo and Jada Kimple provided several second-chance opportunities with offensive rebounds simply by being taller than their Skyhawks counterparts.
"We had to make sure to box out, and that's big for us," Walters said. "We know they had the advantage of being taller than us, but we had to push our butts back into them and try to get an over-the-back call on them. We tried to do that, but it didn't work out a lot today."
"We know we're going to be overmatched a lot, especially with bigger kids, so we've worked really hard at trying to defend the post a certain way," Schroeder-Ranz added. "They got us a couple of times."
Sauk's passing game was on full display for much of the second half. The Skyhawks assisted on 10 of their 11 baskets after halftime – they had 18 assists on 25 field goals in the game – and got open layups as a result.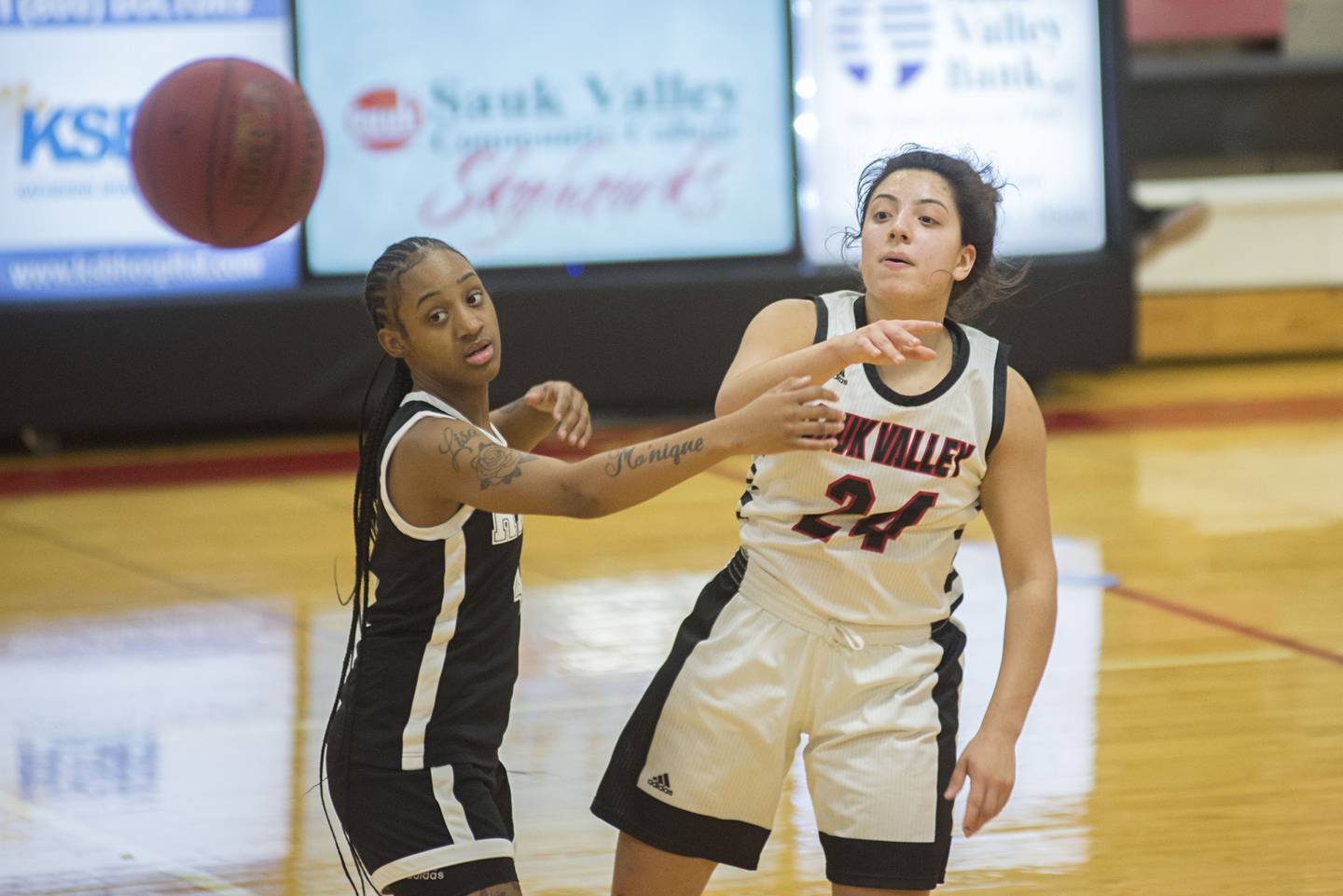 Padilla found Josie Rank after a loose-ball scramble for the first basket of the third quarter, then Rank assisted on a Hendrix layup after a nice pass into the high post from Walters. Savage later scored inside on an inbounds pass from Padilla, then Savage found Rascon for a layup with a pretty interior pass.
"It's nice to see that when we run our offense, we can find the open person," Padilla said. "We have to work it around instead of jack up a shot, because then they get the rebound since they're a lot bigger than us. It's nice that we can get those people open.
"If we run our plays, then that's what opens up those passes and seeing everybody. Seeing our posts be big, that's who we can feed it to in the post."
Walters knocked down another 3, then Rascon hit 2-for-4 from the free-throw line for a 47-35 edge with 3:04 left in the third. Another hockey assist play, this time from Padilla to Rank to Rascon for the layup, gave Sauk a 51-41 lead heading into the fourth quarter.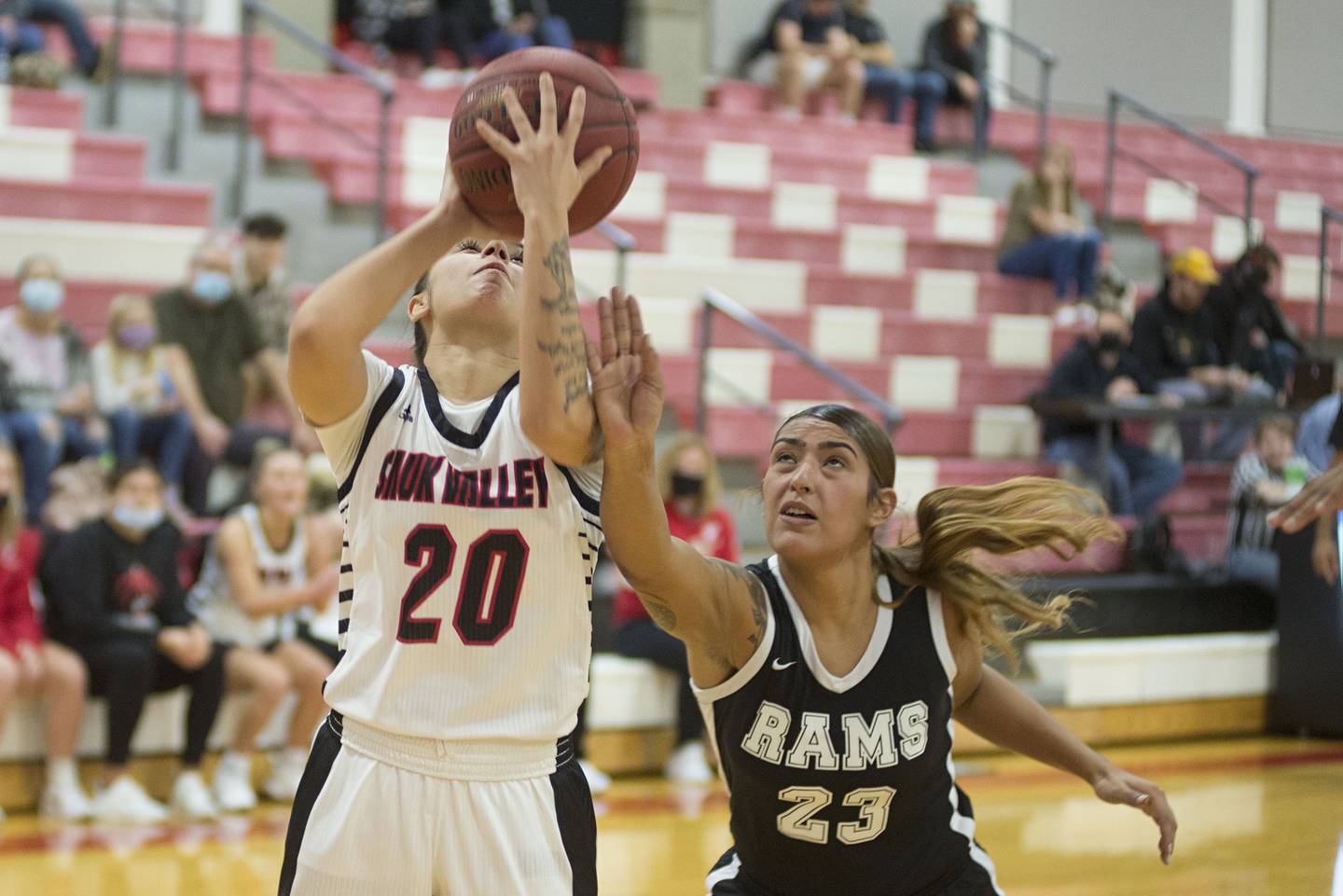 Baskets by Rascon and Rank – both off assists from Padilla – made it 55-45 with 5:32 to play, then Walters passed to Rank who found Rascon again for a 57-47 margin with 4:36 left.
"We got the ball inside, passed it down to our posts when they were open, and scored down on the block a lot," Walters said. "That's a big deal for us, because we've been working on that. Getting the ball from the guards to the open posts, finding the open player and then finishing, that was a really big deal for us today. We did a good job with that."
But Wright wasn't done. Sackey-Aduo and Kimple started to take over down low, and turned Rams misses into baskets. Sackey-Aduo hit a layup and was fouled with 1:30 to go, then Kimple rebounded the missed free throw to make it a one-point game, 59-58, with 1:25 to play.
The Skyhawks didn't panic, though. They ran their sets and moved the ball around on consecutive possessions sandwiching a missed shot by Wright, and Walters split a pair of free throws with 14.9 seconds to play for a two-point lead. One last defensive stop – a Wright turnover when the ball was dribbled off a foot – sealed the win.
"We did a lot of things right, and we're going to learn a lot from the things we struggled with," Schroeder-Ranz said. "When we execute our stuff, we do some nice things. We took some ill-advised shots at times, so there's a lot of learning that's going on with this group, but I couldn't be happier with how they're playing together and just how much fun they are. They're just a super group, and I love them to death."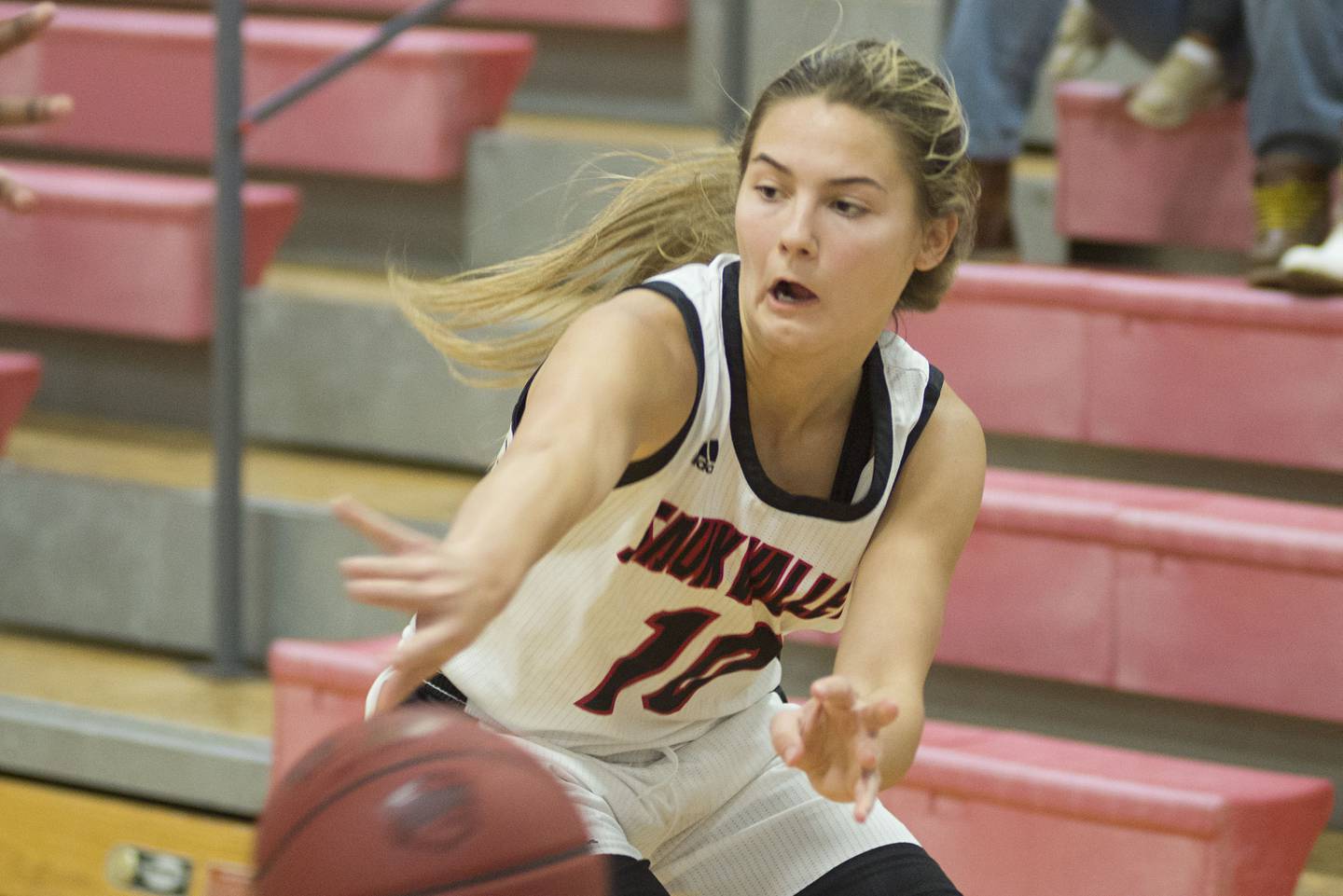 Walters led Sauk with 17 points, and Rascon finished with 14 points, five rebounds and two steals. Hendrix scored seven, Padilla had a double-double with six points, 10 rebounds, 10 assists and two steals, and Rank had six points, 11 rebounds and six assists. Jenna Johnson also scored six points to go with four rebounds, and Savage chipped in four points and seven rebounds for the Skyhawks.
Sackey-Aduo finished with 22 points, 10 rebounds, three blocks and two steals for Wright, Kimple had 10 points, 10 rebounds, three assists and two steals, and Jiana Cruz added 10 points and eight boards. Aniyah Jackson had seven points, four rebounds, four steals and two assists, Dania Jordan finished with five points, nine assists, four steals and three rebounds, and Reyane Rehich chipped in four points and four rebounds for the Rams.