DIXON — A common thread emerged from discussions with property owners as officials nailed down details in the nine individual annexation agreements.
"They want it to be meaningful," City Manager Danny Langloss said during a presentation to City Council members Monday.
If anything, they want to share in an economic development of scale and substance.
City attorney Rob LeSage said in some cases, the initial overtures to bring landowners into the city go back to the 1980s — when he was still in high school.
Langloss and Mayor Liandro Arellano Jr. were instrumental in and dedicated to bringing landowners to the table, each of whom held diverse interests, goals and objectives, LeSage said
"For five years, I've seen them make cold calls. Letters were written." Arellano even attended a Fulfs family reunion as the parties got to know each another.
There is still much to be done. The city will have to create a zoning designation for agriculture to accommodate those properties that still are used for crops or limited livestock grazing.
It will be important to address city zoning and planning in other ways, to create buffers between industrial use and residences, the mayor said.
In some cases, such as with the Hummel and Clayton parcels, which will be zoned for industrial use, the city already has extended roads, sewer and water adjacent to the properties, in anticipation of their eventual inclusion in the city.
The foresight of previous city administrations to do that was key, Arellano said.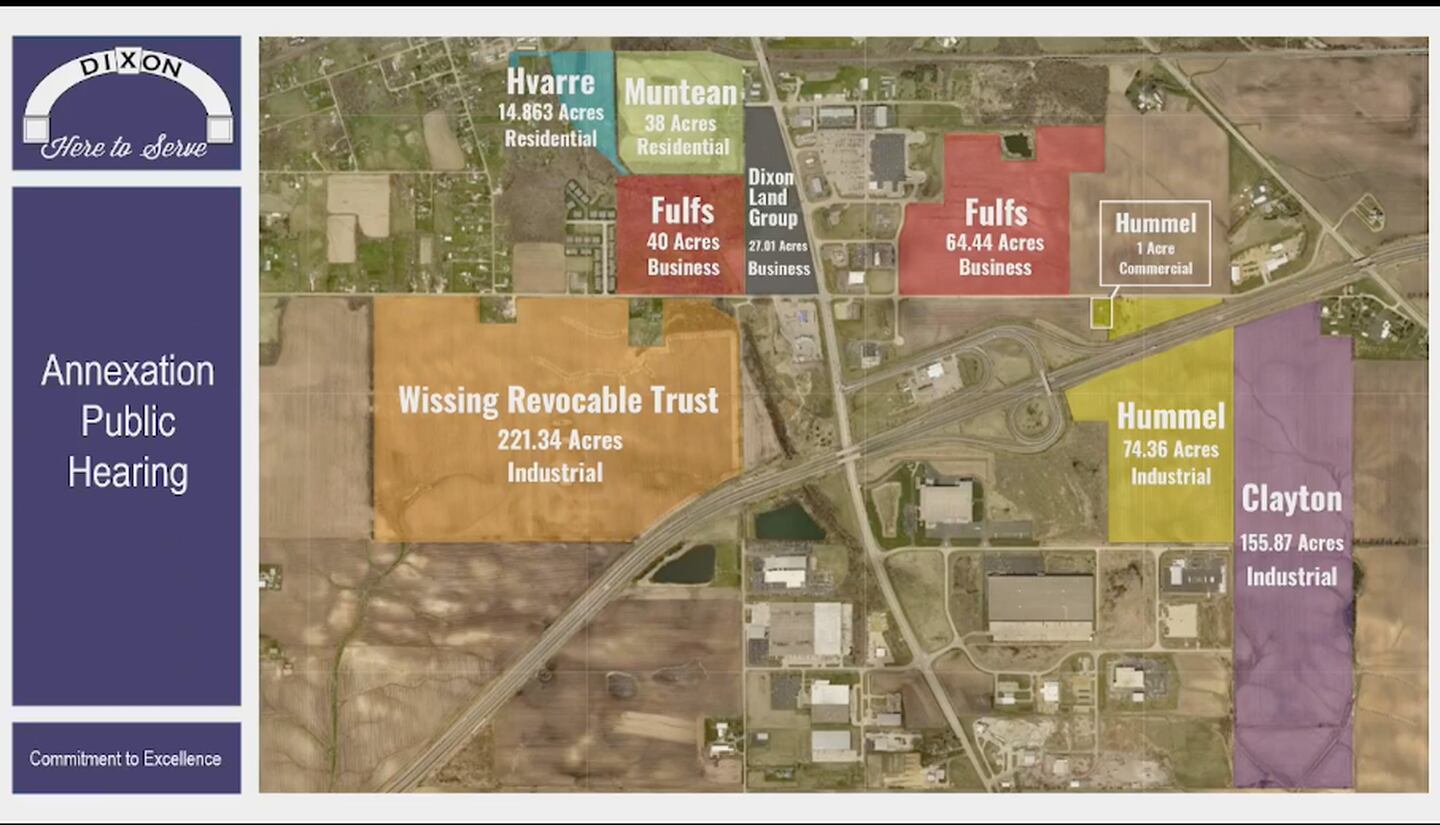 Here is a brief review of the annexed properties:
Donna Muntean and Georgia A. Armstrong; 38 acres, to be zoned single family residential.
Celia Fulfs Marin, Fulfs Family Trust, Mae Fulfs McClernon and Kay Fulfs Cayler; 40 acres west of Galena Avenue and 64.44 acres east behind Walmart, to be zoned for business.
Wayne R. Hummel Trust and Wayne R. Hummel; 1 acre north of I-88 that is the Hummel home, to be zoned for commercial use.
Hummel Family Farms LLC; 74.36 acres on both sides of I-88, contiguous to the industrial park, to be zoned for general manufacturing.
Jerry L. Ferguson, Larry G. Clayton and Connie A. Clayton; 155.87 acres to be zoned for general manufacturing.
Chicago Trust Co., Phyllis Louise Wissing Holt Trust, Richard W. Wissing Trust and Rodney H. Piercey, Norma J. Wissing Revocable Trust; 221.34 acres west of South Galena Avenue that are zoned for general manufacturing.
Dixon Land Group LLC; 27.01 acres on the west side of Galena Avenue across from its Walmart project. City agrees to install "hard infrastructure," roads, water and sewer. Already a preliminary plan for a subdivision. City agrees to create a liquor license for consumption on that parcel for a fuel center that won't be large enough to qualify for state exemptions for alcoholic beverage service. Includes TIF deal that the first $150,000 will be paid to them. Development has $3.8 million in dedicated costs for the city.
Hvarre Holdings LLC; 14.863 acres. This includes both an annexation agreement and an exchange agreement on property. The city in 2020 entered into an intergovernmental agreement with Dixon Public Schools to acquire Washington Park for $1. Hvarre will exchange a separate 18.83 acres within the city for Washington Park. Washington Park then will be used for a family housing development: 15 single-family units and one multifamily lot with four units. In addition, Hvarre has property north of the exchange property for a project with the potential for 70 units. This TIF transaction is a pay-as-you-go agreement. In exchange for the city paying 65% of the TIF (up to a $1.9 million), Hvarre will pay for infrastructure.