Dana Merriman, 17, of Amboy, is Amboy High School's October Student of the Month. Her parents are Brenda and Dave Merriman and she has a brother, Dillon.
Favorite class: Ag Discovery, because this year I get to teach this class. I am having so much fun with this, the eighth-graders are great and interactive, making it really fun. I also get to teach a variety of topics that involve agriculture and it gives me an opportunity to use my creativity and share my love of agriculture with others.
Least-favorite class: 20th century history, because I am not very interested in historical topics.
Favorite teacher: Joseph Heavner, the agriculture teacher, and Travis Kemmerer, the music director. Both have encouraged me to do my best and have been super helpful. Mr. Heavner and Mr. Kemmerer always joke around and make the classroom setting so much more enjoyable. These teachers are a blessing to Amboy High School, and they have done so much to improve their departments. They both truly care about their students, which makes them great teachers.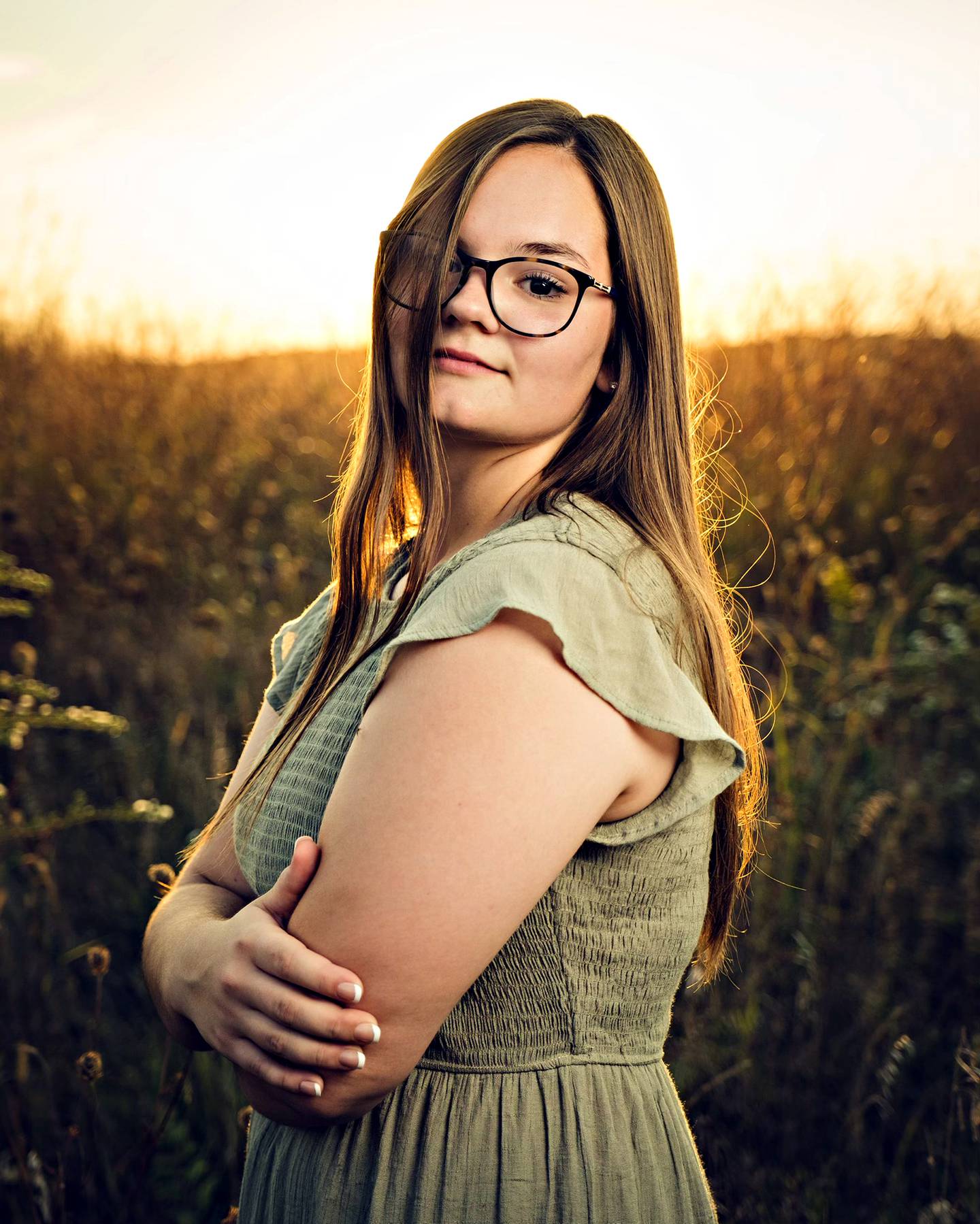 School activities in which you participate: Student Council, Leos Club, Outdoors Club, softball, the spring musical, band, choir, and FFA, an organization that teaches leadership, personal growth, and career success, all still with the foundation of agriculture.
Civic, church, or other volunteer activities in which you participate: I have donated to and worked multiple blood drives in the past and continue to do so.
What will you do after high school? I will double major in agricultural education and elementary education and minor in criminal justice and forensic science. I have yet to choose a school. As of now, I have been accepted to Illinois State and Iowa State universities.
What is something you learned in high school that you think you'll never use? The conspiracy theory about Chuck E. Cheese pizza.
If you could change one thing about your school, what would it be? The amount of school pride found in students. I am someone who is extremely proud to be an Amboy Clipper, I wish other students would have that same pride to encourage our teams and other clubs. If our students showed more school pride, I feel our clubs would do much better than they already do and it would make being an Amboy Clipper much more enjoyable.
If you could create any new class, what would it be? A meteorology class. This is something I would like to learn more about. I think it would be a good idea to offer more sciences classes as well.
What does it take to be a successful high school student? You need to be yourself. By doing things that you love, you are going to bring out the best in your performance.
Do you have a job? I work at Gymnastics Divine, where I teach gymnastics to kids ages 3-12. I absolutely love this job because, in a class of close to 20 kids, I can still have a special interaction with every single one. I have created so many relationships with the students that this will be the hardest goodbye when I leave for college.
How would you describe your group of friends? Unforgettable. Each and every one of them is unique in their own way and has worked hard toward many different things in their lives. I am so lucky to have the friends I do who care about me and support me.
Who is your best friend? Gina Gibbons. She is so special to me and is hugely important in my life. We have been friends since we were in elementary school, and we still have that same type of friendship today. She is one of my biggest role models as she has been through a lot and yet she is still determined to achieve her goals.
What do you do in your free time? I like to paint and I like to make crafts like wreaths or other similar projects. I also like to be outdoors, whether it's riding my bike or fishing, or going for walks.
What kind of music are you listening to? I listen to many different types of music, like rock, pop, and big bands. Currently, country music is my favorite because it is good-feeling music and I can relate to a lot of it.
If you could go anywhere in the world for free, where would it be? Disneyland Paris. My family have always been huge Disney fans.
What is your favorite childhood memory? When I won the Junior Olympic gold medal for the first time. It was such a huge moment in my life, and one of the first major accomplishments I have achieved. This was when I learned that I was capable of anything that I put my mind to.
What is the best way to cheer you up? When I am down, the best way to cheer myself up is to listen to music. Since music is a big part of my life, I can connect to the feelings of the song that makes me feel better.
What is your life's philosophy? Be yourself. By being yourself, you are much happier than when you try to be like everyone else. I like to do my own thing and stray from the path of others.
Do you have a pet? I have a yellow lab named Oakley. He is a year old and filled to the brim with energy.
What would you do if you received $1 billion dollars all of a sudden? Save it. I know that once I start college I will have a lot of expenses to pay. I would save this for bills in the future and possibly buying a house as well as getting my own vehicle.
Is there anything else you'd like people to know about you? I am super hard-working, and that hard work has earned me many accomplishments. One of my proudest accomplishments is winning the 2021 Miss Amboy pageant. This has given me the opportunity to be a role model for girls in our community. Also, being elected the Section FFA vice president, which has given me the chance to collaborate with other FFA officers across surrounding counties and across the state to improve our Amboy FFA chapter. I also have the accomplishment of being this year's drum major for the Amboy marching band. All of these accomplishments have helped shape me into a better person and have taught me so many great lessons that I can share with others.
What is your favorite:
Food: Ice cream
Musical artists: Old Dominion
Movie: "Beauty and the Beast"
Pro teams: Green Bay Packers and Chicago White Sox
Color: Light blue