The best innovations start at home. Just ask James Jackson Potter.
A lecturer and mechanical engineer with lifetime ties to Morrison and Sterling, he led the students that created a portable robotic imaging device for botanists doing field research.
Which is important — because it was created for his wife, biologist Rachel Penczykowski, and her team from Washington University in St. Louis.
"I asked her for projects," said James, who also is on the Wash U faculty. "I'm always looking for projects for my senior design class."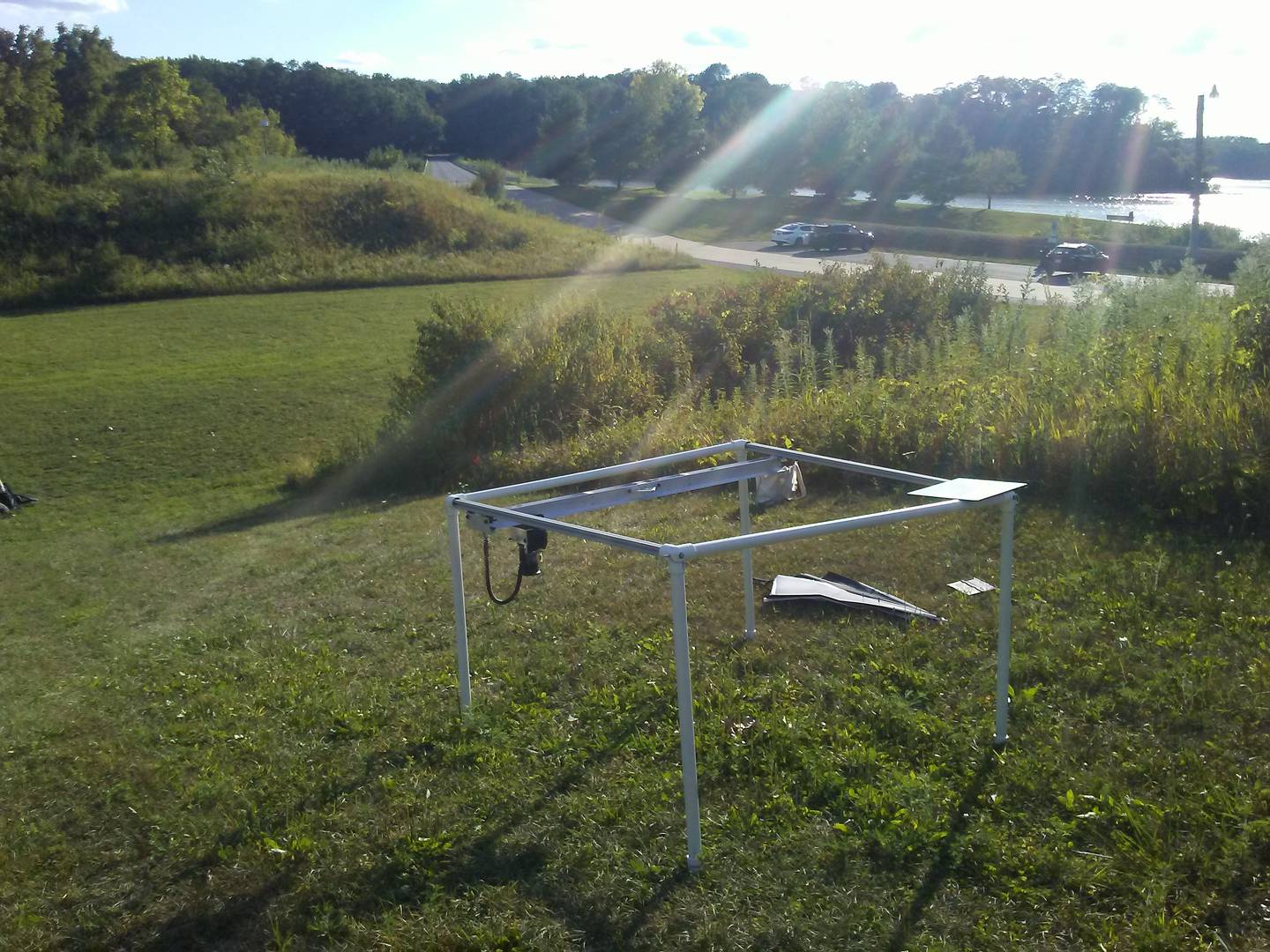 What Rachel needed was a more efficient means to collect data in the field, especially their summer survey of plants damaged by insects and pathogens along the Mississippi River.
The traditional recording methods just weren't cutting it. They could make hand-written observations in a notebook and designate locations. But it wasn't a thorough collection of data — material that could be studied later in detail.
"We didn't have anything," Rachel said. "Take out a point-and-shoot camera and take a photo of the landscape and the site. Just to characterize the scene. It was not a way to systematically take photos on the ground from a consistent angle and distance."
Moreover, the team stays on the move. Duluth to New Orleans is a lot of ground to cover. There are high-resolution camera rigs — but they weren't as portable. Too much time to set up and take down.
So James gave his students at the McKelvey School of Engineering the task of designing a machine that could provide high-resolution photography of ground cover over a 1-meter square patch. The device had to be lightweight, quick to assemble on site and constructed out of easily available materials.
James said there were three cycles to the design process. Initially, groups of students took on the task of coming up with concepts.
"One did a really good job of making a viable machine," James said. "One of the students in that group took it another semester to improve certain aspects. I did another cycle to make sure it was as good as I could make it. Refine the design."
The design they settled on used a frame of PVC pipe and a camera mounted on two aluminum rails. The camera then takes 24 photographs as it moves on the track, recording everything within the 1-meter grid.
The entire device costs about $500. Disassembled, it fits into a golf bag.
"I made a second version of the machine so we could take one and Rachel's lab tech could take the other one. I made it with just hand tools," James said.
The machine even got a trial run nearby. Morrison Rockwood State Park is a regular stop for Rachel's team. It's a good spot to put the "Robotany" as they call it through its paces.
"What's so critical is it reduces the work that is required to collect that data in real time on the ground in the field," Rachel says. "Field time is so precious. … Any data we can bring back to process later is well worth it to us."
A program takes the 24 separate images and makes a composite. And all the photography is high-resolution, providing new levels of detail. Moreover, the data is now available to researchers outside her lab.
"It's been great during COVID for those students who can't come into the lab," Rachel said. "We have several students doing remote research projects using our image analysis."
The process for creating the device was published, along with co-author Sylvia Tan, in Methods in Ecology and Evolution.
"The reviewers of the paper had good things to say about the machine," said James.
"When I give seminars, I always put in a plug for our device," Rachel says.
Rachel, 36, is an assistant professor of biology whose research interests are in host-parasite interactions. James, 38, is a 2001 Sterling High School grad with a master's from Wisconsin-Madison and a bachelor's from the University of Illinois at Urbana-Champaign. They both got their respective doctorates from the Georgia Institute of Technology. They have two children.