For the Sterling softball battery of junior pitcher Elizabeth Palumbo and junior catcher Karmen Weinrich, less has been more in more ways than one.
The duo has been instrumental in helping the Golden Warriors reach the Illinois High School Association Class 3A State Softball Tournament that will be played Thursday at the Louisville Slugger Sports Complex in Peoria. Sterling takes on Highland at 10 a.m., then either Lemont or Ridgewood in the third-place game (1:30 p.m.) or championship game (2 p.m.).
After years of knowing just what to expect in the pitching circle from Lexi Staples and Jayme Eilers, head coach Becki Edmondson had the task of seeing just what she had in Palumbo, who would be entering her first season as the main varsity hurler. The left-hander had been doing a solid, steady job before running into some problems against Western Big Six foes Rock Island and Geneseo. The Rocks swept a doubleheader 19-11 and 17-14 on May 13, then the Maple Leafs rolled to a 12-3 win 6 days later.
"I feel like I got too comfortable," Palumbo said. "At the beginning of the season, I felt like I was doing good, but it was borderline good. Then I felt I started going downhill a little bit because I got too comfortable on the mound. When runners would get on, I'd get down."
Edmondson then had a meeting with all of her pitchers: Palumbo, sophomore Ellie Leigh and freshman Sienna Stingley.
"I had a heart-to-heart with the whole pitching staff, just saying, 'OK, this is enough,'" Edmondson said. "We've got to pick a couple of pitches, stick with that, and that's how we're going to go. It doesn't do you any good to throw pitches that aren't moving like they're supposed to."
Edmondson, who calls the pitches for her pitchers, basically pared Palumbo's repertoire in half. She would throw no more drop balls, greatly reduce the number of screwballs, and rely heavily on a curveball and rise ball.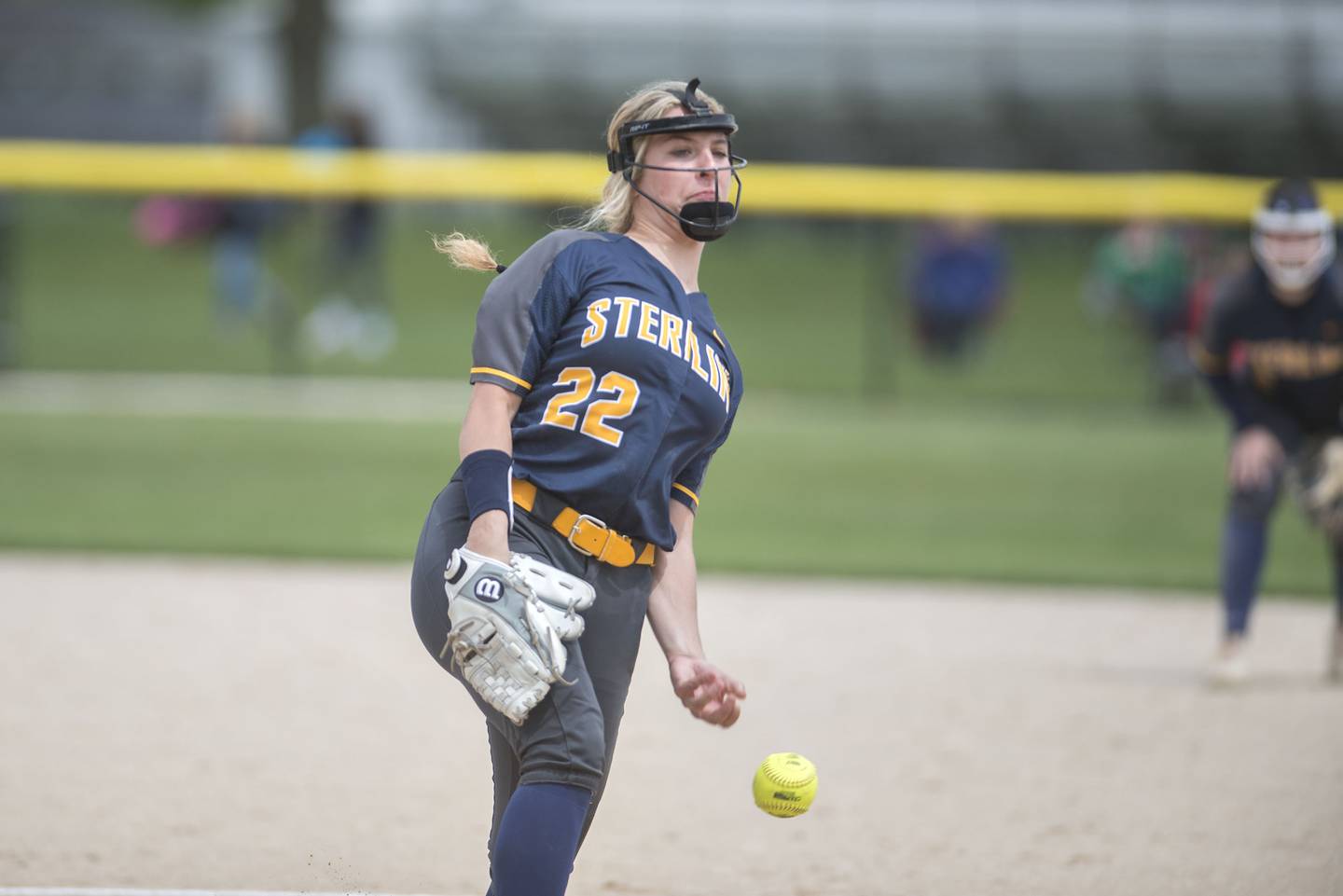 The results have been a revelation.
Sterling (17-7) split against a strong Moline club, beat Stillman Valley, and lost a 3-2 contest to Ottawa to end the regular season.
Palumbo then caught fire in the postseason. She allowed single runs to Freeport and LaSalle-Peru in regional play, shut out Sycamore and Kaneland at the sectional, then blanked Antioch 2-0 in a tense Kaneland Supersectional game Monday.
A devastating curveball that has been equally effective against right-handed batters and lefties has been the key. To righties, she likes to bust them inside to induce weak popups, and also start pitches way outside, only to curve back and catch a piece of the plate.
"I feel like I like pitching to lefties more than righties because I'm more comfortable going outside to lefties," Palumbo said. "If I go too far outside to lefties, it just ends up off the plate. If I go not enough outside to righties, it ends up in the middle."
Edmondson leans toward calling for a rise ball as an out pitch, after feeding batters a steady diet of curves.
"Her ball moves a lot," Edmondson said. "Some of them kind of screw in and up or out and up or out and down. The thing is, you never know what you're going to get, and that's a good thing. And she's not wild at all. Her pitch command had gotten much better."
Providing a steady hand behind the plate has been Weinrich, who has one job with the Golden Warriors: to catch the pitchers, primarily Palumbo.
Weinrich has not batted yet this season. She does take batting practice, but has yet to have an official at-bat. She also doesn't have to call pitches, as Edmondson handles that. Her job is essentially to play catch with Palumbo, as well as provide emotional support.
"I talk to her a lot during the game so she knows that she's not alone," Weinrich said. "I just talk to her and make sure she stays calm and keeps having fun. I do what I can to make sure she's where she needs to be."
Weinrich does do a few things when it comes to X's and O's. For instance, she'll make sure the infielders are all on the same page, knowing where to go with the ball with runners on base, but her main job is to work with Palumbo.
"She's just been a lot more confident with herself," Weinrich said. "I feel like she's been having more fun during the games, too, which is nice."
When Palumbo needs a boost, it is Weinrich who strolls to the mound.
"She just knows what to say," Palumbo said. "I feel like it helps me relax and want to do better."