DIXON – Joe Welty wanted to practice medicine, but he wasn't sure if he wanted to do it in Dixon, so close to home.
Teresa Shroyer had a passion for helping people and making them feel better when they were ill.
Their paths crossed more than 35 years ago at KSB Hospital as doctor and nurse, and they've been a team ever since. Thursday, they retired together and were given a special drive-thru send-off at Town Square Centre.
Welty graduated from Monmouth College in 1978 and the Illinois-Chicago Medical School in 1982 before doing a 3-year family medicine residency at MacNeal Memorial Hospital in Berwyn. That concluded in June 1985, and he started at KSB a month later. He hasn't looked back.
"It's been a rewarding run," Welty said. "I initially resisted the thought of coming back close to home, having grown up in Amboy, but in the end, it has been one of the greatest rewards I can imagine, having had the opportunity to provide care for some of the people that helped care for me growing up."
Welty had far from a traditional upbringing. His father, Don, died about 3 months before he was born in December 1955. Many Amboyans helped shape the kind of person he would become.
"Looking back on it, I realize the statement that it takes a community to raise a child really, truly happened for me," Welty said.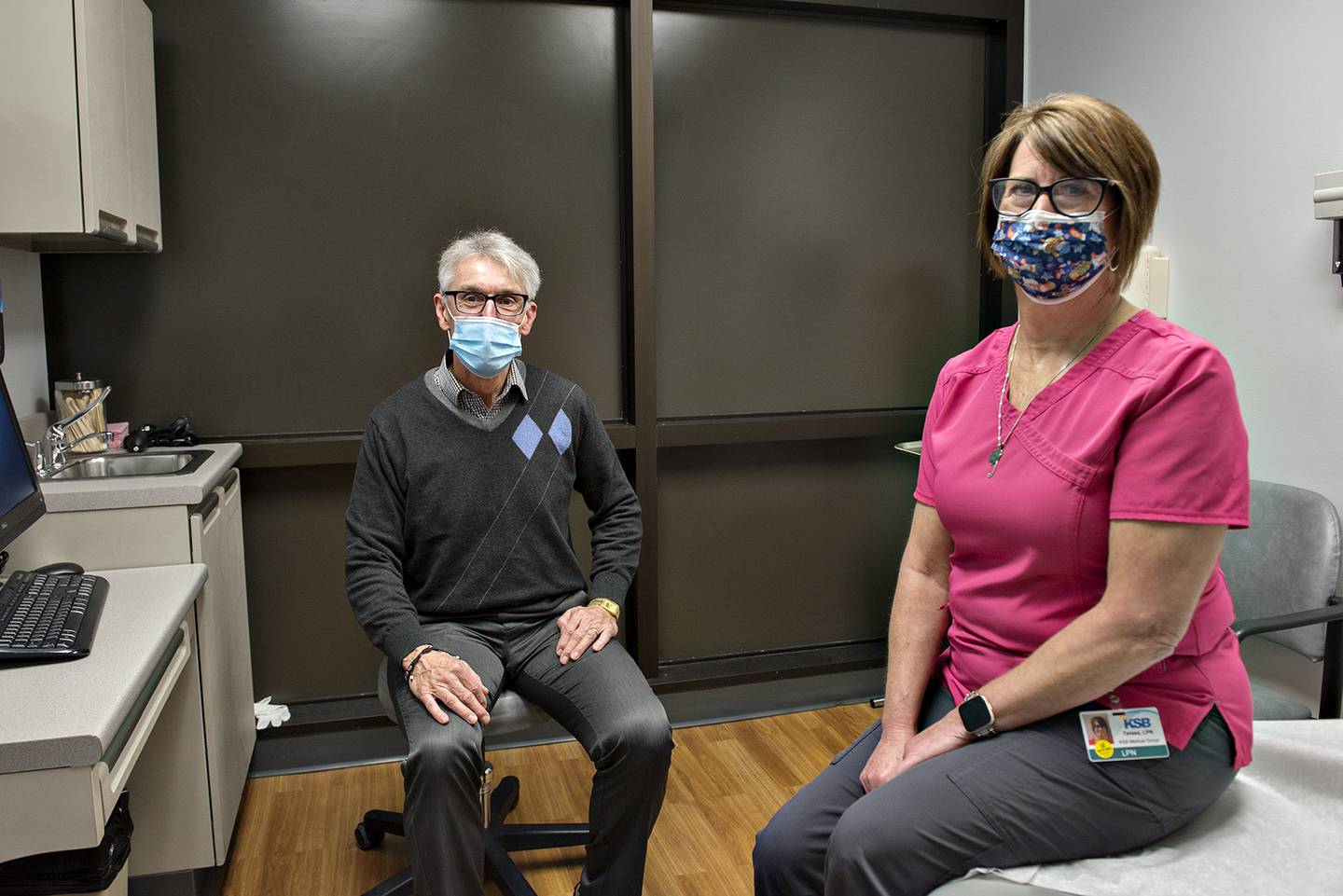 The biggest influence was his mother, Doris, a nurse for Dr. Wayne Spenader, a general practitioner. Doris was the steady hand that kept the office humming along smoothly, and young Joe took notice.
"I had my start in medicine emptying garbage cans and washing windows at Dr. Spenader's office in Amboy," Welty said. "I spent many afternoons there after kindergarten – kindergarten were half-days at that time – and I was just very intrigued by the sights and the sounds. As I got older, the realization of the care that they were providing to people and how they were helping people, that helped me realize that was what I wanted to be."
A big sports fan, Welty was a three-sport athlete at Amboy High School. In the absence of a father, coaches such as Jim Mahar, George Danhaus and Don Fritz in football, Gary Croegaert in basketball and Bruce Wall in track and field were role models for him. He also cited former Amboy athlete Gary Jones, who would go on to coach football at his alma mater, who had an unparalleled work ethic.
"What I learned from all of them the most was how putting in the time and hard work and effort and devoting yourself to something would pay off if you gave it your best," Welty said.
For Welty, that has resulted in more than 35 years at KSB, treating thousands of patients and hopefully putting them on the path to good health.
Part of that job also has been being there for the families of those who don't make it.
"As family physicians, we learn that part of our role is trying to help families through those difficult times and those times of grief," Welty said. "I learned very early on from my mother that one of the things you do with your patients is, when they pass away, you go and pay proper respects and say goodbye to them."
In the last 10 months, COVID-19 has changed that, with restrictions that often limit funerals and visitations to family only. Welty respectfully keeps his distance.
"That has been very hard for me, not going to visitations and funerals like I had my entire career," he said.
KSB was ahead of the game when it came to dealing with COVID-19, he said. Social distancing and wearing masks were stressed early in the pandemic, and it was about making it business as usual, as much as possible, for patients and visitors.
"You talk about the cream rising to the top," Welty said. "What we don't often realize living with it and living locally is what a great job the people at KSB are doing, everything from the staff to the administration, and making sure we're on top of that situation. They've done an extremely good job with it and are constantly adapting and flexing to the changing information that we get about this disease."
COVID-19 has also been tough on Shroyer, a self-described "hugger and hand-holder." She considers that physical contact with patients and family members essential when dealing with dire circumstances.
"The toughest part is holding someone's hand when they're passing," she said. "I've had to do that, and that's not easy. Then you watch the family members have to deal with that, and you try to console them and take care of them as well."
Shroyer, a 1973 Dixon High School graduate, worked at the former Dixon State School for a time, where she got a taste of health care and decided to make it her career.
She graduated from Sauk Valley Community College's Licensed Practical Nurse program in 1977, and that August began at KSB. She worked in the intensive care unit, the emergency room and pediatrics, and did a stint at the the Medical Arts Clinic for Dr. Roger Hill before teaming up with Welty in January 1986.
It's not a coincidence they're retiring at the same time.
"I just don't think I could have worked for anybody else, not that there's anybody out there any worse or better," Shroyer said. "Now just seemed like the right time."
Both look forward to spending more time with family.
Welty and his wife, Jean, have been married 42 years. They have three children: Anthony, 37; Christopher, 34; and Jonathan, 30; and five grandchildren – which means many youth soccer and basketball games to attend.
Shroyer and her husband, Rick, have been married 44 years and also have three children: Kelly, 42; Kandi, 40; and Katie, 38. They have six grandchildren, and, like the Weltys, many youth sporting events in their future.
Having solid family support is part of the reason Shroyer was able to keep going as a nurse for as long as she did.
"It isn't strictly a 9-to-5 job, and you work until you're done taking care of the patients," Shroyer said. "Somebody might come in late that they need help. My family's always been understanding that if I'm late getting home, Mom was taking care of somebody."
Welty echoed those sentiments.
"Medical families are often called upon to deal with the sudden disappearance of their loved ones who are in the medical field," Welty said. "Health care doesn't happen on a schedule always. Teresa's family has been and my family has been very gracious about that. I've never once heard a complaint from them about that and the craziness of the schedule that we get sometimes. I think they deserve a lot of credit for that."