DIXON – Two LGBTQ comic books that a group of community members wanted removed for containing sexual content are back on the Dixon Public Library's shelves following about three months of debate.
A controversy began in June after a letter signed by a dozen families was sent to library Director Antony Deter and city officials calling for the removal of the library's Pride Month display.
It was a form letter from the conservative nonprofit CatholicVote "Hide the Pride" group, in which community members were asked to check out all the LGBTQ content they could from a library to remove the books from public display.
[ 'A slippery slope': Residents defend Dixon library following push to remove LGBTQ comics depicting sex acts ]
The letter did not name specific books but said they would be checking out and keeping all the LGBTQ books until the library removed the "inappropriate content from the shelves," as well as refrained from buying "R-rated content" with taxpayer dollars.
Deter at the time directed the letter writer to information on giving public comment during a meeting as well as the library's policy form for the request for reconsideration of library materials.
Deter then received 16 requests to remove young adult comic "Gender Queer: A Memoir" as well as the adult lesbian comic book "Patience and Esther: An Edwardian Romance" for reasons including "sin," "vulgarity" and "lesbianism."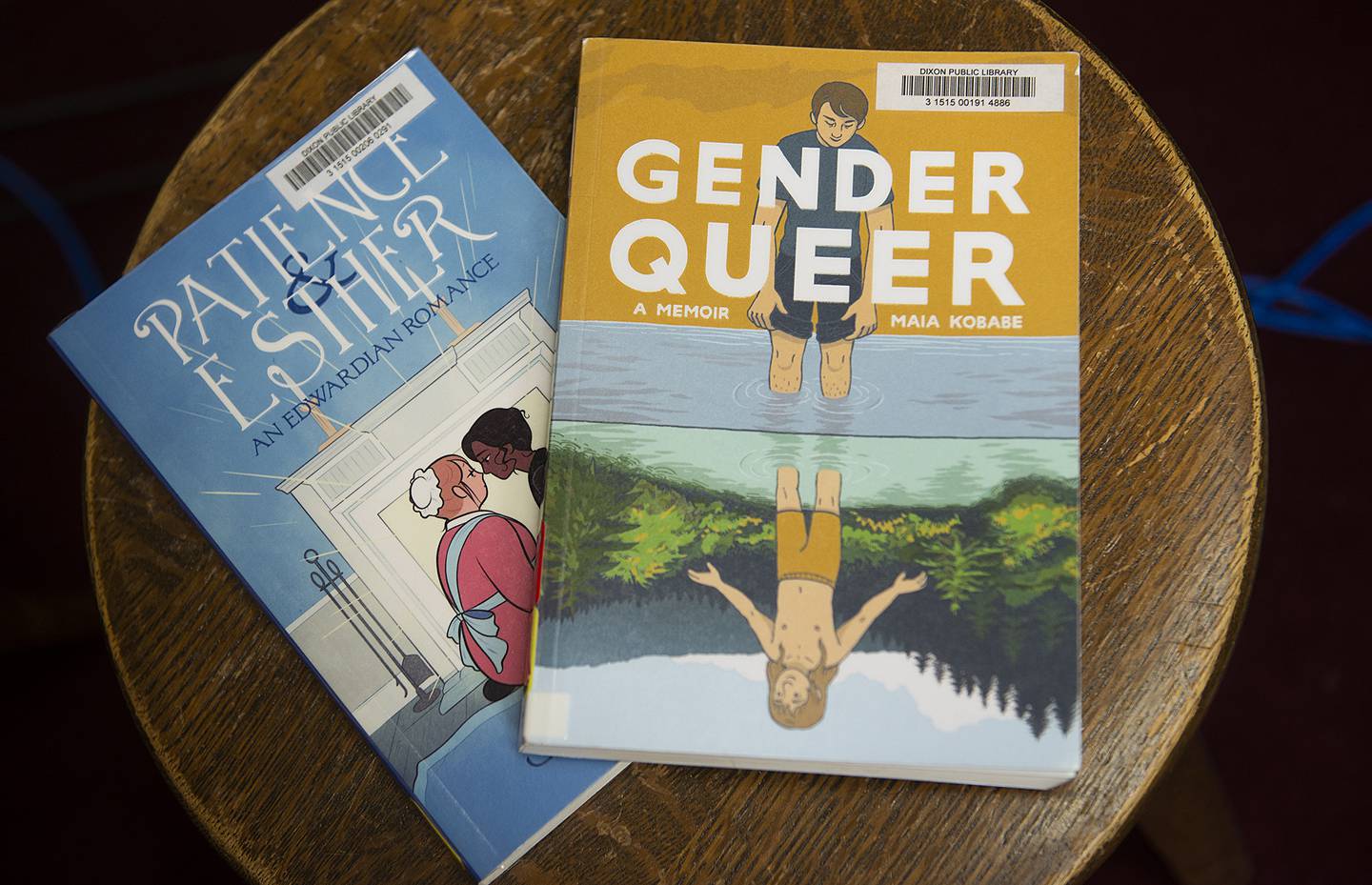 Removing the books on those considerations would not only violate the 14th Amendment's Equal Protection Clause against discrimination but also would violate library standards on ethics, he said.
"Gender Queer" and "Patience and Esther" are two of many LGBTQ books under scrutiny at libraries across the nation.
"Gender Queer," which was part of the library's annual Pride Month display, is about the author Maia Kobabe's coming out as nonbinary and contains sexual depictions about topics including oral sex.
The Dixon Library Board meetings in June, July and August drew crowds of community members to speak out on the issues including concerns about censorship and discrimination and others about minors having access to books containing sexual content. Some said the books were sinful, they should be banned or burned and library staff should be prosecuted for pornography for having the books in the building.
Those in attendance included library supporters, LGBTQ advocates, political figures and members of a conservative Facebook group, the Sauk Valley Freedom Fighters.
Last month, the board unanimously approved policy changes reinforcing language against censorship and discrimination.
[ Dixon Library Board bolsters policy against censorship following call to remove LGBTQ comic books ]
The authority to remove books is up to the library director, but the board also approved a policy change allowing for an appeals process to the director's decision on reconsideration of materials.
Following the change, Deter contacted all who submitted requests to remove the books. He then received 19 requests for each book.
Most were requesting to remove the books. One asked that "Gender Queer" be stored behind a counter, another asked that it not be assigned to a child and one wanted ID required and to limit access to those younger than 18, Deter said.
"Patience and Esther" was kept in the adult section, never put on display and never was checked out since the library purchased it about a year ago, Deter said.
The library got "Gender Queer" almost three years ago, and it had been checked out only three times.
He sent his determinations to all who submitted the requests, with "Patience and Esther" going back to the adult graphic novel section and "Gender Queer" being moved from the young adult collection to the adult graphic novel section.
"While over half of the Illinois public libraries I looked at had the book placed in their Young Adult collection, the book received at least one positive review in the trade press recommending it for grades 9 and up, and it has been nominated to the Lincoln Master List, due to the strong nature of certain images within the book, it is my determination that the book will be moved from the Young Adult Graphic Novel collection to the Adult Graphic Novel collection," Deter wrote in his responses.
None of the people chose to appeal his decision.
The books were previously removed temporarily for Library Board members to review and to await possible policy changes.
They were recently both put back into circulation.
The board will meet at 5:30 p.m. Monday at the Loveland Community House and Museum. Items include discussing policy changes for public comment and language regarding displaying library materials.