Shortages of teachers and support staff remain prevalent in the Sauk Valley as it does statewide, as recent surveys by the state's regional superintendents and the state's largest teacher union both show.
At a rural district such as Prophetstown-Lyndon-Tampico, the issue is compounded by having to compete against larger districts in the vicinity – and beyond – for what few newly graduated teachers there are.
"It's a growing problem," said Heidi Lensing, who is in her second year as superintendent at P-L-T District 3.
Lensing said she feels lucky to have already filled a vacancy for a special education teacher for next school year and to have hired a midyear graduate to fill an existing opening for music instruction.
"Speech, pre-K, those are some really difficult positions to fill," she said. "We try to compete with the Quad Cities, suburbs. Then there are even outlying states that are recruiting Illinois graduates."
Lensing said the district is looking at what kinds of incentives the district can offer as a means of recruiting new teachers. But there are restrictions because of the existing contract and issues of fairness in regard to existing staff, which she said has been very loyal.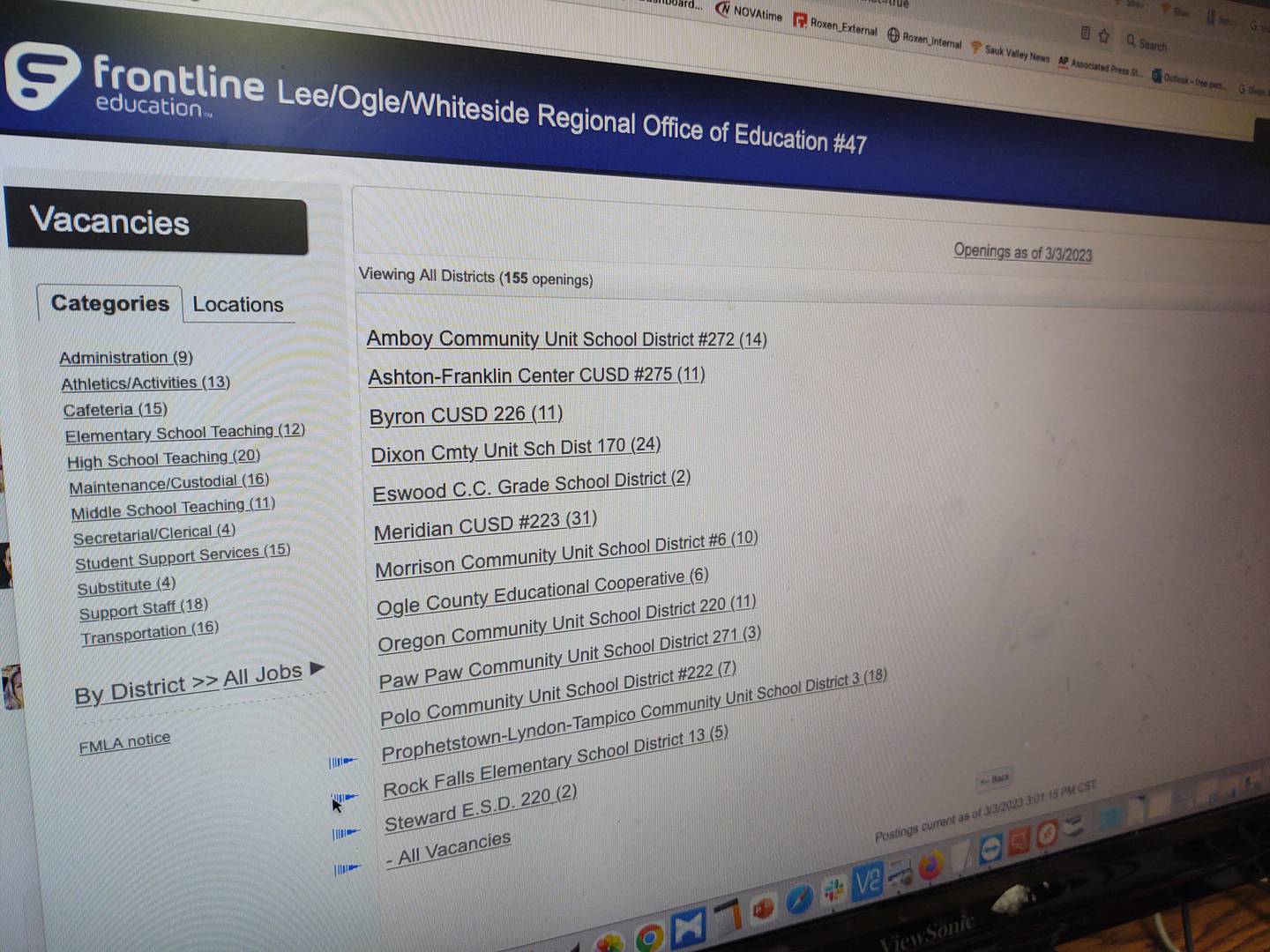 And it boils down to an ever-narrowing pool of candidates. Lensing said a colleague attended a recent job fair at a state university, and there were only 25 potential candidates ready to graduate with education degrees.
According to a survey conducted by the Illinois Education Association, which released its findings Thursday, awareness of the teacher shortage among the general population is growing.
About 4 in 10 Illinoisans surveyed said they know about the problem. Slightly more than one-half of parents with children in schools said they are aware of staffing difficulties in their own district.
Of those who are aware, about 87% are worried about its worsening effect on education.
The survey also found respondents think the teacher shortage could affect student scores, that standards for teacher licensure may be lowered to allow more people into the profession, and that the crowding of classrooms or reliance on remote learning could become possibilities.
"We are continuing to struggle under the weight of a teacher, education employee and substitute teacher storage. It is at a crisis level, and it is only making jobs in public education more difficult," IEA President Kathi Griffin said in a news release about the survey.
In January, the Illinois Association of Regional Superintendents of Schools issued its sixth annual report on the teacher crisis after surveying 700 school districts in every county of the state.
It found 79% of Illinois school districts said they have a teacher shortage problem, while 93% said the shortage is at least as bad or even worse than the year before.
Speech, pre-K, those are some really difficult positions to fill. We try to compete with the Quad Cities, suburbs. Then there are even outlying states that are recruiting Illinois graduates."

—  Heidi Lensing, superintendent at Prophetstown-Lyndon-Tampico District 3
95% of schools reported that applications are down. For 92% of schools, finding substitutes is a problem.
The report also found that less than half of applicants are qualified for the positions they are seeking.
The survey team said schools and policymakers are taking steps to mitigate the teacher shortage, including providing teachers with an incentive to complete additional endorsements to teach in other subject areas, such as English as a second language or special education; increasing the number of days retired teachers can substitute without affecting benefits; and expanding the eligibility requirements for substitutes and allowing them to teach up to 120 days a year.
Regional Office of Education 47 serving Lee, Ogle and Whiteside counties said in a news release issued Friday that there are 23 unfilled positions within its service area.
The regional office also announced that it would hold an educator symposium April 21 at Sauk Valley Community College for students interested in pursuing teaching careers, part of its Education Pathways program. The keynote speaker will be Lindsey Jensen, 2018 teacher of the year who now is the early career development director for the IEA.
A check on the IASA Job Bank, which is one of the places schools post openings, shows there were two listed for Dixon schools, two at Rock Falls schools and six at Sterling schools. Not all postings are for the current school year; some are for next year.
[ More than 10,000 high schoolers exploring careers in education. ]
Sterling Public Schools is developing its own "grow its own" program called SPS University, which, if approved by the school board, provides a fast track for paraprofessionals to gain their teaching degree and encourages recruitment of Sterling High School graduates.
Those efforts picked up steam after Sterling schools ran headlong into a shortage of applicants. It was revealed at a recent board meeting that a posting for four elementary school openings in 2004 once yielded more than 1,100 applicants.
By 2009, an elementary teaching opening drew 91 applicants. Last August, an opening for a bilingual elementary teacher drew no applicants, and a first-grade teaching position drew only 19 external inquiries.
[ Sterling Public Schools explores game changer in teacher development. ]
The statewide surveys also highlighted shortages in support staff.
That's also true at Prophetstown, Lensing said.
"[It's a] nightmare with us for bus drivers this year," she said.
The district operates its own bus fleet, and its roster of drivers was hit by recent retirements.
"One of our veteran bus drivers took the role of director of transportation and still drives," Lensing said.
She said the district, which is part of a sports co-op with nearby Erie and sends students to La Salle-Peru, Milan, Sterling and Rock Falls for various other programs, had to pay for private transportation to fill in some of the gaps.
"We've got a big area. We do a lot of shuttling," she said. "It's really complicated, and we're looking at a couple more retirements this year."
Lensing's husband, Chris, is superintendent at East Coloma-Nelson, an elementary school district in Rock Falls. He said he was able to fill all his vacancies for the year, but only because a teacher was willing to come out of retirement to fill a special education opening.
In his experience, the change in the jobs landscape has been stark.
"When I was a principal in Moline, I had 40 to 80 applications for a position," Chris Lensing said. "It's scary looking down the road if it is a specialized position. You might not get any applicants."