ROCK FALLS – Oregon ace pitcher Mia Trampel has delivered in big games all season. In Friday evening's Class 2A Rock Falls Regional championship against Rock Falls, she came through with another big-time performance, tossing a one-hitter with eight strikeouts and no walks in a 6-0 win.
"It feels great," Trampel said of advancing to sectionals. "I really didn't think we'd get this far, honestly."
"Obviously, winning regionals is one of the best feelings in the world. Everyone is so happy, and our team is like a family," Oregon's Reilee Suter said. "All our hard work is paying off, and it's good to be moving forward. Moving on to sectionals, we are confident and locked down. Our mental game is on point, and I can't wait."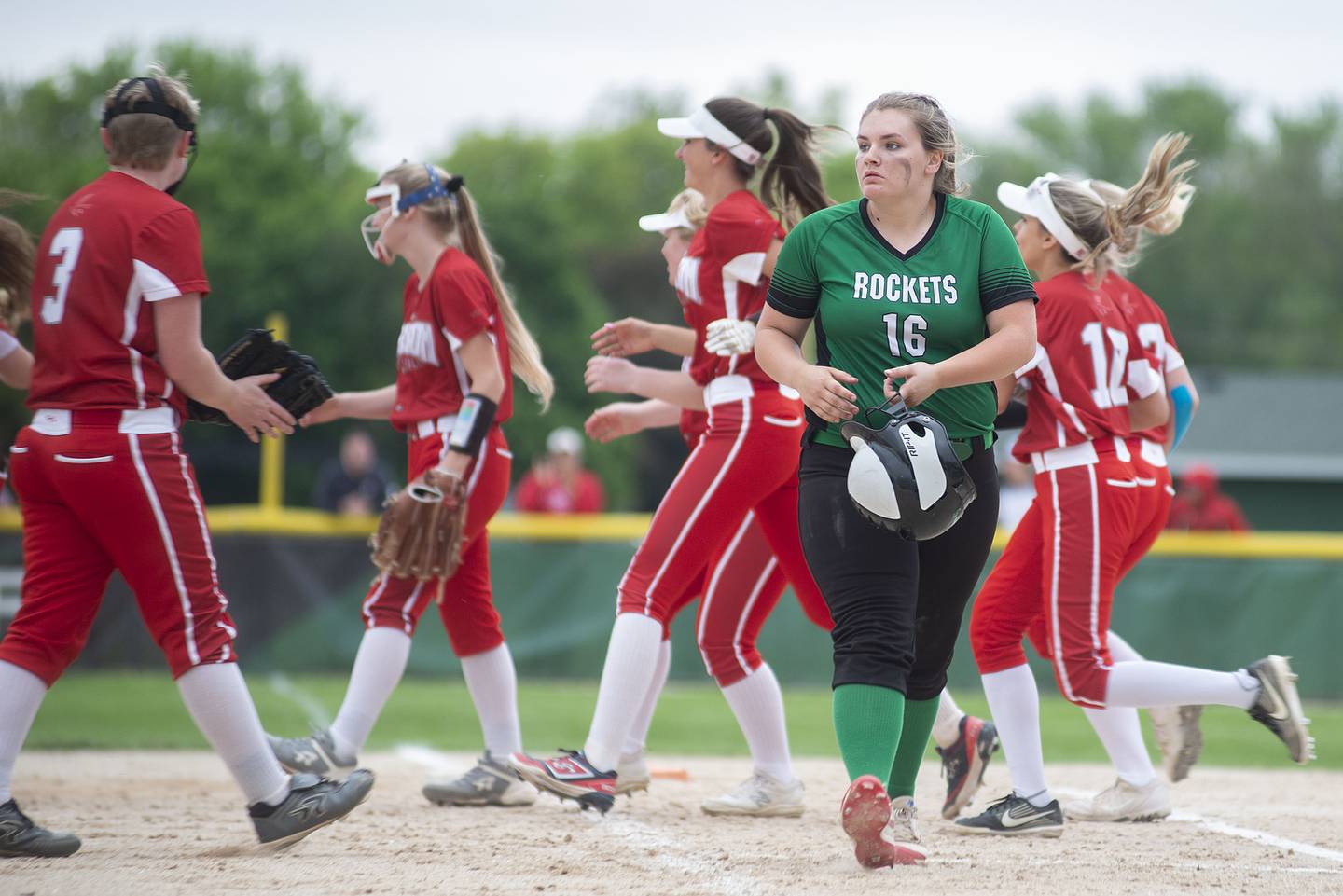 The first four innings of the Big Northern Conference matchup were a pitchers' duel, as Katie Thatcher and Trampel went back and forth, ending innings in three or four at-bats.
The Hawks (25-9) began building momentum in the top of the second, getting one run on the board after a Trampel leadoff single and a Lena Trampel two-out RBI single.
"I think it was a huge relief to be the first to score in the game," Suter said. "It boosted our confidence, and we just wanted to get more and more runs. Anything can happen, so the more runs, the better. Their defense made it challenging. They have a solid defense."
Trampel worked 1-2-3 innings in all but the fifth, and Oregon's defense played soundly behind her, securing several flyballs to end innings early and stay in control of the game throughout. Rock Falls reached base only twice and never advanced a runner past second.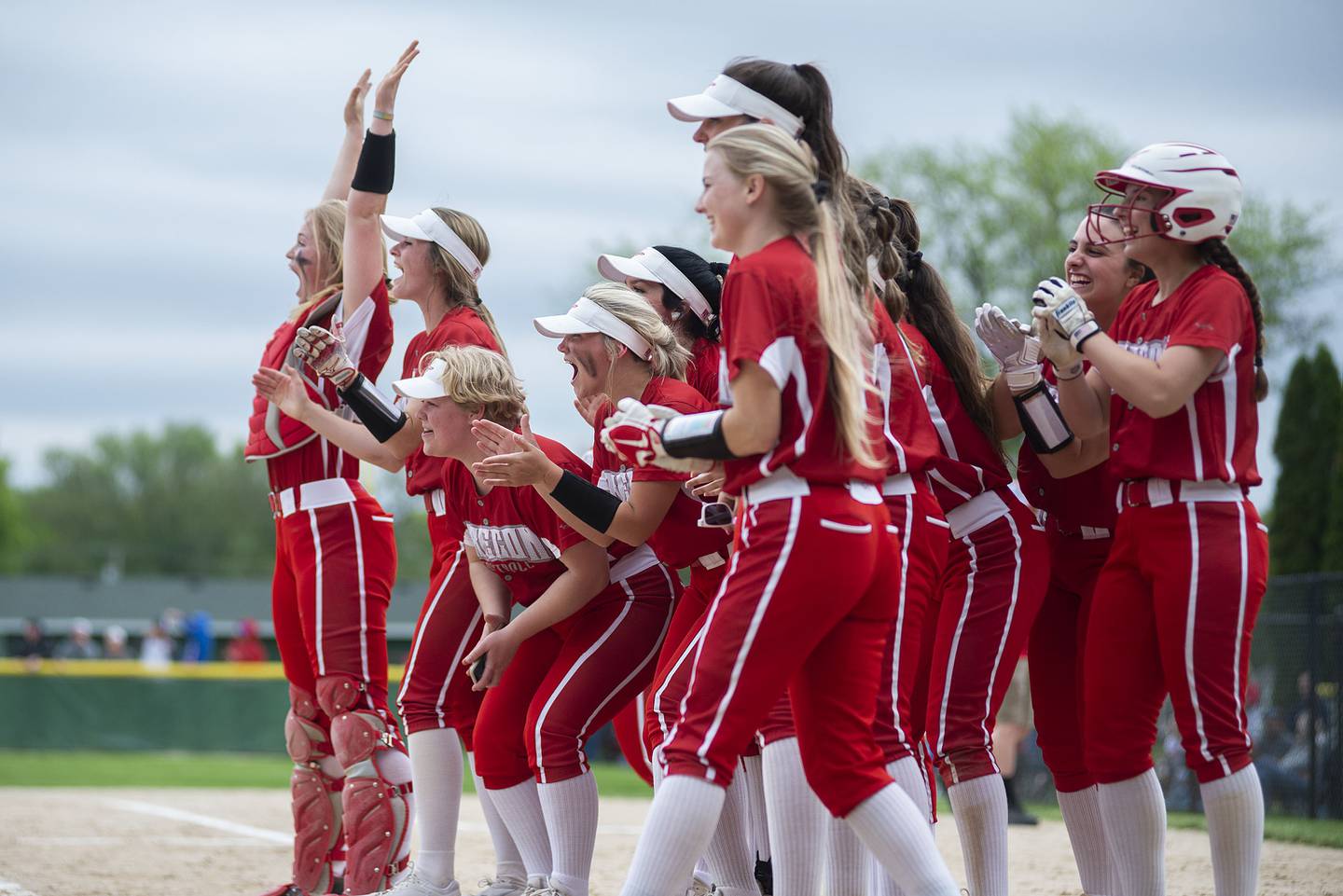 In the top of the fourth, Mia Trampel blasted a leadoff home run to center field, putting the Hawks ahead 2-0.
"When I hit the ball, it felt like nothing. It just felt like it was gone," Trampel said. "I was almost touching first base when I saw a fan catch it past the fence."
Oregon seized firm control of the game in the top of the fifth, plating four runs on five hits for a 6-0 lead.
Gracen Pitts led off the inning with a single between short and third, then stole second on a wild pitch and reached third on a Suter bunt single. Bella Koertner bunted a single next to load the bases, and Liz Mois skipped a single off the ground, then off Thatcher's glove, to bring in Pitts for a 3-0 advantage.
Suter came home on a dropped third strike in the next at-bat, and Jesse Suter slapped a two-run single past second to score Koertner and Mois.
"It was very relieving because there's a lot of pressure to do well pitching when I'm on the mound," Trampel said of the four-run fifth inning. "And it was an insane amount of energy throughout the entire game."
In the bottom of the fifth, Rock Falls' Zoe Morgan grounded a single past second, but the Hawks' defense turned in three quick outs to end the inning.
"Mia's pitching was amazing. I love how she never gives up on a batter, she brings it her all every time," Reilee Suter said. "She never gets down and always is focused on the next pitch. Her strikeouts bring our team so much hype and get us pumped up. She's literally amazing."
Reilee Suter went 3 for 4, Mia Trampel went 2 for 4 with a solo home run, and Jesse Suter went 2 for 4 with a two-run single to lead Oregon hitters.
Morgan went 1 for 3 to lead Rock Falls at the plate.
Thatcher took the loss in a complete game, scattering 12 hits, conceding six runs, with six strikeouts and zero walks.
"I don't think we were really there. We weren't ready," Thatcher said. "Defense wasn't really there. I just don't think we were ready for the ball when it was hit to us. We didn't make the right decisions on some plays, so I think the outcome should've been a lot different if we had our heads in it."
"It was tough for us. They came to play. They played hard," Rock Falls coach Steve Giddings said. "I don't know if we were overconfident. We got some good hits right at people, couldn't get anything going. Katie pitched a wonderful game. Their pitcher pitched an awesome game, too. And they just attacked the ball. They just attacked Katie. I think that was their big key."
Both Thatcher and Giddings know the loss in the regional final doesn't take anything away from the strong season the young Rockets (21-12) put together.
"For this being my first high school season, I thought it went really well. It was really nice to be back out on the field after having an injury," said Thatcher, who missed all of last season after knee surgery. "I think we did the best that we could, but it wasn't the outcome that we wanted."
"I thought our girls played very well this season, and I'm glad to have all of them back next year," Giddings said. "They're all returning, so I think we'll be good next year."