While a trip to the NJCAA Division II National Tournament is becoming a regular thing for the Sauk Valley Community College volleyball team, that doesn't make it any less special to the players.
The Skyhawks (39-2) head to Cedar Rapids, Iowa, this weekend looking to make history for the second straight season, after earning a fifth-place finish this past spring to set a new high water mark for the program that is making its sixth trip to nationals in eight years.
Sauk, the tournament's No. 5 seed, opens at 3 p.m. Thursday against 12th-seeded North Dakota State College of Science. A win would mean a quarterfinal matchup with No. 4 seed Johnson County (Kansas) at 7:30 p.m. Thursday.
"It's still pretty exciting," said sophomore hitter Kiley Sanders, one of four current Skyhawks who played at last year's tournament. "We do have girls from last year, but it's still a new team, new players, and it's just as exciting as last year. It'll be fun.
"Last year was super exciting, because not too many teams make it to nationals and Sauk was one of them. We ended up making history at Sauk, so making it down to nationals again this year is super nice – and we're hoping to maybe break our own record from last year."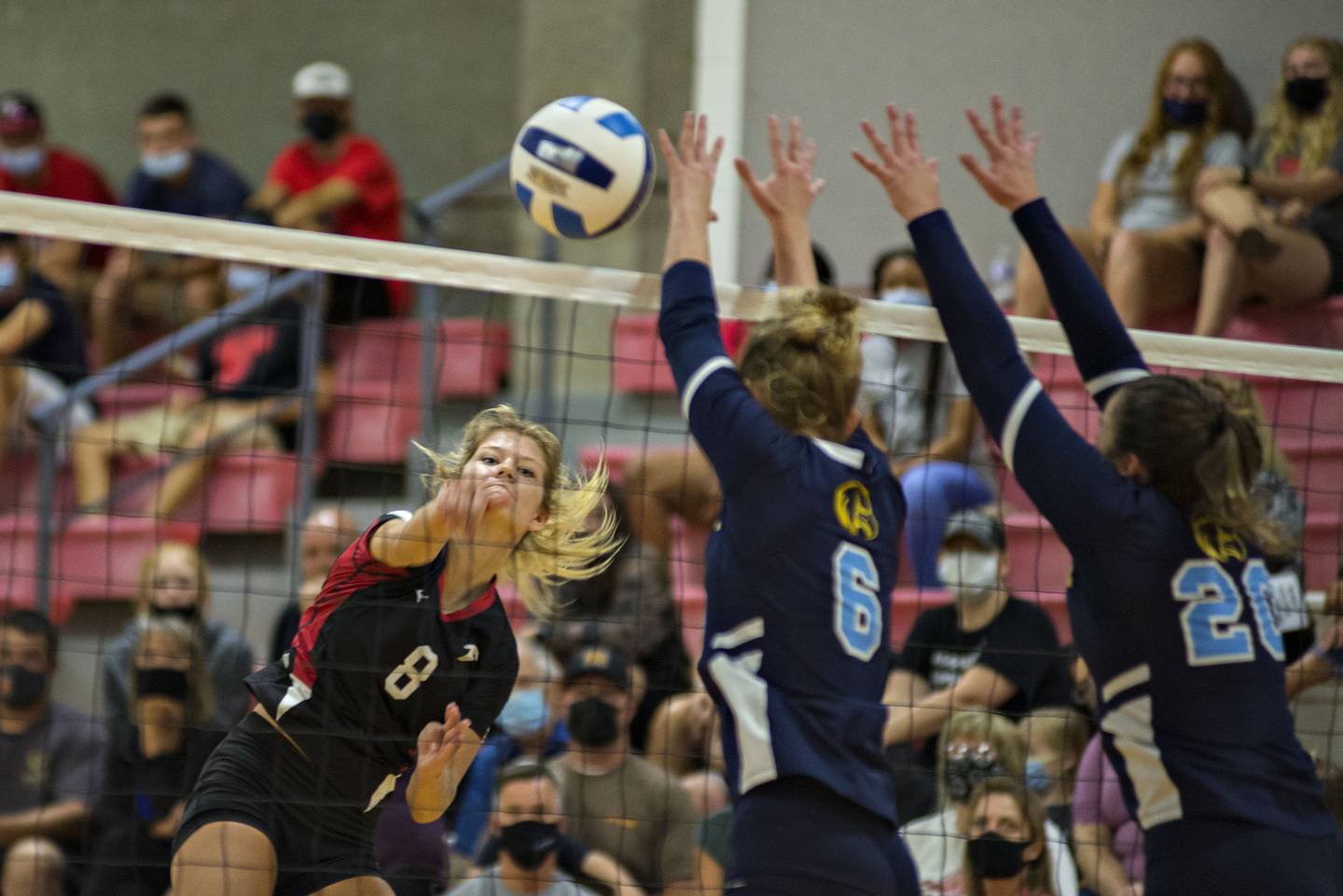 With such success from a season ago, the goals were lofty coming into this season. But the addition of Michal Willman at the 11th hour was the final piece that fell into place.
Willman played her freshman season at Iowa State University, then transferred back home. But she didn't decide to join the volleyball team until the night before the first practice.
"It was Sunday night, and practice started Monday, so I was thanking my lucky stars that night," Sauk coach Jay Howell said. "She's made a big difference, and has been a big key to our season."
All she's done is set the school's single-season record for kills with 762 – the NJCAA Division II rally-scoring record is 797, set by a Parkland player in 2017 – and contributed 574 digs and team highs of 148 aces and 86 blocks.
"At first I was a little bit nervous, because I didn't know how it would be with the girls who were already here," Willman said. "But they were super welcoming for me, which was great, and there's been no drama.
"From the beginning of the season, I think we just started out with an open mind. We didn't really set expectations, so we didn't think, 'Oh, we've got to win, win, win.' I think we play really well together because we have fun, and that's the difference, is just how much fun we have."
It's a lot easier to have fun when you're winning, and the Skyhawks have been doing a lot of that. In fact, they've only lost to one team all season; Parkland has beaten them twice at tournaments for the only two blemishes on the record.
The other part of having fun comes with the relationships built within the team. Sophomore Audra Goff – who, along with Sanders, Maddie Sands and Juliana Rotella, played on last year's fifth-place team – says the Skyhawks have been blessed in both of her seasons with a tight-knit team.
"I think the team chemistry is way better than you see a lot of places. Last year, too; our team just gets along, and everybody plays for each other, nobody is selfish, and everybody just fits together," said the setter. "We're lucky to have Michal, and we have awesome returning players and awesome newcomers, so I think we got really lucky with the team chemistry this year. I think that's the key as to why we're winning."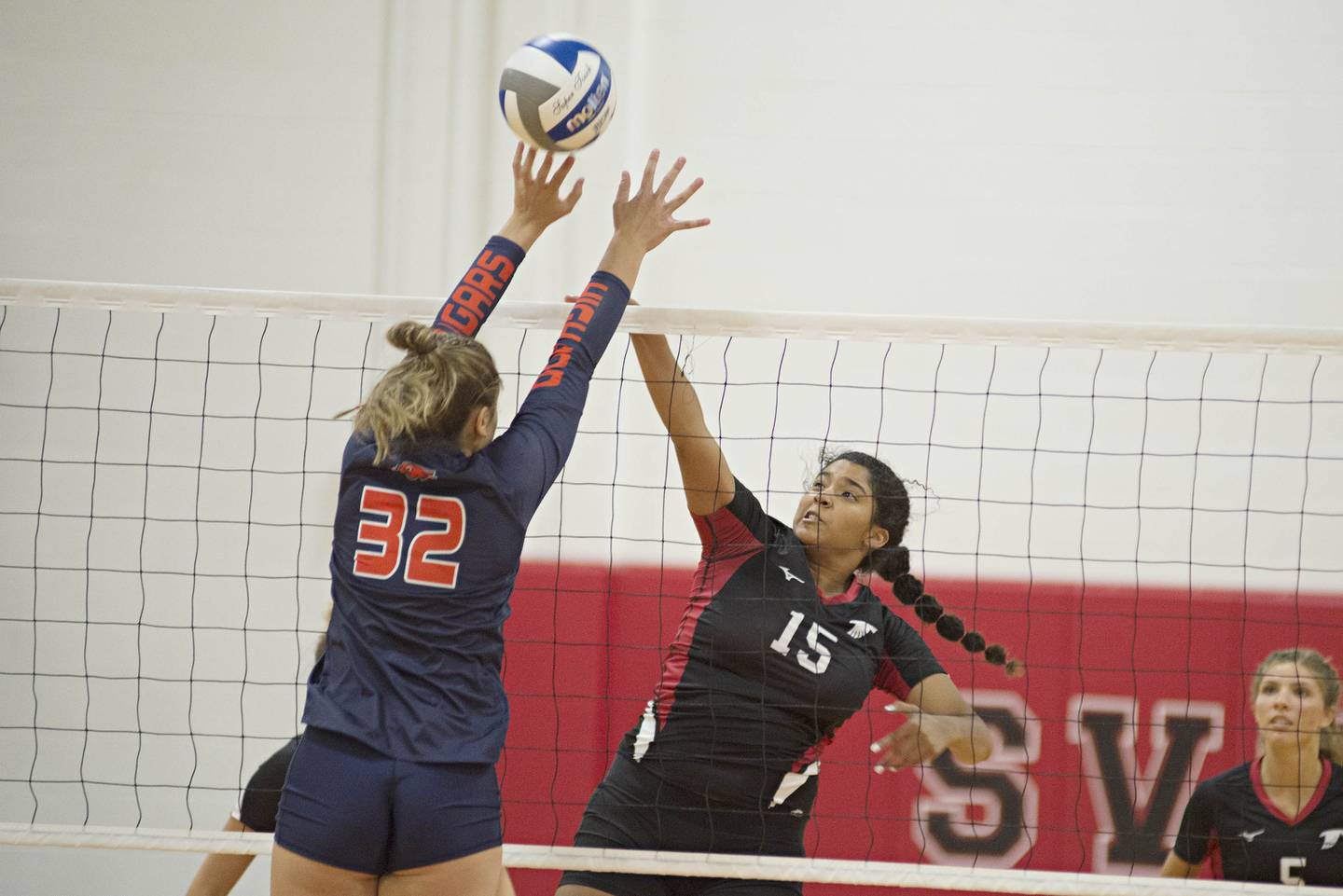 Talent also plays a big role in that. Sanders, an All-American last year, has 449 kills, 576 digs, 53 aces and 34 blocks, while Tiana Tichler, who redshirted a season ago, has 256 kills, 82 blocks and 56 digs. Rotella has 115 kills, 85 digs, 11 blocks and 11 aces, Jaelyn Fitzgerald has 111 kills, 84 blocks and 49 digs, and Kierra Collins has 74 kills, 78 blocks and 78 digs.
Sands leads the way with 704 digs to go with 79 assists and 19 aces, and Hannah Adams has chipped in 39 aces and 38 digs. Three setters have helped the offense run smoothly: Goff has 692 assists, 229 digs and 24 aces, freshman Gabby Jones has 763 assists, 240 digs, 38 aces and 18 kills, and freshman Addyson Kinn has 117 assists, 50 digs, 12 kills, five blocks and five aces.
"I think it's a setter's dream to have the weapons they do," Howell said. "The front line is always strong, and they can even go to Kiley or Michal in the back row at any time if we're out of system.
"Kiley was an All-American last year, and she's played that way again this year. Tiana was redshirted last year, and she had a good year on the practice court for us, and she's been playing really well. And Jaelyn has had a really nice year, she's turned into one of the best opposite-side blockers that we've had here. I could keep on going down the roster, but overall, it's everybody contributing and making this thing go."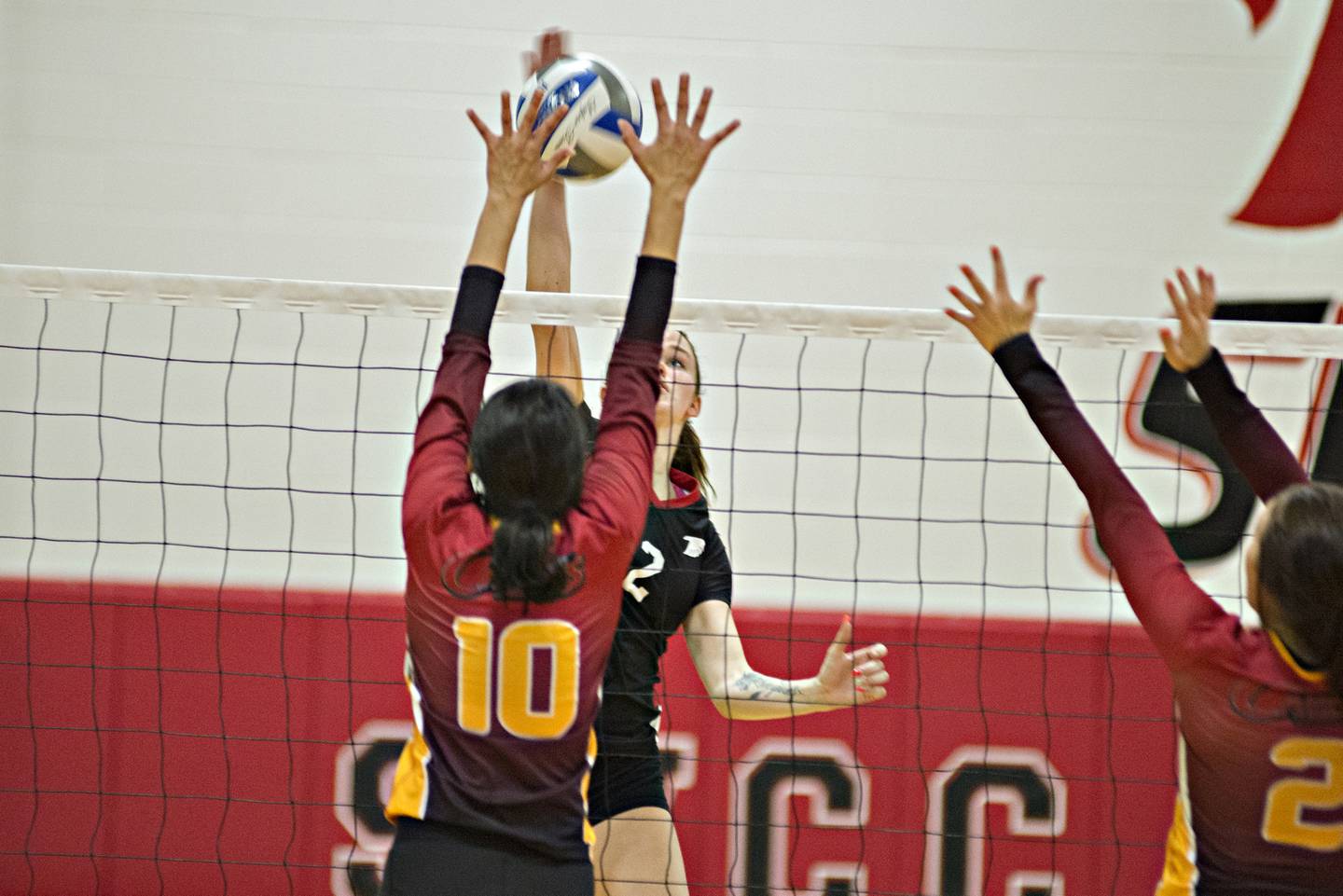 And it's gone pretty smoothly. The Skyhawks have lost just 19 of the 138 sets they've played this season, and have won 26 matches in straight sets.
"I'm still shocked as to how smoothly it's gone so far this season," Goff said. "We just came out and we played hard against every team and we didn't take anybody lightly."
"I think everyone does a good job just doing their job, not overplaying or underplaying," Willman added. "When you play the game to have fun, you're more relaxed, and when you're relaxed, you play your best. That's definitely what we've been able to do all season."
That approach also puts less pressure on each and every point, and less stress on the team as a whole. It may explain why the Skyhawks seem to have an innate ability to put together scoring runs in a set while limiting their opponents' surges.
"One of our biggest things is if another team has a run, we always just say, 'Get out of that run and get our own run.' We really just try to get our momentum back as much as we can," Sanders said. "Momentum is a huge key to the game of volleyball, so we always try to focus a lot on that. And once you get the momentum, usually you can come back from anything.
"And that's given us a lot of confidence. We're all able to make plays for the team, and we have that confidence and trust in our teammates that anyone can do anything, and we can put it all together."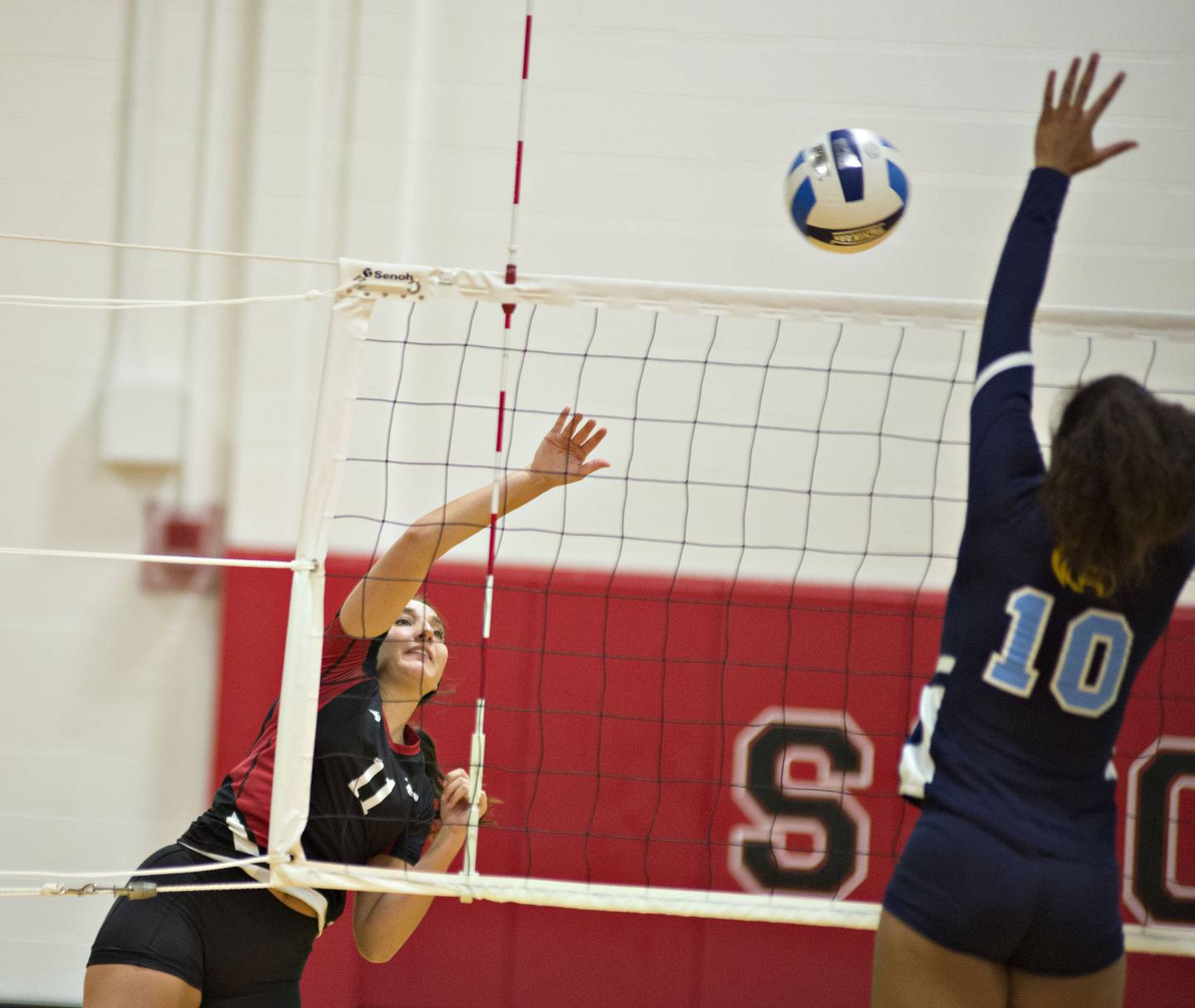 Sanders points to the second match of the season, at the MCC Invite against Terra State. The Skyhawks dropped the first two sets, but dug deep and found a way to battle back for a 3-2 win.
Sauk has lost two sets or more in a match just three times since then.
Howell remembers that match too, and said early wins like that was when he knew what he had in this team.
"If I were to tell you that I expected this, I'd be lying. But we showed early on this season that this team was very resilient and had good chemistry," he said. "I'm thinking of three tournaments early, before the middle of September, that we just played really well and we beat ranked teams in tough matches. We were losing sets, but we were showing our toughness, our grit, and it's a really good mix."
Now they'll see how that mix of team chemistry and attitude and talent will stack up on the biggest stage. But with the mindset that the Skyhawks have been playing with all season, there's no reason to think that any stage is too big for them.
"I would say we have the perfect amount of confidence – not cocky, just really solid; we know what we're capable of," Willman said.
"Obviously winning it all would be the ultimate goal, but we just have to keep taking each team and each match as it comes," Goff said. "Our goal is to win our two matches on the first day, because then we'll make school history again, and that would be pretty cool. But no matter what, we're going to enjoy it, and it's going to be a good experience for all of us to play there. If we just go out and play, it'll be all good."
Howell, who has had quite a few really good teams in his 11 seasons at the Sauk helm, believes this group can do anything it sets its mind to.
"It's a fun group, and I hope we can make a run," he said. "I think they're poised for it, if we stay healthy and play well this weekend."