ROCK FALLS – Mallory Pinske set the tone early.
The Rock Falls senior tipped a kill for the first point of the first set on Tuesday at Tabor Gym against Byron, then picked up blocks on the next two points. In the second set, Pinske blocks on the first two points led the Rockets to another quick lead.
Those quick starts, with the Rock Falls block leading the way, helped the Rockets beat Byron 25-11, 25-13.
"I think it's nice for Byron to have a slower-paced offense so it's good for us to be able to set up and put up a good block against that," Pinske said.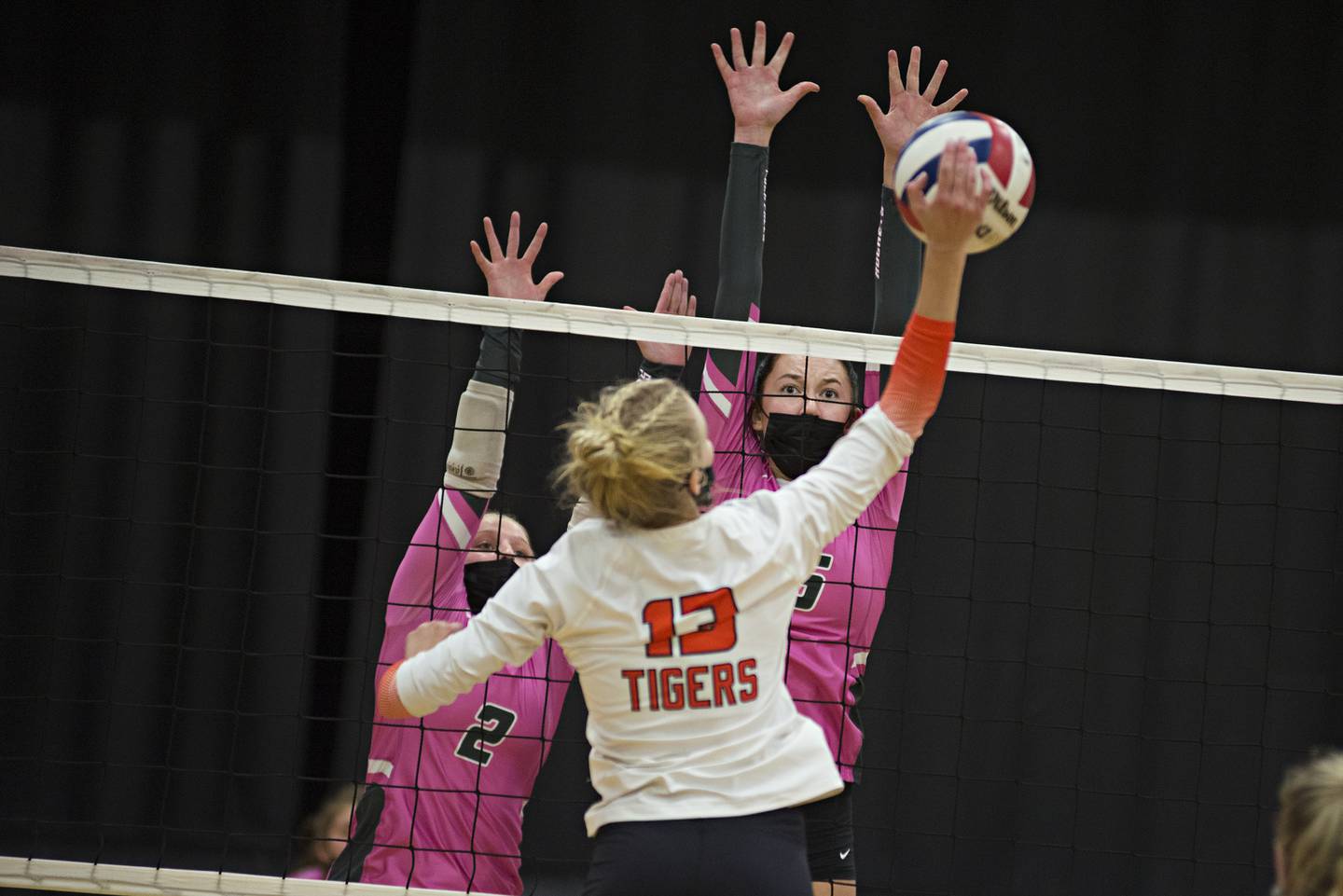 Pinske finished with five blocks and had plenty of front-line help to stymie the Tigers' hitters. Maya Sands also had five blocks, while Nicolette Udell and Emily Lego each had one.
"I thought all my blockers were able to read the sets really well, and I thought they were able to beat the ball there and get set," Rock Falls coach Sheila Pillars said. "Byron didn't run a super-quick offense, so that helped too. We were able to read it and get there before the hitter got the ball. I was super happy to see that wall up there."
Byron (14-8, 3-2 Big Northern) had some luck against the Rock Falls block, but not much. The Tigers' first point of the night came when Addyson Myers tooled the Rockets block to make it 5-1 Rock Falls in the first set.
"We didn't handle [the block] very well tonight," Byron coach Jim Kann said. "They dominated us at the net. We couldn't do anything. We couldn't hit around it. We tried to hit over it, did nothing. They won the net, big-time."
Byron got three kills and an ace from Sarah Nyamwange, a 5-foot-11 freshman outside hitter.
"She's more vertical, so that block was not up to her," Kann said. "She could go down over it. The other kids are not as vertical, so that's why she had success. She just gets up a little higher."
But that proved to be one of the few bright spots for Byron.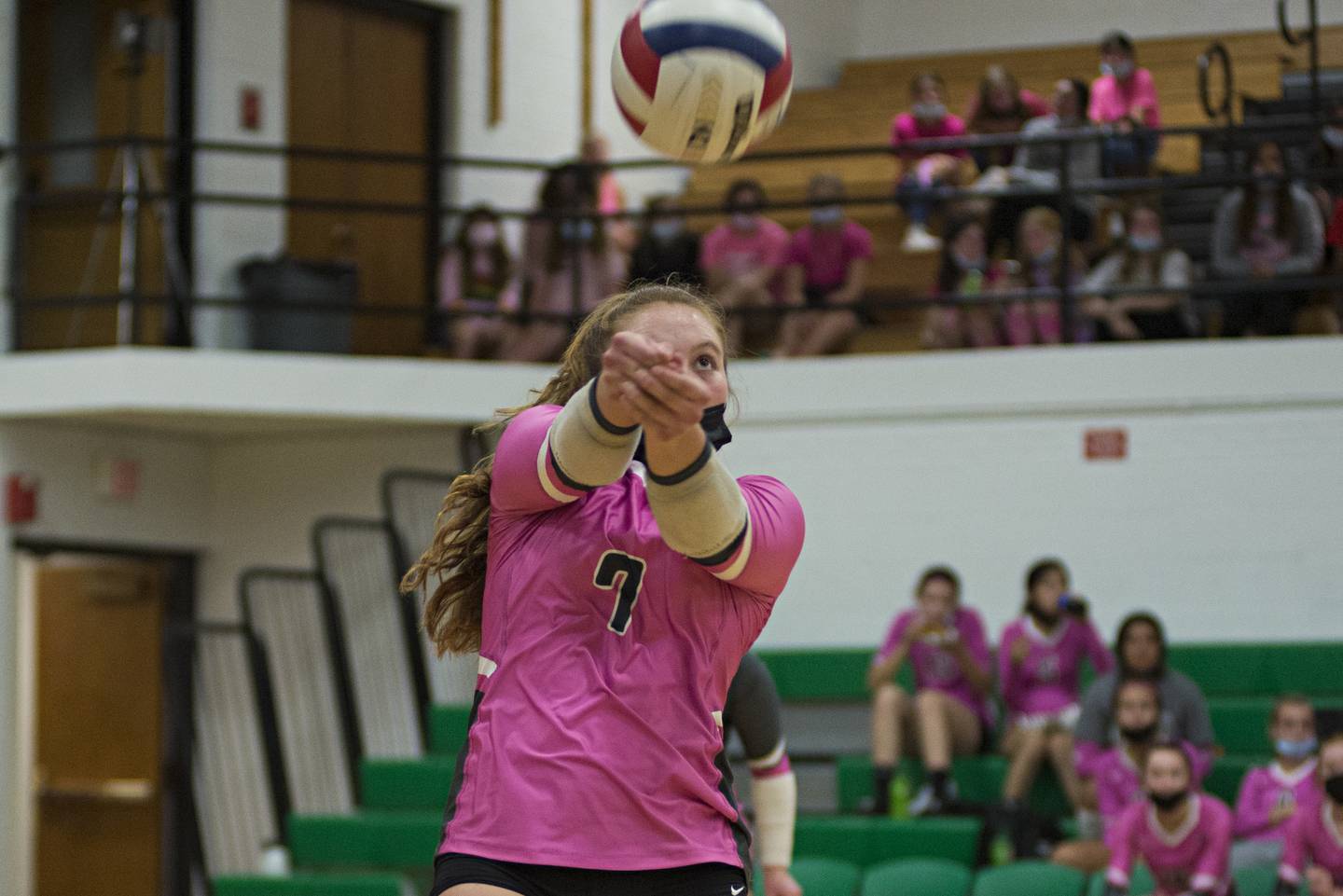 Rock Falls (25-1, 4-1 BNC) got 14 assists from Denali Stonitsch and six assists and a kill from Cadence Stonitsch. Sands and Udell each had six kills, Pinske had five, and Claire Bickett had four.
Rock Falls also got three aces from Cara Goff, on back-to-back-to-back points in the first set, helping the Rockets build a 15-6 lead.
"She's super important, and I've told her that," Pillars said. "Especially when we have the serve first, I put her in that first service spot because she has a tough serve. But then again, that's puts a little pressure on her to get the ball in because I have Mallory and Maya on that front row, if we lose the serve right away, that's a rotation that we lose.
"She's been pretty consistent. We still have to work on a couple of things, but I'm super proud of her. She's taken on that role. She and Cadence Stonitsch are my top two servers, and to have them right in a row provides us with a lot of offense."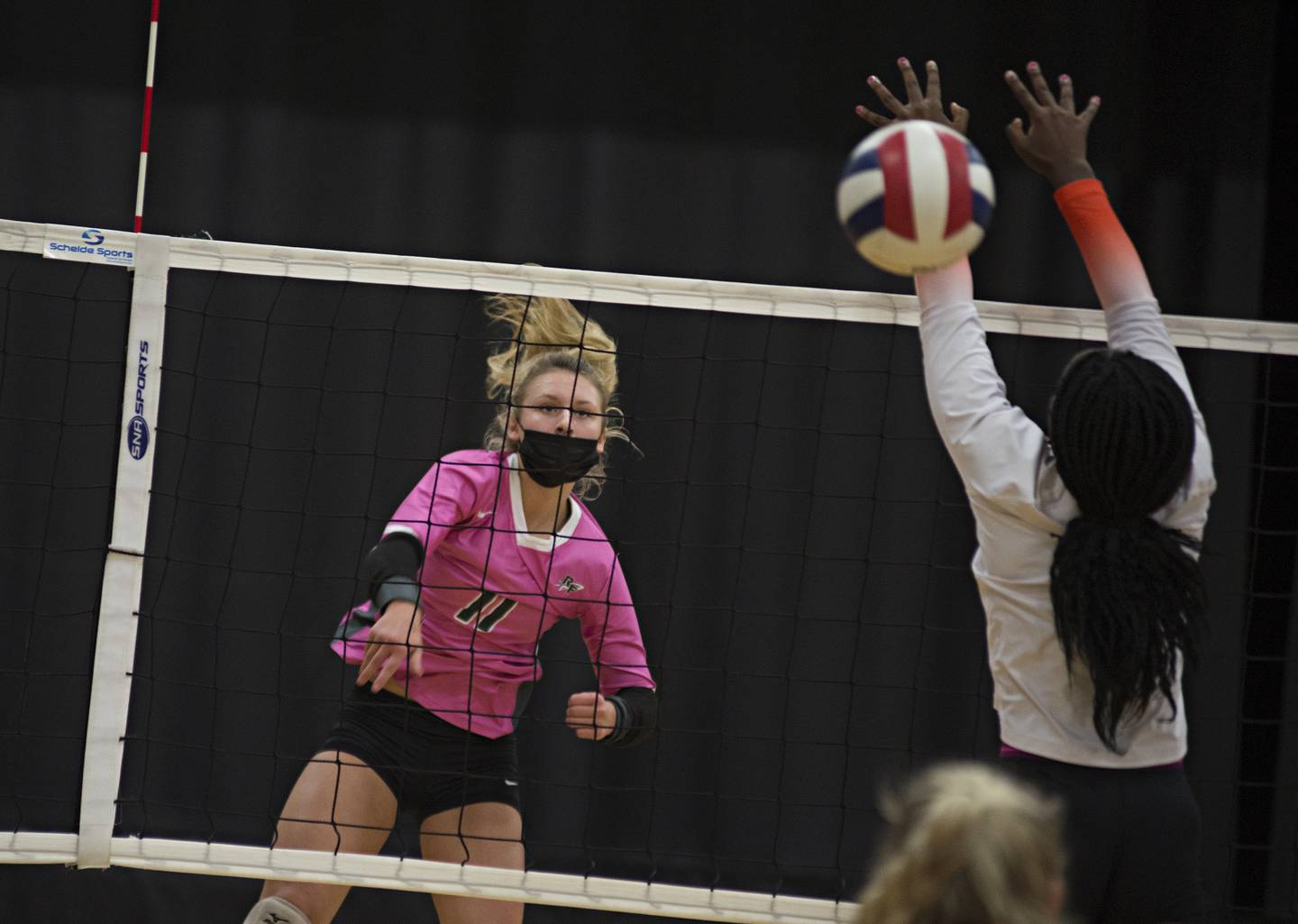 Quick starts meant Rock Falls was playing with a lead the entire way. After scoring the first five points of the first set, the Rockets got kills from Sands and Lego to extend the lead to 7-2.
Moments after Goff's three straight aces, the Rockets reeled off another six points in a row, three of those coming off blocks and two others coming from an ace and a kill by Cadence Stonitsch. After Byron's Maia Carlson tipped a kill, Pinske answered with a tip of her own to make it 22-8. A Byron hitting error eventually ended the set.
It was more of the same in the second set, with the Rockets jumping out to a quick 9-3 lead paced by an ace from Sands, a kill by Bickett and a block by Lego.
The lead eventually grew to 24-9 before a couple of Rock Falls hitting errors and a kill from Nyamwange made it 24-13, but the Rockets finished it off moments later as Udell snuck a kill inside the Byron block.
"We were passing really well, which is good," Pinske said. "Our defense hustled, which helped us get a good set to every player and mix up the offense, and we knew whoever was getting the ball was going to be able to put it down and get a kill."