STERLING – With the Newman volleyball team needing a spark in a couple of sets that were close early, senior libero Paige Grennan helped the Comets seize the momentum in a 25-19, 25-10 win over Mendota on Tuesday in a Three Rivers East match.
Grennan had a service run of five straight points in the first set and then closed out the match by serving the last 10 points, finishing off the victory with an ace – her fifth of the match.
"To be honest, it never seems like I'm serving for a long time on those runs, because it goes so fast in my head," Grennan said. "The only thing I think about when I go back there is trying to find the weakest link on the other side of the court and just picking out my zones."
In the first set, Grennan stepped to the service line with the Comets (12-2, 5-0) trailing 8-5, she reeled off consecutive aces before a Mendota hitting error tied the score at 8-8. Jessalin Johns and Ashley Williamson both ripped kills, then after a Newman lineup violation, Johns slammed three more kills in a four-point span – the other point was a spike by Ally Clevenger – for a 14-9 lead.
"We have a lot of weapons, and we have a good amount of balance throughout the team," Grennan said. "We each bring a good component to the court, and we worked together well tonight."
Shae McNeill served an ace for a 15-9 lead, then the teams traded points until a Kennedy Rowzee kill and a Katie Grennan dump kill made it 19-12. Another Johns kill pushed the lead to 21-16, then Paige Grennan's dig went over the net and found the floor on the Mendota side for a 24-17 lead. A Mendota service error a few points later ended the opening set.
"I get really excited when we get on those runs because I know I have hitters I can count on," McNeill said. "They'll be able to put the ball down and be smart about their placement. It makes me really happy seeing a ball get put down."
The second set was tied 7-7 before a Johns kill gave Newman a sideout and the lead. A Rowzee ace and a block by Shannon Kelly made it 10-7 Comets, then Johns stuffed a block and tapped a change-up kill for a 13-8 lead. Clevenger followed with a kill from the back row for a 14-9 lead before a Newman service error – the Comets' sixth of the match.
But Paige Grennan took care of that down the stretch, hitting 10 straight serves for points. After a Kelly kill for a sideout made it 15-10, kills by Clevenger and Rowzee forced a Mendota timeout. Grennan then sandwiched a pair of aces around a Rowzee block, then Rowzee and Clevenger combined on a block before a Rowzee kill got the Comets to match point.
"We started a little slow in the first set, kind of had to keep our heads; it was a little hard to get a rhythm going in that first set," Newman coach Debbi Kelly said. "But the second set, I thought once we really got going, we just put the gas pedal down and kept going."
Paige Grennan then served one final ace after Mendota's final timeout for the win.
"Honestly, I think that was our best rotation to put a ball down. It just takes one fast pass to fast set to putting the ball down immediately," said Grennan, who finished with 16 points, five aces, a pair of assists, a pair of kills, and a team-high nine digs.
"Paige's serves came up huge tonight, and she was very consistent," coach Kelly said. "That's something we've been struggling with, but the consistency was there for her serves tonight. I was proud of her for being able to lead us in that area."
The Comets spread the wealth on offense. Clevenger finished with eight kills, a block and eight digs, Rowzee added six kills and three blocks, and Johns also had six kills. eight digs and a block. McNeill dished 13 assists to go with four points and an ace, and Katie Grennan finished with nine assists and eight digs.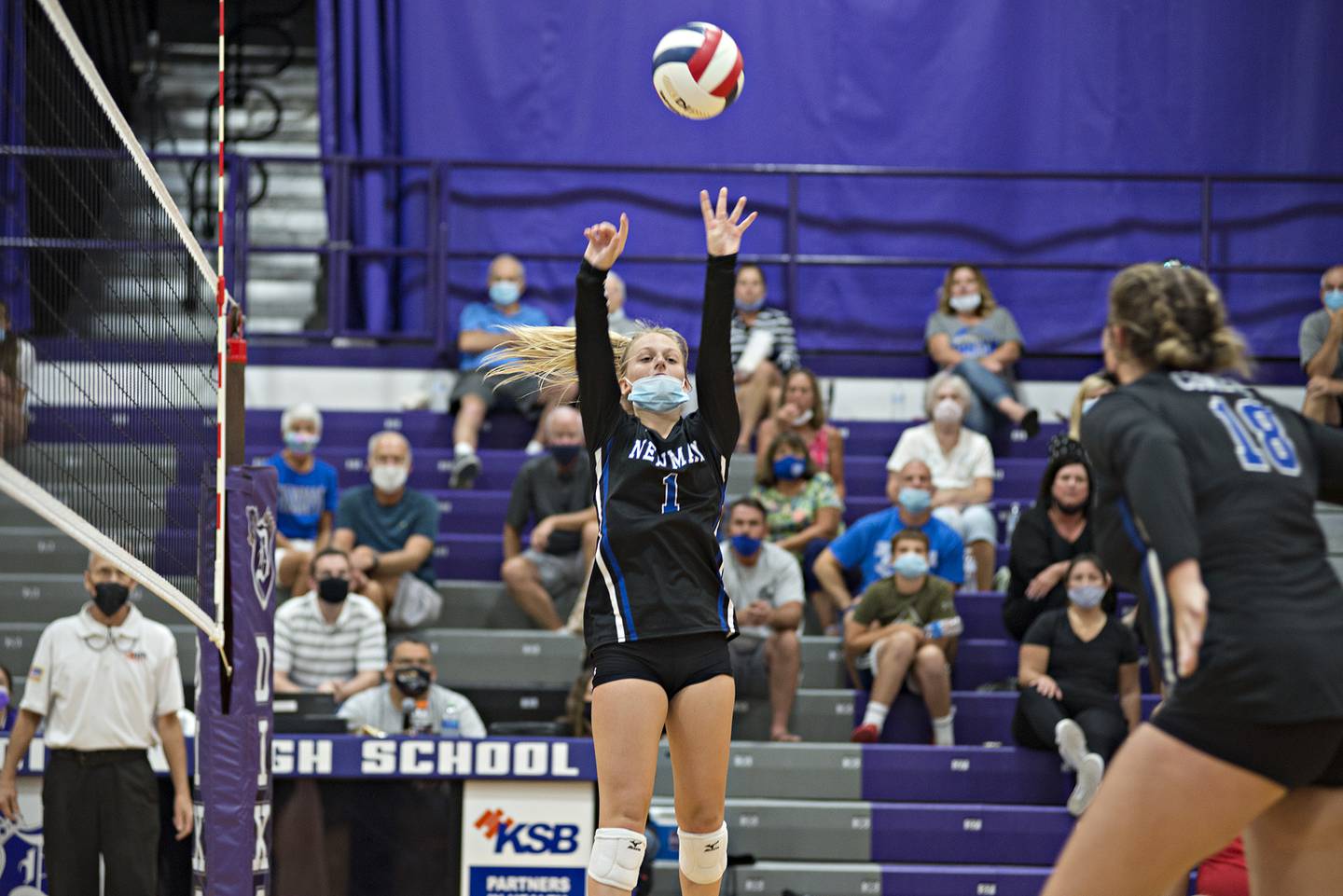 "I like that we run the 6-2, because that gives us a full front row of hitters all the time," McNeill said. "It's always good to be able to use a lot of hitters, because it moves the offense around, and the defense won't know where the ball is going. It's a smart move to set all your options, and we have a lot of them."
Newman saw its momentum halted late in the first set by a long discussion at the scorer's table about Mendota's serving order, but managed to get back in the groove in the second set.
"Honestly, I've got to give some credit to our student section; they really help us out and get that motivation back on our side," McNeill said. "And us captains, myself and Paige and Ally, we keep telling our teammates that we've got to keep it up, keep the energy up, just keep pushing."
Reanna Brant led Mendota (9-4, 3-2) with three blocks and a kill, while Maya Martin had two kills, and Meredith McConville and Marah Setchell both added a kill and a block. Katie Jenner had three assists and two aces, Kya Delao added three assists and five digs, and Ellyott Buettner finished with five points and four digs. Libero Lauren Martin led the way with nine digs.
"Newman played good volleyball; they have some great hitters, and I give them credit, their middle and outsides swung really hard," Mendota coach Nicci Gibson said. "I feel like we just didn't execute the plan that we had practiced. Our hitters just weren't swinging hard like they normally do – we just weren't putting balls down tonight like we normally do – and I felt like our serve receive was a little off tonight. It was just a tough loss."