STERLING – The Newman girls basketball team upped its intensity in the fourth quarter and gave itself a chance to beat Bureau Valley in the final minute of play Wednesday night in their Three Rivers East game Sterling, but a few last-second miscues caused the comeback attempt to fall short, and the Storm prevailed 45-41.
After an Ady Waldschmidt right-wing 3 pulled the Comets within 43-41 with 13.4 seconds to go, the Storm's defense stiffened and its offense produced two more points in the final moments to finish out the win.
[ Photos from Wednesday night's Three Rivers South game between Newman and Bureau Valley ]
Guard Nicole Kerber drew a foul and went 1-for-2 from the free-throw line to make it a 44-41 lead for Bureau Valley with about 10 seconds to play. Then forward Lynzie Cady jumped a passing lane for a steal, drew an intentional foul, and made 1-of-2 free throws with 1.6 seconds left to clinch the win.
"Obviously, that's a game we feel we had a chance to win. We missed seven free throws in the first quarter – that puts us right back into the game as well – so it's just the little things," Newman coach JD Waldschmidt said. "Knowing there that we can't turn the ball over, we need a 3. And we turn it over, we don't even get a shot up and don't give ourself a chance after we drew up a play and used our last timeout. I can't fault the effort. It was an interesting game. Both teams played hard."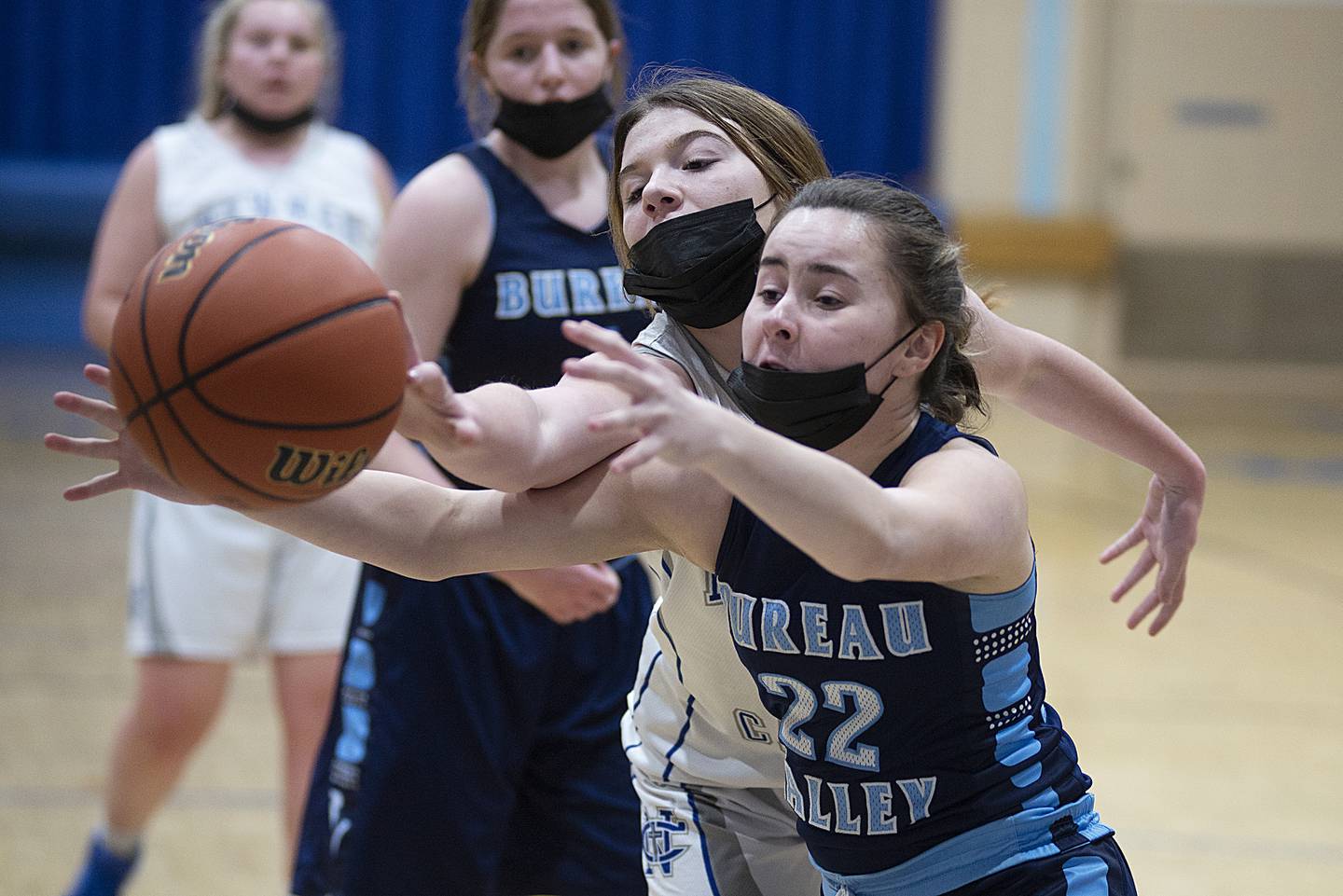 The Storm controlled the game from the first half – and led after each quarter – although both teams struggled to get going offensively before the break.
Bureau Valley's aggressive defense forced nine turnovers in the first quarter and the Storm jumped out to an 8-3 lead. In the second quarter, they increased that margin to 19-10, relying heavily on offensive rebounds and second-chance points.
"The defensive effort was great. It started right with Lexi Marquez. We identified who their point guard was, and Lexi does a great job of trying to take her out," Bureau Valley coach Matt Wasilewski said. "And Ashley Nordstrom, she's coming back from illness. She and Lynzie Cady did a great job of trying to contain and control No. 1, the [Jess] Johns girl. She's an outstanding ballplayer. The other girls picked up their roles, and were able to get some steals, a lot of tipped balls."
In the third quarter, the Storm captured their largest lead of the game at 22-10 with 7:51 to play on a Marquez 3-pointer.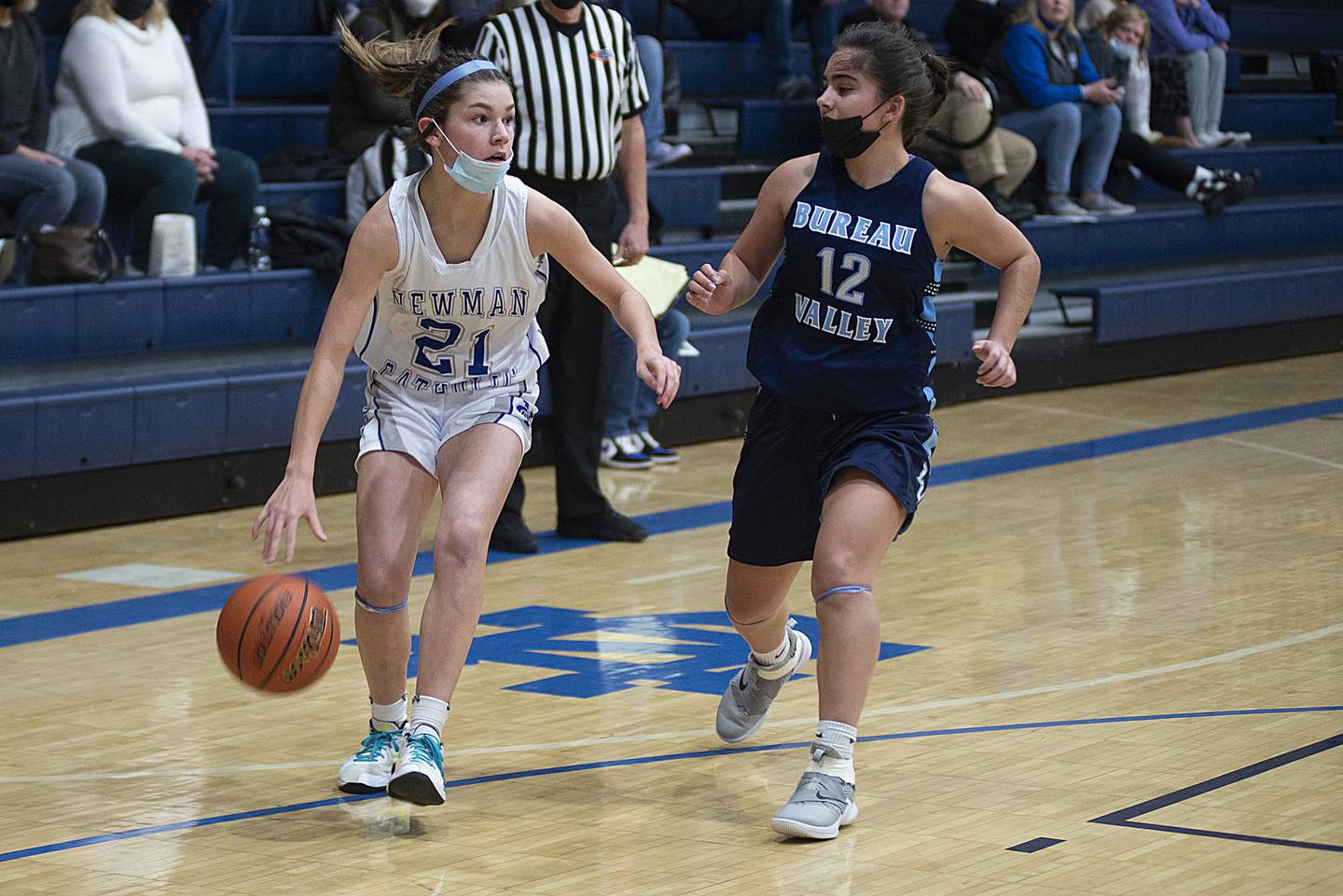 Newman responded with a 12-5 run over the next few minutes, sparked by a Johns 3-pointer and layup and back-to-back baskets from Shannon Kelly. The Comets got within 27-22 before the Storm extended their lead back to 11 points, closing out the quarter up 35-24.
In the fourth quarter, Newman went on a 17-10 run, fueled by 11 points and a few offensive rebounds from Johns. With about 39 seconds left, Johns pulled down an offensive rebound, laid it in, drew the foul, and converted the and-1 to make it a five-point game at 43-38. Then Waldschmidt hit the clutch 3 to make it 43-41 with 13.4 seconds to play.
The Comets scored 31 points in the second half to edge the Storm by a five-point margin after halftime.
"We adjusted our press break and moved some people around, and I think that helped," Johns said. "Just getting people in different spots and trying something new."
Added coach Waldschmidt: "Really, what we did is we set some goals in the locker room at halftime. We challenged the girls to step up and play better defense and to rebound."
Johns finished with game highs in points (24) and rebounds (16), and also had two steals. Waldschmidt had eight points and five rebounds, and Kelly added six points and nine rebounds for the Comets.
Kate Salisbury and Jennifer Etheridge paced Bureau Valley with 10 points each. Cady totaled seven points, five rebounds and a game-high five steals for the Storm.