The Erie-Prophetstown volleyball team has compiled a 14-6 record this season. Senior setter Kennedy Buck, a four-year starter and first-team All-Three Rivers West pick last season, has played a vital role in that success. In an undefeated week from Sept. 11 to 17, she led the 5-0 Pearl City Tournament champions with 128 assists, 29 digs and 14 blocks. Buck also recorded 30 assists, eight digs and three blocks vs. Morrison and 11 digs, 25 assists and four blocks vs. Riverdale.
Buck has been voted the Sauk Valley Media Athlete of the Week by readers and answered a few questions to help us get to know her a little bit.
What's been the biggest key to your team's success this season?
Buck: I would have to say that our biggest success this season is perseverance. We have had a lot of times where we were down in a game and rallied around each other to come back and win the game. We have been able to come back from down 10 points to win a game because we know what we are capable of.
What aspect of your game has improved the most from freshman year to now?
Buck: My offensive game has definitely improved the most. I used to not want to be offensive when I was younger. Now that I have grown as a setter, I know when I need to score or need to get the momentum going.
Which part of your game do you like the most?
Buck: My favorite part of my game would have to be my ability to perform well in the front row. I am able to hit and block well as a setter, which I think is a great asset to have.
If you had to choose another position to play besides setter, what would it be and why?
Buck: I would most definitely choose to play outside. I have always wanted to be a hitter. I mean, they're the star of the show!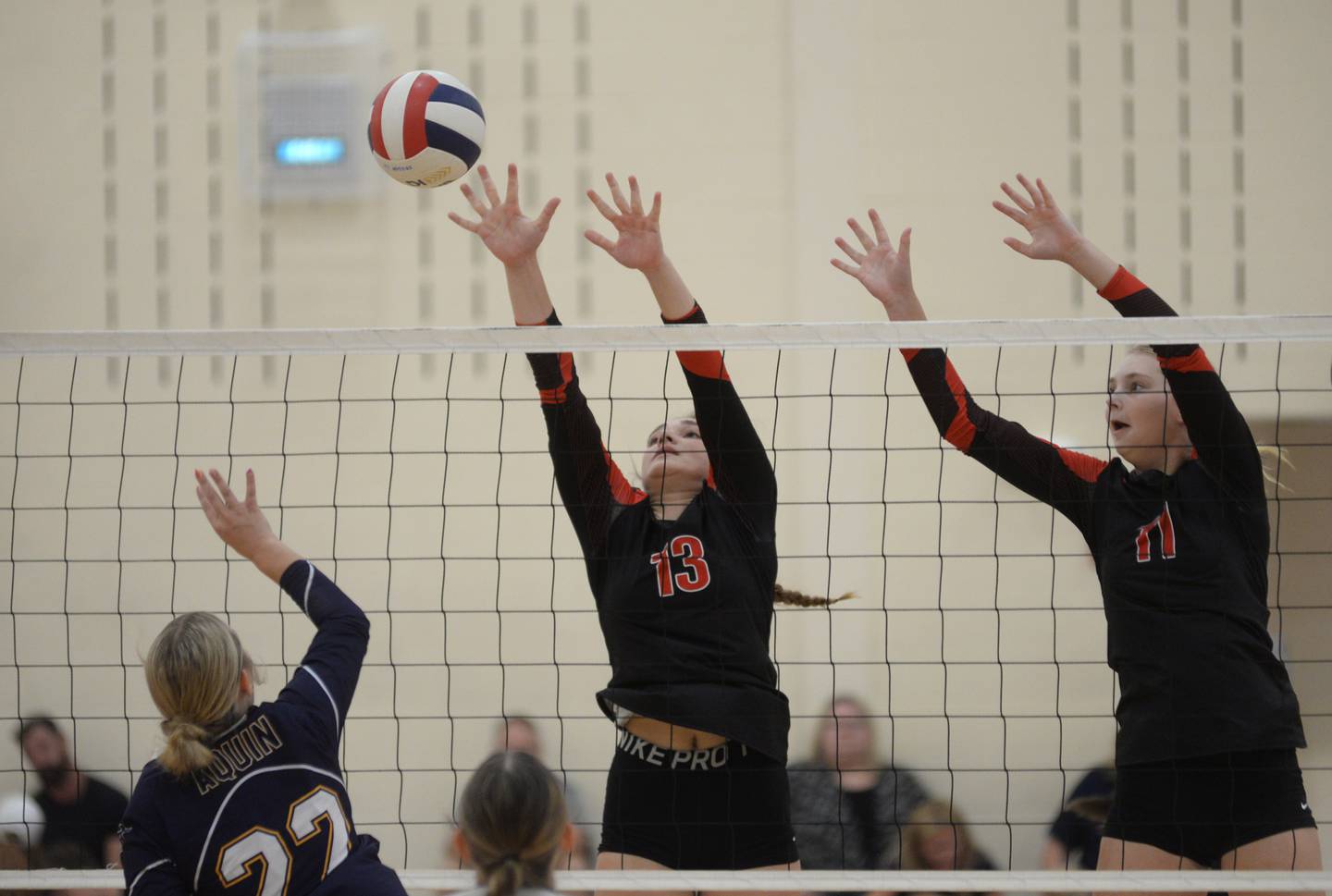 What would you say has been the highlight of your season so far? This could be a team accomplishment, an individual accomplishment or just a fun memory with the team on or off the court.
Buck: The highlight of my season so far was the Pearl City Tournament. The group of girls on the team this year is usually known for having a slow start to the morning, however, that was not the case that weekend. We didn't drop a single set that tournament and played well as a team, showing what we are capable of doing.
What goals have you set this season for yourself and the team?
Buck: Some goals I would like to accomplish are finishing top three in the conference and advancing past regionals to see how far we can make it.
What will you miss most about high school volleyball when you finish your career?
Buck: I'm going to miss all of the memories that I have made with my closest friends and the new friendships I have formed while playing each year.
What's your favorite movie?
Buck: My favorite movie is "The Princess Diaries 2: The Royal Engagement" with Anne Hathaway.
What is your perfect meal?
Buck: My perfect meal would consist of a nicely cooked steak and grilled shrimp, with some scalloped potatoes, Texas Roadhouse rolls and a maple bacon donut from Hurts.
What is your favorite class, and why?
Buck: This year, I was able to take the Early Childhood Education course through WACC. The class is a great opportunity for me, and I have loved being there every day.