WINNEBAGO – Midway through the Class 1A Winnebago Sectional on Friday night, inclement weather put a pause on things. But Forreston-Polo, Oregon and West Carroll already had plenty of competitors qualify for the state meet.
As she's done all year, it was senior Jenae Bothe leading the way for Oregon with a third straight trip to Charleston in both the shot put and discus. They weren't her best marks (12.65 meters in the shot, 35.65 in the discus), but the real test comes next week.
"I'm focused on tuning up on both pads," Bothe said. "I'll put more emphasis on the shot, where I peaked [44-feet, 11 inches] earlier. I wasn't happy with my discus today [third place], but the number one goal is to qualify."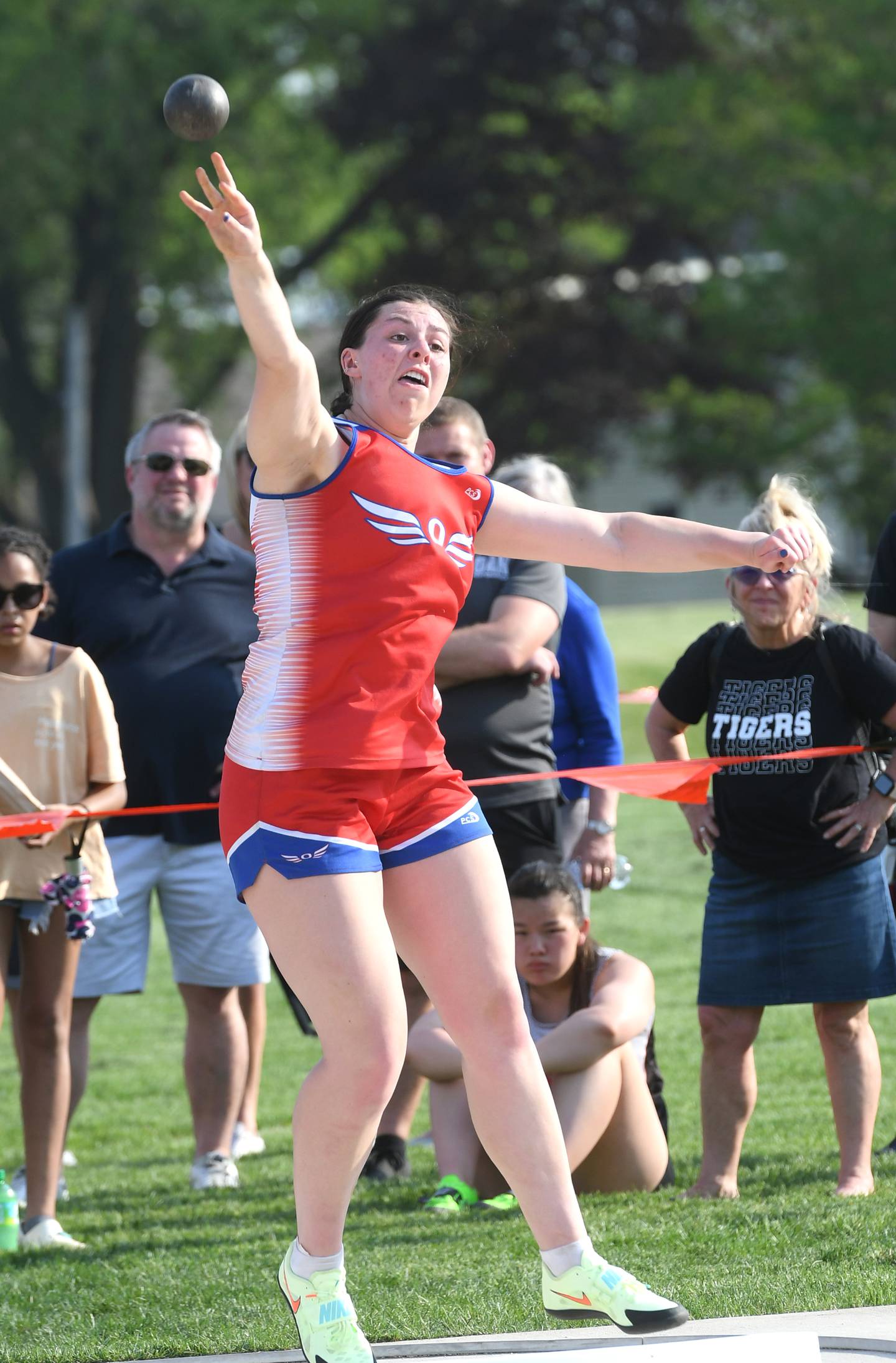 Bothe goes into the state meet with the No. 1 effort in the shot put and an outside chance at also taking aim at a state title in the discus.
"I feel a lot of pressure," Bothe said. "The biggest thing is performing regardless of them."
Joining her downstate will be a pair of first-timers in hurdler Sophie Stender and pole vaulter Sonya Plescia. Stender finished third in the hurdles, but qualified on time (16.39 seconds).
As a member of the Oregon soccer team, hurdling is a secondary activity for Stender. Plescia advanced with a 7-foot clearance in her first year trying the event as a freshman.
The meet started off fabulously for Forreston-Polo, with Letrese Buisker winning the 100 hurdles and also advancing in the high jump. Another double-qualifier early on was Syndi Badertscher in the throws. Both are sophomores.
After Buisker broke a long drought at Forreston by qualifying last year, it was even more excitement for the co-op with Polo.
"This is unbelievable," said longtime coach Terry Jenkins. "With COVID, last year's shortened season and the bad weather this year, I'm just happy to have a season and see the girls shine tonight."
In the hurdles, Buisker led three other girls to state qualifications with a time of 16.16 seconds. It bested her PR of 17.25.
"A lot of energy out here," Buisker said. "It's all positive. A blessing and beautiful."
In the high jump, Buisker and Renee Rittmeyer tied at 5-feet, but Rittmeyer, one of the stars on Winnebago's state runner-up basketball team, won on fewer misses. Close behind at 4-10 were Ennis Ferris of Forreston and Jennica Ciesiel of Oregon.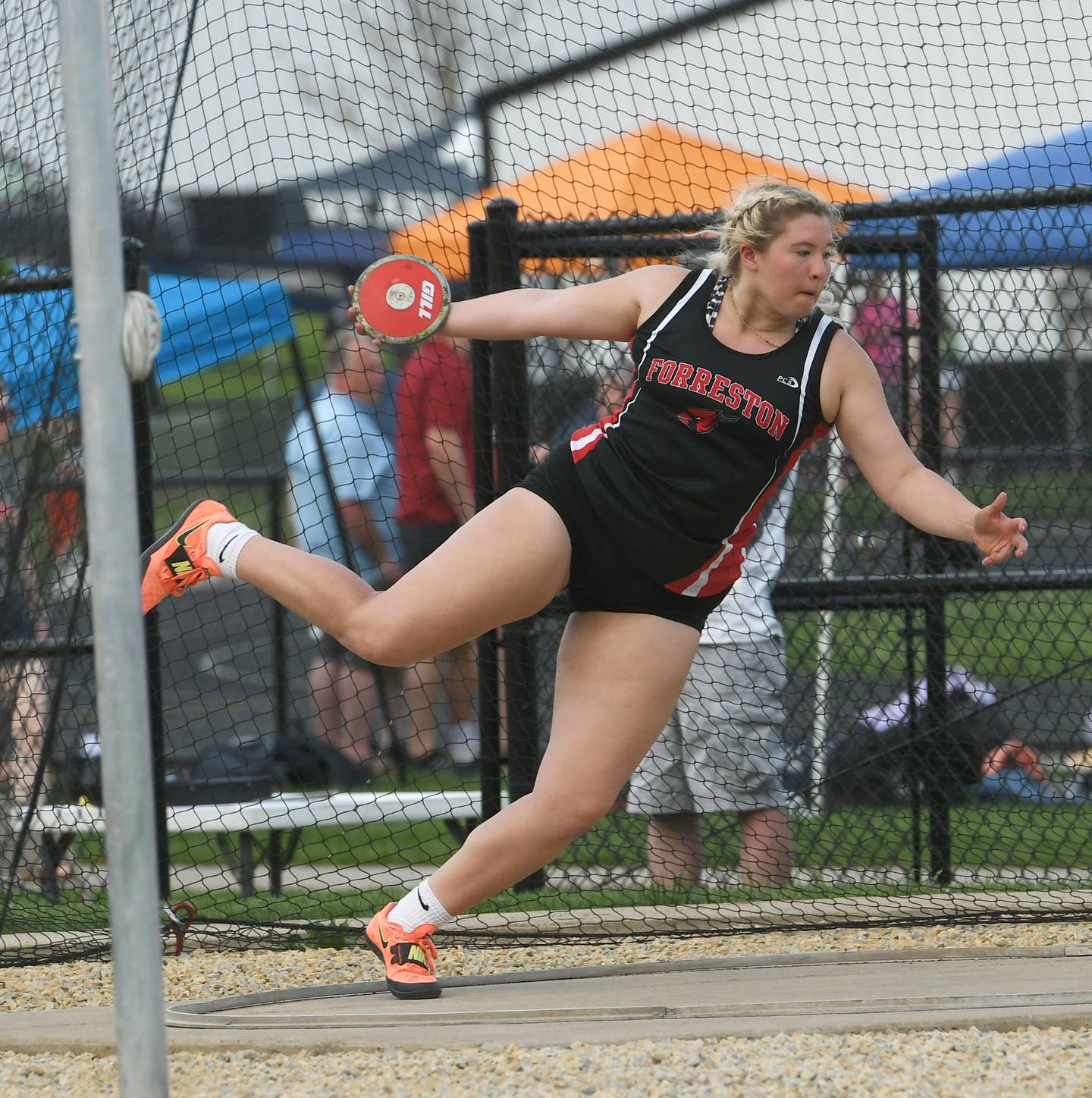 It was a family affair for Badertscher in claiming her state berths.
"It helps having my brother [Garett] coach me and my dad yelling at me," said Badertscher. "Another motivation is peach [gummi] rings promised by my mom if I made state."
That was after the shot put, where she nailed a PR of 11.30 meters to take third. Things got even better after a state-qualifying toss of 34.46 meters in the discus when her grandma came through with donut for her.
In the 100 meters, freshman Emma Randecker of West Carroll won with a time of 12.73 seconds. Immediately after that race, meet officials called for a weather delay.
"We think she has a good chance to make the finals downstate," West Carroll coach Teo Clark said. "She already has the school records in the 100 and 200."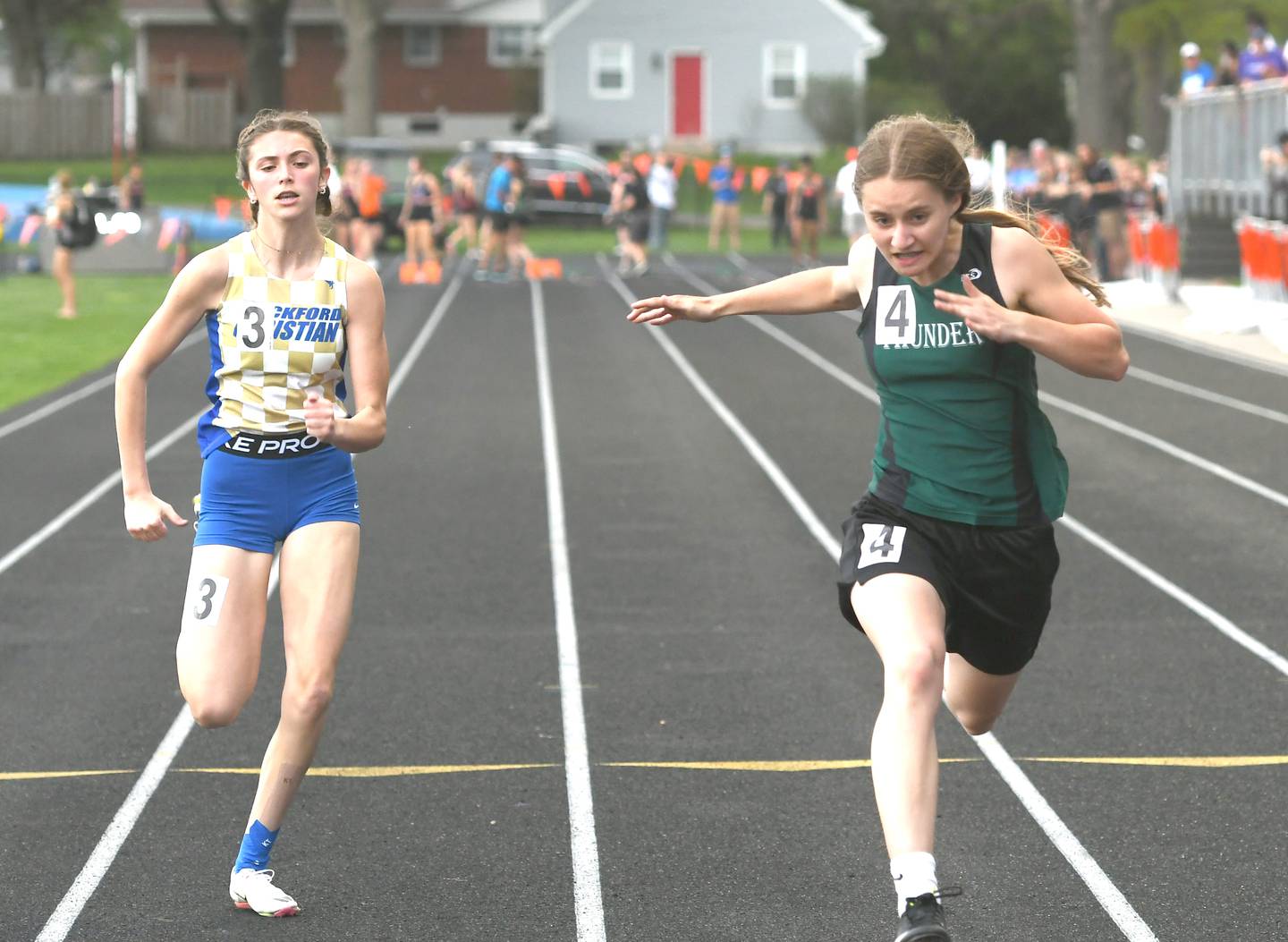 The Thunder had two other qualifiers in the jumps. Taking second in the long jump was Kylie Hill at 4.67 meters, and second in the triple was Olivia Shelly at 9.88 meters. Hill was also fourth in the triple jump at 9.49 meters, but did not qualify in that event.
Just missing out on a trip downstate in the triple jump was third-place finisher Ava Wight of Oregon, only 0.22 meters behind Shelly. Wight did anchor the Hawks (53.60 seconds) to a fifth in the 400 relay, along with Rylie Robertson, Lexi Ebert and Abi Virgil.
Forreston-Polo's team of Buisker, Ferris, Emileigh Williams and Autum Pritchard was fourth at 53.20 seconds.
Oregon got an individual sixth from Avery Sellers in the shot put and the 4x800 relay of Miranda and Jennica Ciesiel, Gabriele Hoyle and Ellen Hodson.
With the weather showing no signs of letting up, the decision was made to postpone the meet until Saturday morning. When the meet resumed, locals advanced to state in two more events.
West Carroll's Randecker added a win in the 200 (26.18 seconds) to sweep the sprints, and Forreston-Polo's Buisker took second in the 300 hurdles (47.48 seconds).
Oregon's Grace Tremble just missed out on state in the 400. She finished sixth in 1:02.43, missing the state qualifying time by 0.39 seconds; the top five in the event advanced to Charleston.