Adrianna Zeman takes over an experienced, hard-working Putnam County softball program.
---
With four N-T all-area players back, Putnam County ios looking to extend its postseason run of a year ago.
---
Putnam County junior Ava Hatton was unanimously selected All-Tri-County Conference First Team.
---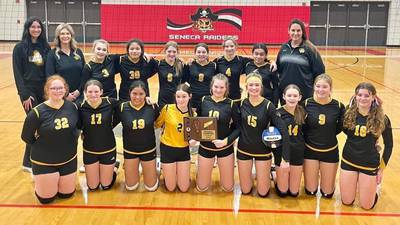 Putnam County captured the Class 2A Seneca Regional championship, defeating Ottawa Wallace 25-16, 25-15. The Lady Pumas advanced to sectional play on Mondday at Lexington.
---
Sandwich junior Ashlyn Strenz finished fourth in the 115-pound bracket Saturday at the IHSA Girls Wrestling State Finals, plus top-10 finishes for the area's other locals who made it to Saturday's final rounds.
---
Serena survived two potential game-tying Putnam County 3s in the final seconds to secure the Dwight Regional title 49-46 and move on to next Tuesday's 7 p.m. Putnam County Sectional semifinals.
---
No. 1 seed Princeton (29-2) and No. 8 Hall (13-18) will clash in Class 2A Bureau Valley regional semifinal play at 6 p.m. tonight at the Storm Cellar.
---
The Newark girls basketball team used a 10-0 run late in the first quarter to take control and went on to beat Putnam County 48-23 in the Class 1A Putnam County Regional championship Thursday.
---
Newark defeated Putnam County 48-23 to win their fifth straight Class 1A Regional title on Thursday, Feb. 16, 2023 at Putnam County High School.
---