LOMBARD – Unlike its previous 12 blowout wins, Byron was entering the land of unknown with a trip to Lombard on Nov. 18 to face a Catholic League power with a playoff history even more impressive than the Tigers.
In a game that wasn't decided until a fourth-down pass by Montini fell incomplete, Byron escaped with a 26-20 win.
"Our kids showed a lot of composure," Byron coach Jeff Boyer said. "This was the first time we had adversity and we responded well. It wasn't our cleanest game. Montini's a great team."
That adversity manifested itself on the fourth play of the game when the Tigers fumbled a pitch and not only did Montini recover the ball, but star running back Alex Marre (27-130) ran for a 20-yard touchdown on the next play.
On Byron's next possession, they managed only one first down before punting, for just the second time all season. Montini got the ball near midfield and an air of apprehension began to spread on the Byron side of jam-packed Duffy Stadium.
It was Kye Aken who came up with the first spark for the Tiger defense. He forced a 3-and-out after an open-field tackle of Marre on a pass reception for no gain.
Taking over from its own 10-yard following the ensuing punt, the Tigers had a heavy load ahead of them, but with Caden Considine and Brayden Knoll, anything is possible. The pair began to shred up the Bronco defense, with Considine doing it up the middle and Knoll on the outside. Consecutive runs of 20 and 26 yards by Knoll, the latter a touchdown, cut the deficit to 7-6.
The Tiger defense continued to step up with defensive end Kyle Jones stopping Marre for no gain and freshman Andrew Talbert grabbing an interception at the 24-yard line.
"They had great game plan on defense and played it really well," said Montini QB Gaetano Carbonara.
It only took Byron three plays to take a 12-8 lead. First, it was Considine breaking off a 49-yard run and Knoll capped the drive off with a 22-yard TD, making a 360 move through a would-be tackler.
"It makes it easier when they key on Caden," Knoll said. "Why wouldn't you? It makes sense."
Carbonara threw a 40-yard pass to George Asay into double coverage and against the wind to move into Tiger territory on the next possession; but the drive ended at the 31-yard line.
It was Knoll scoring TD number three on a 15-yard run, juking his way past the last defender. That gave Byron an 18-8 lead and a bit of normalcy returned to the Tiger faithful. Were the 18 unanswered points the start of another Byron romp?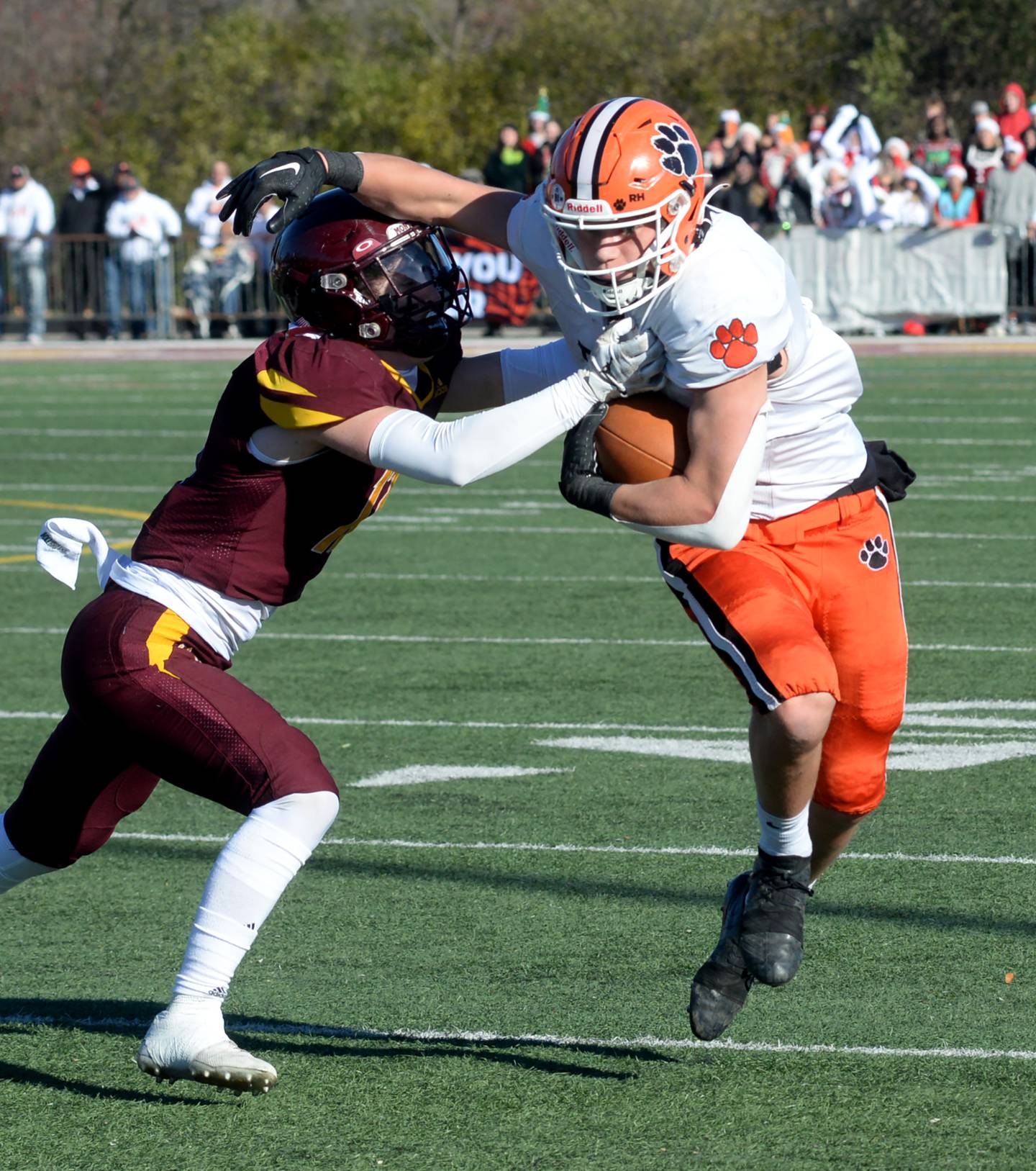 Not against a squad with six state titles in 4A, 5A and 6A and one accustomed to a competitive schedule. With 24 seconds left in the first half, Marre did his best Walter Payton imitation and leaped over the goal line for a 1-yard touchdown, cutting the lead to 18-13. It capped off a 13-play, 80-yard drive and was aided by an unusual chopped block penalty on the Byron defense.
"Our bread and butter is to run it with Alex," Montini coach Mike Bukovsky said. "A lot of times, though, our offense didn't execute."
The Broncos regained the lead, 20-18 early in the third quarter on a 46-yard touchdown run by Asay, greatly aided by a downfield block by Santino Florio. Montini started with good field position on a kickoff return to midfield.
Byron responded with a drive into Montini territory. However, a fumble gave the ball back to the Broncos and the promising drive was squandered.
After the two teams traded punts, Montini had the ball first-and-10 at its own 37-yard line with 2 minutes left in the third quarter and still nursing the 2-point lead. Marre picked up a first down and then in what could have been the play of the game for Montini, Carbonara and Florio hooked up on a 37-yard floater to Byron's 10-yard line.
But, a dead-ball taunting penalty against Montini moved the ball back 15 yards.
"We need to be smarter," Bukovsky said. "In the fourth quarter, we made too many mistakes and weren't disciplined."
The Broncos rebounded from that error and made a first down. But, Byron's defense forced a fourth down and Montini lined up for a 27-yard field goal.
That's when things went haywire for Montini. A delay of game moved the ball back five yards and Bukovsky decided to go for it instead.
"We had missed our last extra point and I liked our one-on-one match up," Bukovsky said.
That decision proved to be costly with Considine picking Carbonara off and returning it 40 yards. The sophomore who was on the field for nearly the entire game, read Carbonara and was in perfect position to make the INT.
"I was surprised they went for it," Boyer said. "That flipped the field with Caden's interception."
From being a few yards away to making it a two-score game at 29-20 and putting Byron on the ropes, Montini suddenly found itself on the defensive against a Tiger ground game that ended with Considine gaining 240 on 33 carries yards and Knoll adding 145.
Even though Byron did not attempt a single pass, Montini still opted to leave its 3 defensive backs away from the line of scrimmage, effectively making it an 11-on-8 game.
"They kept bouncing stuff outside and we needed flanks, or you're not going to stop anything," Bukovsky said.
With the game on the line, it was Considine racking up big chucks of yardage, carrying the ball eight of the nine times on a winning 50-yard scoring drive, including the final yard for an easy stand-up score. Knoll added the PAT run and Byron led 26-20 with 3:29 left in the game.
"When I was senior, (coach Everett) Stine always said 'whatever I called worked'. That's kind of how I feel with this group," said Boyer, the QB on the 1999 state championship team.
Nick Ingram almost ended the game for Byron with a sack of Carbonara on third down, only to see the Bronco QB hit Asay for a 24-yard gain on fourth-and-15. That was all the offense Montini could muster, as another fourth down pass fell incomplete and Byron could begin celebrating a trip downstate to face Mt. Carmel.
The game to determine the 3A state champion will be 4 p.m. Friday, Nov. 24, at Hancock Stadium on the campus of Illinois State University in Normal.