By Andy Colbert
For Shaw Media
Forreston has had many memorable moments in its illustrious football history. In a 22-20 win over Lena-Winslow, add "The Drive" to that list.
Trailing 20-16 with 8:13 left in the Oct. 22 game, the Cardinals marched 89 yards and scored as time expired on a 1-yard run by Matthew Beltran.
Converting 3 fourth downs along the way, including the touchdown, the 22-play masterpiece was one of Forreston's finest works ever.
"That's one drive I going to remember for a long time," Forreston coach Keynon Janicke said in a post-game radio interview. "It's a confidence booster for the playoffs."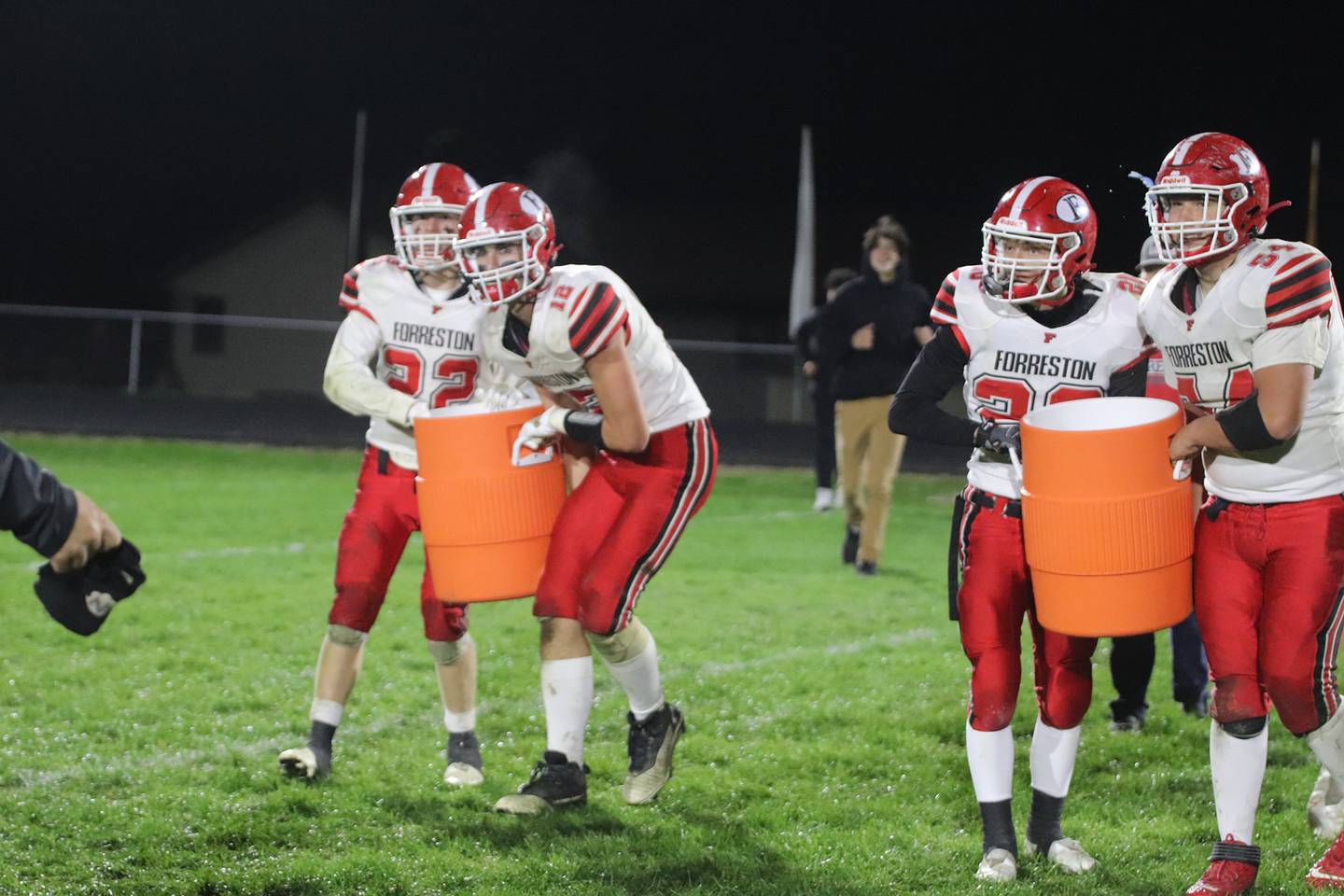 Le-Win coach Ric Arand who has seen a lot in his 24 years, had this to say: "That's as impressive of a drive as I've ever been around."
High praise for someone with four state titles and more than 200 wins and who has witnessed the brilliance of the Panther-Cardinal rivalry. Both teams ended up 7-2 and could see each other in the second week of the playoffs at Forreston.
It was quarterback Logan Dyson directing this team down the field with effective ball fakes and a sturdy stable of running backs to rely on, with Jacob Fiorello getting the bulk of the calls.
For Beltran, it was only his fifth carry of the night, but his second touchdown.
"Tonight was special. It was awesome," Keynon said.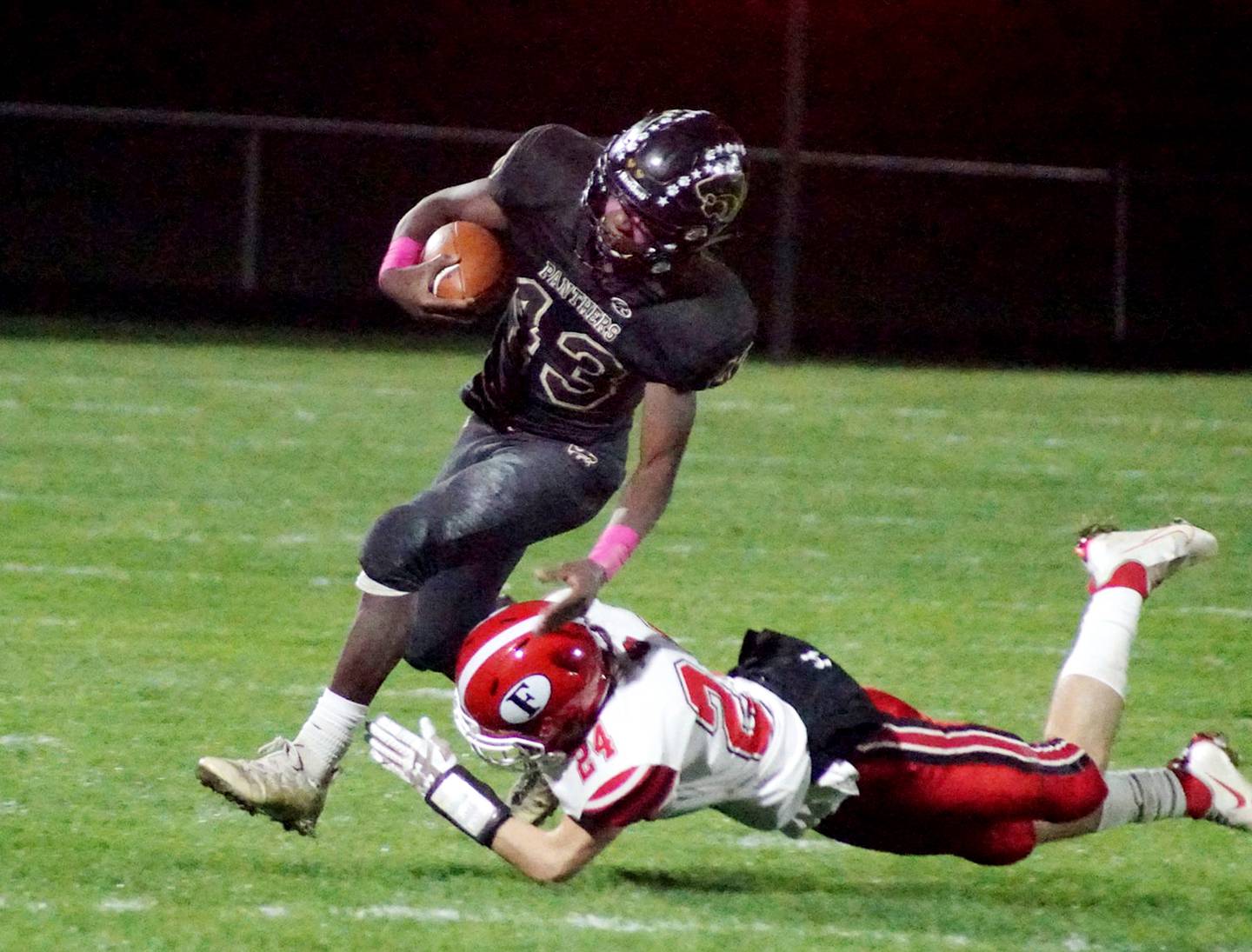 Trailing 14-0 on the road, Dyson found Devonte King-Black with a critically important 4-yard touchdown before halftime. A 30-yard pass to Beltran set up the score. In the fourth quarter, a 19-yarder between Dyson and Beltran pulled Forreston to within 20-16.
Just as important were PAT runs by Noah Johnson and Fiorello. Le-Win came in converting 36 of 42 2-point conversions, but could only muster 1-of-3 against Forreston.
However, the battle-tested Panthers have a knack for big plays and Ethan Fye did that by stripping King-Black and dashing 29 yards for the game's first touchdown. He followed that up with a 6-yard touchdown pass from Luke Benson for the 14-0 lead.
But, it was Forreston winning the statistical battle. Le-Win was held to 130 yards of total offense, far below their average. Forreston had 256 yards rushing and 54 passing.
"They dominated us on both sides of the ball," Arand said. "Their defensive ends and linebackers killed us. We couldn't block anybody. I'm really disappointed. Running should be our strength."
Up 20-8 in the fourth quarter, the defending 1A state champs looked to be in good shape, but the touchdown scored by King-Black changed momentum.
"We needed one more stop," Arand said. "We're not playing as hard as them."
With that final scoring drive, Forreston left little doubt who was playing hardest.
The Cardinals will host Galena on Friday night in the first round of the 1A playoffs. The Cardinals won 52-20 midway through the season.
"We started to hit our stride in week five," Janicke said. "Right now, I think our kids are in a great spot. We know exactly what our goals are and what we need to do to carry it out."
Durand-Pecatonica won the conference with an 8-1 record, while Fulton, Forreston and Le-Win tied for second at 7-2. Galena was fifth at 5-4 overall.
"I felt like we didn't play that good against (Forreston)," Galena coach Ed Freed said. "You can't give up two special teams touchdowns. For Forreston, it starts with their offense. They are really good as what they do and the way they get off the ball is really unique."
This will be the first time the two teams have met since the 2014 playoff semifinal thriller in which Forreston won 28-20 on its way to a state title.
"That was a great game that went down to the wire," Freed said.