Name: Angelina Gersch
School, year: Richmond-Burton, senior
Sport: Track and field
Why she was selected: Gersch broke three program records in the triple jump (11.13 meters), long jump (5.32) and 300 meter hurdles (47.07 seconds) at the Class 2A Richmond-Burton Sectional, qualifying for state in all three events.
At state, the Rockets senior improved on her school-record triple jump, taking third with a jump of 11.27 meters. She was eighth in the 300 hurdles.
For her performance, Gersch was chosen as the Northwest Herald Athlete of the Week in an online vote by readers. She answered a few questions from sports writer Alex Kantecki about her record-breaking season, competing at state, her favorite class and more.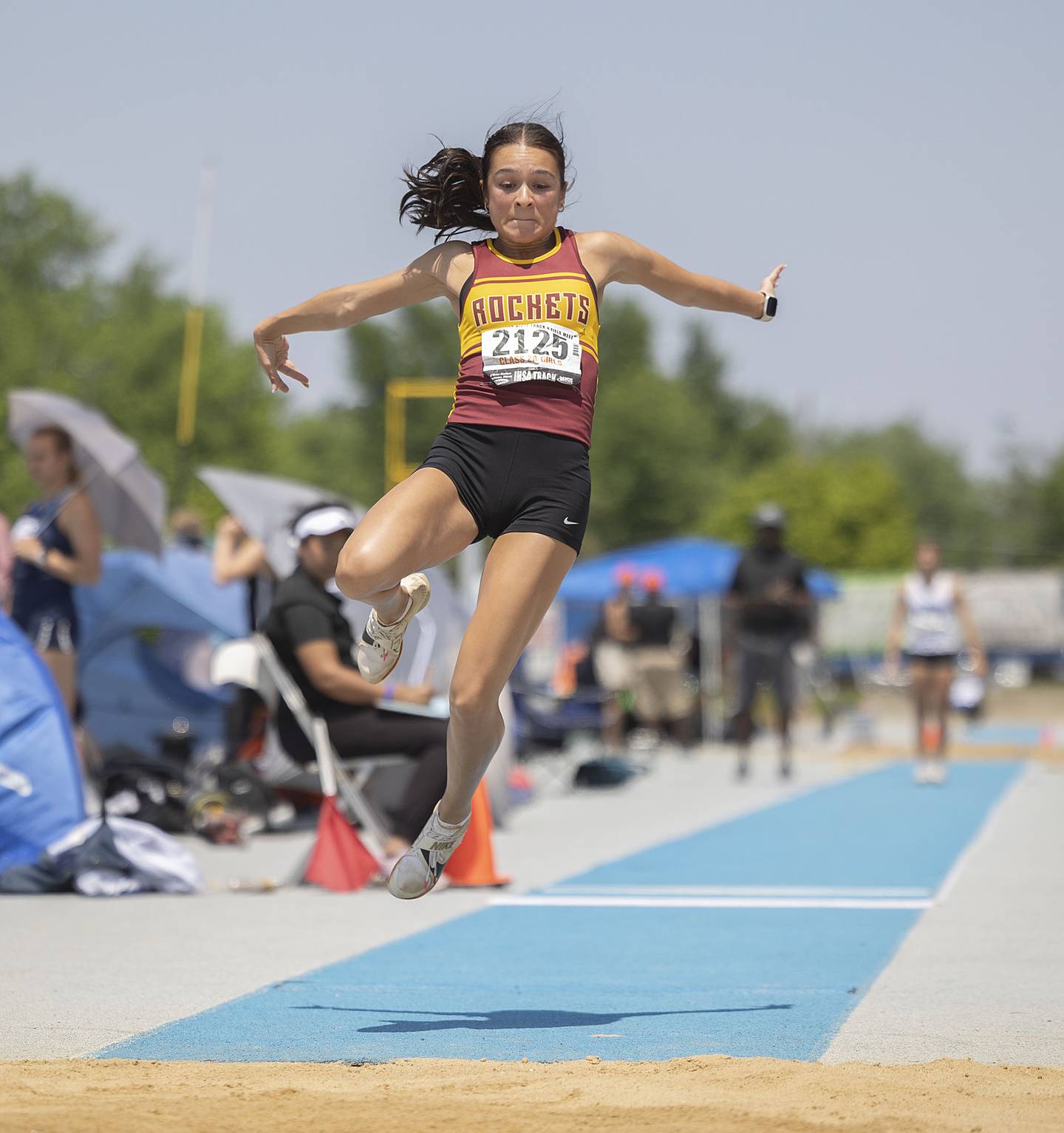 You set three program records at sectionals. Which record are you most proud of?
Gersch: I am most proud of setting the triple jump record. Although I was very excited to have set the 300 hurdles and long jump records, those were not my main focus coming into this season. I tried long jump for the first time this year, and the original plan was for me to only run the 300 hurdles at [the Kishwaukee River Conference Meet] until my time dropped 3 seconds from last year. However, I trained all of offseason after last year's sectionals to improve on the triple jump. It feels really rewarding to see all my hard work pay off.
Tell me about the state meet. What will you remember most about your performance?
Gersch: The state meet started off not as expected. I was disappointed with how long jump went as I was hoping to make finals, but I understood going in it would be a stretch. So after long jump concluded, I knew I had to shift my focus to the event that I had a real shot in: triple jump. I was not satisfied with my jumps from Day 1, as they were under 11 meters, but I had to move on to the 300 hurdles. I knew making finals for the hurdles would be a stretch, but I also knew I had it in me to make it. During the race, I knew I just had to keep pushing during the home stretch, and I fought. I didn't think that I made finals until my teammate, Sahanna [Doherty], refreshed the live results. I'm really grateful to have celebrated that moment with my best friend.
Going into Day 2, I knew I had to jump 11 meters in the triple jump to finish top 3, which was my goal. What I'll remember most is hitting 11.27 on my second attempt and my coach's reaction. He was very excited because we both knew that it put me in a good position. Although I was ultimately hoping to hit 37 feet, I hit 36-11.75 and I'm grateful to have had that jump.
What is your best sports fashion tip?
Gersch: My best tip is to wear longer socks when jumping because if you don't, sand will get in your shoes.
What do you hope people say about you when you're not around?
Gersch: I hope that people say that I'm a hard worker and I'm driven.
What sport that you don't play would you be good at?
Gersch: Wrestling.
What was the last really good book you read?
Gersch: "The Players' Plate" by Emily Cole.
What was your favorite class this year?
Gersch: My favorite class was microbiology honors. The teacher was Mrs. Murphy. I enjoyed the lab aspect of the class, along with the independence it gave me.
If you could spend a day with anyone from history, who would it be?
Gersch: [American hurdler and sprinter] Sydney McLaughlin.
What will you remember most about your track and field career at Richmond-Burton?
Gersch: Winning the [KRC] title as a team. Sahanna and I started the meet off by taking first and second in both long and triple jump, and that energy carried throughout the entire meet. That was a goal that we had been dreaming about since track began this year. We all went out there and did exactly what we needed to, and it all fell into place. It was the best feeling celebrating that moment with the team.