RIVER FOREST – IC Catholic didn't take long to earn the revenge it waited a year to get.
A year after losing 1-0 to Richmond-Burton in the Class 1A Concordia Supersectional, the Knights found themselves exactly where they wanted to be: Playing the Rockets for a chance to go to state.
IC Catholic scored in the first five minutes and played its trademark lockdown defense the rest of the way for a 2-0 win in the Class 1A Concordia Supersectional on Tuesday. The victory clinched its second trip to the state finals in program history.
"To be here, to pull off the win," Knights junior Allie Geiger said. "I think it's a real testament to how close we are as a team this year."
IC Catholic (14-2) knew that if it could capitalize on a scoring chance early, its defense would take care of business. Geiger got her chance in the fourth minute of play when Maura Grogan battled for the ball at midfield and fed the ball perfectly to a streaking Geiger, who scored to give her team a 1-0 lead with 36:17 left in the first half.
The goal felt extra sweet for Geiger, who was the team's goalkeeper in last season's supersectional loss. Now a year later, she scored the go-ahead goal of the match she waited so long to win.
"That for her was big," Knights coach Tony Gidinez said. "That's why she was hungry to get it."
The Knights had 14 shutouts entering Tuesday's match and controlled much of the midfield and used a height advantage to win 50/50 balls against Richmond-Burton.
"To be here, to pull off the win. I think it's a real testament to how close we are as a team this year."

—  Allie Geiger, IC Catholic junior
Matea O'Donnell sealed the win when she scored with 1:55 left in the match to secure revenge.
"As a forward, I have so much trust in my backline," Geiger said. "I was never concerned with their ability to stop their offense. They're a good team, but we have a good defense."
R-B (18-5) averaged five goals a match and outscored its opponents 29-2 in four postseason matches, but the Rockets couldn't overcome giving up the opening goal. They finished with four corner kicks and a strong scoring chance with 11 minutes left in the match, but the Knights' ability to take away the middle of the field by winning contested balls proved to be the difference.
"I would love the first five minutes back," R-B coach Casey DeCaluwe said. "We came out firing, got a shot on, and then we conceded and went away from what we do. We let them play a kickball style game and struggled to possess off of it."
The loss ends a strong three-year run for the Rockets' four seniors. Reese Frericks, Margaret Slove, Madison Havlicek and Alexa Anderson helped lead R-B to three straight Kishwaukee River Conference titles and went undefeated in conference play, won three straight sectional titles and placed second in last season's 1A state tournament.
"They've left this program in a much better place than it was when they got here," DeCaluwe said. "To win three sectionals in a row and play in this game three years in a row says volumes about their character, their fight. No one can take those championships away from them."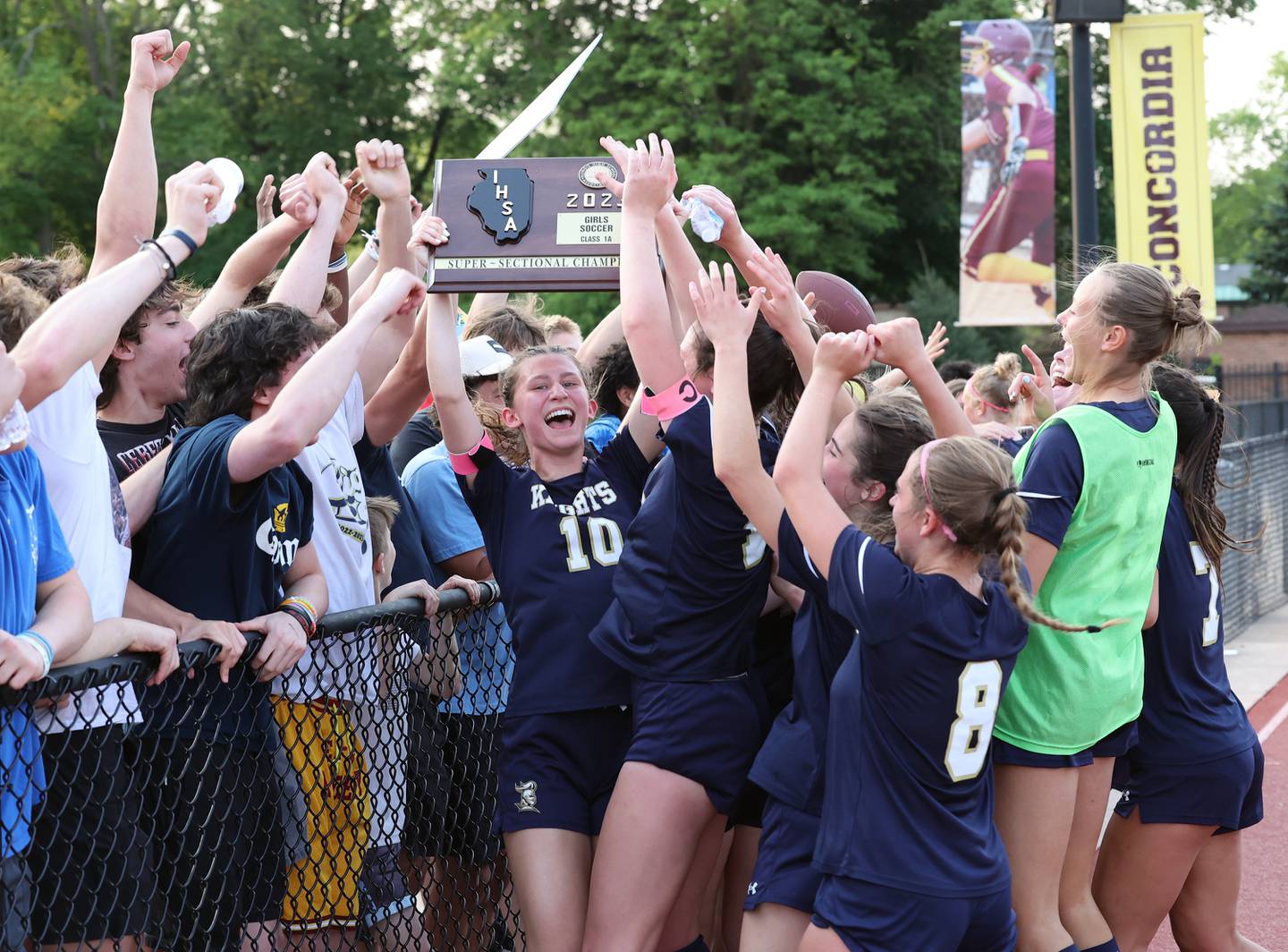 The Knight will play Alleman in the state semifinals at 5 p.m. Friday at North Central College in Naperville.
"It means the world," Geiger said. "We've put in so much work and everyone is so dedicated to this program. Our coaches have instilled a good culture in this program and we want it. We really wanted it and showed it all season."